PFF grades every play of every college football game involving an FBS opponent, meaning we were witness to a long list of impressive individual performances last season. Which ones stood out the most?
We ranked the top 10 from the SEC from 2015 among players returning for the 2016 season:
LSU RB Leonard Fournette vs. Auburn, Week 3
You could make an argument for any number of Fournette games to make this list, including Syracuse, Florida and the bowl game versus Texas Tech, and the truth is that all four of those would have made this list were it not for our desire to include some different players and teams here. But his performance against Auburn stood out even among that outstanding group of games. He earned his highest grade of the season, rushing for 228 yards and three touchdowns on just 19 attempts (12.0 yards per carry average), with 163 of those yards coming after contact (8.6 yards after contact per rush) – a feat he was able to achieve with the help of his 11 forced missed tackles, an absurdly high number for a back in a single game. Fournette carved up the Tigers defense, with runs like this one:
Alabama edge rusher Ryan Anderson vs. Florida, SEC title game
There are a lot of reasons for optimism for the Crimson Tide entering the 2016 campaign, but their crazy-efficient edge-rushing duo of Anderson and Tim Williams might be No. 1. That was on display in Bama's SEC championship game win over Florida, as Anderson played just 16 total snaps (six defending the run, and 10 as a pass-rusher) but managed to produce two sacks, one hit and four hurries for seven total pressures, while adding two more stops in the running game. You can't produce much more than that in a limited role. As for Williams, he needed just 10 total snaps to produce two sacks and two run stops.
Texas A&M DE Myles Garrett vs. Arizona State, Week 1
Garrett enters 2016 as PFF's top-ranked defensive player in college football, and he started off his true sophomore campaign with a bang last year, in the Aggies' 38-17 season-opening victory over the Sun Devils. He produced two sacks (including a strip sack), two hits and five hurries for a total of nine QB pressures, while also grading positively against the run and recording three run stops, en route to his highest overall grade of the season. His teammate Daeshon Hall also gave the Sun Devils' tackles fits, producing his best grade of the season on the strength of his four sacks.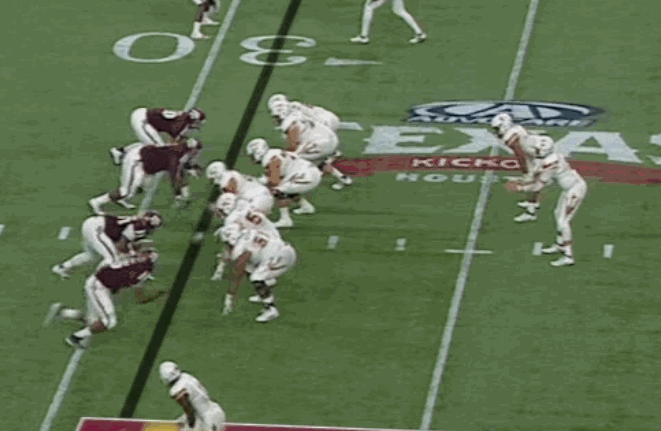 Ole Miss QB Chad Kelly vs. Arkansas, Week 10
Kelly wound up on the losing end of the Rebels-Razorbacks shootout, with Arkansas QB Brandon Allen running for a two-point conversion in overtime to give his team the 53-52 win. But Kelly still deserves credit for his excellent performance – one of the best in the conference among QBs last season, perhaps behind only Allen's from this game. He completed 24 of 34 passes (71 percent completion rate) for 367 yards, three touchdowns and zero interceptions, excelling at the intermediate depth: 6-for-7 and 108 yards and a touchdown on throws of 10 to 19 yards downfield. He was also the team's leading rusher, producing 110 yards and three touchdowns on just 11 carries, earning his highest rushing grade of the season.
Tennessee DE Derek Barnett vs. Missouri, Week 12
Barnett played all 62 of the Vols' defensive snaps in Tennessee's grind-it-out 19-8 road win over the Tigers, posting a grade that was off the charts. Not only was he very good against the run, he dominated as a pass-rusher. He didn't record any sacks, but he produced nine total pressures (two hits, seven hurries), proving to be very disruptive to the Tigers' passing game. Barnett was the top-graded edge defender among returning players last year, and this was his highest-graded performance. He ranks in the top four of PFF's Top 101 college football players for 2016.
Alabama WR Calvin Ridley vs. Michigan State, National semifinal
Nearly the entire Crimson Tide roster graded well in their 38-0 demolition of the Spartans, but the most promising performance heading into 2016 was that of Ridley. He produced by far his best grade of the season, earning a perfect 158.3 passer rating for his quarterback Jake Coker on passes thrown his way, catching eight of nine targets for 138 yards (17.3 yards per catch) and two touchdowns. His only incompletion was on an off-target deep ball, but he still managed to haul in two of those for 100 yards, including this touchdown: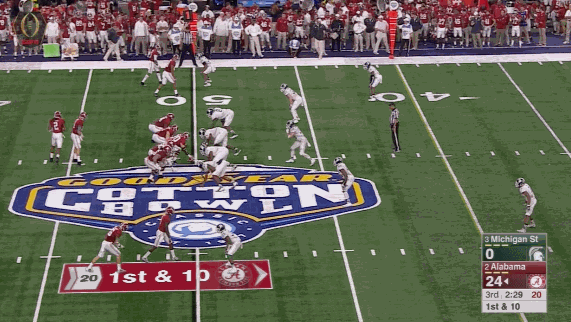 Arkansas DE Deatrich Wise Jr. vs. LSU, Week 11
Wise was a part-time player in 2015, but still managed to grade well overall, and he was particularly productive in the Razorbacks' 31-14 win over LSU in Week 11. He was a terror coming off the edge as a pass-rusher, earning three sacks, three hits and five hurries for a whopping 11 total pressures. He was effective against the run as well, recording three run stops and helping to force Fournette into one of his least productive games of the season. (Fournette's rushing total of 90 yards was his second-lowest of the year, his 4.7 yards per carry average was his third-lowest.) Wise had the second-best pass-rush productivity in the nation versus Power-5 opponents last season, behind only No. 3 overall pick of the Chargers Joey Bosa, so he could be a dominant force in 2016, particularly if he's on the field for more of Arkansas' defensive snaps.
Tennessee RB Jalen Hurd vs. Florida, Week 4
It was easy for Hurd's performance to get lost in the aftermath of the Vols' fourth-quarter collapse against the Gators, as they blew a 13-point fourth-quarter lead to lose 28-27. Even more so, the box score couldn't really capture Hurd's game, as he needed 28 carries to produce his 102 yards and two touchdowns (3.6 yards per carry). But the PFF grades did capture it, as Hurd produced his highest grade of the year by forcing 11 missed tackles and 88 yards after contact. He overcame some poor play from his offensive line and a dominant performance from Florida's defensive front (DE Jonathan Bullard had eight run stops and earned his highest grade of the season). We like Hurd's backfield mate Alvin Kamara as a potential Heisman candidate, but Hurd's impact on the Tennessee offense is significant, and he's one of the best returning power backs in the entire country.
Auburn DE Carl Lawson vs. Memphis, Birmingham Bowl
Lawson was limited for much of the 2015 season due to injury, but if you want an indication of the type of player he can be in 2016 if he stays healthy, look no further than Auburn's 31-10 bowl win over Memphis. Lawson earned his highest grade of the year, doing a good job defending the run and standing out even more as a pass-rusher, producing nine total pressures, including one sack. He helped force Memphis QB and eventual Broncos first-round pick Paxton Lynch into his worst grade of the season.
Georgia RB Sony Michel vs. Kentucky, Week 10
The Bulldogs are returning one of the nation's top running backs in Nick Chubb, who missed most of 2015 due to injury. But fans shouldn't forget about Michel, either, who was very productive in Chubb's absence. By far his highest-graded performance of the year came in a 27-3 win over Kentucky, during which Michel rushed for 165 yards and a touchdown on 24 carries (6.9 yards per carry average), with 95 of those coming after contact (4.0 yards after contact per rush). His nine forced missed tackles were his season-high, enabling him to put up his best game of the year despite not catching a pass (the only time he didn't all season long). The Bulldogs should have a dynamic 1-2 punch at running back this season.