At Pro Football Focus, we look beyond the box score to evaluate player performance. Our PFF overall grades and signature stats offer unique insight into player ability while providing valuable context to production.
Today, we analyze numbers a bit past the standard box score numbers for the eight best quarterbacks in the country according to the PFF grades.
This list is brought to you by Eckrich, the Official Smoked Sausage of the College Football Playoff.
Will Grier, West Virginia
2018 grade: 93.5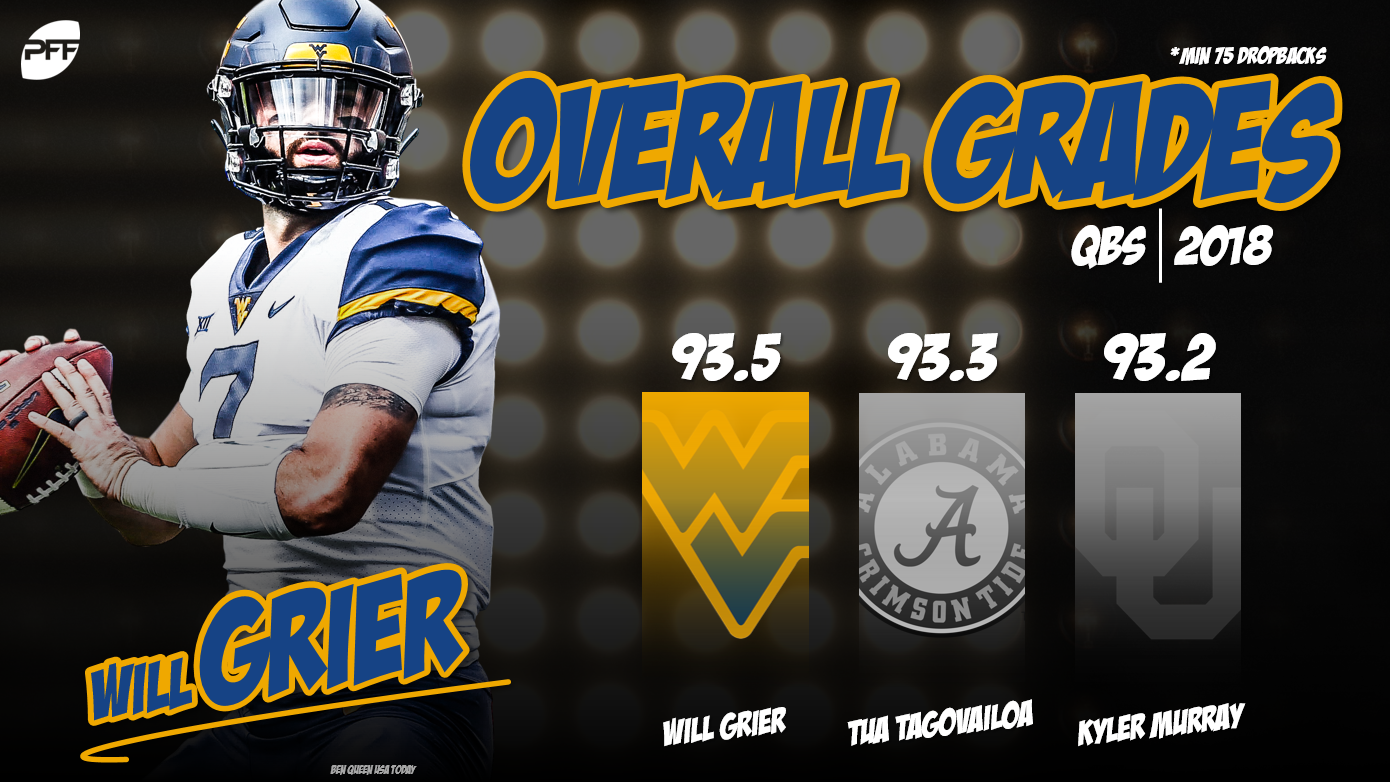 Grier is currently PFF's highest-graded quarterback and has been particularly dangerous when given a clean pocket, picking apart defenses to the tune of 1,194 passing yards, 16 touchdowns (fourth) and a 148.3 passer rating (second) with just one interception. Clean-pocket performance tends to remain stable from year to year and Grier's excellence in a clean pocket bodes well for his NFL prospects.
Tua Tagovailoa, Alabama
2018 grade: 93.3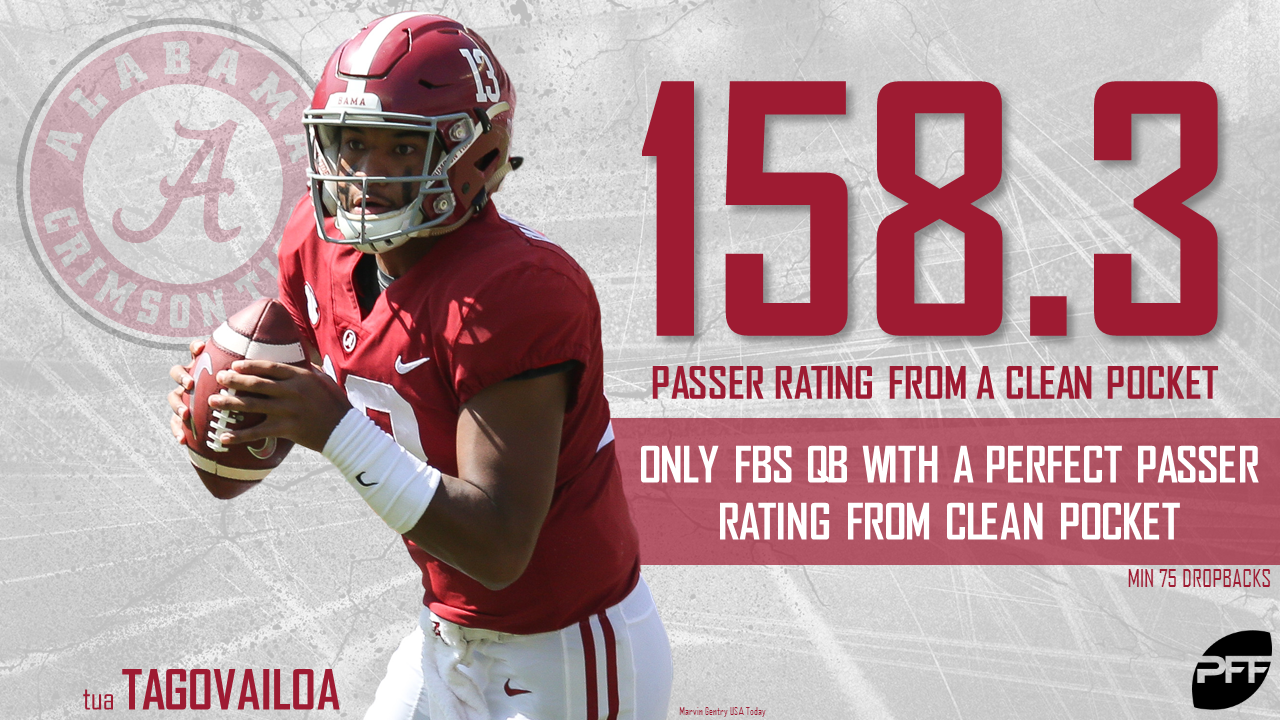 Tagovailoa wrestled the Alabama quarterback position away from Jalen Hurts due to his brilliance both under pressure and in a clean pocket. When given a clean pocket, Tagovailoa has a perfect 158.3 passer rating (first) with 10 touchdowns (t-14th) and an 87.0% adjusted completion percentage (second). He has not let pressure faze him, torching defenses to the tune of four touchdowns (fourth) with a 133.3 passer rating (second) and a 78.6% adjusted completion percentage (third).
Last season, Baker Mayfield was the only quarterback to rank in the top three of passer rating under pressure and kept clean.
Kyler Murray, Oklahoma
2018 grade: 93.2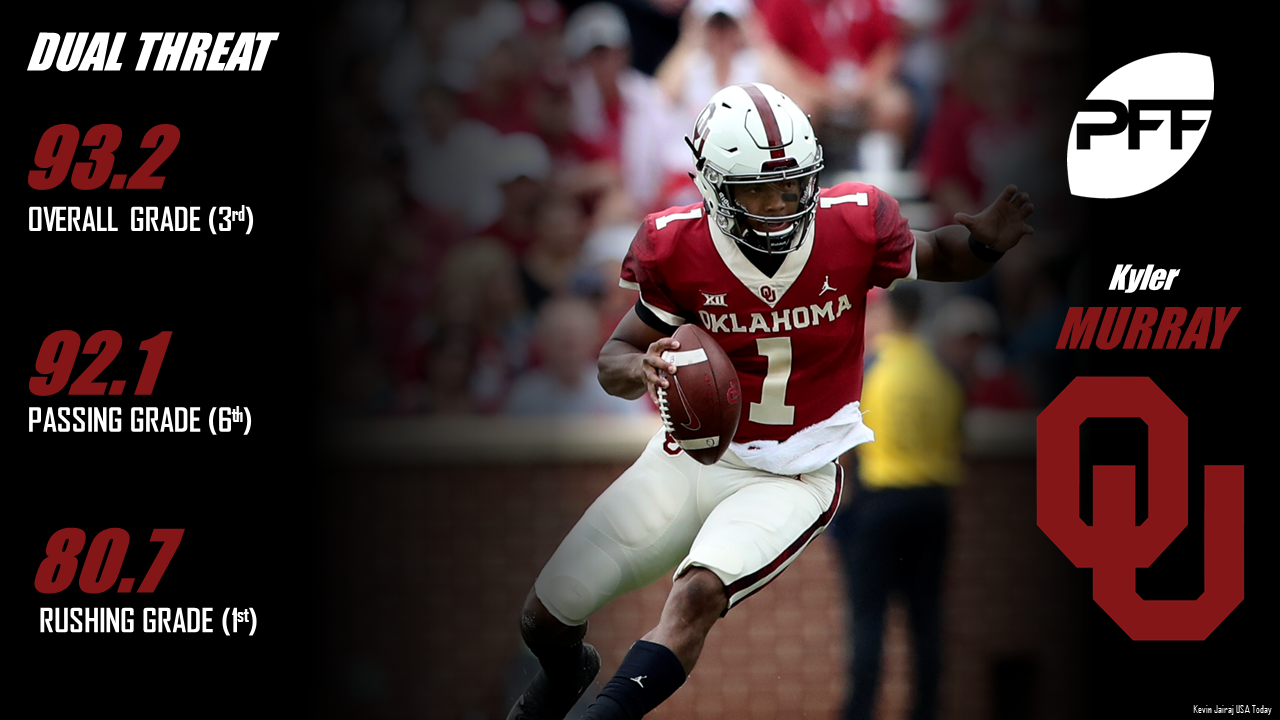 Murray has demonstrated a capable Baker Mayfield impersonation, displaying impressive arm talent and dynamic rushing ability (80.7 PFF rushing grade, first). Murray's mobility shines when holding onto the ball for longer than 2.5 seconds, where he has compiled a 147.2 passer rating (second) with seven touchdowns (third).
Additionally, Murray owns the money down, converting third downs at a 67% success rate (nearly double the national average of 37%) with three touchdowns and a 149.3 passer rating (third).
Ryan Finley, NC State
2018 grade: 93.0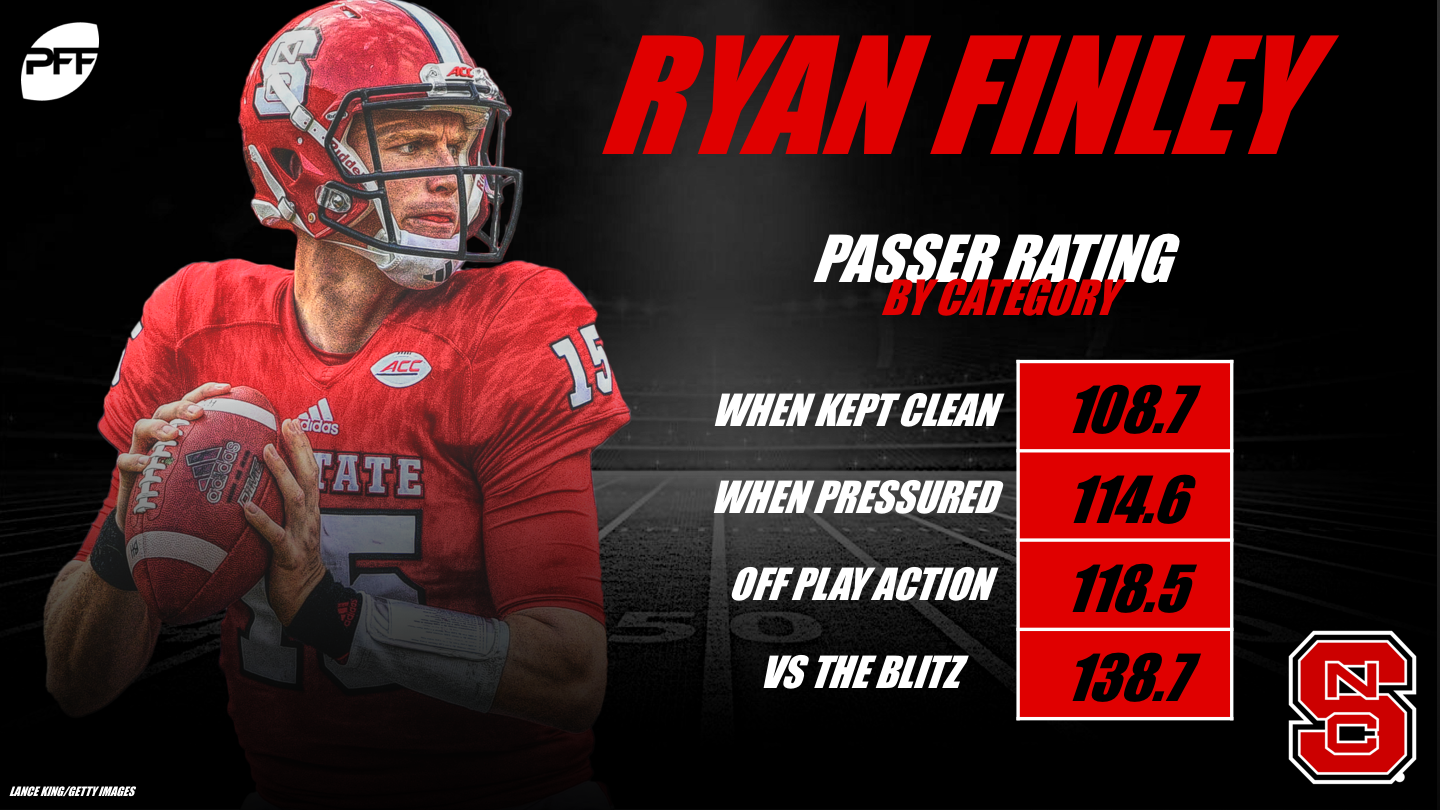 Finley has thrived under pressure this season, recording a 114.6 passer rating (eighth) and 72.7% adjusted completion percentage (eighth). Credit the NC State offensive line for allowing Finley to be pressured on just 18.1% of his dropbacks, the fifth-lowest rate in the nation.
Alex Hornibrook, Wisconsin
2018 grade: 92.2
Hornibrook elevates his play in crunch time, completing an astounding 78.2% of passes (sixth) with a 143.5 passer rating (eighth) in the fourth quarter. In the first three quarters, Hornibrook has a pedestrian 58.3% completion percentage and 89.9 passer rating.
Daniel Jones, Duke
2018 grade: 91.2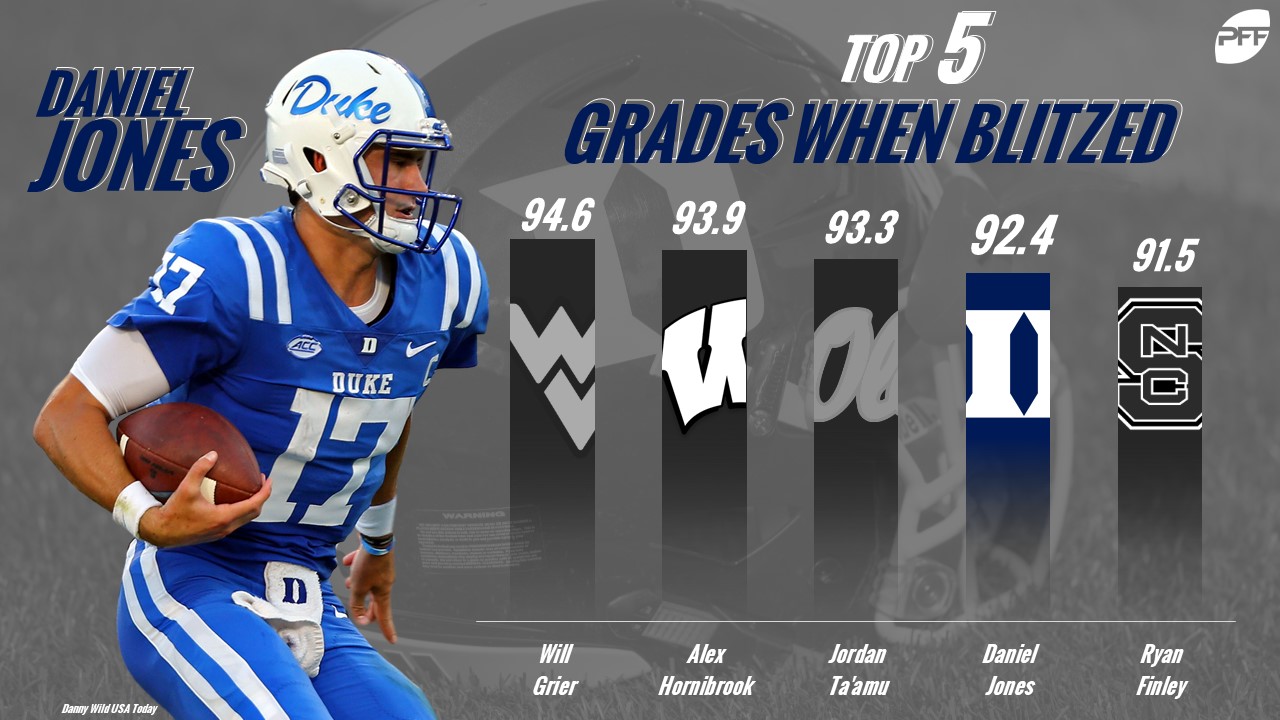 Jones torments defenses with the play action fake, utilizing it on 49.4% of his dropbacks, the fourth-highest rate in the nation. When using play action, his yards per attempt nearly doubles from 5.7 to 10.8 and his passer rating spikes from 97.7 to 125.9.
Justin Herbert, Oregon
2018 grade: 91.1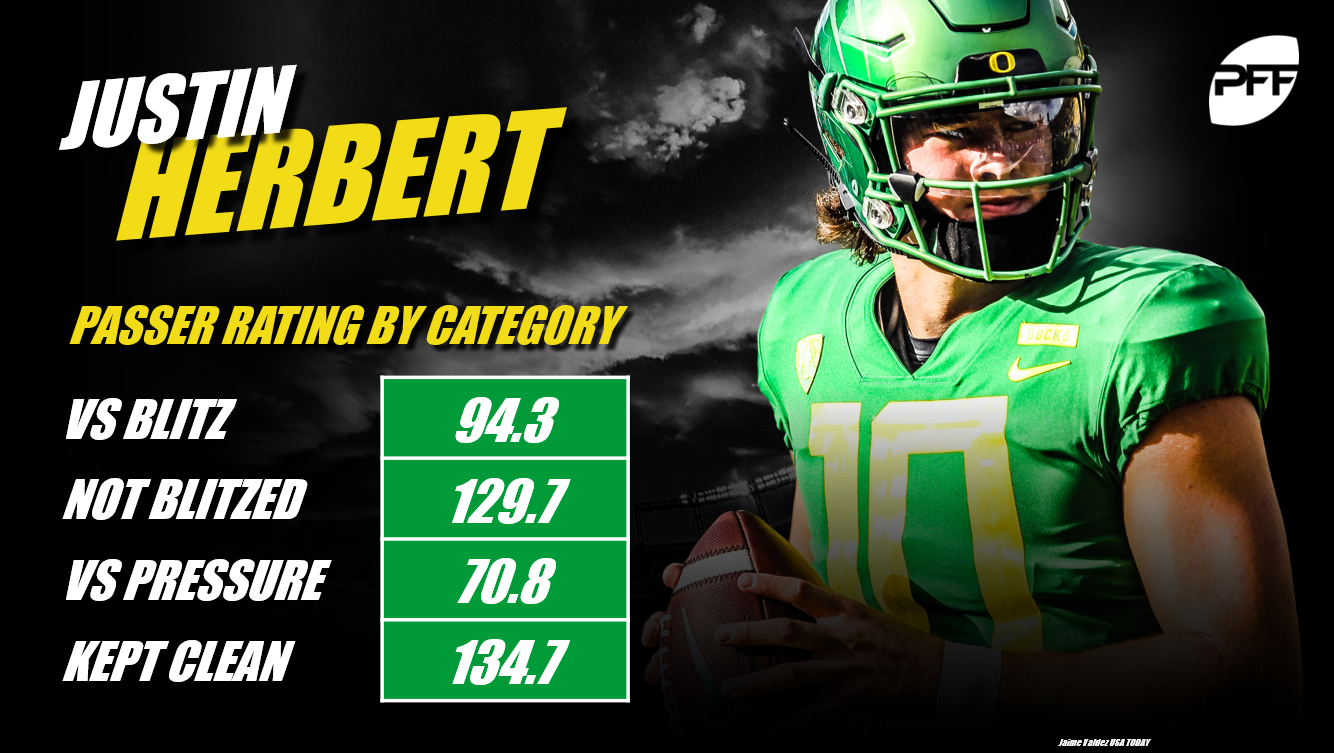 Herbert excels when throwing from a clean pocket, ranking eighth among all quarterbacks with a 134.7 passer rating. However, there is a stark decline in Herbert's play when pressured, as his passer rating gets cut nearly in half to 70.8 (49th).
The Oregon offensive line has an impressive 93.8 pass-blocking efficiency (10th) and will need to maintain their exceptional play going forward.
Mason Fine, North Texas
2018 grade: 90.9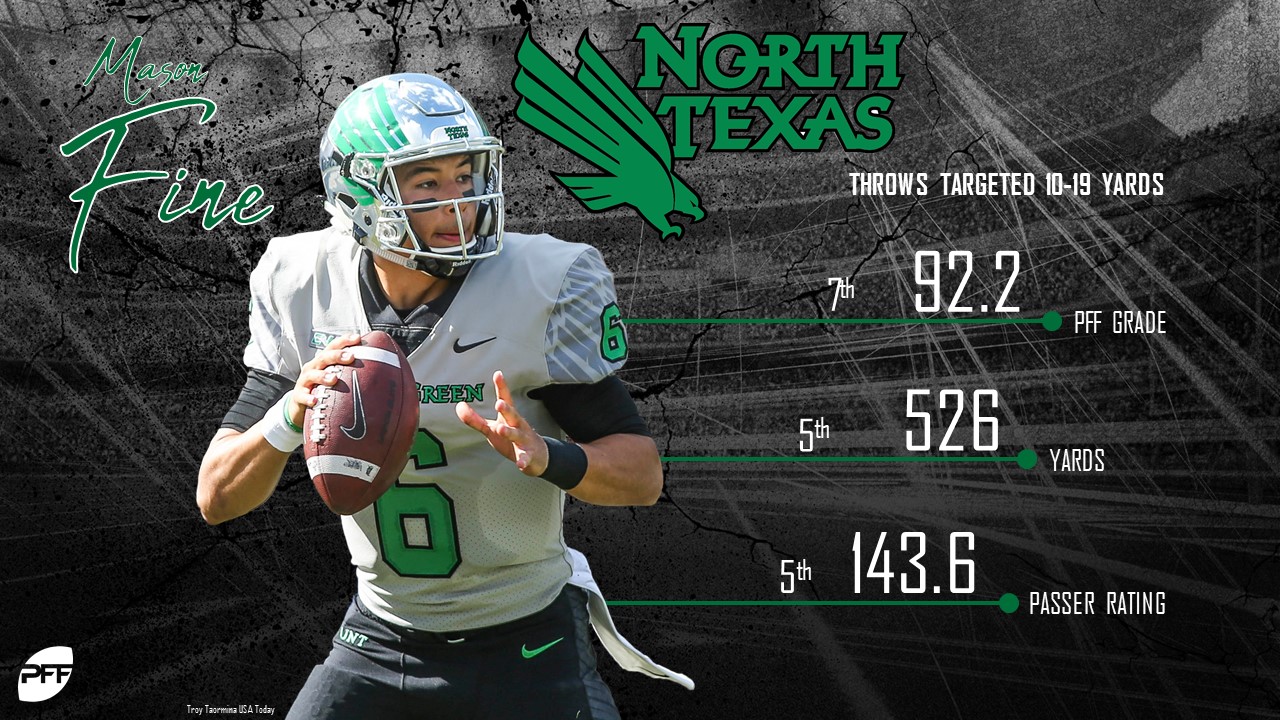 Fine has been one of the country's most accurate quarterbacks this season, ranking third with an 83.2% adjusted completion percentage. He has also racked up a whopping 82 first downs (fourth most). Yet, Fine's pass-catchers have struggled at times, leading the nation with 18 drops.