We're five weeks into the college football season and fresh on the heels of our release of the best players at every position so far. While that list takes a look at the best cumulative grades from the season up to this point, how did they get there? How did the nation's top-graded quarterback overall stack up against his peers in Week 5?
We answer those questions as well as who were the 10 best quarterbacks from Week 5 below.
This list is brought to you by Eckrich, the Official Smoked Sausage of the College Football Playoff.
1. Kyler Murray, Oklahoma
Week 5 Grade: 93.6
The National QB of the Week for his efforts, Murray needed just 17 completions to throw six touchdowns against Baylor. He turned those 17 completions into 432 yards and an additional seven first downs. His average of 20.6 yards per attempt was far above the rest of the quarterbacks this week.
2. Nathan Rourke, Ohio
Week 5 Grade: 92.8
Rourke had an all-out duel with No. 3 on this list as Ohio got the better of UMass in the end. He was an effective quarterback from a clean pocket but he also dealt extremely well with extra rushing defenders, completing 12-of-18 passes for 159 yards and three touchdowns against a staggering 20 blitzes from the Minutemen on Saturday. All told, Rourke's 92.8 overall grade and 15 additional first-down passes were good enough to defeat his counterpart and UMass.
3. Andrew Ford, UMass
Week 5 Grade: 92.7
The result certainly won't go down as an indication of how well Ford played as the left-handed signal-caller was on fire in this one. He completed 22-of-30 passes from a clean pocket while he also completed 66.7% of his passes under pressure for one of his four touchdowns. He had no trouble finding success downfield either, completing five passes targeted at least 20 yards downfield and finished the game 9-of-13 for 246 yards and three touchdowns on passes thrown at least 10 yards past the line of scrimmage.
4. Will Grier, West Virginia
Week 5 Grade: 92.4
Grier lit up the first half against Texas Tech before it seemed like the gameplan changed to conserve the victory and run out the clock in the second half. Nevertheless, his arm was on full display as he dropped in passes at will seemingly wherever he wanted to. This game was just another example of how sharp Grier has looked this season as he regained his throne atop the quarterback grades after this performance.
5. Sam Hartman, Wake Forest
Week 5 Grade: 92.0
The true freshman shook off any of the cobwebs that may have been left after his two-game stretch of sour play following the dismal outing against Boston College in the Hurricane Florence expedited Week 3 matchup and his underwhelming day against Notre Dame in Week 4. Hartman needed limited time against Rice to complete 15-of-17 passes for 241 yards and four touchdowns, joining Murray as the only two quarterbacks to field a perfect passer rating of 158.3 in Week 5.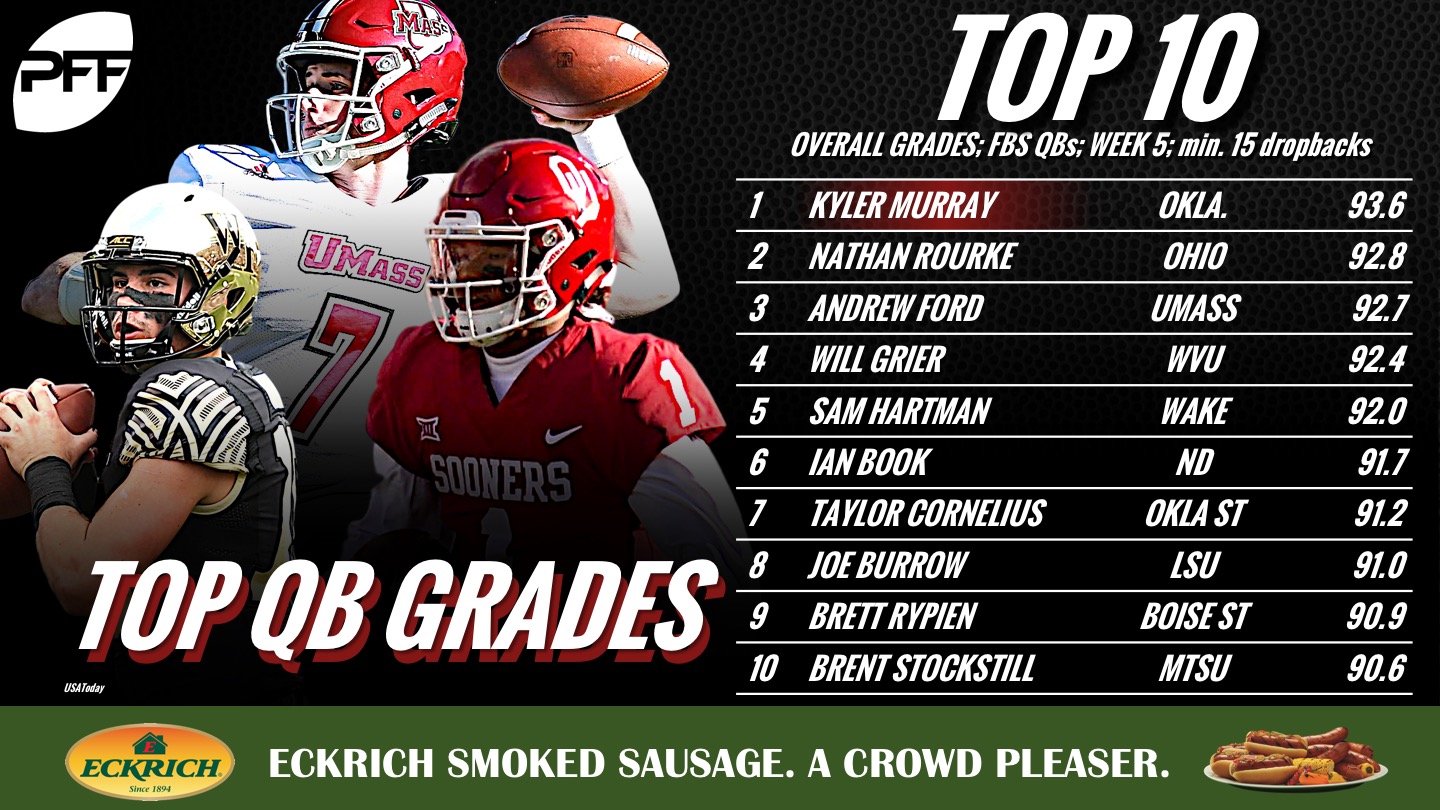 6. Ian Book, Notre Dame
Week 5 Grade: 91.7
Book has been inserted into the Fighting Irish's lineup and all but made the Notre Dame faithful completely forget about former starting quarterback Brandon Wimbush. Book may have been sacked five times but he didn't let 20 blitz attempts from the Stanford defense faze him too much. He completed 9-of-16 passes against extra rushers from the Cardinal, for 107 yards and three of his scores.
7. Taylor Cornelius, Oklahoma State
Week 5 Grade: 91.2
Surprise, surprise – an Oklahoma State quarterback averaged a whopping 15.6 yards per attempt on Saturday. Cornelius picked up where Cowboy greats have left off, tossing the ball down the field with relative ease. Against Kansas, he completed 15-of-20 pass attempts for 312 yards and four touchdowns including 6-of-8 passes targeted 20 yards downfield for 231 yards and three of his scores.
8. Joe Burrow, LSU
Week 5 Grade: 91.0
In his best performance to date, Burrow slung the ball around with ease against Ole Miss to the tune of 18 completions for 292 yards and three touchdowns. He may have seen a large portion of his yards done by his receivers (182 of 292 yards came after the catch) as he wasn't tasked with much, but when he did target passes at least 10 yards downfield, Burrow completed 7-of-10 passes for 204 yards and all three touchdowns.
9. Brett Rypien, Boise State
Week 5 Grade: 90.9
It wasn't his prettiest game in terms of box-score completion percentage but Rypien was extremely efficient running the Boise State offense in their win over Wyoming. Rypien completed passes at will in between the numbers, finishing the evening with 22 completions on 28 attempts for 194 yards and a touchdown.
10. Brent Stockstill, Middle Tennessee State
Week 5 Grade: 90.6
Stockstill got it done a bit differently than his counterparts here, edging out FAU 25-24 on Saturday but that's because he arguably got the least amount of help from his supporting cast. Of his 31 catchable pass attempts, he saw four passes dropped and was forced to unleash another two throwaways due to pressure. His box-score completion percentage of just 67.5% is not nearly indicative of his play in this game as his adjusted completion percentage of 81.6% is a better example of his efficiency.