Bet Dallas Cowboys -2: The Tampa Bay Buccaneers' offensive line woes in combination with Dallas' impressive pass rush make the Cowboys the wise side to back in Monday's wild-card contest. 
Bet Cade Otton U2.5 receptions: The Cowboys are effective at slowing tight ends, making Otton's reception prop a prime spot to bet the under. 
Estimated reading time: 4 minutes
---
Let's dive into the best bets to make for Monday's wild-card game between the Dallas Cowboys and Tampa Bay Buccaneers.

---
Game lines
Bettors continue to back the Buccaneers, banking on the expectation that we see Playoff Tom Brady at his finest on Monday night. The Bucs offense has had a disappointing season, ranking 18th as a unit in PFF's overall offensive grade. It's posted two games since Week 9 with an above-average offensive grade, so the Bucs' end-of-season resurgence might be a bit overstated from PFF's perspective. 
PFF's opponent-adjusted grades paint a different outlook for the Buccaneers offense, as it ranks fourth on this scale. The problem with this approach is the Buccaneers' up-and-down season, so it's tough to know which performances provide the correct signal for the current state of this offense. 
The Bucs' offensive line continues to be banged up and may not have an answer for the best defense from a pressure rating perspective in the NFL. This is the big reason why the move from three points down to 2.5 doesn't make a lot of sense from PFF's modeling perspective, as Greenline shows 0.7% value at -2.5 (-110) for the Cowboys. 
PFF's play-by-play simulation has a three-point Cowboys victory as the most likely outcome, but it also sees enough games where the Buccaneers win outright to keep the mean expectation close. Because point spreads between the threes are not worth a lot, it would be wise to lean on Greenline and buy into the Cowboys off of the key number.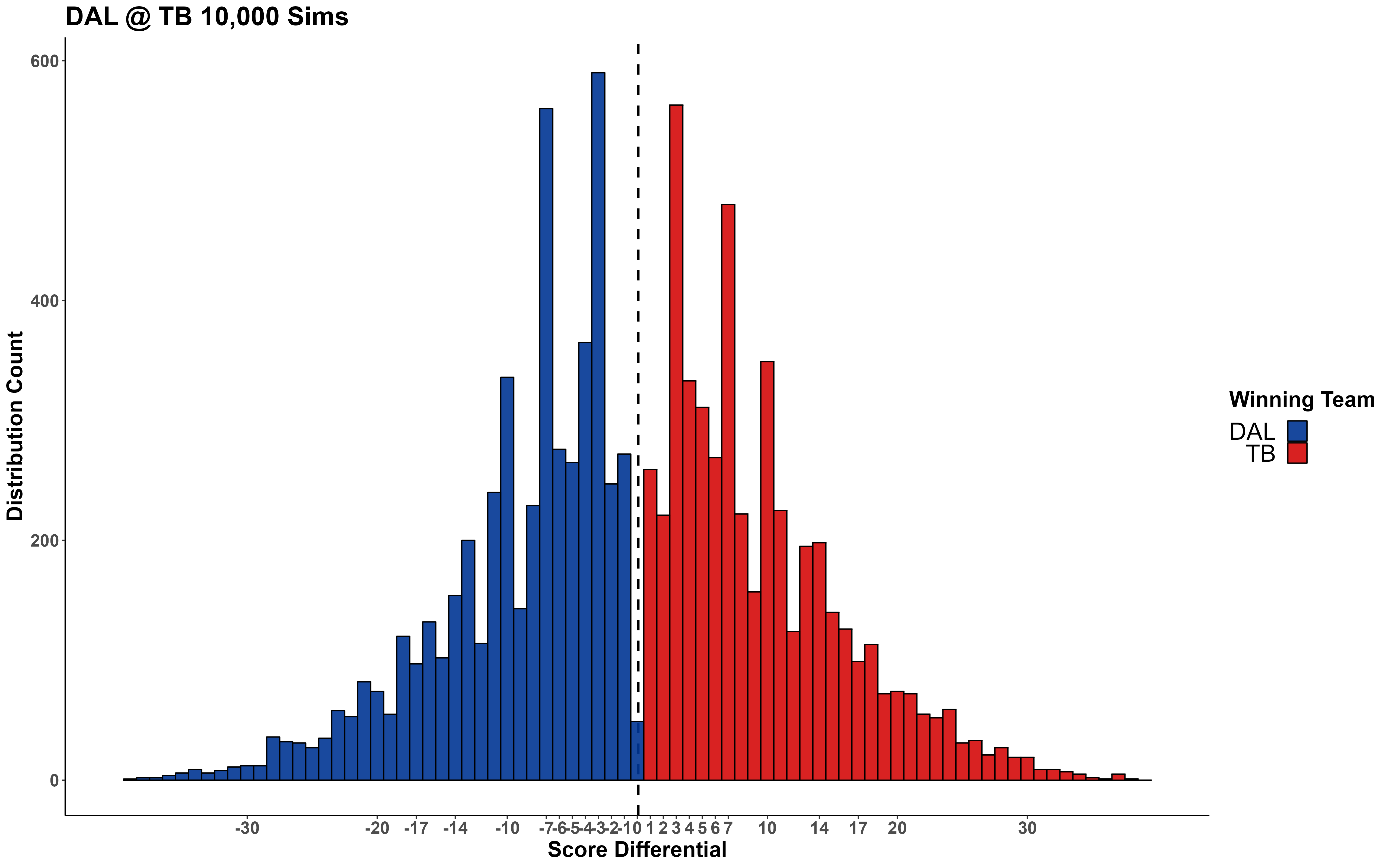 The over is hot in the wild card round, hitting in all five games based on the closing number, with PFF's numbers pointing in that direction in every matchup. Offenses seem ahead of defenses, but this game might be the litmus test for that because both offenses have failed to live up to expectations recently. Nonetheless, both defenses rank middle of the pack in all of PFF's grading outputs.