For the third straight week, we got our non-pick-of-the-week pick correct, sweating out a 27-0 Pittsburgh run to get to the window with Miami (+14.5), while losing Kansas City (+4) in a game where we got both negative closing line value and a valiant effort come up short on Sunday Night Football. We are 14-8 on the season (4-4 on our pick of the week) and 107-89-10 (54.6%) since we started writing this column in 2017.
Our unofficial PFF Forecast pick, over 20.5 first half in San Francisco, sailed over after the full game total moved up on Wednesday evening/Thursday morning (only to drop during the weekend due to weather concerns). Tampa Bay (6.5 wins) losing to Tennessee (8) last week was not good for our preseason win totals, but a last-second missed field goal by the Bears certainly helped our case for their under 9.5 wins.   
There were some options this week using PFF Greenline, with some live underdogs and unders should you choose. We have gone with a couple of favorites and an over this week, including Sunday Night Football, which has not been kind to us the last two weeks (after we started 2-0 there this season).  For the first time this season, we offer a pick for Thursday Night Football.  
Tune into George and Eric's podcast, PFF Forecast, to get their pick on the game below.
Green Bay Packers at Los Angeles Chargers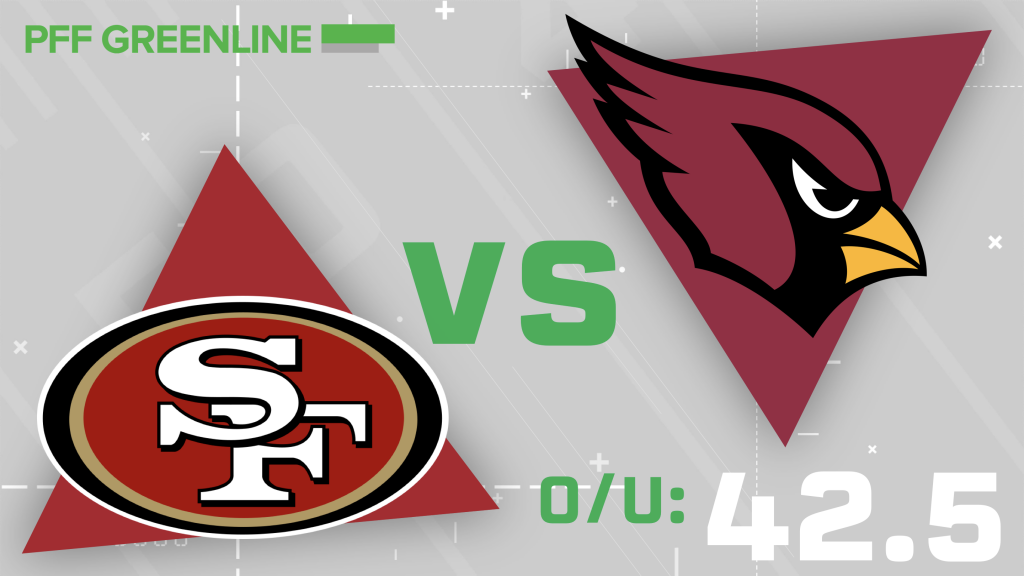 Point (George Chahrouri): The 49ers are quite literally running (they are running the ball 55% of the time to lead the NFL) to Miami and laying waste to everything in their path. They might appear to have the configuration of a team that plays under games, but they are by no means pulling any punches as evidenced by the 50-burger they gave the Panthers. The Cardinals are not the team one would expect to slow down that running attack to the degree that the 49ers march toward perfection. Arizona ranks in the bottom-10 at stopping the run both in the percentage of plays that move the offense closer to scoring and in the average expected points allowed per run play. The 49ers and their bevy of first-round running backs will run to their heart's content.
The 49ers' defense is perfectly constructed to destroy below-average teams of which the Cardinals are definitely one, but they are one that has a quarterback and offense that are not afraid to keep putting up points even if a win gets out of touch. Kyler Murray will probably need to get rid of the ball quickly, and he's already racked up 12 plays gaining 20-plus yards after spending 2.5 seconds or less in the pocket
On the offensive side, this could be the breakout game for the 49ers' passing offense, which now has a full week of prep with Emmanuel Sanders, who is the best wide receiver Jimmy G has ever had the chance to play with. The Cardinals are allowing a successful pass play 56% of the time, which ranks dead last, yes even worse than the Falcons (this is defined as a play where the offense adds positive expected points or increases their chances of scoring on the next scoring play). George Kittle has been the most valuable tight end since the start of last season and the highest graded, and the Cardinals are not a fan of keeping the tight end under wraps. They've allowed 9.8 yards per play when the opponent targets the tight end (third-worst). George's in the desert will put up points.
Counterpoint (Eric Eager): While the 49ers have the potential to be electric, the Cardinals have been less so against better competition, scoring only 17, 20, 10 and nine points when facing the Ravens, Panthers, Seahawks and Saints, respectively. While Murray has not looked completely lost as a rookie signal-caller in an exotic NFL offense, his average depth of target is just a shade over seven yards through the season's first eight weeks, and less than 20% of his throws have graded positively. The (probably exaggerated) schedule aside, the 49ers have one of the league's best defenses with the second-highest-graded pass rush and coverage units fueled by five first-round draft picks and the resurgence of cornerback Richard Sherman.  
While the above may be irrelevant if the 49ers, as they did a week ago, are able to score the points themselves, there are a few situation-related things to be aware of as you ponder this over.  Since 2015, Thursday Night Football games have resulted in final scores about three-quarters of a point lower than non-Thursday Night Football games, with unders this season netting a 5-3 record in 2019.  Divisional games play even more lower scoring, with over a point-and-a-half difference between intra-division games and inter-division games. While all of this should probably land me in the Trend Zone, it's just my way of saying listen to George.
Subscribe to PFF Edge to continue reading
Already have a subscription? Sign In