• Bet Raiders RB Josh Jacobs o17.5 receiving yards (-115 BetMGM): With 3 straight 30+ receiving yard games, Jacobs should stay heavily involved as a receiver vs Houston with no Darren Waller.
• Bet Titans QB Ryan Tannehill u217.5 pass yards: Colts pass 'D' rounding into form, and Tannehill could struggle to find open receivers with Stephon Gilmore locking down Robert Woods.
• Tannehill had only 137 yards in his most recent meeting with the Colts, who welcome back star LB Shaq Leonard after stringing three solid performances together, including the past 2 without him.
Last updated: Fri. Oct. 21, 1:00 p.m.
Estimated reading time: 4 mins

---
Player Props have one of the most popular markets offered in sportsbooks right now. Because of its similarity to fantasy football, something most bettors grew up playing, it's easy to translate the thought process from fantasy football to player props. Here at PFF, you can utilize the Best Bets tab on the website to help sift through the most +EV props to bet on based on our model to help with your betting success. 
Tough week last week as the article plays got reverse swept, but we head back to the drawing board in Week 7.
• Josh Jacobs heavily involved of late in Vegas passing attack, including 3 straight games over 30 receiving yards: With no Darren Waller on the field this weeked, this should open up more targets for Jacobs to take advantage of.
• Lovie Smith's cover 2 affinity: Inviting teams to throw the ball shorter, the Texans have allowed receiving  performances of 43 yards to Travis Etienne, 49 yards to Austin Ekeler, and 50 yards to Nyheim Hines this year. Jacobs will make his money in the same short area of field this weekend.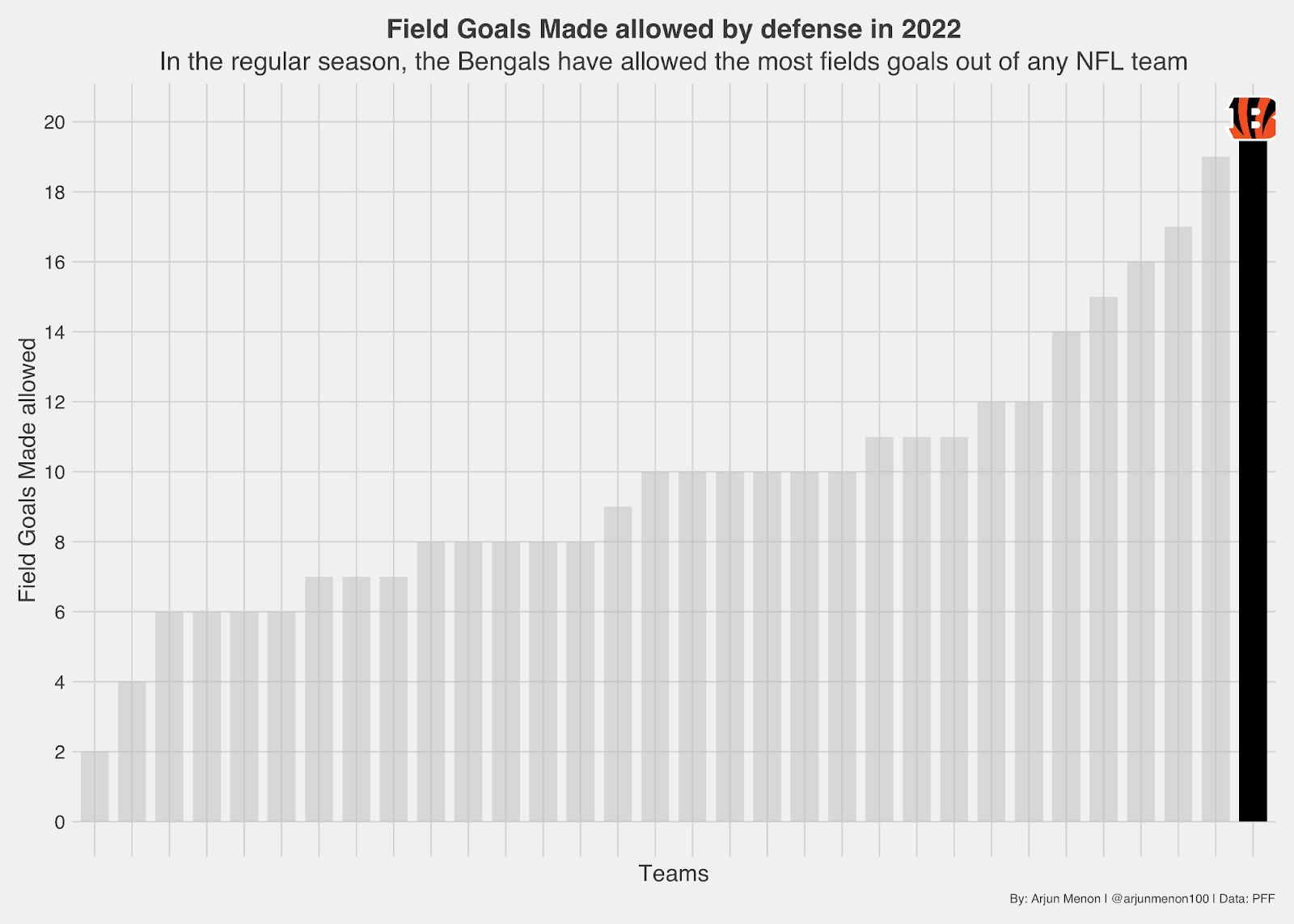 • Bengals epitomize bend-don't-break defense: While allowing a lot of opposing drives into Cincinnati territory, they tend to stall often and lead to field goals, which is why the Bengals have surrendered 20 successful field goals this season. Every kicker that has faced the Bengals so far this season has made at least 2 field goals — and many have made at least 3.
• Koo hasn't made a field goal in 2 weeks: But our angle is that the Falcons will be able to move the ball on a Bengals defense missing two of its best run defenders in D.J. Reader and Logan Wilson. Once the Falcons cross midfield, they'll likely stall as the Bengals defense tightens up and forces Atlanta to kick.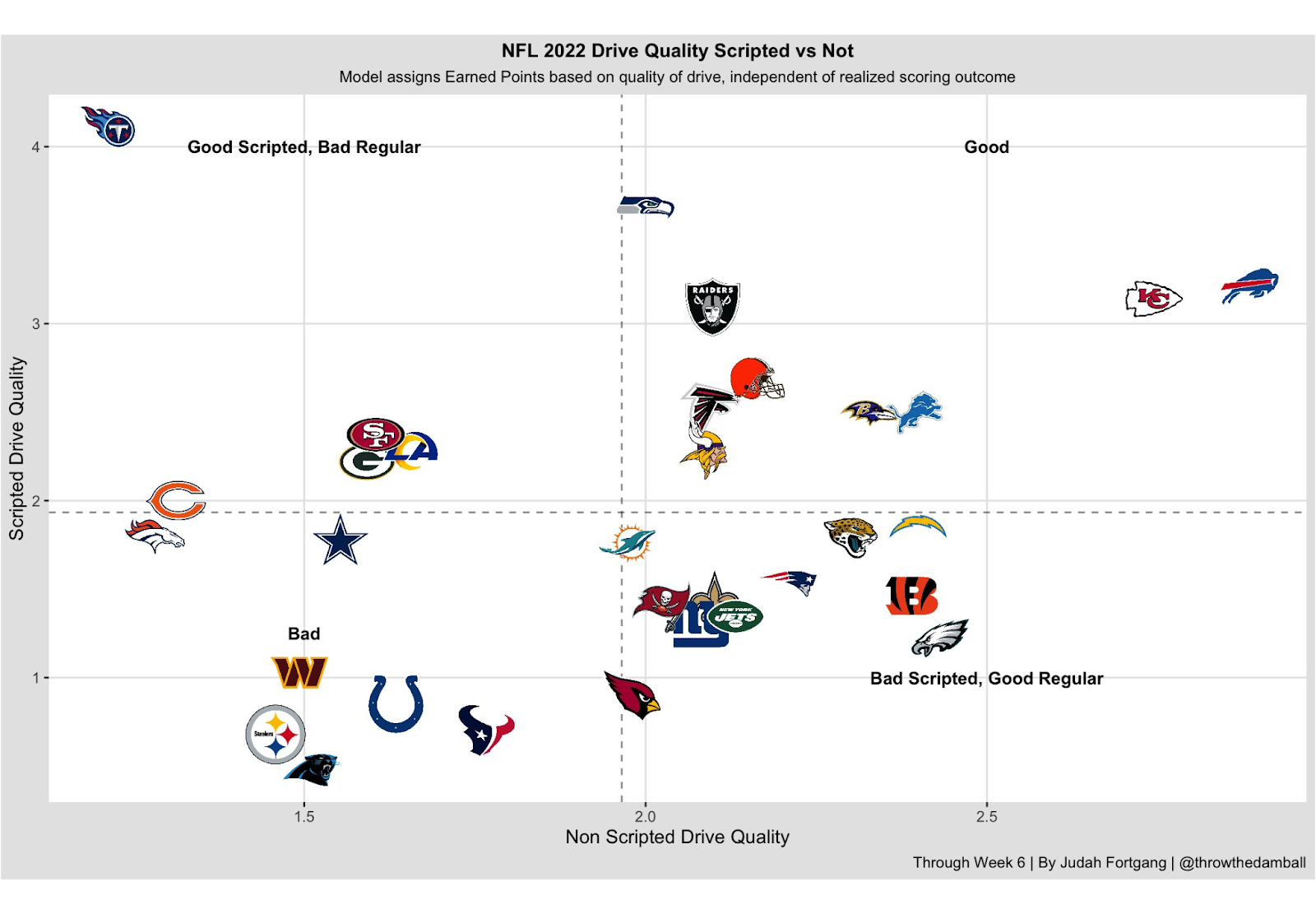 • Woods-Gilmore, advantage Colts: Tannehill will likely be going into this game without Treylon Burks, leaving Robert Woods as the only experienced receiver in this matchup. With Stephon Gilmore likely to be matched up on him, I could see Tannehill struggling to find open receivers.
• Titans NFL's best on scripted plays, while Colts are one of league's worst: Once the Titans build a likely first-half lead, they could take their foot off the pedal and give it to Derrick Henry for the remainder of the game.
• Welcome back, Shaq: The Colts' defense — which has strung together 3 really solid performances, including two without their best linebacker — will likely welcome back Shaquille Leonard, who should bring a boost. The last time these two teams played, Tannehill threw for 137 yards.
• Engram seemingly has turned a corner with the Jaguars: He's combined for 109 yards on 16 targets in his past 2 games. Now the former Giants first-rounder faces a defense that has allowed 371 receiving yards to tight ends this season — which is the 5th-most in the NFL — and comes off a game in which Mark Andrews went for 106 yards.
---
Arjun's data driven prop bets went 0-4 (-4 units) last week which brings his season record to 11-11 (-3.4 units) on article plays.