• Bet Minnesota Vikings vs. Los Angeles Chargers OVER 51.5 points: Minnesota has the second-most explosive pass plays in the NFL thus far (17), and the Chargers rank 13th (10).
• Bet the Los Angeles Rams (+6.5) vs. Cincinnati Bengals: The Rams' offense has looked good through two weeks, and the Bengals have shown some struggles on defense.
• $200 in bonus bets guaranteed: New FanDuel customers who bet $5 or more get $200 in bonus bets. Click here to sign up!
Estimated Reading Time: 4 minutes

---
If you are betting on NFL spreads, you better do it early. After going over each line on the PFF Forecast Podcast, we are here to share our favorite early bets to make before the market catches on and lines move.
We went 39-30-4 last year, and with one Week 2 bet left to mark on Monday Night Football, we are sitting at 2-1 from last week's article — with the one loss coming on a Packers (-1) collapse. To make sure you don't miss anything, join in on the action with the PFF Betting Discord.
---
• The Falcons pulled out a nail-biter against the Packers in Week 2, relying heavily on the heroics of Bijan Robinson on the ground and through the air. Atlanta's run game accounted for 0.1 expected points added per rush and a 42% rushing success rate, both of which rank at least in the 79th percentile.
• The Lions struggled to stop the Seahawks' rushing attack run in Week 2, as Seattle averaged 0.1 expected points added per rush and posted a 41% success rate on the ground despite missing their top two offensive tackles. With a fully healthy Falcons offensive line and Robinson slowly starting to see a majority of the backfield's carries, the Falcons' run game should have a nice game.
• The Lion's offense was impressive this past week, posting a 62% passing success rate and 0.17 expected points added per pass, which could've been even better had Jared Goff not thrown a pick-six. The Falcons struggled to slow down Jordan Love through the air in Week 2, as Love recorded a 0.41 EPA per pass. That inability to defend the passing game could carry over to this week against the Lions.
---
• Through two weeks, the Chargers rank second in the NFL in success rate (52.5%) and the Vikings place 15th (42.4%), but the explosive plays are how these teams should rack up points in a hurry. Minnesota has the second-most explosive pass plays thus far (17), and the Chargers rank 13th (10). On the other side of the ball, Los Angeles has allowed the most explosive passes in the NFL (20). Minnesota has done well to limit explosive passes thus far, but Los Angeles has methodically moved the football down the field against two super defenses.
• Players returning from injury should play in our favor here over the course of the week. Vikings left tackle Christian Darrisaw pushed hard to play on Thursday Night Football against the Philadelphia Eagles but, ultimately, couldn't make it happen. However, with 10 days of rest, we'd imagine he's back in action as one of the better blindside protectors in the NFL. For the Chargers, running back Austin Ekeler's injury didn't appear to be a multi-week issue, so he should return, as well.
• Lastly, Brian Flores' Vikings defense leads the NFL in blitz rate through Week 2 (57.2%). Chargers quarterback Justin Herbert has navigated blitzes very well throughout his career, with his 1.0% turnover-worthy play rate when blitzed since 2020 ranking third among 49 quarterbacks with at least 100 blitzed dropbacks over the span.
---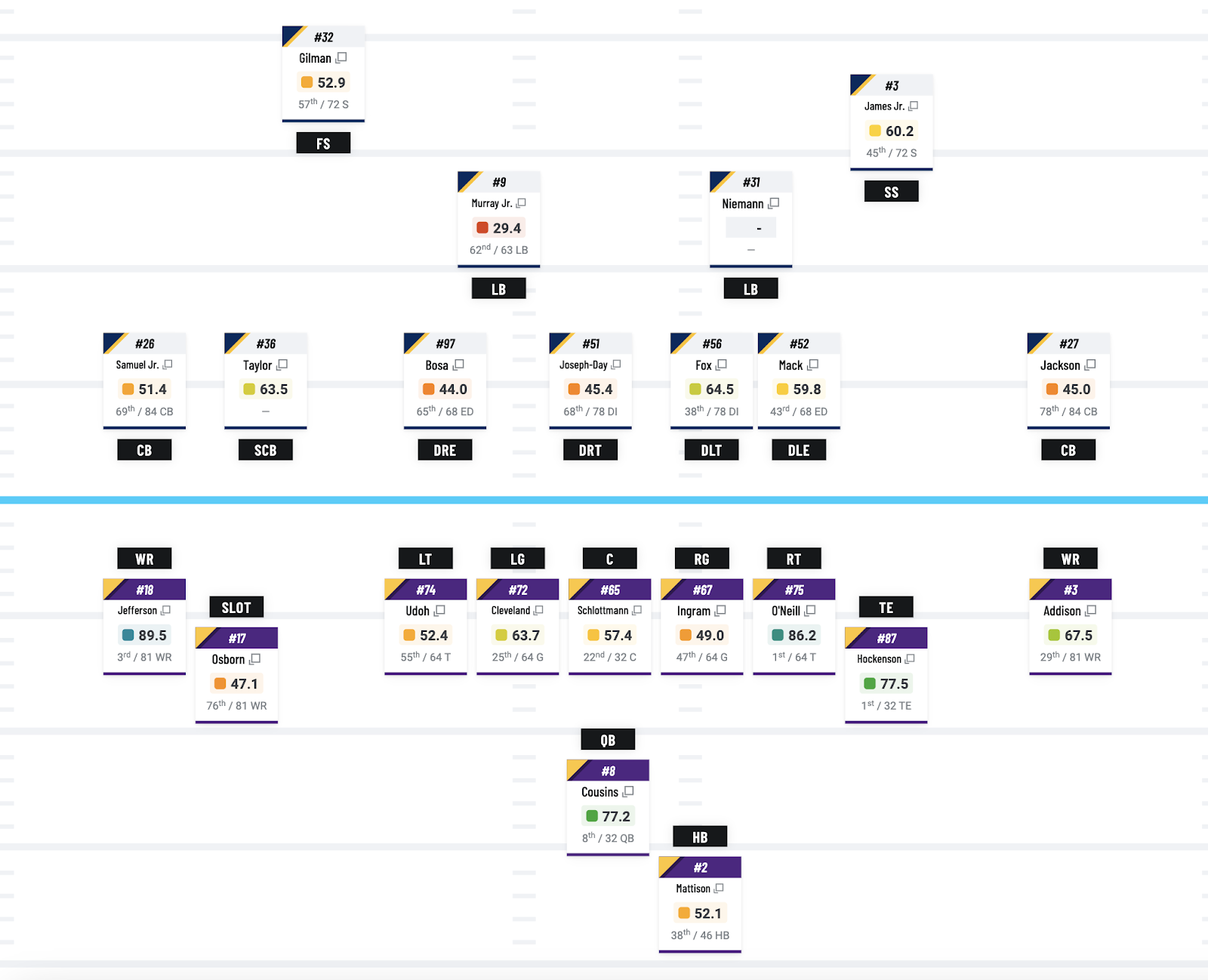 ---
• This is a Wong Teaser, which happens when each side you tease crosses both the numbers three and seven, as is the case here for the Ravens moving from -8 to -2 and the Saints moving from +2 to +8. Because three and seven are the most common end-of-game point differentials, crossing those numbers gives the bettor more outcomes for which each side wins.
• Lamar Jackson and the Ravens hit their stride in Week 2 against the Bengals. They ranked second in expected points added per play on offense, and Zay Flowers continued to be electric as a pass catcher and a runner. The Colts looked impressive against Houston but might be without quarterback Anthony Richardson.
• The Saints finished Week 1 with the sixth-best EPA per pass play and boast multiple wide receivers with which to attack the Packers' secondary. Despite the box score, Jordan Love's PFF grade is still quite average, so betting on Derek Carr with superior weapons at more than a touchdown spread with a low total (43) is compelling.
---
• The Bengals' offense has not been at its normal standard to start the season. They have not demonstrated the explosiveness they showed in 2021 or the down-to-down efficiency they thrived on in 2022. Joe Burrow's injury is likely a factor in that, and he re-injured his calf in Week 2, as well. The offense currently ranks 26th in expected points added per play and EPA per dropback, which is much lower than where the unit was last year.
• One place of concern for the Rams is their cornerback room. Starting Cobie Durant, Ahkello Witherspoon and Derion Kendrick against maybe the best wide receiver trio in the league isn't great, but the Bengals also struggled against a Ravens defense without Marlon Humphrey and Marcus Williams, so it's in the cards that the Rams' defense doesn't completely melt down on the back end.
• Cincinnati's defense also struggled to contain the Ravens' ground and aerial attacks. While slowing down a Lamar Jackson-led rush attack will always be tricky, they were getting torched through the air. Jackson will likely receive one of our highest passing grades for the week, and he also averaged 0.28 expected points added per pass and finished with a 60% passing success rate.
• Matthew Stafford for six-and-a-half quarters in Week 2 looked like the best quarterback in football, before a dropped pass turned into an interception and completely flipped the game on its heels. With that being said, the Rams' offense looked good. Against a stout 49ers front, they averaged 0.07 expected points added per rush and posted a 58% rushing success rate. Los Angeles now faces a Bengals front that has struggled in back-to-back weeks at stopping the run. If Stafford keeps up his high level of play, and it's complemented by a strong ground game, the Rams should be in position to cover the spread.