We had a 2-1 Week 11, upping our record to 5-0 and 4-0 in Cleveland and Pittsburgh games, respectively, while hitting our first under since 2017 (the first one we've even picked since 2018). That brings our season record to 19-11, and our overall record to 112-92-10 (54.9%).
There were a decent number of games to choose from this week. After excruciating deliberation, we've settled on three and saved the rest for the PFF Forecast, which airs live on YouTube every Thursday at 10am-ish ET and can be downloaded for your listening please from wherever you get your podcasts.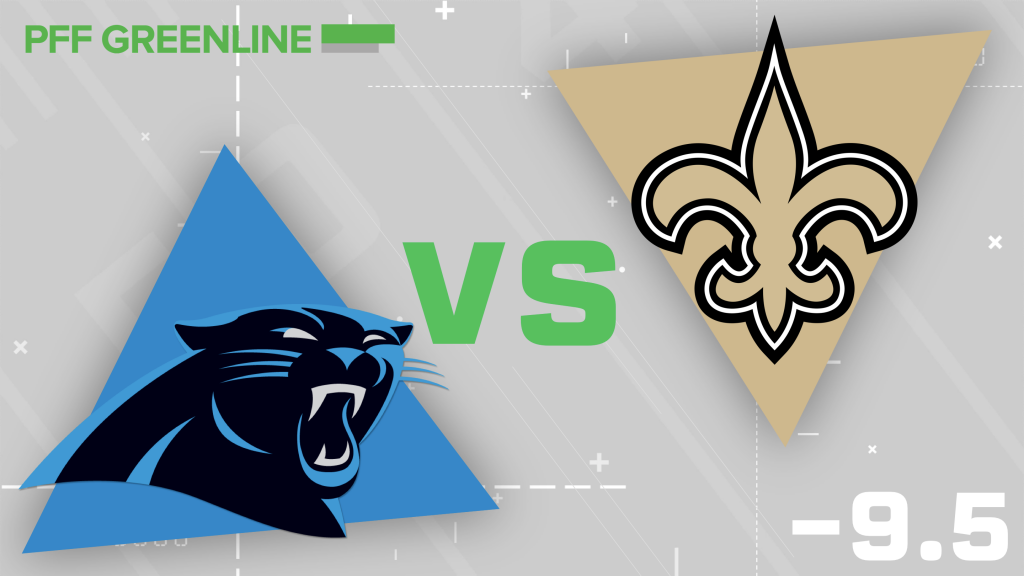 Point (George Chahrouri): Carolina had a cute little run with all the "can Kyle Allen make the Panthers a contender" talk. Those days are so long gone that Cam Newton's hats are starting to look appetizing (for the record, I love the guy's style even if his choice of font on Instagram makes me want to poke my eyes out of my head). Kyle Josh Brandon Allen is committing a turnover-worthy play at the second-highest rate in the NFL and has made negatively graded plays at the sixth-highest rate. How often a quarterback makes negatively graded plays (think an uncatchable throw or taking a bad sack) is the most consistent component of quarterback play, and the guy who Kyle Allen is going up against knows a thing or two about consistency — Drew Brees leads the league in avoiding negatively graded plays for the second straight season. Adding to Brees' advantage is the strength of his offensive line, which stands out in contrast to a Panthers line that has allowed the eighth-highest pressure rate this season. 
The difference between the two quarterbacks is massive, but so too are all the ancillary pieces around them, not least of which the fact that this game is being played in New Orleans where the Saints were embarrassed by the Falcons two weeks ago. As good as Christian McCaffrey has been this season, the Saints have the one guy who has forced more missed tackles over the last three seasons in Alvin Kamara. The advantage grows as you move to the outside with Michael Thomas, who leads all wide receivers in conversion percentage since entering the league and will go up against a Panthers secondary that started strong but has struggled a bit of late. The Panthers' best corner, James Bradberry, has given up a 100-plus passer rating into his coverage in each of the last three games.
The Saints are rightfully huge favorites, but they are not going to risk losing another home game while their two biggest competitors for home-field in the NFC prepare to play on Sunday night. The Saints are the most well-rounded team in the NFL and have the horses to blow out the Panthers.
Counterpoint (Eric Eager): This is the first game all year we've laid over a touchdown, which was a staple of some of our picks from our earlier days. While I do think that the Panthers are dead in the water here, people were saying the same thing about the Falcons a couple of weeks ago when they came to the Superdome and won outright. How did they accomplish such a thing?  Well, they pressured Drew Brees on 17 of his 51 dropbacks while registering six sacks, yielding a pass-blocking grade under 70.0 for the Saints for the first time since Week 3. The Panthers have the 12th-best pass-rushing group in the league with respect to PFF grades (the Falcons are only 18th) and will have to put some pressure on Brees if they want any hope of winning this game outright and/or covering this big a spread.
For the Saints, the other issue with covering a spread this big is their lack of down-the-field passing, which was cited as a concern when backup Teddy Bridgewater was at the helm and has remained one now that Brees has returned. Since returning from injury in week 8, Brees has completed just two passes over 20 yards in the air on only eight attempts. His average depth of target this year is actually slightly lower than the notoriously dink-and-dunk-ish Bridgewater, and while Alvin Kamara and Michael Thomas are more than good enough to win their fair share of matchups, Luke Kuechly eats his Wheaties too, allowing just an 80.3 passer rating into his coverage through the season's first 11 weeks. 
Can Kyle Allen and an offense relying on a running back overcome all of this?  Probably not, but there are two reasonable sides to every story (except one) this week.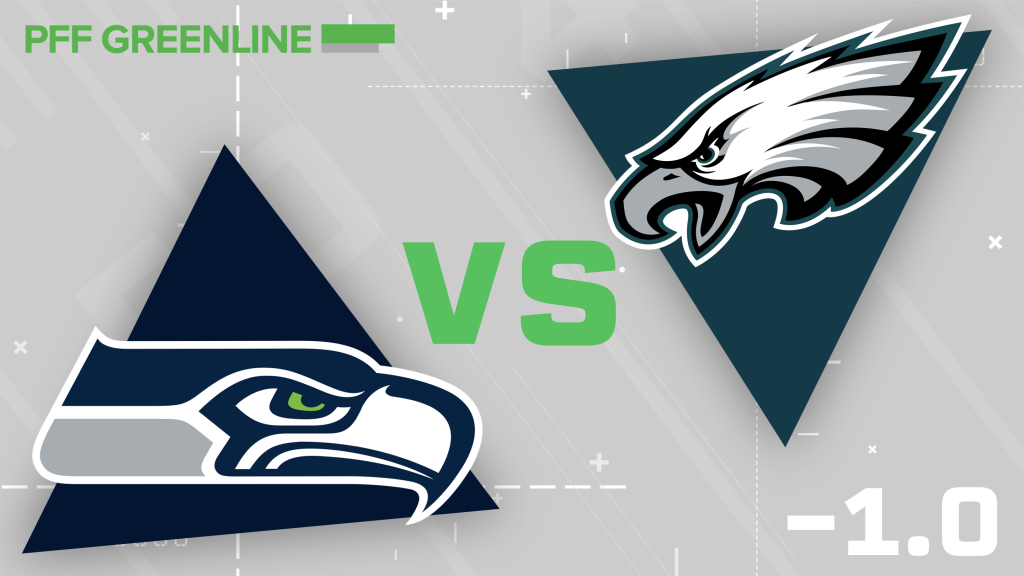 Point (EE):  Finding value in the betting markets is about buying teams at their lowest and selling teams at their highest. The Eagles are certainly at a low point right now, failing to score in the second half of a game where 20 points would have sufficed against the defending champion New England Patriots at home. The Seahawks are riding high, having won a road game in San Francisco to close the gap in the division to a half of a game (now a full game after the Niners' win against the Cards in Week 11). Looking at these two teams fundamentally, though, they are a lot closer than their records would suggest. The Eagles have graded better than the Seahawks in pass protection and run blocking, along with overall defense (although it's close, they have a big edge in pass-rushing and are basically the same in coverage). The real disparity, and what has led to the differences in public perception for the two teams, is in the passing game, where Russell Wilson is averaging almost two yards per pass more than Carson Wentz is. 
Some will say that this difference in quarterback play is fundamental and likely to continue, and they have a point to a degree. Russell Wilson is the MVP of the league, and the only player to have generated more than two WAR so far this year. However, a lot of negative and unstable things have hit Wentz all season, including the second-most drops in the NFL by his receivers (23), and the 19th-best completion percentage (47.7%) when pressured. With Nelson Agholor nursing an injury that will likely keep him out, and against a defense without someone like Stephon Gilmore who can slow players like Zach Ertz all game, look for Wentz to have a little more success than he has had in recent weeks against a Seahawks defense that is 24th in the NFL in yards per play allowed and 20th against the pass. 
Finally, and this cannot be stressed enough, the Eagles have the edge in terms of coaching in Doug Pederson. Pederson runs the ball too much on first- and second-and-long plays, but he has a friend in Brian Schottenheimer, and a lack of success on such plays will hurt the Seahawks more than the Eagles, who operate with 33% more plays by virtue of viewing fourth down as a down to play football and not soccer.
Counterpoint (GC): By the end of this season, we're going to have sworn off two birds: the Falcons and the Eagles. The Seahawks managed to escape this group because it appears they have a quarterback who is just so good that it doesn't matter what goes on around him– the Seahawks have run 347 plays when losing and yet are 8-2. 
https://twitter.com/PFF_George/status/1196878174203863042?s=20
Wilson is undoubtedly the NFL's MVP at this point. He has a passer rating of 118 when clean and 109 when under pressure, while poor Carson Wentz has a higher hit rate when bird hunting from a clean pocket than he does on the football field, with a 97 passer rating from a clean pocket. Wentz is also making a turnover-worthy play more than twice as often as Wilson has so far this season. 
If you read this column, you know that running on second-and-long is about as bad a football decision you can make and also that the Seahawks are often making poor decisions involving running. But the Eagles are actually a far bigger culprit on second-and-long than are the Seahawks, which means that Wentz is not just a worse quarterback, but he is given a worse set of situations from which to pass.
The Seahawks come off a bye with a chance to sit atop the NFC West by the time the day is done, while the Eagles could be headed to the land of no return with the Falcons sooner rather than later.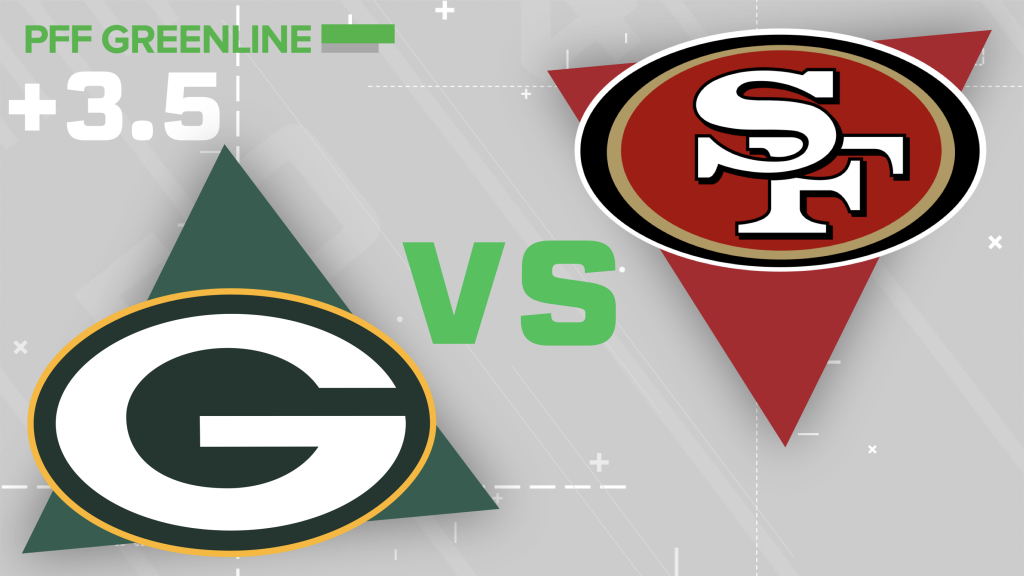 Point (EE):  The proverb that has done us well throughout our time picking games holds here: Aaron Rodgers (sorry Ben) is the better quarterback in this matchup, and he's getting more than a field goal. George will tell you about Rodgers' parents and lesser brother hating him, canceling out his excitement over his return to California…trust me, after a while, you stop caring about the presence or opinions of estranged family members.
What Rodgers has going for him is one of the best pass-blocking offensive lines in football (fourth in our grades), which he'll need against the league's third-graded pass-rushing unit, even without Dee Ford. If that matchup is even a stalemate, Davante Adams and his 2.67 yards per route run (fifth-best among wide receivers) should be able to exploit a secondary that has overachieved so far this season at something that is not particularly stable season-to-season, let along week-to-week. If Adams isn't open, Rodgers has done quite a bit of work with running backs Aaron Jones and Jamaal Williams underneath as well, and while linebacker Fred Warner has had a very encouraging second year, free-agent acquisition Kwon Alexander has been lost for the season due to injury. 
On the other side of the ball, Jimmy Garoppolo has gotten healthy two of the last three weeks against a Cardinals defense that 29th in the league in terms of yards per play in the passing game. The Packers are not all that much better (24th) but have the talent to match up against a 49ers' receiving corps that is both banged up and dealing with a case of the drops recently. If the opportunities are thinner for Garopolo and company, look for covering larger than a field goal to be very, very difficult for the Niners. 
 Counterpoint (GC): Rodgers returns home to the Bay Area, where his hardest task is usually avoiding family members. This time around, though, it will be avoiding a 49ers' pass-rush that is turning quarterbacks into forlorn children at an extraordinarily high-rate. The Niners' defense is blitzing just on just 19% of pass plays while still sacking quarterbacks at the highest-rate in the NFL thanks to Nick Bosa, whose 20% pressure rate is a rookie edge rusher record to this point.
Rodgers loves to do a few things very often. The first is hold on to the ball: He has the most pass attempts after holding on to the ball for at least three seconds, and the Niners have the highest sack rate when given that much time to get to the quarterback (22%, average is 13%). Rodgers also likes to throw the ball 20-plus yards downfield (52 attempts, 4th) or short of the line of scrimmage (83 attempts, 2nd), and the 49ers allow just 5.5 yards per pass attempt at those depths (second-lowest).
The real chosen son of the Bay Area, George Kittle, is a man of true grit and would probably cut off a limb before missing this game, which will give Jimmy G another advantage over Rodgers aside from his looks. Kittle has been totally dominant over the last two seasons, racking up more yards after the catch than anyone in football, and the Packers have allowed a 114 passer rating to tight ends this season (25th). The Niners are marching to Miami, get in their way at your own risk, Rodgers.