• Bet Bears vs. Giants to go OVER 38.5 points: While Justin Fields is playing poor football at the moment, the young quarterback is capable of a big play at any time.
• Bet the Titans (+3.5) against the Colts: The Titans' playmakers can do significant damage, and they have been scheming up pressure even without Harold Landry III so far this season.
• New users who bet $10 or more at BetMGM will receive a free year's subscription to PFF+ — a $79.99 value.
---
One feature of PFF's new mobile app is Smart Bets, which uses PFF data and insights to highlight betting edges throughout the NFL season. So far, this article has led us to a record of 9-5 and a push, including two weeks of 4-1 records.
Let's highlight some bets for NFL Week 4 that I like best.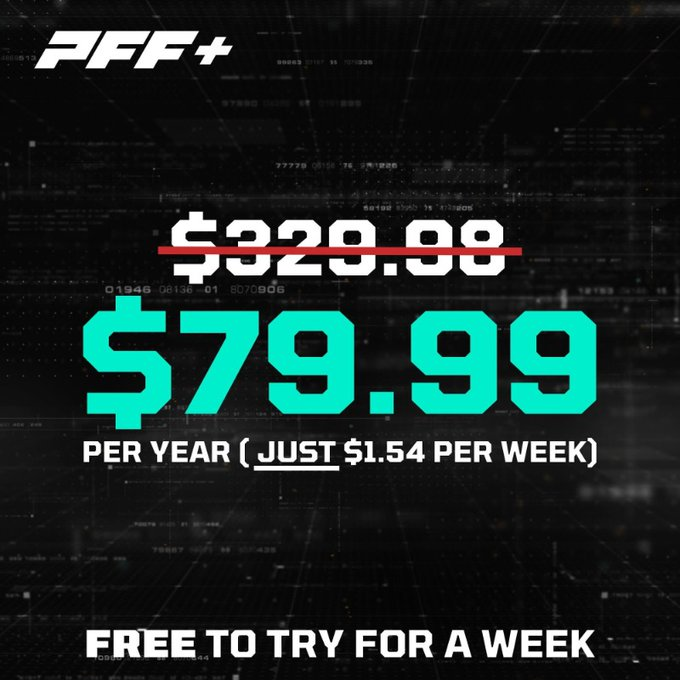 There have been some miserably low over/under totals so far this season, and in today's NFL, you can't set the number low enough for me to bite on the under. Even last week, the Dallas Cowboys and New York Giants pushed a 39-point total in an ugly, low-scoring affair. Justin Fields is playing some poor football right now, sporting has the lowest PFF grade among quarterbacks, but he's capable of scoring a touchdown or creating a big play at any time. Chicago's defense ranks 20th in yards per play allowed. This game will top 40 combined points.
---
Jacoby Brissett has played very well over the past two weeks for the Browns. In the first of those games, he undermined that play with an ugly late mistake late, but against Pittsburgh, he was nearly flawless. Brissett made two big-time throws and barely missed all day. The Browns' rushing attack is also a dominant force, and Atlanta just doesn't have the horses on defense to slow them down. This could be a comfortable win for Cleveland, even on the road.
---
Two underachievers in the AFC South go to battle for the first time this season. From the first three weeks, it seems like the Colts are in more trouble than the Titans, even if they can look forward to the return of Shaquille Leonard at linebacker. The Titans still have playmakers who can do significant damage, and they have been scheming up pressure even without Harold Landry III so far this season. The Colts were favored for the division heading into the year, but I now have significantly more confidence in the Titans.
---
Even though the Bills lost to the Dolphins this past week, I think Buffalo emerged with its standing enhanced rather than diminished. They were dealing with a slew of injuries and the baking Miami sunshine and still came within a play of rescuing that game. Their offense is a juggernaut, and the defense was good enough to limit Miami's new explosive offense despite missing almost their entire secondary. Lamar Jackson obviously presents his own challenges, but the last time he faced Buffalo (2020), he ended with just 196 yards of total offense.
---
Betting on Washington this season is going to feel bad every week, but they have the capacity to be a good football team in any given game. The Cowboys may have had a more demanding run than the Eagles, but they're not capable of doing what Philadelphia did, especially if the Commanders can dedicate extra attention to Micah Parsons. Carson Wentz has five big-time throws across three games this season, and a couple more against Dallas would keep Washington within a field goal.