• Bet on Bucs (-1.5) to continue winning ways: The Tampa Bay defense could be the star of a marquee matchup with the Packers in Week 3, making the Buccaneers a good bet.
• Bet on Giants and Cowboys to surpass 39-point total: The two teams are projected for a low-scoring affair but have enough firepower to get past this number.
• New users who bet $10 or more at BetMGM will receive a free year's subscription to PFF+ — a $79.99 value.
Estimated Reading Time: 4 mins
---
One feature of PFF's new mobile app is Smart Bets, which uses PFF data and insights to highlight betting edges throughout the NFL season. Week 1's Monday Night Football contest saw the app highlight strong value in the Seattle Seahawks to cover the spread, only for us to watch them win outright against their old quarterback.
In this article, I will highlight some bets for NFL Week 3 that I like best.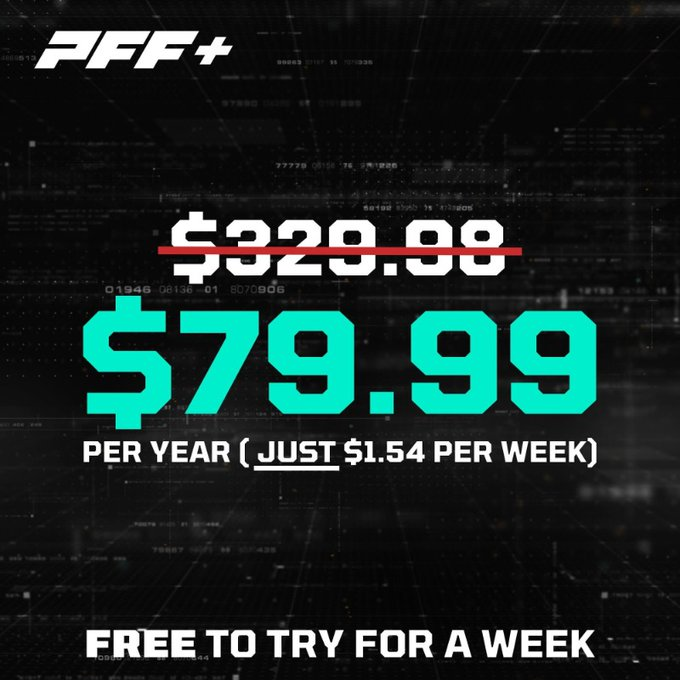 ---
It's not pretty, but the Buccaneers are battling this season and still getting wins. They've beaten the Dallas Cowboys and New Orleans Saints — two tough teams — and while they didn't score over 20 points in either game, the defense looks nasty this season. Green Bay's receivers are a major issue, and they're compounding problems on the offensive line. Tampa Bay has the defense to make this a low-scoring affair, and they've been making just enough plays on offense to stay ahead of the game each week. I think, overall, the Packers have more problems than the Bucs. I like Tampa Bay to continue this run in Week 3.
---
There are a lot of reasons to be down on both the New York Giants and the Dallas Cowboys, even though they're a combined 3-1 so far this season. There's a reason this total is as low as it is, but Brian Daboll's impact is already obvious with the Giants. Daniel Jones sports an 81.6% adjusted completion rate and has been arguably the most accurate quarterback in the league this season. The Giants are running a true meritocracy on offense, and underachievers like Kenny Golladay earned two snaps last week. While the Dallas defense looks impressive, there's enough firepower on both offenses to push this total over the line.
---
Chicago's offense has scored 29 total points in two games so far this season, but one of them was in a torrential downpour and they had a touchdown denied to them on replay review against the Packers in Week 2. This offense hasn't looked good, but it has shown the offensive line isn't as problematic as it may have originally seemed. Houston's offense looked good against the Colts before struggling in Denver. Davis Mills is averaging just 5.6 yards per attempt, but he has also had a drop rate of over 10% — a metric that is wildly volatile week to week.
---
The Saints finally lost against the Bucs last week in the regular season — something this article was pushing before the game — but they are good value to bounce back against a Panthers team that looks directionless. Baker Mayfield might be Carolina's best option at quarterback, but the offense has zero creativity and his PFF grade stands at 45.5 through two games. Last week also saw the low-ebb of Jameis Winston. He made four turnover-worthy plays against Tampa Bay, although he's not likely to repeat that kind of performance this week.
---
Washington is a difficult team to buy into this season, but it has a lot of firepower on offense and a quarterback who is well capable of getting the ball to playmakers, even if there will come some inevitable bad plays on the other side of that coin. After two weeks, the Eagles are absolutely justified in being favorites for this game, even on the road, but Washington's offense has shown it can hang in a shootout with teams and is a good bet to cover that number and keep the contest closer than expected.