• Offense in general is down in 2022: 449 total touchdowns scored in six weeks is the NFL's lowest total at this point in a season since 2017
• Meantime, there are 8 elite defenses (-0.05 EPA/play allowed or better) through the first six weeks of the season.
• Is it time to fade teams that are over reliant on offense and overly vulnerable on defense? PFF's Futures Betting tool shows edges of 18+% on Chargers u10.5 wins, Ravens to miss the playoffs.

Last updated: Wed. Oct. 19, 2:00 p.m.
Estimated reading time: 5 mins
---
Fans of the NFL might feel like there is something off about the league in 2022. The past four seasons have been dominated by elite passing offenses, from Patrick Mahomes hitting Tyreek Hill for explosive plays deep and Ryan Tannehill finding A.J. Brown on in-breaking routes off play-action, to Tom Brady attacking down the seams with Rob Gronkowski and Aaron Rodgers perfectly placing fades to Davante Adams, to name a few examples.
The league no longer has any of those connections this season, when offenses are down, stemming from the passing game not being what it used to be. This has also led to teams running the ball efficiently again and the return of truly elite defenses.
Let's dive into all of those trends and what they mean for betting.
Offense is Down in General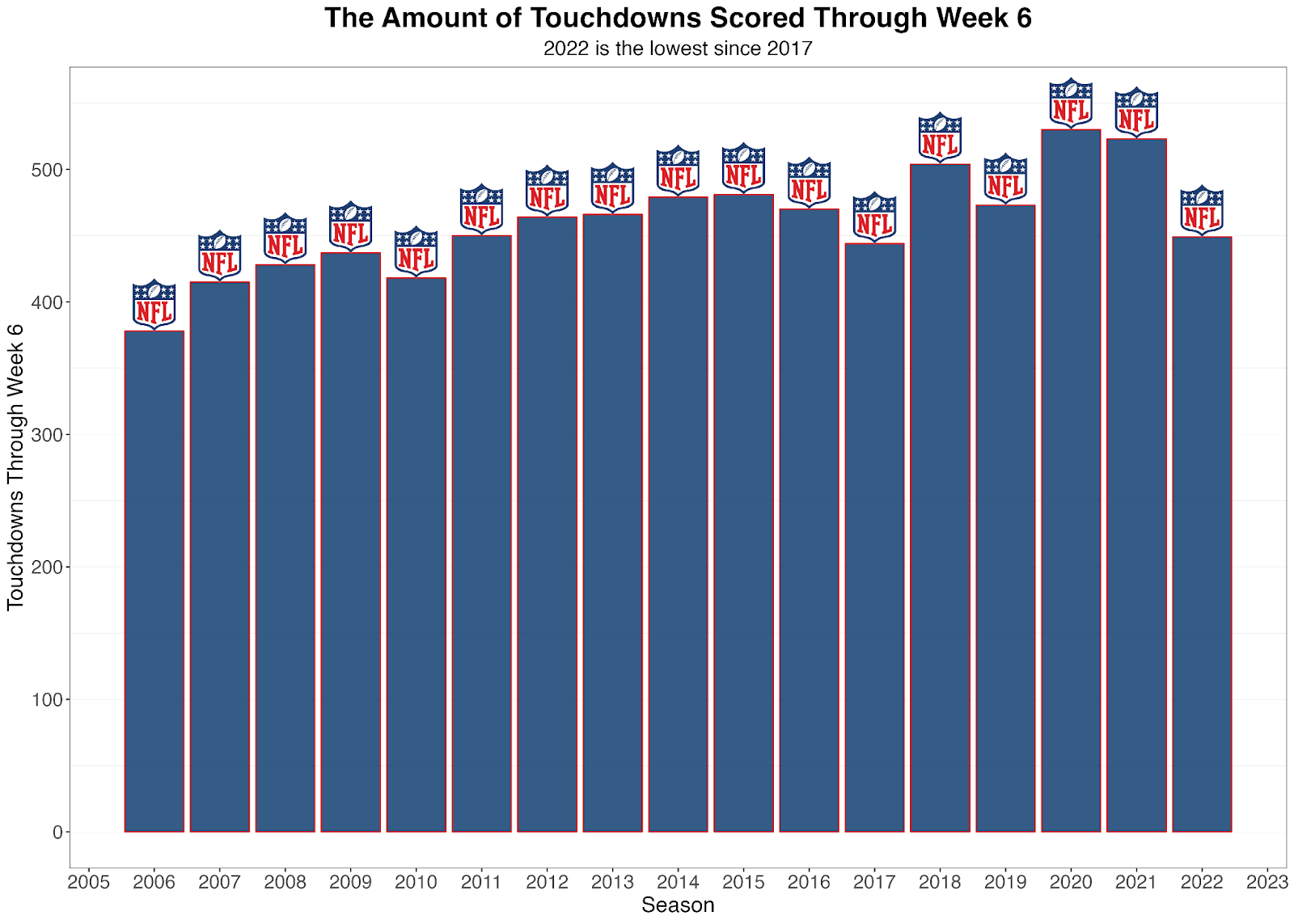 From 2006 to 2022, scoring has steadily risen, from fewer than 400 touchdowns scored in the first six weeks in 2006 to crossing the 450-TD barrier in 2011 and going all the way up to 530 in 2020. Although 2021 was a slight downtrend, this season has seen only 449 touchdowns in six weeks, the lowest since 2017. This is surprising considering 2017 included injuries to star QBs Aaron Rodgers, Andrew Luck, Deshaun Watson, Carson Palmer and Carson Wentz, which opened the door for offense to be down. For the most part, the elite quarterbacks have stayed healthy, but there is another factor at play.
Passing Offenses are Struggling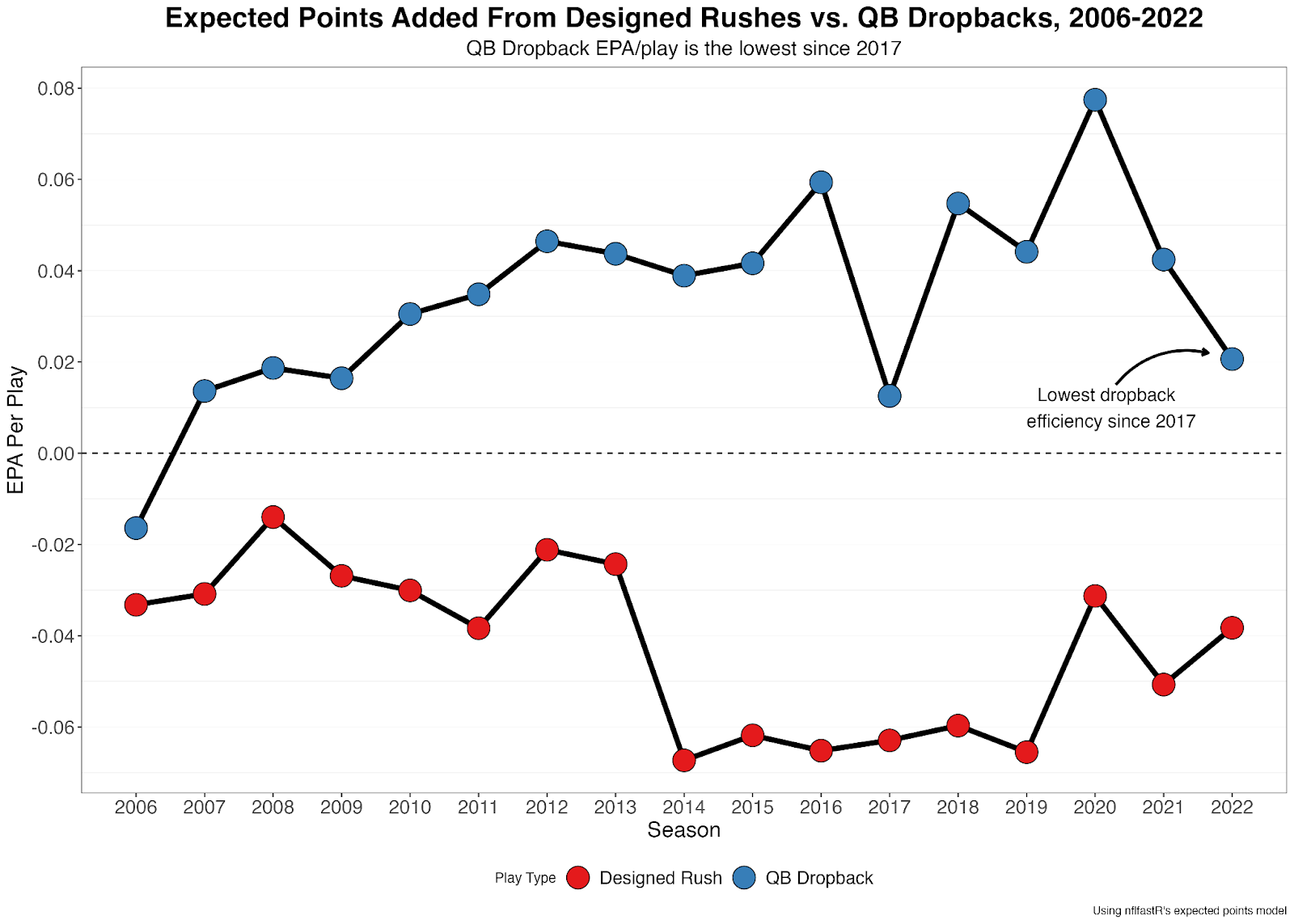 The reason scoring is down across the league is that passing offense efficiency has declined. Using Expected Points Added (EPA) per play on plays where a quarterback has dropped back (passes, sacks and scrambles) vs. when there's a designed rush, we can see that passing efficiency is at the lowest point since 2017. However, rushing efficiency hasn't increased in the same way that passing efficiency has decreased, so we can probably attribute this to defenses that are manufactured to stop explosive passing attacks, while those explosive passing offenses haven't been able to run the ball.
Using a traditional statistic like yards gained per dropback, we can see it tells even a more drastic story. Quarterbacks are averaging the fewest yards on dropbacks since 2006 and 2007 — even fewer than the infamous 2017 season.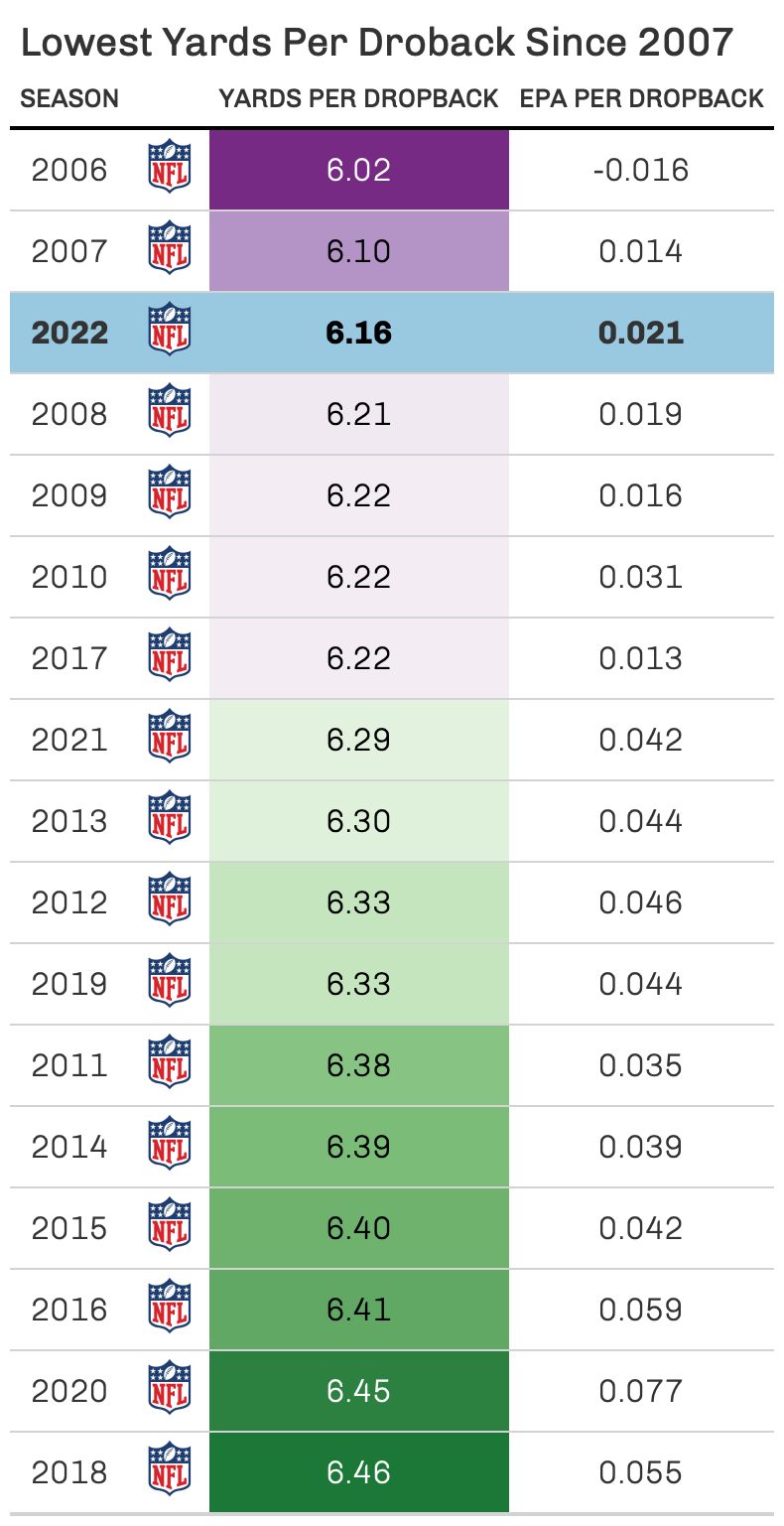 There are More Elite Defenses This Year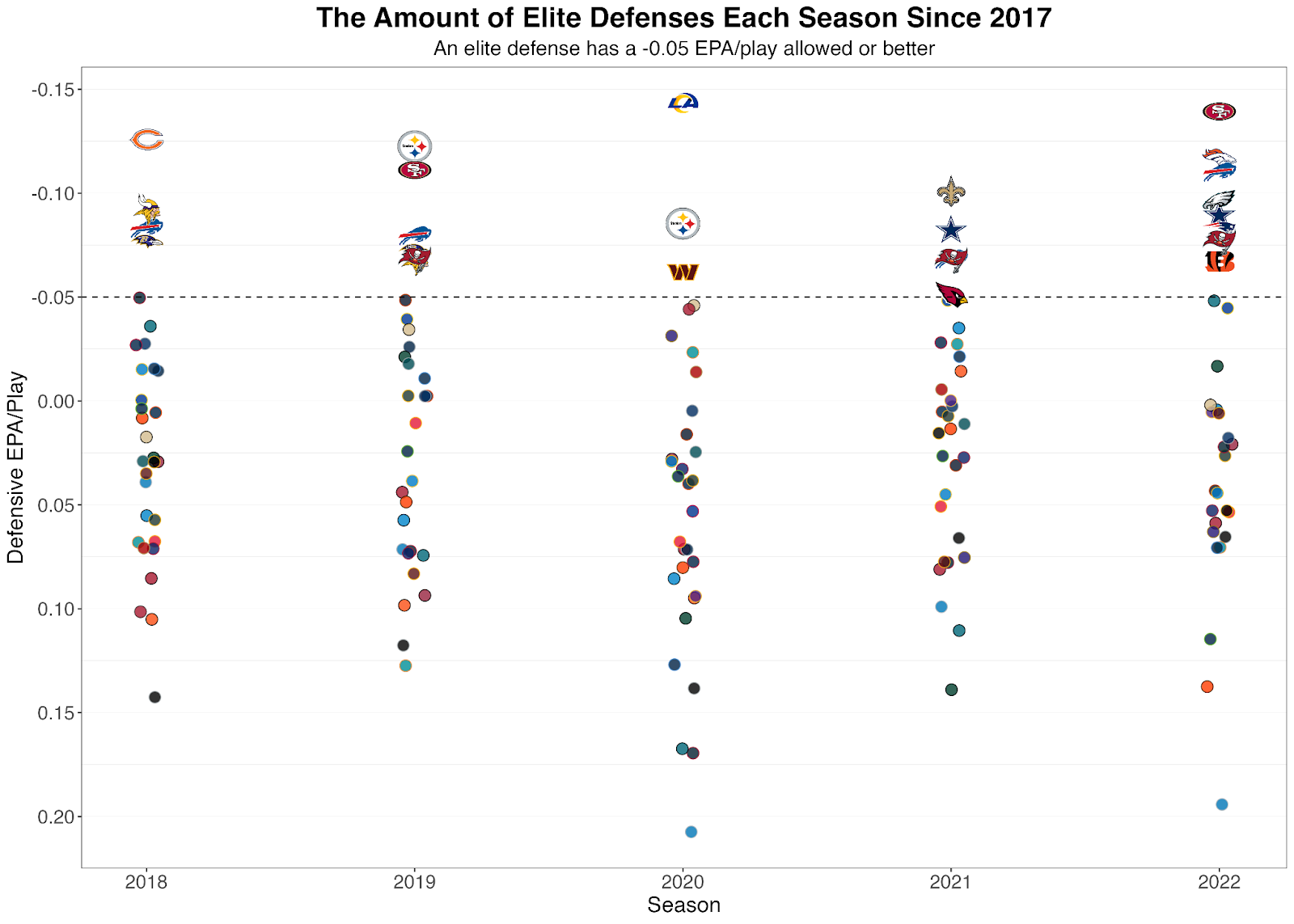 In recent seasons, we saw defenses continue to struggle from an efficiency and effectiveness standpoint. In 2020, the season in which offenses dominated the most, we saw only three defenses have a -0.05 EPA/play allowed or better. This season, there are 8 elite defenses through the first six weeks of the season. This is particularly impressive, as defenses usually improve as seasons progress (because of experience, weather and offensive injuries), but in comparison to full-season defenses, this year's units are standing well. 
So far this season, we can see the best defenses have a lot greater impact on their teams' winning percentage than in previous seasons. The Dallas Cowboys are 4-1 with backup quarterback Cooper Rush because of elite defensive play. The Denver Broncos have stayed competitive with the lowest-scoring offense in the league because they have the 2nd-best defense. The Buffalo Bills weren't able to stop the Kansas City Chiefs in the divisional playoff game in 2021 despite having the best defense in the NF,  but they slowed them down just enough in their regular season matchup in 2022. The list could go on.
What This Means for Betting

Betting first and foremost on elite passing offenses has been the right strategy for the past couple seasons. However, passing offense doesn't currently have as much influence as that of elite defenses. When looking at the current futures market, a sound strategy is targeting teams that either have relied too heavily on offense to cover up bad defense, or buying an elite defense with untapped offensive upside, as they show up advantageously in PFF's Betting Futures Tool. 
• The Chargers have spent the past two seasons relying on Justin Herbert to lead a strong passing attack that could outscore the points their defense surrenders. Despite a massive offseason spending spree on that side of the ball, they rank 21st in defensive EPA/play, 14th in dropback efficiency.
• PFF's Betting Tool sees this as a +18.4% edge.
Bet Denver Broncos Over 6.5 Wins (-155, BetMGM)
• The Denver Broncos currently sit at 2-4 — with three losses in which their defense allowed 16 or fewer points. Denver has shown the ability to stop a variety of offenses, which should continue for the rest of the season. If the offense can get to league-average, the Broncos very well could win 4 games down the stretch.
• PFF's Betting Tool sees this as a +8.8% edge.
Bet Baltimore Ravens to Miss the Playoffs (+272, BetMGM)
• The Ravens have managed to field above-average defenses to go along with their high-end offenses in the Lamar Jackson era, but they are struggling mightily to do so this season. The defense ranks 26th in EPA/play allowed, which would be OK if the Ravens' dropback game was elite, but that aspect ranks 10th in the NFL and has been declining each week.
• PFF's Betting Tool sees this as a +19.8% edge.