The wait is finally over. After almost a decade since the state of New York legalized sports betting, online wagering will begin Saturday, Jan. 8 — just in time for Monday night's College Football Playoff National Championship and the start of the NFL playoffs on Saturday, Jan. 15.
The New York Gaming Commission approved licenses for Caesars, DraftKings, FanDuel and Rush Street Interactive, and they may begin operations after 9 a.m. on Saturday, Jan. 8. The expectation is that they will start accepting wagers immediately.
Click here for more PFF betting tools:
NFL & NCAA Betting Dashboards | NFL Player Props Tool | NFL & NCAA Power Rankings Best Bets Tool

This is welcome news for New Yorkers everywhere, especially PFF subscribers. PFF data scientist and betting analyst Ben Brown recently shared this data on PFF NCAA Greenline:
"There were 294 instances during the 2021 NCAA Football season where PFF Greenline saw an edge of 2% or greater. If a bettor placed a $100 wager on each of these spreads, totals and moneylines, they made $3,843 in profit, a return on investment of 11.64%."
If these four sportsbooks get underway on Saturday, bettors can place mobile wagers on Monday's College Football Playoff National Championship Game between the No. 1 seed Alabama Crimson Tide and No. 3 seed Georgia Bulldogs.
Check PFF Greenline for data on everything from spread picks to where the value lies on player props and much more!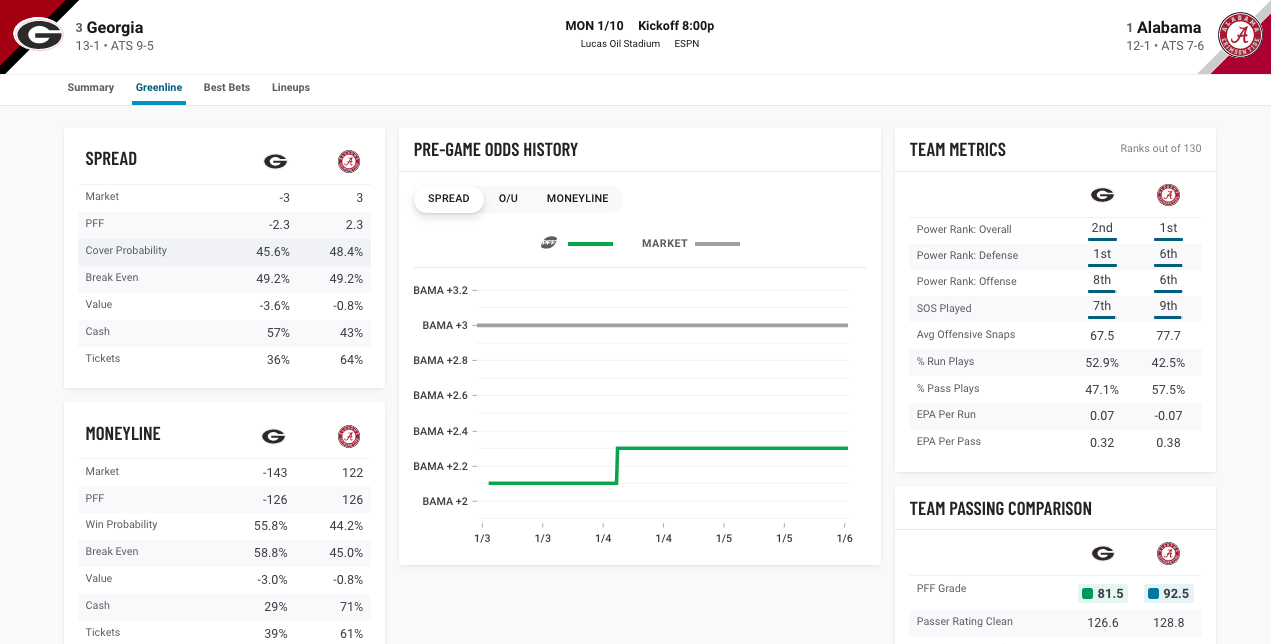 How big is online gambling?
Among the states that have already legalized online sports wagering, 85-90% of the total bets they receive are now coming via mobile apps and websites. Brick-and-mortar sportsbooks attract a fraction of the volume generated by folks who can place a bet right from their couch.
The growth of the industry has been truly staggering in New York's neighboring states, particularly New Jersey and Pennsylvania, which were early adopters.
State
Online Betting Start Date
State Population
Total* Handle
($ Bet)
Handle Growth %-age
% Handle Mobile
Gross Sportsbook Revenue
State Taxes
New Jersey
June 2018
~ 9.25M
$21B
7,842%
88%
$1.5B
$194M
Pennsylvania
Nov. 2018
~ 13M
$11B
54,776%
88.5%
$851M
$211M
Connecticut
Oct. 2021
~ 3.6M
$186M
141%
N/A
$21.5M
$1.7M
New York
Jan. 2022?
~ 19.8M
$112M
?
0%
$41M
$4M
*Total includes data through November 2021
New York's population is more than double that of New Jersey and over 50% greater than Pennsylvania. With those two states now seeing over a billion dollars wagered per month, it's fair to wonder if New York could hit a two billion dollar per month handle before 2022 comes to a close.
Given the proximity between New York City and the states of New Jersey and Pennsylvania, it's also fair to wonder how many native New Yorkers were traveling across state lines to place mobile wagers. They can now do so without leaving the comfort of their own homes.
Don't miss out on the action, New Yorkers: Sign up now to get access to all of PFF's NFL and NCAA football picks while also getting access to premium fantasy football and NFL draft content and much more!
Explore PFF's exclusive betting tools:
PFF Greenline uses exclusive game and player data to make projections on NFL game spreads, moneyline and over/under.
PFF's Power Rankings include point spread team ratings, point spread QB ratings, strength of schedule metrics and probabilities based on 10,000 season simulations.
PFF's Best Bets Tool reveals betting opportunities ("edges") within game bet and player prop markets. The higher the edge, the greater the opportunity.
PFF's Player Props Tool leverages our one-of-a-kind fantasy football projections to reveal betting opportunities within player prop markets.
PFF's Betting Futures Tool reveals betting opportunities within the season win total and futures markets. Lines and odds are displayed and can be edited to customize cover probability, break-even and value percentages. The higher the value, the greater the opportunity.