The 2020 college football season is officially in full swing, but certain games remain in flux due to outbreaks of Covid-19. As things stand, we have 54 games on tap this week. Quality games have already kicked off in the MAC, and 14 of our top-25 teams are still set to take the field.
We lost the top matchup between two of our top-ranked teams, Alabama and LSU, but we still have two other games between teams in our top 25. As always, there are a number of worthwhile betting opportunities to get excited about, which makes Week 11 one of the best weeks of the 2020 college football season so far.
First, let's understand the slate-level uncertainty by utilizing a measure called Shannon Entropy (information theory). This theory quantifies information occurring in an event and a variable — entropy — calculated using probability. By taking this approach, we can quantify how predictable a certain game or slate of games is by taking the probability assigned by the betting markets through moneyline probabilities.
Subscribe to
Week 11 is slightly below the uncertainty level of last week, but it still rings in with the seventh-highest entropy level we have seen in 2020. It sits right above the median number we have had for all weeks since 2014. There are a few large spreads, which help to reduce the difficulty in picking winning teams. Historically, Week 11 has the fourth-highest entropy compared to all other weeks before bowl season. 
Pac-12 after dark struck me down last week, with the total in the Washington State vs. Oregon State game sneaking over on a couple of garbage-time touchdowns after 45 points were scored in the second half. Our initial lines once again picked up some closing line value, but written plays still finished 1-2. Derivative bets also cooled off considerably, going 1-4 to move to 17-9-1 on the season. These plays are discussed on the Saturday morning edition of the PFF Daily Betting Podcast. 
We now sit at 58-60-1 on written full-game plays over the past two college football seasons. PFF's predictive model (PFF Greenline) doesn't find a ton of value in the current market numbers, which means we have a thin selection of games to choose from this week. Let's take a close look at some of my favorite bets to make from a Greenline perspective for Week 11's slate of games.
The Hokies let a winnable game slip away as 17-point home favorites last week. The optics from Week 10 make this a perplexing line to start the week, with these teams seemingly heading in opposite directions after their latest performances.
However, not everything was negative for the Hokies, as their offense has finally found its rhythm with QB Hendon Hooker back. Virginia Tech is third in our opponent-adjusted offensive grades, with the Hurricanes eighth in the ACC. Virginia Tech has consistently moved the ball since Hooker's return in Week 6 — their EPA per pass play mark is at the same level as Miami's while their EPA per rush attempt ranks first in the ACC. 
ACC offenses: Expected points added per play since Week 6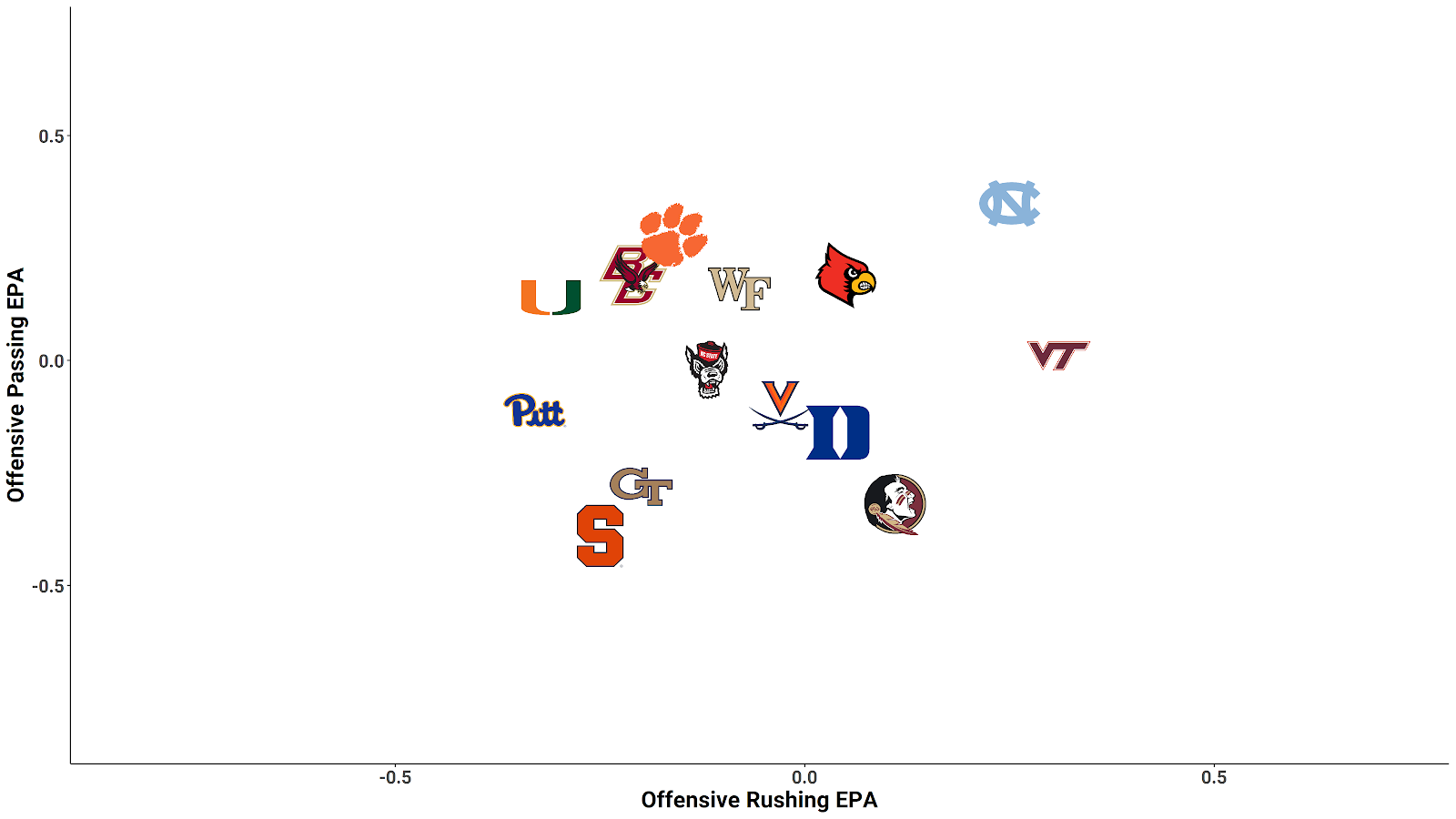 The betting market has been one-sided early in the week, with 82% of the cash and 80% of the tickets on the Hurricanes. This hasn't caused an adjustment to the early-week spread, as the opening -2 has held throughout the week.
Typically, when something feels off in the betting market, there is a reason for it. The public will quickly look at this line and assume the Hurricanes should be favored, given their recent performance and overall ranking. They are 15th in our Elo rankings, so it is possible that we are lower on them than the market. It is also possible that our opponent-adjusted grades are undervaluing the Hurricanes' offense, but that would indicate their defense is overvalued. 
This looks like an ideal spot to buy low on the Hokies while also subsequently selling high on the Hurricanes, given the recent play of Hendon Hooker. This makes for the perfect opportunity to fade the market's recency bias, with a bounce-back game for the Hokies expected by our predictive models. 
Pick: Virginia Tech -2
The Pac-12 kicked off its conference schedule last week, which provided us with information to more accurately handicap each team. Colorado won a wild opening week matchup by rolling over UCLA in the first half before letting them come almost all the way back after the intermission. There is more actionable information to be taken from their first-half performance, where they racked up 35 points behind a quality rushing performance from Jarek Broussard.  
Stanford struggled against the top-ranked team in the Pac-12 and now sits three spots behind Colorado in our Elo rankings, at ninth overall. There is a speculative play on this matchup, with Davis Mills' status uncertain due to Covid. If he is ruled out, this spread should quickly drop from the -7 opening number. The juice is already starting to lean in this direction, making this a profitable opportunity to lock in early in the week. 
Pick: Colorado +7
Let's face it — you are only sweating this one if you have action on it. Rice has been impressive kicking off its 2020 season, as they are 2-0 outright and against the spread with the market moving in their direction both games. 
Our Elo rankings have the Bulldogs fourth in the Conference USA; they have Rice two spots behind. Both cash and ticket percentages are slightly on the side of LA Tech, explaining the initial push from a pick 'em to a -1.5 spread. 
It is difficult to assess Mike Collins accurately. After earning a 46.9 passing grade on the back of three turnover-worthy plays against Middle Tennessee, his grade improved to 92.6 against Southern Miss, though his number of dropbacks dropped by half.
Luke Anthony appears to be the polar opposite, with an average depth of target 4 yards short of Collins', at 7.8. He has graded slightly better than Collins due to his risk-aversion, which is apparent in their big-time throw and turnover-worthy play percentages. 
LA Tech is simply the better team in this matchup and is more easily understood. Rice is a team off to a hot start that has caught the attention of bookmakers, but based on the two-game sample, this could be an overcorrection. If Collins makes a few costly decisions early, this game will quickly get out of hand.
Pick: LA Tech -1