• Bet Leonard Fournette u63.5 rush yards at Steelers (-115): Fournette is second-worst in the NFL among qualifying runners in Rushing Yards Over Expected (RYOE).
• Tampa Bay ranks 31st in yards per carry; Pittsburgh No. 12 in YPC allowed.
• New users who bet $10 or more at BetMGM will receive a free year's subscription to PFF+ — a $79.99 value.
Last updated: Fri. Oct. 14, 9:50 a.m.
Estimated reading time: 3 mins
---
In the past three weeks, our rushing props using Rushing Yards Over Expected have gone 7-2 (+4.2 units). This is because 7-of-9 bets were unders. As PFF's Ben Brown illustrates, rushing yard unders cash more regularly than rushing yard overs. In this article, 2 unders and 1 over will be given out to maximize profits, but the over should be placed with more caution than the unders. 
NFL player prop categories broken out by units won through the first four weeks of the season. pic.twitter.com/LMu024LIXE

— Benjamin Brown (@PFF_BenBrown) October 6, 2022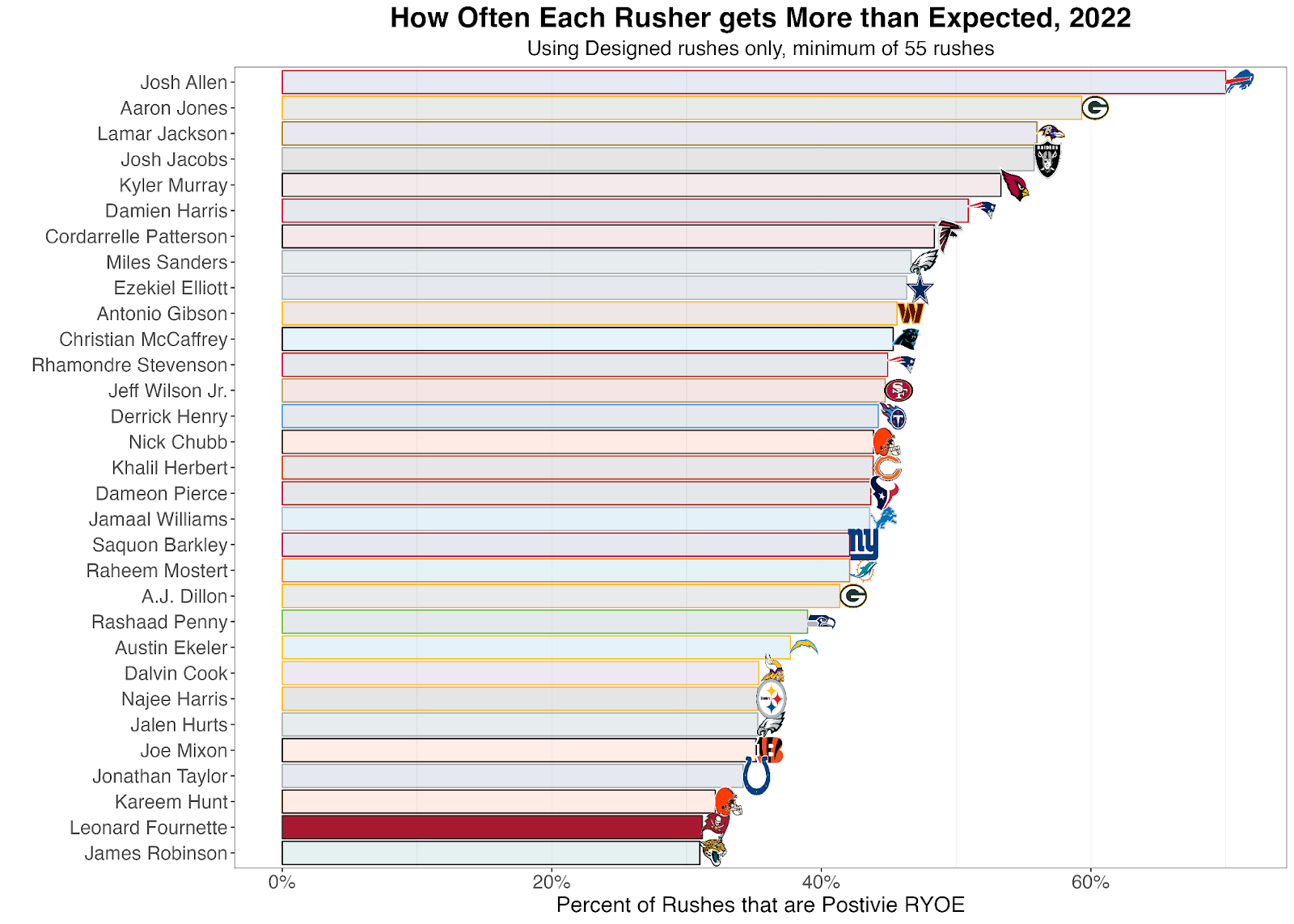 • Fournette is Struggling: Out of the 31 qualifying rushers, Tampa Bay Buccaneers running back Leonard Fournette is second-worst in the percent of carries where he gets more yards than what is expected based on how well the offensive line blocks, defensive strength and formation and other game situation variables.
• The Steelers Defense is a Bad Matchup: Tampa Bay currently ranks 31st in yards per carry, rushing for 3.4 yards on average. The Pittsburgh Steelers rank 12th in yards per carry allowed, allowing only 4.2 yards on average.
• PFF's Player Props Tool has this bet as a +1.2% edge at -115 odds.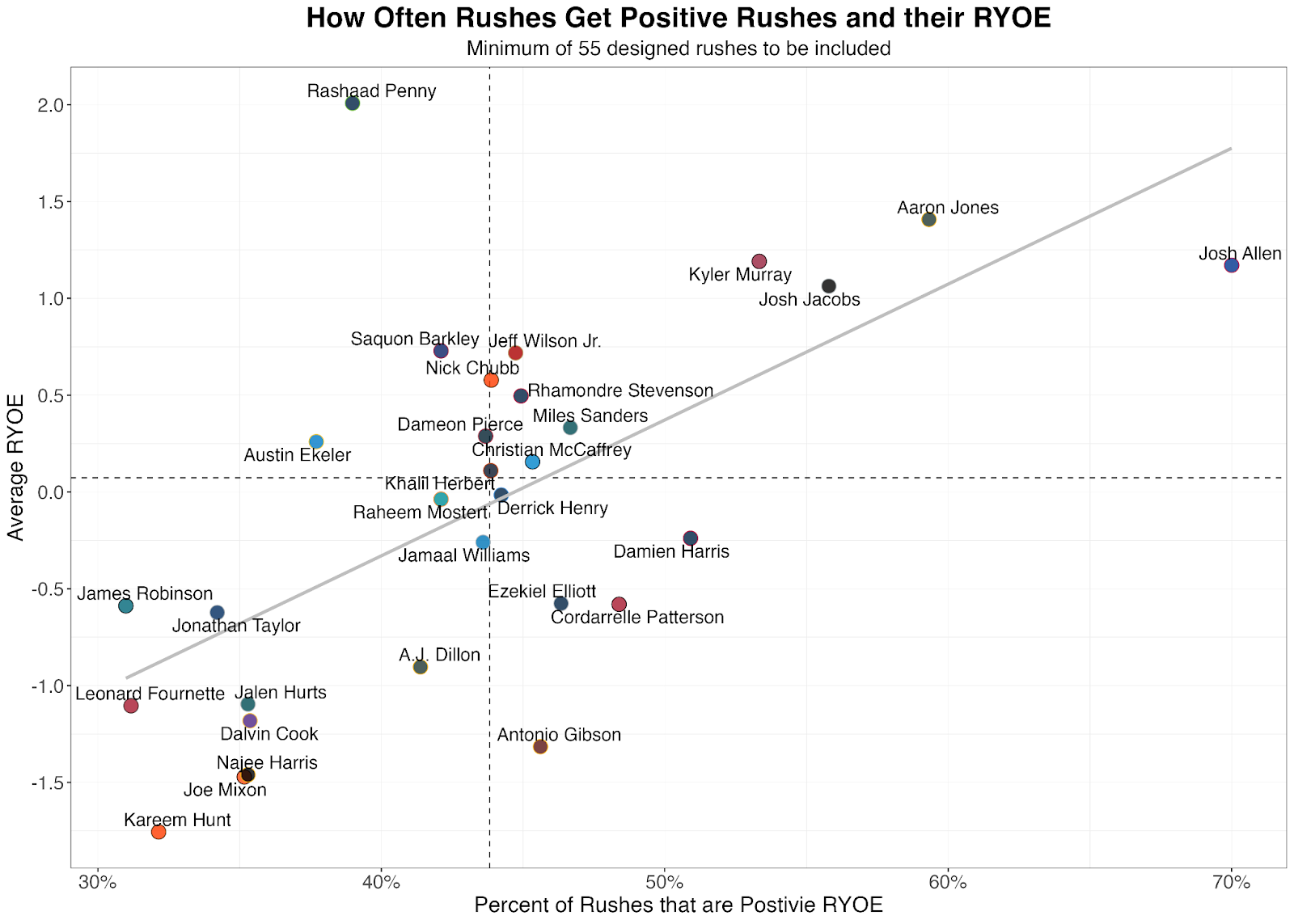 • Allen Makes the Most of Most Runs: Buffalo Bills starting quarterback Josh Allen currently leads the NFL in rate in which he gains over what is expected from that play. He also has a +1.17 average rushing yards over expected.
• He's Done it to the Chiefs Before: In the two games against the Kansas City Chiefs defense last season, Josh Allen rushed for 59 and 68 yards, being the leading rusher for his team in both of those games.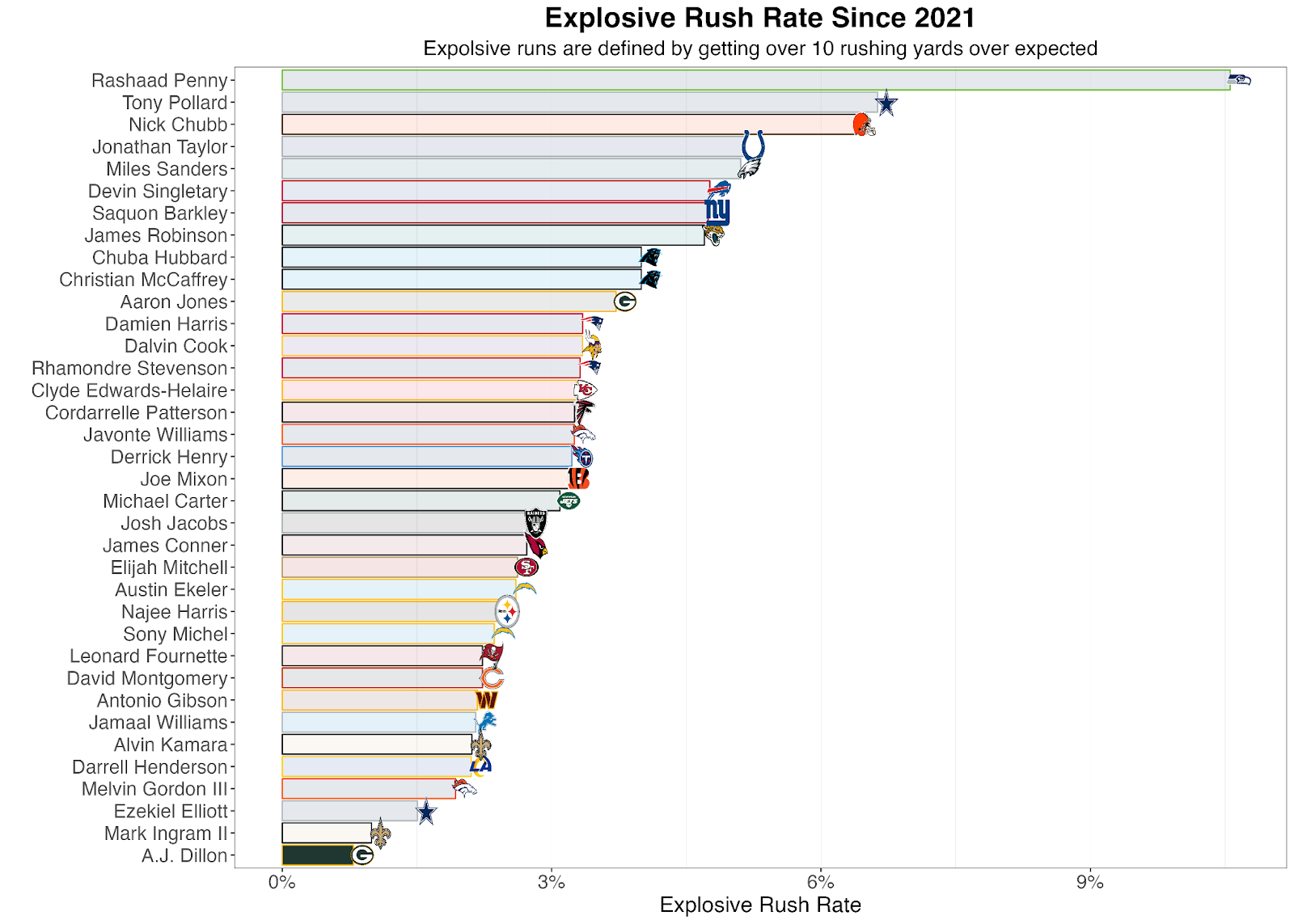 • Dillon Hasn't Been Explosive: Since the 2021 season, A.J. Dillon ranks dead last in explosive run rate. This is beneficial for his under as he is the least likely out of any running back to break out a long run that puts him over his total.
• The Packers are Shifting to Jones: A.J. Dillon has had a -0.90 rushing yards over expected per rush this season while his counterpart, Aaron Jones, sits at +1.41. Last week against the New York Giants, Jones out-rushed Dillon 13 to 6 and we can expect that gap to continue as Dillon continues to struggle and Jones continues to shine.
---
Tej's rushing prop bets using RYOE went 2-1 in Week 5, bringing his overall season record to 18-17 (-.51 units).
Rushing yards over expected was created using an extreme gradient boosting model (XGBoost). The most important factor in determining expected rushing yards is the number of graded and negatively graded blocks on a play. The importance is followed by yards from the end zone, number of box defenders, defensive strength, seconds left in the half and score differential.
This model can predict 22% of the variance in actual rushing yards and has a year-to-year correlation of 0.21. A shiny app to explore RYOE for each player can be found here.