The sixth week of action in the Alliance of American Football's first season is in the books, as are our grades for every player on every play of every game. Mirroring our Team of the Week from the NFL side of things, this season we'll award players to our team of the week in an attempt to shed light on the top performances from the previous weekend's slate of action.
The team format will match the All-Pro system when it comes to offensive and defensive formation, with a flex player for both sides of the ball that can be either a receiver, slot weapon, tight end or running back on offense, and anybody in the defensive secondary on defense. This gives us the flexibility to reward the player that best deserves it across multiple positions, rather than shoehorning in somebody just to fit a slot receiver or cornerback role.
We lend some weight to playing time, and a variety of factors are considered, but these will largely be the best-graded players at their respective positions throughout the league.

Offense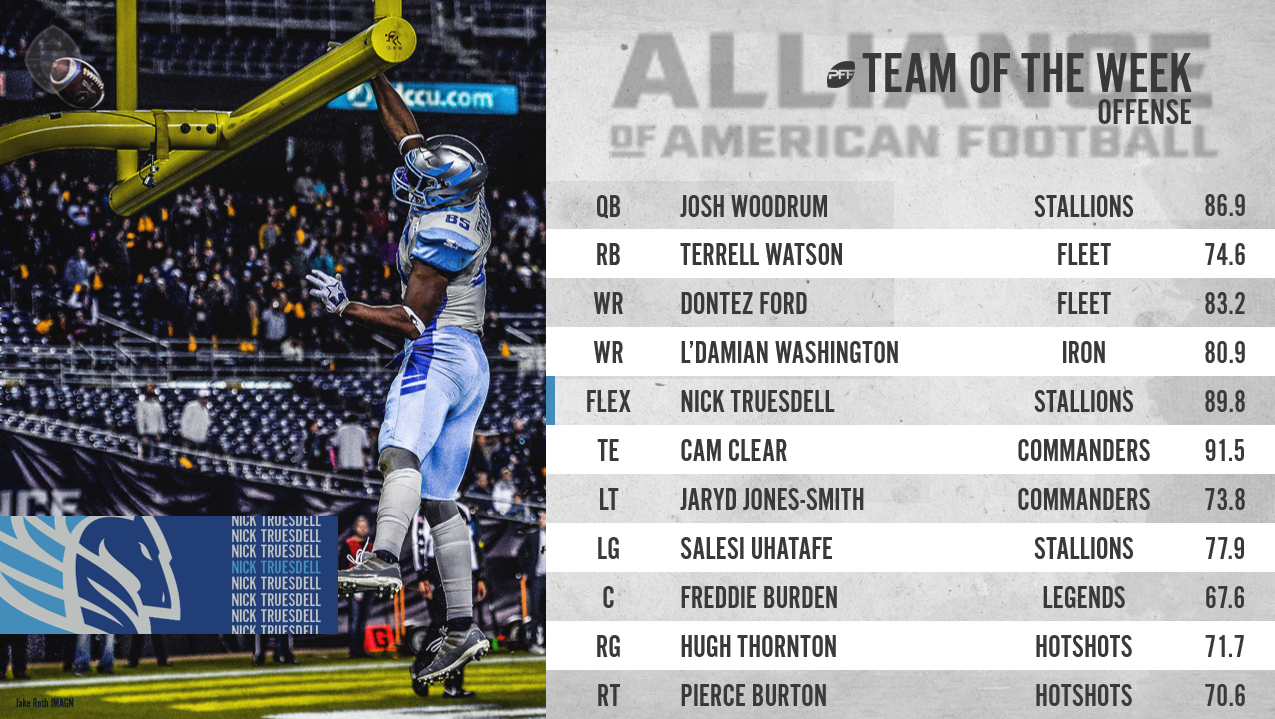 Quarterback
Josh Woodrum, Salt Lake Stallions – 86.9 overall grade
Woodrum has now strung together some strong play and is the league's second highest-graded quarterback behind only Orlando's Garrett Gilbert. In his most recent outing, Woodrum completed 24 passes for 243 yards and combined for 12 first-down or touchdown passes in the win over Memphis. He took care of the ball and littered the field with some big-time throws while maintaining the flow of the game nicely.
Running back
Terrell Watson, San Diego Fleet – 74.6 overall grade
Watson had an impact in the running game and in the passing game for the Fleet, scoring a touchdown both on the ground and through the air. His quicks after the catch and after his first cut saw him gain a healthy 6.1 yards per touch in Week 6.
Wide receiver
Dontez Ford, San Diego Fleet – 83.2 overall grade
Ford topped the charts with 182 yards receiving, the most since Week 2 and the second-most yards in a single game in AAF history. Ford took just three receptions for those 182 yards and gained a staggering 124 yards after the catch with three missed tackles forced, the former of which is a single-game record in the league.
Wide receiver
L'Damian Washington, Birmingham Iron – 80.9 overall grade
Washington needed only four receptions to eclipse 100 yards, averaging 32.0 yards per reception while also forcing two missed tackles of his own and gaining 78 yards after the catch. His two touchdowns led the way this weekend and he saw a ridiculous average of 19.5 YAC/reception.
Flex O
Nick Truesdell, Salt Lake Stallions – 89.8 overall grade
Truesdell had his best game yet for the Stallions, weaving his way after the catch to the tune of four missed tackles after the catch. He took five receptions for 67 yards and a score in the win.
Tight end
Cam Clear, San Antonio Commanders – 91.5 overall grade
Clear finished with an elite game grade after a dominant performance across the board. In the passing game, he took four of his five receptions for first downs and saw a 104.2 passer rating when targeted while he also had a good game with his blocking.
Left tackle
Jaryd Jones-Smith, San Antonio Commanders – 73.8 overall grade
Jones-Smith was dominant in pass protection, allowing just a single hurry across the board. His plus-run-blocking grades also propelled him to the top grade among tackles in Week 6.
Left guard
Salesi Uhatafe, Salt Lake Stallions – 77.9 overall grade
On 42 snaps in pass protection, Uhatafe allowed just two hurries but was dominant in run blocking and was not penalized once.
Center
Freddie Burden, Atlanta Legends – 67.6 overall grade
Burden was the league's highest-graded center this weekend as he didn't allow a single pressure in pass protection and had the third-highest run-blocking effort at the position.
Right guard
Hugh Thornton, Arizona Hotshots – 71.7 overall grade
Thornton allowed a single hurry and finished with the league's fourth-highest run-blocking grade among guards in Arizona's win over Orlando. Their right side of the line had quite the performance.
Right tackle
Pierce Burton, Arizona Hotshots – 70.6 overall grade
Burton allowed three pressures on 33 pass-blocking snaps against Orlando's formidable front but finished the game with the second-highest run-blocking grade among tackles this weekend.
Defense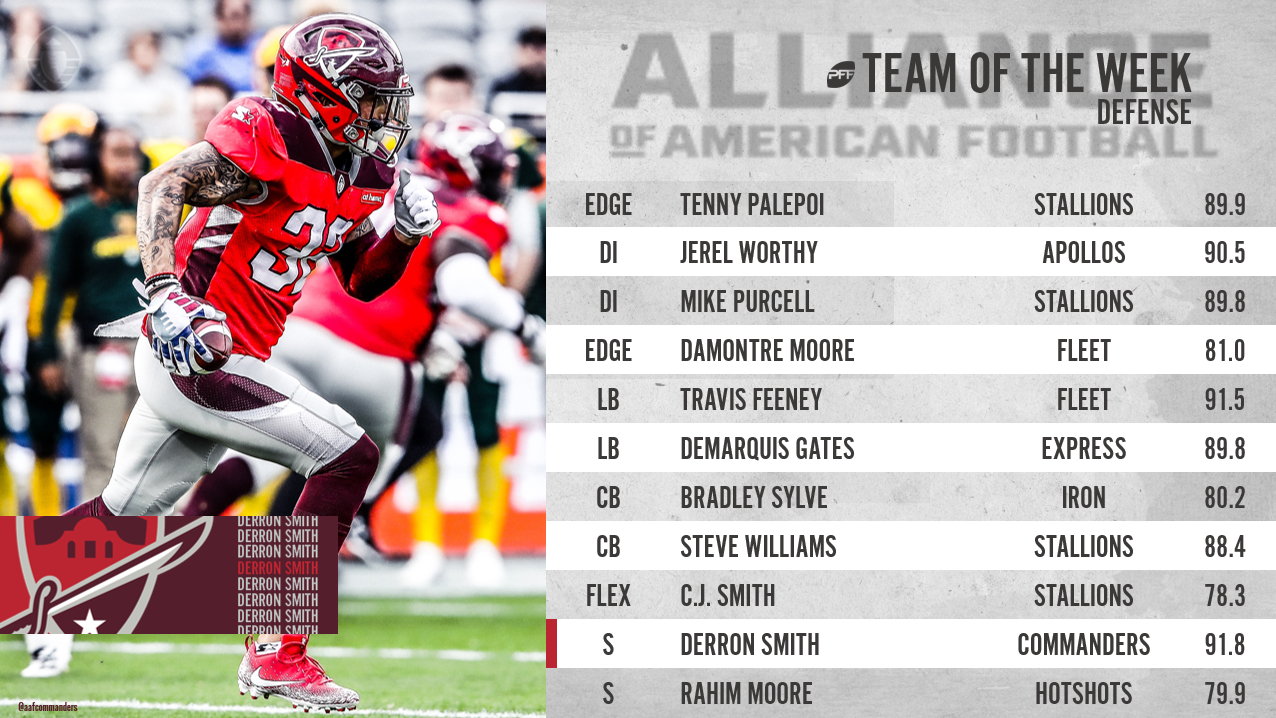 Edge defender
Tenny Palepoi, Salt Lake Stallions – 89.9 overall grade
Palepoi brought down six total QB pressures in this one that included two sacks and two more hits on the quarterback. He was no slouch across the board either as he also made a stop in run defense and put plus-grades across the board.
Defensive interior
Jerel Worthy, Orlando Apollos – 90.5 overall grade
Worthy recorded two QB hurries on 24 pass-rushes but run defense was where he performed his best for the Apollos. He brought down six solo tackles, five of which went down for a defensive stop as he was unblockable at times.
Defensive interior
Mike Purcell, Salt Lake Stallions – 89.8 overall grade
Purcell added value in the passing game, registering three pressures and a batted pass on just 15 pass-rushing snaps while his efforts in run defense saw him record three defensive stops.
Edge defender
Damontre Moore, San Diego Fleet – 81.0 overall grade
Moore was practically unblockable, recording 10 total QB pressures that included a ridiculous six combined sacks and hits. He made two additional defensive stops in run defense to round out one solid performance.
Linebacker
Travis Feeney, San Diego Fleet – 91.5 overall grade
Strong in coverage, Feeney was all over the field for the Fleet in Week 6. He was targeted four times yet allowed just two receptions for a total of four yards He capped his performance with an interception and a pass breakup for an elite coverage and game grade.
Linebacker
DeMarquis Gates, Memphis Express – 89.8 overall grade
Gates got it done differently than his fellow linebacker on the list here as he was basically unstoppable in the run game. He tallied 13 solo tackles and nine defensive stops, more than making up for his lacking in coverage in this game.
Cornerback
Steve Williams, Salt Lake Stallions – 88.4 overall grade
For the first time this season, an Orlando Apollos cornerback isn't represented here as Williams takes the top spot with a strong performance across the board. He made three defensive stops on four of the receptions he allowed, breaking up an additional two and allowing just two yards after the catch in his primary coverage.
Cornerback
Bradley Sylve, Birmingham Iron – 80.2 overall grade
Sylve was targeted just four times but allowed two receptions for a measly 11 yards. He made several impressive plays in this one including an interception and a pass breakup that saw his passer rating when targeted finish at a lowly 16.9.
Flex D
C.J. Smith, Salt Lake Stallions – 78.3 overall grade
Smith, like his counterparts on this list, had a great game in coverage, seeing seven targeted passes come his way but allowing just 42.9% of them to be caught. He limited receivers in his coverage with the best of them, allowing just one single yard after the catch.
Safety
Derron Smith, San Antonio Commanders – 94.2 overall grade
Becoming a mainstay on our Team of the Week, Smith once again was dominant for the Commanders. Smith recorded his league-leading third interception (among safeties), as he didn't allow a reception longer than six yards in coverage.
Safety
Rahim Moore, Arizona Hotshots – 79.9 overall grade
Moore broke up two passes in coverage and despite allowing one catch for 48 yards, was solid elsewhere when called upon. Of his three solo tackles, once even went down as a defensive stop for the Hotshots in their victory.