The second week of action in the Alliance of American Football's first season is in the books, as are our grades for every player on every play of every game. Mirroring our Team of the Week from the NFL side of things, this season we'll award players to our team of the week in an attempt to shed light on the top performances from the previous weekend's slate of action.
The team format will match the All-Pro system when it comes to offensive and defensive formation, with a flex player for both sides of the ball that can be either a receiver, slot weapon, tight end or running back on offense, and anybody in the defensive secondary on defense. This gives us the flexibility to reward the player that best deserves it across multiple positions, rather than shoehorning in somebody just to fit a slot receiver or cornerback role.
We lend some weight to playing time, and a variety of factors are considered, but these will largely be the best-graded players at their respective positions throughout the league.

Offense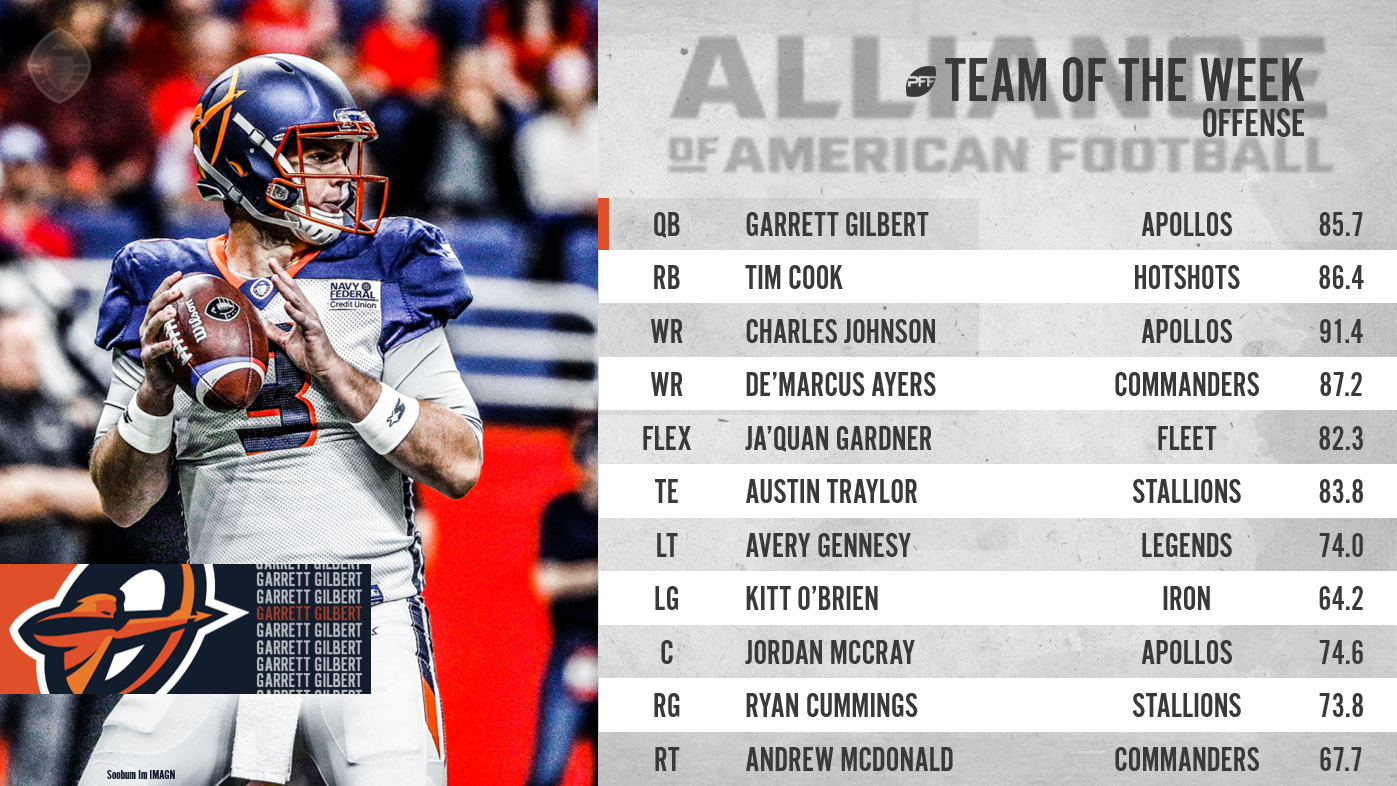 Quarterback
Garrett Gilbert, Orlando Apollos – 85.7 overall grade
Gilbert absolutely dominated when the Apollos needed him to. It was a slow start in the first half but he more than made up for that and his connection with Charles Johnson may have sparked the AAF's top QB-WR combination. In total, Gilbert's five big-time throws led the league as he needed just 19 completions to hit 393 yards.
Running back
Tim Cook, Arizona Hotshots – 86.4 overall grade
Cook ran hard and ran fast, and while Zac Stacy topped the 100-yard mark for the Express, Cook's 72 yards came with 65 yards after contact and five missed tackles forced on just 13 carries. He was dominant through first contact and averaged 5.0 yards after contact per carry.
Wide receiver
Charles Johnson, Orlando Apollos – 91.4 overall grade
Last week it was Rashad Ross, this week it's Johnson who grabs headlines as he became the first receiver in AAF history to top 130 yards in a game. He was targeted 10 times in the game against San Antonio and exposed the holes in the Commanders secondary with relative ease, hauling in seven receptions for 192 yards. Each of his receptions either went for a score or a first down to round out his evening.
Wide receiver
De'Marcus Ayers, San Antonio Commanders – 87.2 overall grade
Dueling with the Apollos and Charles Johnson, Ayers had perhaps the play of the weekend when he snagged a perfectly thrown ball from Logan Woodside in front of excellent coverage with just one hand. That play aside, Ayers was able to reach 80 yards on just five catches, each of which moved the chains for a first down.
Flex O
Ja'Quan Gardner, San Diego Fleet – 82.3 overall grade
Gardner scored the first touchdown in Fleet history as San Diego got in the win column. The best part about Gardner's night was the fact that he didn't just score the first touchdown, but he also secured the second score, what would go on to be the game-winner.
Tight end
Austin Traylor, Salt Lake Stallions – 83.8 overall grade
Catching his lone target for just nine yards doesn't seem like the best way to secure TE of the Week honors, but when you break it down and realize no tight end went for over 21 yards receiving, other factors must come into play. Traylor had four key run blocks and led the league's tight ends in run-blocking grade this weekend.
Left tackle
Avery Gennesy, Atlanta Legends – 74.0 overall grade
Paving the way for the Legends ground game, Gennesy led all tackles in run-blocking grade while allowing just two hurries on his 29 snaps in pass protection.
Left guard
Kitt O'Brien, Birmingham Iron – 64.2 overall grade
For the second week in a row, O'Brien lands on the team of the week, solidifying his spot as one of the league's top guards after just two weeks. O'Brien allowed a single pressure and was strong in the run game for an all-around performance.
Center
Jordan McCray, Orlando Apollos – 74.6 overall grade
Allowing two hurries is one thing. Allowing two hurries to the league leaders in total pressures and sacks is a complete other. McCray was strong in pass protection but his 80.0 run-block grade led all linemen in Week 2.
Right guard
Ryan Cummings, Salt Lake Stallions – 73.8 overall grade
No slacker in pass protection, Cummings allowed just one hurry on 34 pass-blocking snaps but he dominated in the run game. His 73.7 run-blocking grade was clear and away the highest among guards this weekend.
Right tackle
Andrew McDonald, San Antonio Commanders – 67.7 overall grade
McDonald finished the game having allowed two pressures on his 36 pass-blocking snaps while he was third in the league this week among tackles with a 66.9 run-block grade.
Defense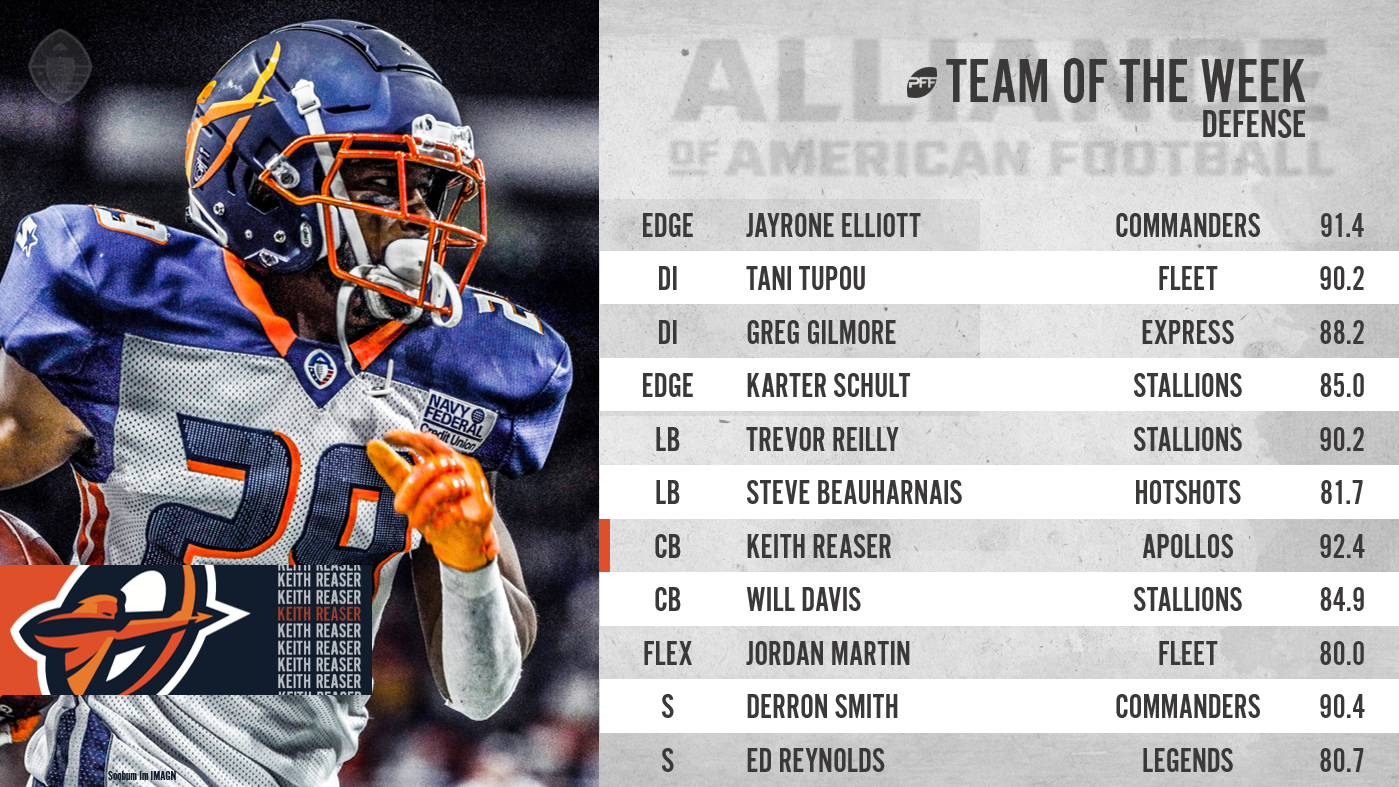 Edge defender
Jayrone Elliott, San Antonio Commanders – 91.4 overall grade
Elliott recorded only two pressures on the evening against Orlando's strong pass protectors, but he won multiple pass-rushing snaps that Garrett Gilbert got rid of the ball too quick to record pressure and thus, Elliott's pass-rushing grade of 91.8 is tops in the league in Week 2.
Defensive interior
Tani Tupou, San Diego Fleet – 90.2 overall grade
Tupou consistently occupied the middle of the defensive line for the Fleet, requiring multiple linemen to take him on in the passing game but he was dominant against the run. His 87.7 run-defense grade was tops at the position this weekend.
Defensive interior
Greg Gilmore, Memphis Express – 88.2 overall grade
Gilmore may have been a non-factor on the stat book in the pass-rush game, but he more than made up for that in run defense for the Express. Three of his four total solo tackles went for defensive stops as he stymied the Hotshots rushing game in the middle.
Edge defender
Karter Schult, Salt Lake Stallions – 85.0 overall grade
Schult was too fast for the Iron offensive linemen on multiple occasions, leading the league with his seven QB pressures this weekend. He recorded two first quarter sacks and won 21.2% of his pass-rushing snaps. His grade would be much higher had it not been for a missed tackle on one of his three attempts in this one.
Linebacker
Trevor Reilly, Salt Lake Stallions – 90.2 overall grade
Flying all over the field, Reilly brought down eight total tackles and a defensive stop while doing his best work in coverage. On nine targeted passes, Reilly allowed six receptions but only 39 yards, keeping receivers in front of him and breaking up a pass to boot.
Linebacker
Steve Beauharnais, Arizona Hotshots – 82.7 overall grade
Beauharnais also flew over the field, recording two defensive stops and seven total tackles. And, in coverage, he broke up the lone target thrown his way.
Cornerback
Keith Reaser, Orlando Apollos – 92.4 overall grade
For the second time in as many weeks, Reaser lands on the team of the week except this week, he's the highest-graded player on the defensive side of the ball. He was targeted eight times against the Commanders, allowing just three receptions for six yards while he broke up two and intercepted another, returning the latter for the game-winning touchdown for Orlando.
Cornerback
Will Davis, Salt Lake Stallions – 84.9 overall grade
The most-targeted defender of the weekend, Davis saw 11 passes come his way. While he allowed nine receptions, he limited receivers to just 46 total yards and no reception longer than 16. He broke up two passes himself and saw the league's second-highest coverage grade at the position (87.1).
Flex D
Jordan Martin, San Diego Fleet – 80.0 overall grade
Anytime you limit receivers to negative yards in your coverage, that's going to account for something and that is just what Martin did. On two targets, he allowed just one reception but made a stop behind the line of scrimmage while recording another pass breakup as well.
Safety
Derron Smith, San Antonio Commanders – 90.4 overall grade
No stranger to the ball in this one, Smith was the primary coverage defender on two passes, allowing one reception for three yards and securing a pass breakup on the other. He stuck his nose in against the run as well as San Antonio limited the Apollos' rushing attack for most of the game.
Safety
Ed Reynolds, Atlanta Legends – 80.7 overall grade
Reynolds did his part to help the Legends almost secure their first victory, putting forth plus-grades in run-defense, tackling and in coverage, where he really shined. On four targeted passes, he didn't allow a single reception and had two pass breakups.