It was bound to happen at one point in the season, and odds are, a lot of pundits actually would have picked this as the first time the Orlando Apollos would have tasted defeat, back in Week 2 at least. The Arizona Hotshots entered their Week 6 showdown with Orlando as losers of three straight but still had enough firepower to take down the league's highest-graded passing and coverage units to improve to 3-3 while giving the Apollos their first taste of defeat in 2019.

PFF's ReFocused series this season features immediate takeaways and a key to the victory from PFF's lead AAF analysts and grabbing quick first-run statistics from our team of analysts who watched every player on every play of the game. For more data and analysis from the game, utilize our Premium Stats 2.0 dashboard to expand your knowledge on the key players, signature stats and much more.
The Hotshots kept the league's current highest-graded quarterback, running back and receiver trio to just 17 points as Arizona forced two turnovers and limited Garrett Gilbert to just 23-of-48 passing for 268 yards. Charles Johnson was targeted 11 times yet hauled in four receptions for 28 yards, though, he did still manage a touchdown. D'Ernest Johnson was also kept in check, tallying 70 total yards from scrimmage on 13 touches.
For Arizona, they fell behind early but rallied back on the heels of two Nick Folk 50-plus yard field goals in the first half before taking a 14-9 lead into the break. After they allowed Gilbert to find Jalin Marshall on a 17-yard touchdown strike to regain the lead, it was a Jhurell Pressley one-yard touchdown plunge that gave the Hotshots the lead, 22-17, before their defense closed the door.
Quarterback John Wolford did just enough to keep the Hotshots in this one, with some pivotal moments in the passing game that carried the team on their game-winning drive especially.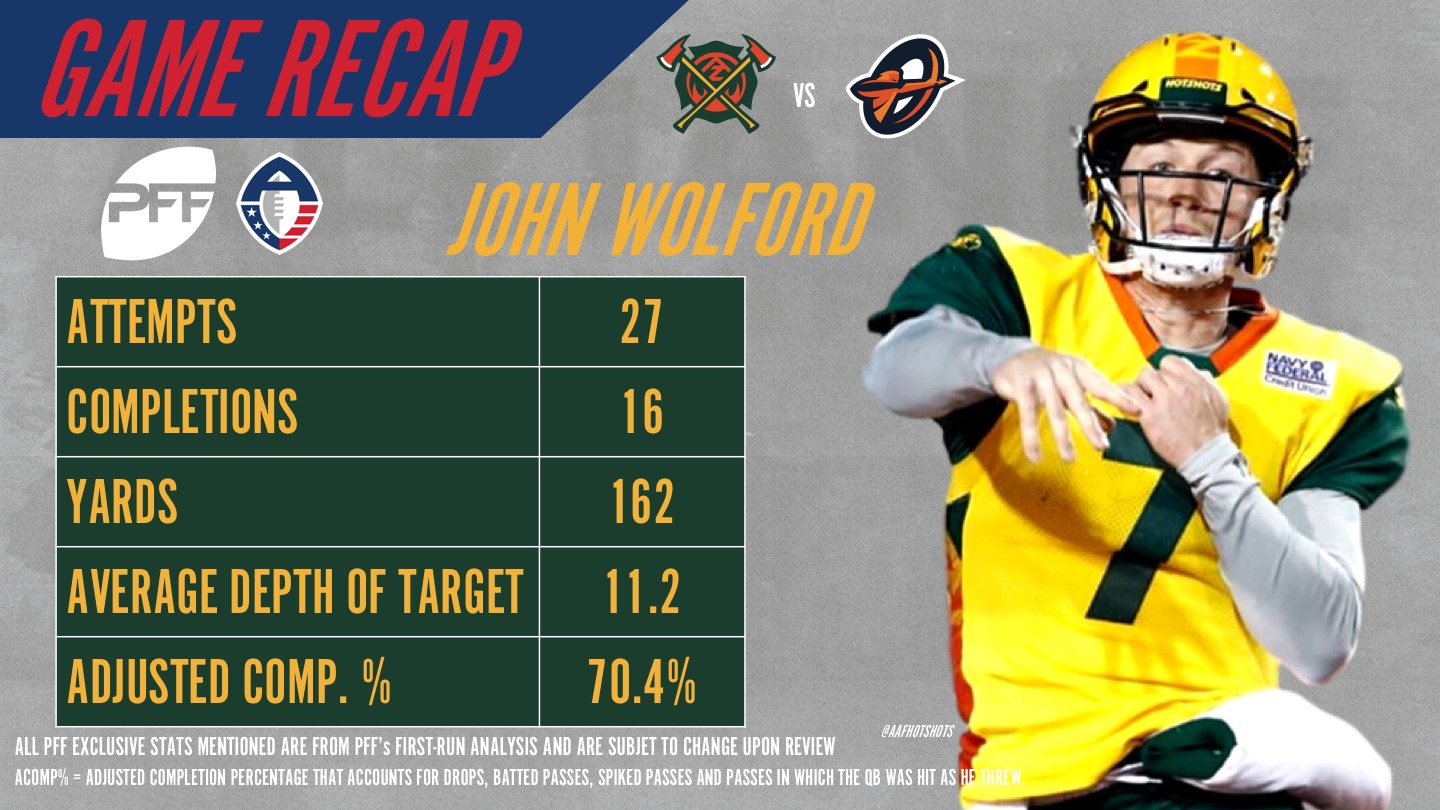 Linebacker Steven Johnson flew all over the field and led the team in tackles but it was Shaquille Richardson's play in coverage that really stood out, despite a small snap count. Richardson was targeted three times and even with a dropped interception, still forced all three targets to be incomplete and led all defenders in coverage grade on Saturday.
The Hotshots will hope to ride the momentum of being the only team to defeat the Apollos this season when they host the Fleet next weekend while Orlando heads to Atlanta next Saturday in an attempt to get back to their winning ways,
[Editor's note: All exclusive data mentioned in PFF's ReFocused series for the AAF is from our first run and before final review. Statistics will be checked against the official game books for any inaccuracies while our team of analysts undergoes the final review process for several hours after the game's ending. All first-run data should be considered as subject to change upon review.]
For more access to AAF data – sign up for PFF Elite to check out grades and stats from every player on every play of every game from the 2019 season!