It's why you play football in March, to have a snow game, and that's exactly what happened in Utah when the visiting Orlando Apollos trudged through the snow to top the Salt Lake Stallions, 20-11. Upstart QB Garrett Gilbert continued his strong season amidst the conditions as he tossed a touchdown and threw for nearly 250 yards in the victory as Orlando became the first team to 4-0 in AAF history.

PFF's ReFocused series this season features immediate takeaways and a key to the victory from PFF's lead AAF analysts and grabbing quick first-run statistics from our team of analysts who watched every player on every play of the game. For more data and analysis from the game, utilize our Premium Stats 2.0 dashboard to expand your knowledge on the key players, signature stats and much more.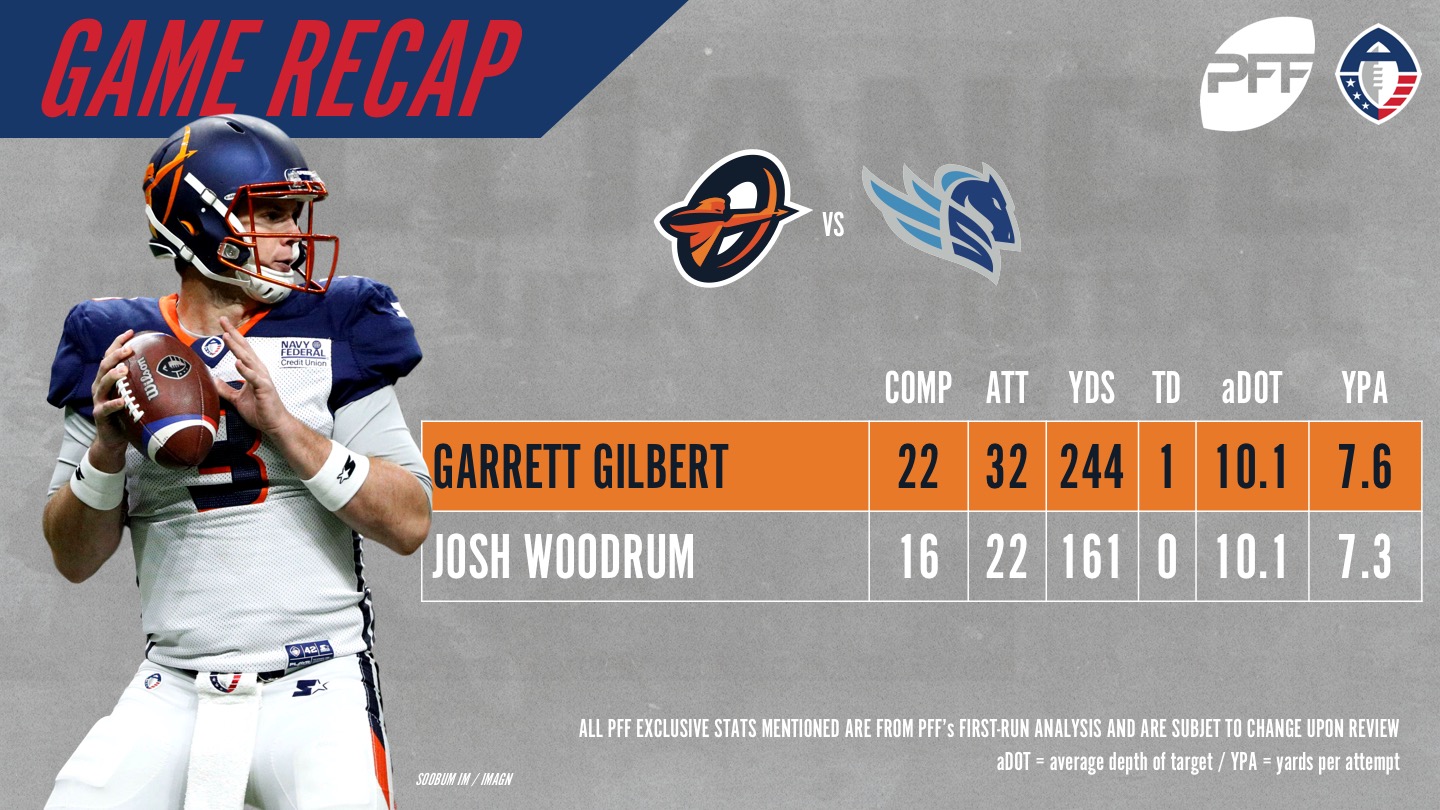 Gilbert connected on 22-of-32 passes for 244 yards and hit Donteea Dye Jr. for a touchdown as Orlando constantly stayed on top of Salt Lake from the get-go. Kicker Elliott Fry got the scoring started after a sloppy opening frame to the game and despite the conditions, made both of his field goal attempts, one of 43 and one of 42 yards, to stay perfect on kicks this season. Fry is now 8-for-8 and 3-for-3 from at least 40 yards out.
On the receiving end of nine Gilbert passes, Charles Johnson also continued his hot start, racking up 105 receiving yards and an impressive eight first-down receptions. When the Apollos needed to move the chains, you could almost bet the ball was going to Johnson.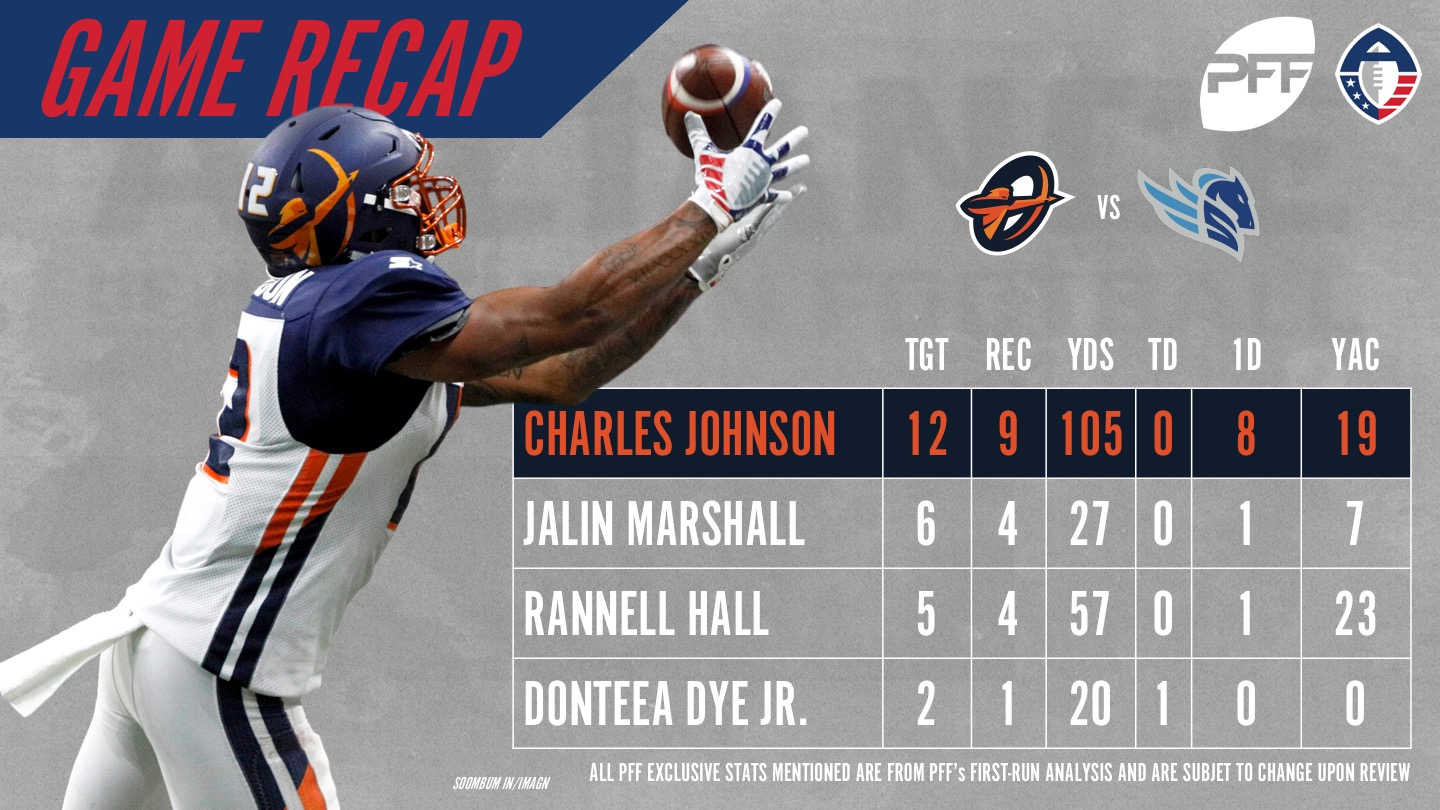 The Stallions kept it close throughout, however, as they matched opening half field goals but didn't get in the end zone until RB Joel Bouagnon ran in a 14-yard touchdown run as the seconds were ticking down in the third quarter. That score closed the gap to three points but Akeem Hunt's 2-yard plunge on the ensuing drive all but ended any chances of a comeback in the fourth quarter for the Stallions.
On defense for Orlando, Earl Okine had his best game as a pro in the AAF and recorded five total pressures including a sack and a QB hit. A strong point usually for the Apollos, their cornerbacks struggled in the weather, and despite limiting the Stallions to just 161 yards passing, were out of position and allowed some key passing plays to hit for Salt Lake that kept them in this one.
Nevertheless, Orlando became the first team to reach the 4-0 mark as they firmly supplanted their fellow undefeated AAF team, the Birmingham Iron, in our Power Rankings, and look to stay there going forward. The Stallions couldn't ride the momentum of their first victory of the season a week ago and fall to 1-3 on the year.
[Editor's note: All exclusive data mentioned in PFF's ReFocused series for the AAF is from our first run and before final review. Statistics will be checked against the official game books for any inaccuracies while our team of analysts undergoes the final review process for several hours after the game's ending. All first-run data should be considered as subject to change upon review.]
For more access to AAF data – sign up for PFF Elite to check out grades and stats from every player on every play of every game from the 2019 season!