Mining values in early drafts can help you uncover players you'd like to build around your 2018 fantasy portfolio. These are players that you think have a chance at exceeding their current average draft position and outperforming current players being drafted in the same vicinity. Taking a look at early Fantasy Football Calculator ADP, there's quite a few names that stand out as immediate value plays. We're still months away from drafting our re-draft teams, but it's never too early to start looking at inefficiencies in the market and start formulating a plan to use it to our advantage.
Ambiguous backfields present tremendous potential drafting value. The Broncos selected Freeman with the 71st pick in the draft, but recent reports from the Denver Post indicate that Devontae Booker won't just be pushed to the wayside as Freeman's backup. Injuries and a crowded backfield during his first two seasons have kept Booker from hitting his true ceiling. Unfortunately for Booker, his play hasn't necessarily forced the coaches to play him more often either. He's carried for 15 or more yards on just four of his 253 career carries, while sporting a career 3.6 yards per carry mark.
With Denver investing an early third-round pick on Freeman, the coaching staff may not be entirely sold on Booker taking the lead duties, despite what early beat reports say. There's a huge opportunity for whoever claims the top spot, with a league-high 314 carries up for grabs. OC Bill Musgrave's offenses over the past two years have ranked top-12 in both rushing attempts and rushing yards. His backs have seen over 20 percent of the team's available targets in both those years as well. Freeman was a do-it-all back for Oregon including catching 80-of-89 passes thrown his way over his college career. His 2015 season tied for the best single-season overall grade any back in this year's draft class had during their collegiate tenure.
Continue to monitor this backfield throughout the preseason and how many reps Freeman and Booker share with the first team. There's a significant opportunity for touches in this Broncos backfield if Freeman can capture it, moving well beyond his current RB28 average draft position.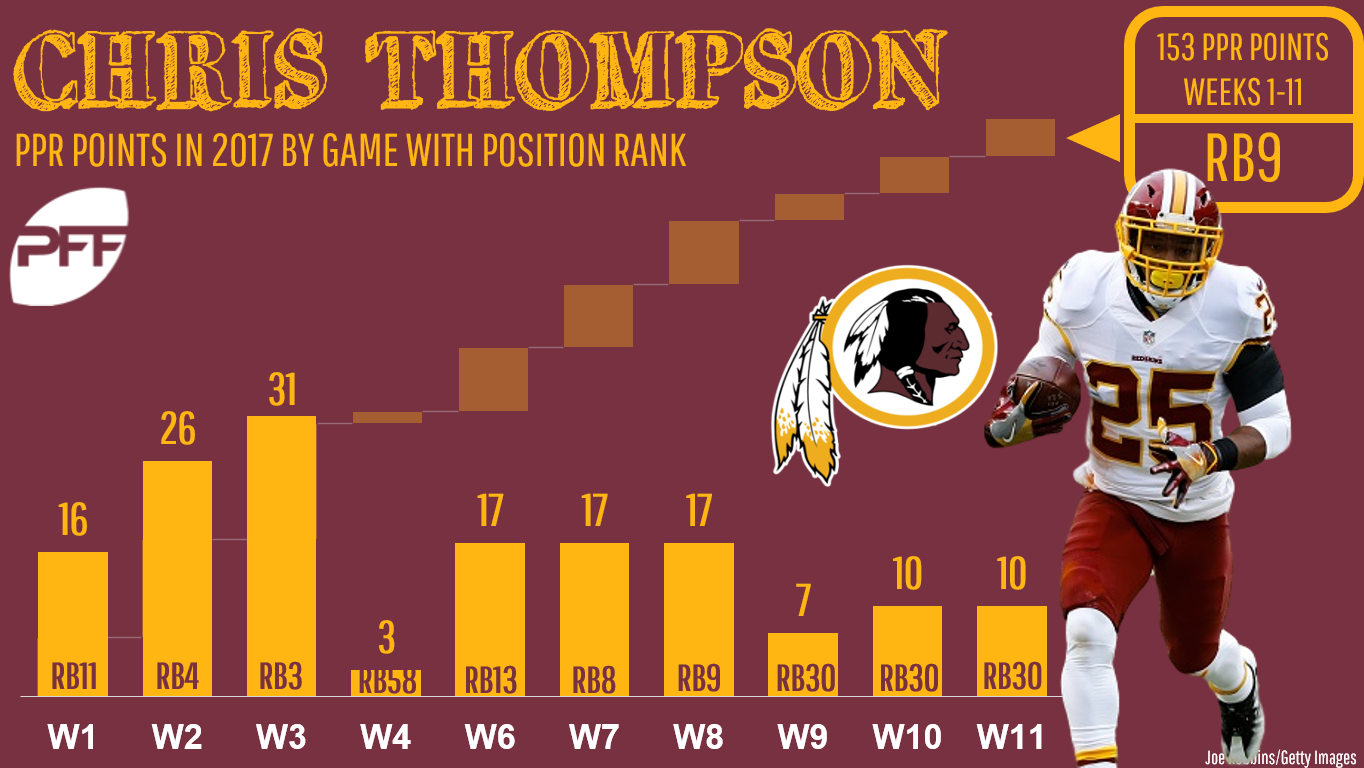 Injuries limited Thompson to just 10 games last season, as Washington's receiving specialist's terrific season was unfortunately cut short. Thompson entered the 2017 season as the third-down/receiving back. Despite playing on just 51.5 percent of the snaps, Thompson was able to finish as a top-12 PPR back in five of the 10 games he played. He had five or more targets in all but one of the full games he played. Thompson's role may still be secure with the selection of rookie Derrius Guice now joining to be the thunder to Thompson's lightning. HC Jay Gruden knows Guice can be a potential three-down back, but he's quoted as saying, "our role for him is quite easy to see. It's first, second down."
While the internet is soon to buzz with OTA clips of Guice making terrific catches against dad-bod coaching assistants, Gruden's coach-speak here is something we can take as truth for now. Thompson was highly successful last season as a receiver out of the backfield and should retain that role entering 2018. New quarterback Alex Smith made a career out of utilizing Jamaal Charles as a receiver out of the backfield. I'd expect Smith and Thompson to replicate those receiving nuances, lifting Thompson well above his RB33 draft designation in PPR leagues.
Last year, the Buccaneers were the only franchise that ranked top-five in pass attempts, pass completions, and passing yards. Despite battling through injuries for much of the year, Winston completed a career-high 63.8 percent of his dropbacks while sporting a career-low 2.5 percent interception rate. Winston enters the 2018 season with an extremely talented cast of weapons at his disposal and should have the volume (if healthy) to put up top-12 passing numbers. He's also just two years removed from rushing for six touchdowns where he found himself finish as the fantasy QB13 as a rookie. BetOnline currently has the Buccaneers line set at 6.5 wins this season, which should equate to plenty of negative game script for Winston and company. With a receiving corps capable of attacking all levels of a defense, Winston has a very strong chance at shattering his current ADP — especially if he can get back to the rushing success he had in 2015 in the red zone.
Now that we've finally cleared the "Andrew Luck throwing" hurdle, we should start to see the Colts' skill players creep up in value over the next few months. That includes one of the most dynamic offensive weapons in Indianapolis, rookie Hines. Hines is an electric playmaker in space, running a 4.38-second 40 with a 5-8, 198-pound frame. Much like how Tarik Cohen turned heads as soon as he had the ball in his hands last year, we could see the same for Hines — at an additional 20 pounds heavier. Hines has the skillset to line up at any position and has reportedly been lining up everywhere. He's been getting opportunities in the backfield, out wide, and in the slot, showcasing his versatility and turning heads with each snap.
The Colts backfield is another crowded one that needs settling, with incumbent Marlon Mack trying to hold off rookies Hines and Jordan Wilkins. Unfortunately, with a defense that is still lacking a ton of playmakers, we should see a lot of negative game script for the Colts. Hines could be a repetitive check down option for Luck in these scenarios and provide some massive spike weeks when he hits pay dirt. Going at the end of drafts, do yourself a favor and add Hines to your bench.
I'm taking the low-hanging fruit here and saying there's a pretty good chance Manning eclipses his current QB22 ADP. The Giants offense was hit hard by injuries last year. Variance should swing back in New York's favor in 2018. Helping Manning and the rest of the Giants (arguably) the most will be their first two draft picks of RB Saquon Barkley and G Will Hernandez. Both should help relieve pass-rush pressure with Barkley a receiving machine coming out of Penn State and Hernandez coming in as our second-highest-graded pass-blocker among draft-eligible guards. With a healthy Odell Beckham Jr. and Sterling Shepard back in the fold, this offense has enough pieces at every position that it could hang some serious points.
Rotoworld's Rich Hribar found this information regarding a team like the Giants that is loaded at skills position players:
Looking further at the Eli ADP vs his skill players. Over the past 20 years, there have 32 teams with a FF RB1, WR1 and TE1 the same season (Barkley, OBJ, Engram all consensus ranked this year) and just once has their QB finished lower than QB14 overall. pic.twitter.com/3Ywf6Rcuhx

— Rich Hribar (@LordReebs) June 4, 2018
Rich notes that just one time there was a quarterback that finished lower than QB14 with all three of their main receiving options top-12 at their respective positions. This is a tide-lifts-all-boats kind of scenario for New York, where even 37-year-old boats can navigate their way to a successful fantasy season. Manning's QB22 ADP is something that we will look back on in January and wonder how the fantasy community was so low on him.