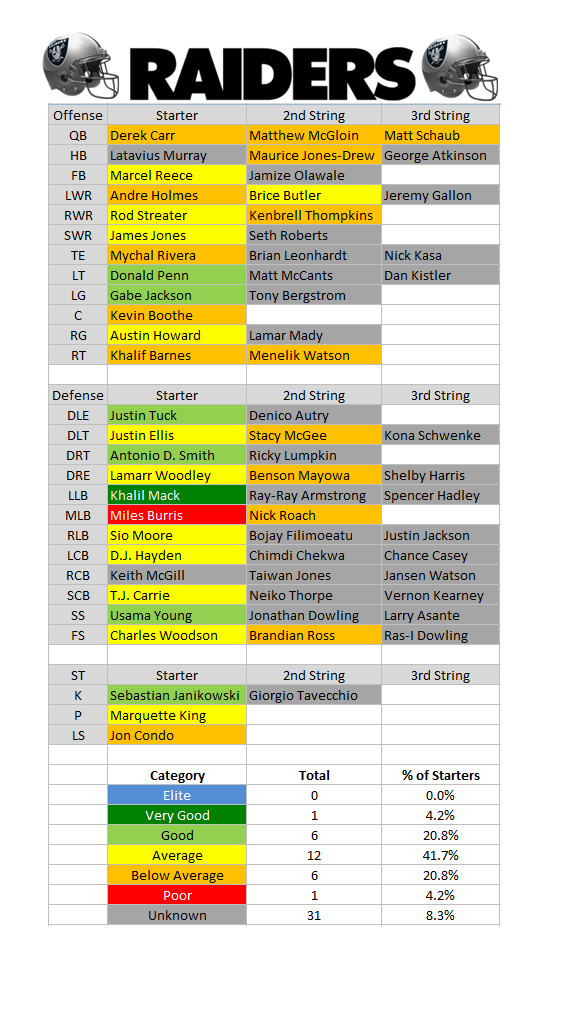 •  There were signs of promise in his rookie season, but Derek Carr had two very poor games in the last three weeks of the season. How he responds at the start of 2015 is going to be key, but for the time being he looks like the best option the Raiders have, even with his inexperience.

•   How will the offensive line look by the time Week 1 rolls around? Well, it would be a surprise to see anything other than Donald Penn and Gabe Jackson on the left side, but beyond that it's up in the air. Austin Howard is reportedly back at right tackle, and expected to open camp ahead of Menelik Watson there, while center Kevin Boothe is a candidate to be released.
•  There are times at PFF when we all agree and it's easy to rank a player. Then there are times like we had when we tried to rank Khalil Mack. We were split on whether or not he was Very Good or Elite, but in the end the debate came down to whether or not an edge defender who had a decent grade as a pass rusher could be Elite, with us leaning to the side of not at this point.
•  Defensive end LaMarr Woodley is reportedly a contender to be released. A solid pass rusher throughout his career in Pittsburgh, his first season in Oakland was relatively disappointing, with just three hits and seven hurries from 128 pass rushing attempts.
Team Needs

Right Guard: There's a strong case to be made that they have needs at center, right guard and right tackle, but right guard appears to be the biggest one right now. As it stands they'd go into the season with Khalif Barnes likely as the starter, but he struggled at both left guard and right tackle last year, so new additions are needed.
Middle Linebacker: They've really found themselves something in Mack, while Sio Moore is at worst a solid linebacker himself. Where they fall down at the position, though, is in the middle. Miles Burris continues to struggle, particularly when blockers get to him at the second level and they wouldn't have to spend too much to find an upgrade.
Cornerback: D.J. Hayden looked solid in the second half of the 2014 season, but with question marks elsewhere at the position, the Raiders should at least look to bring in another outside corner this offseason.
Click here to see the rest of the charts.