• Uptick in zone coverage league-wide through two weeks: 72.9% of total plays thus far, about 7% more zone coverage this season than 2019-21.
• Dolphins' big splash in man: Miami ran an average amount of man coverage in Week 1 vs. the Patriots but made the biggest jump in dramatic Week 2 comeback over Ravens.
• Cardinals, Chargers aggression fails vs. Chiefs: Curiously, they nearly doubled man rates vs. dangerous Chiefs offense.
• New users who bet $10 or more at BetMGM will receive a free year's subscription to PFF+ — a $79.99 value.
Estimated reading time: 6 mins
---
Whether to run man coverage or zone coverage is a big decision for each NFL team, and many factors influence their decisions during and in preparation for the game, including the talent level of the defense itself and the talent level of the offense they will be facing. Some teams' schemes work better with man coverage, while others work better with zone, and PFF's Arjun Menon and Judah Fortgang analyzed this in a previous article titled "Should NFL teams be playing more man or zone coverage?"
 Each week, we will detail how teams varied in the use of man and zone coverage, and how it may have differed from their previous week. As we get more data we will eventually make predictions for each team's man and zone coverage rates for the next week, and analyze those predictions. 
This Week's Man and Zone Rates
 Playing man, zone coverage could depend on the strengths and weaknesses of the opponent the team faces. In Week 2, the league as a whole ran man coverage 28.4% of the time, up from 26% in Week 1. Highlighted in this week's Coverage Update article, here are the teams that ran the most man and zone coverage in Week 2:
Man Coverage Leaders in Week 2
• Miami Dolphins (73.5%)
• Los Angeles Chargers (59%)
• Pittsburgh Steelers (52.6%)
Zone Coverage Leaders in Week 2
• Tampa Bay Buccaneers (95.9%)
• San Francisco 49ers (94.3%)
• Carolina Panthers (91.3%)
 Note: From 2019-2021, the league average for running man coverage was 33.9%, and zone was 66.1%.
• The Dolphins ran the most man coverage this week: Nearly 75% of the time against the Baltimore Ravens, which is a gigantic percentage. They ran more zone at the beginning of the game when the Ravens were scoring on almost every drive, but decided to switch to almost entirely man coverage as the game went on, and it paid off greatly.
• The Buccaneers chose to run almost entirely zone defense against the New Orleans Saints: Which was ultimately successful as they held the Saints to only 10 points, grabbing three interceptions in the process. The Panthers also ran mostly zone coverage this week against the New York Giants, after running a good chunk of man coverage in Week 1. 
Evolving Defensive Man and Zone Rates
• Some teams' man and zone rates will vary by opponent, while some will stay steady throughout the season: So far, the league as a whole ran man coverage 27.1% of the time, therefore running zone on 72.9% of plays. From 2019-2021, the average man coverage percent was 33.9%, so the league is running about 7% more zone coverage this season.
• We can see below how each team's percentage of running man and zone coverage evolves each week: Should this trend continue, it would be unsurprising to see even more variance in the passing games going forward, as zone muddles player talent more so than man coverage.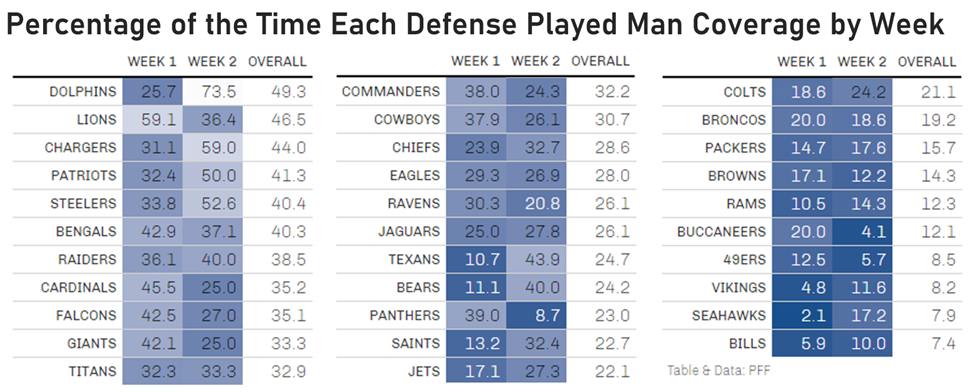 • The Denver Broncos, Philadelphia Eagles and Tennessee Titans are among the teams that have remained steady in their man coverage rates: Conversely, some teams have made some significant changes in Week 2. For instance, the Dolphins ran an average amount of man coverage in Week 1 vs. the Patriots — which was a game plan that worked well for them — but Miami made the biggest jump and ran a huge amount of man in Week 2 vs the Ravens, changing the game plan after Baltimore was unstoppable in the first half. The Dolphins' defensive game plan this week vs. the high-flying Buffalo Bills offense will be interesting to see.
• The Arizona Cardinals and Chargers both chose to run a hefty amount of man coverage in their games against the Chiefs — and it didn't really pay off: It certainly didn't pay off for Arizona. As PFF analysts Judah Fortgang and Arjun Menon researched, the Chiefs' offensive play style with Patrick Mahomes consistently beats man coverage, so it was interesting to see the Cardinals and Chargers utilize a good amount of man coverage against them.
• The Bills have shown an extremely strong defense and secondary so far this season: And Buffalo's style of playing almost entirely zone defense has worked out in its favor, holding opponents (which includes the reigning Super Bowl champion Rams) to below-average offensive stats.
Man and Zone Rates Each Offense Faced
• Teams often base their defensive coverage play calling based on the particular opponent they are facing: Let's see how often each offense had faced man and zone coverage by the opposing defense, and how it's differed by week.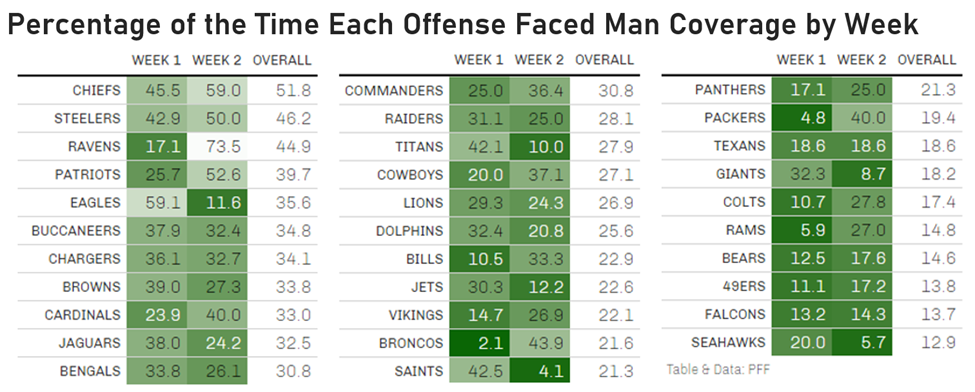 • The Kansas City Chiefs' offense surprisingly has faced the most man coverage this season: Perhaps opponents underestimated the chemistry of Kansas City's offense with a new WR room, but the Chiefs have proved themselves early. This is very different from the Pittsburgh Steelers — who have faced the second-most man coverage so far — as opponents are probably running more man against them to try and exploit a young offense that may not be great this season. So far it's worked out for the Steelers' opposing defenses.
• The Eagles' two opponents this season had two entirely different defensive game plans: The Lions played a lot of man, and the Vikings played mostly zone, but the Eagles offense tore through both of them and are proving to be a force with which to be reckoned.
• The Green Bay Packers have also faced very different defensive game plans: Unlike the Minnesota Vikings, who ran almost entirely zone, the Chicago Bears played a good chunk of man. In Week 1, the Packers struggled a lot against man, but they tore apart the Bears' zone defense in Week 2. 
Week 3 Predictions and Matchups to Watch
• How much will the Indianapolis Colts run man coverage vs the Chiefs this week?: If they want a shot at slowing down Patrick Mahomes and the Chiefs offense, the Colts should run much more zone coverage than the Chiefs' previous opponents did in Weeks 1-2. Defensive Coordinator Gus Bradley has stuck to his Cover 3 guns in the past, so it seems likely the Chiefs will end up facing less man coverage in Week 3. 
• Will the Bills change it up and run more man against the Dolphins?: The New England Patriots and Ravens ran man about 25% of the time vs the Dolphins, and with the Bills running almost entirely zone defense so far, will they alter their gameplan against a strong Dolphins offense? With Buffalo still missing CB Tre'Davious White and now also without Dane Jackson, Miami's receivers likely have the edge over the rookie Buffalo cornerbacks, suggesting that it might be wise to continue to employ zone defense.