• Bet O 47.5 total points: From 51 in preseason, adjusted too much, crossing the most important total numbers.
• Bet Stefon Diggs O 6.5 receptions (+108 FanDuel): Breakeven is 48.1%, but PFF projections have this close to a 65% probability.
• Bet Ryan Tannehill U 0.5 INTs (+112 FanDuel): Low turnover-worthy play rate since 2019, with only 3.3% of his throws grading poorly enough to be a turnover.
• New users who bet $10 or more at BetMGM will receive a free year's subscription to PFF+ — a $79.99 value.
---
• Our prime-time previews pull all the key modeling numbers and simulated outcomes from PFF's betting tools, including PFF NFL Greenline and the Player Props tool, which use top-down machine learning models backed by PFF's exclusive data to derive value when compared to the betting market.
• Let's dive into the first of two Monday-night battles, the Tennessee Titans and Buffalo Bills.
Estimated reading time: 4 mins
GAME LINES
• The Bills did nothing in their Week 1 victory over the Rams to cast doubts on their current standing as the best team in the NFL: Oddsmakers and those who ate the chalk betting the preseason Super Bowl favorite have to feel good about their current position, especially with this Week 2 spread ballooning out from a preseason number of -7 up to -10 by kickoff.
• PFF Greenline doesn't find any value on the spread: But it's close to laying a heavy minus price for the Bills to win on the moneyline. The play-by-play simulation shows a similar distribution, with the Bills winning by 7 as the most likely outcome, but plenty of scenarios where they once again run away with it.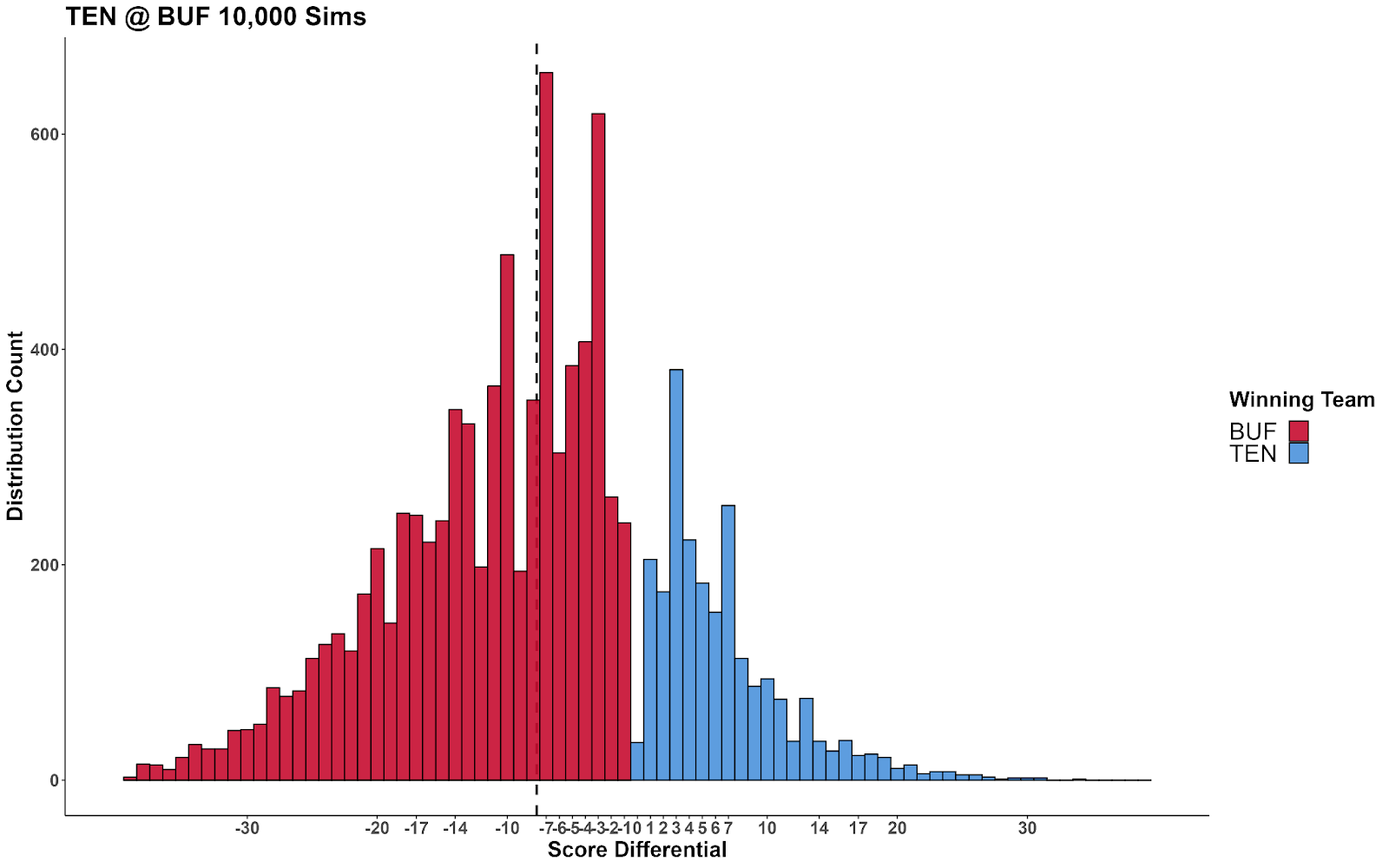 • Tennessee lacks weapons to keep pace with the top-rated offensive unit in the NFL: The only question: can the Titans do enough to have the 47.5 point total finish over? The concerning outcome is if they somehow get up early and try to milk as much of the clock as possible behind a heavy dose of Titans RB Derrick Henry. But even if this scenario plays out, we should see the Bills play at their frantic offensive pace, which can often mean points in bunches based on the explosive play ability of their offense. 
• Both PFF Greenline and the play-by-play simulation show a little value in the Over: It's simply adjusted too much from the preseason 51 and crossed the most important total numbers to now show value at over 47.5.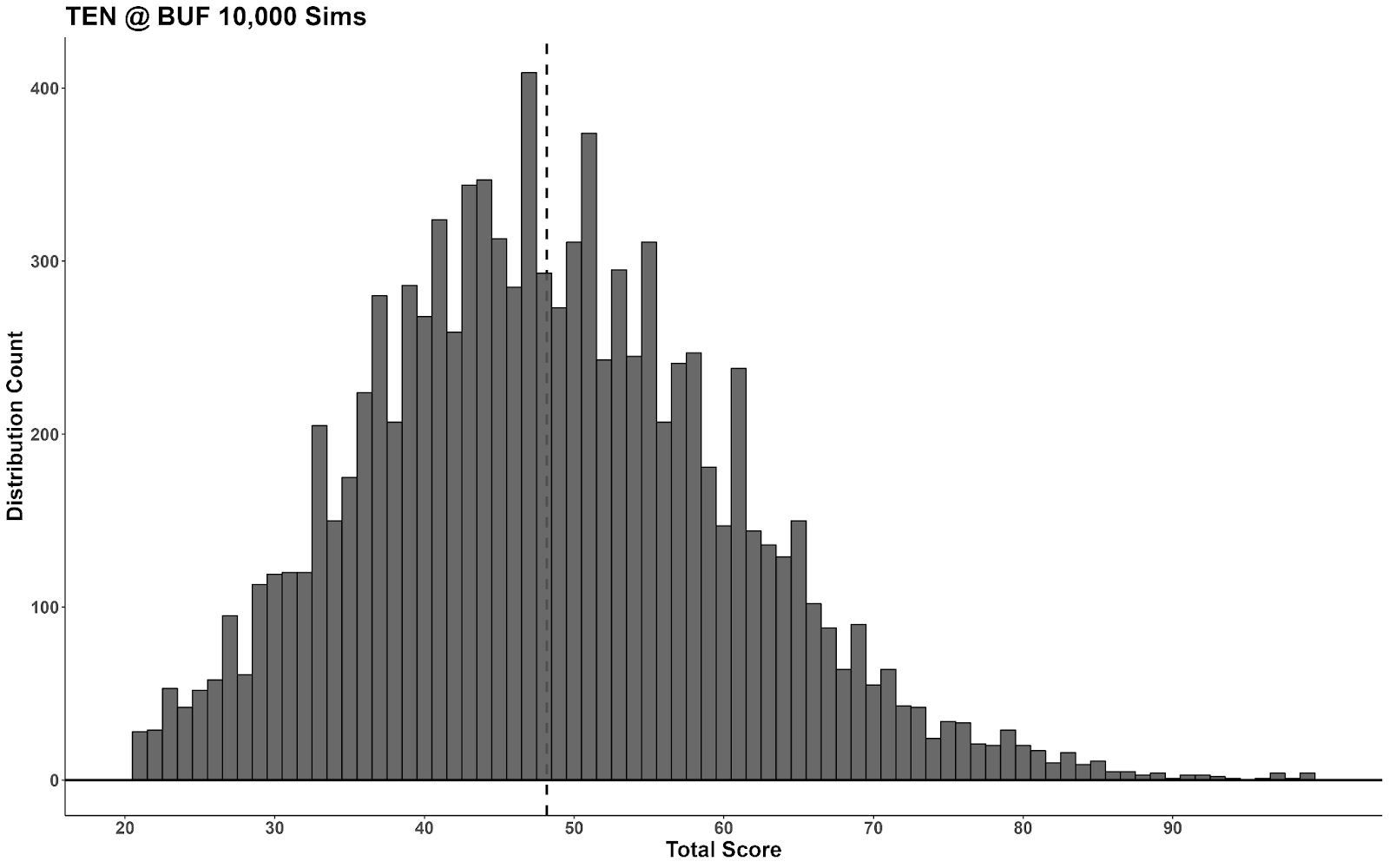 • There could be some value on a derivative total market or even a team total, but the most straightforward way to play this is giving enough time for both offenses to hit on a couple explosive plays. When that happens, the game total should fall quickly after. 
PICKS: Over 47.5 -110 (
BetMGM
)
PLAYER PROPS
BET Stefon Diggs Over 6.5 Receptions (+108 FanDuel)
Gabriel Davis inactive: It caused some books to take down Buffalo's receiving yardage and reception prop numbers. FanDuel is among the only books with props posted at time of writing, and it looks to be a little light on Diggs to go over 6.5 receptions. 
• At a +108 price the breakeven is 48.1%: But PFF projections have this close to a 65% probability. Diggs didn't see the typical snap percentage we are used to in Week 1, but with Davis out, we should see Diggs close to the 90%+ that he's been at since joining Buffalo. On top of that, his usage is impressive as he was targeted on 30% of his routes and is clearly the focal point in the Bills passing offense. 
• Diggs szn: His presence only magnifies sans Davis. Eight of Diggs' 9 targets in Week 1 came as the first read, and with it mainly underneath or middle of the field, Diggs should have no problems once again going over his prop number on Monday. 
BET Ryan Tannehill Under 0.5 Interceptions (+112 FanDuel)
• Ryan Tannehill continues to be steady: He's been mostly successful in the Titans offense by staying within himself. This has resulted in a low turnover-worthy play rate dating back to 2019, with only 3.3% of his throws grading poorly enough to be a turnover. The changes to the Titans offense means there are even less opportunities to throw downfield, meaning we should see a more methodical play-action passing attack with few pass attempts downfield. 
• Game script might force Titans out of their shell: Yet it could take three quarters and come with only a few opportunities to turn the ball over. At a +112 price on FanDuel, PFF projections have this at 6.9% value, with an interception happening only 46% of simulated outcomes. 
DERIVATIVE BETS & SAME-GAME PARLAY