The New Orleans Saints defeated the Atlanta Falcons, 43-37, continuing the third full week of action in the NFL.
PFF's ReFocused series this season features immediate takeaways and a key to the victory from two Senior Analysts who graded the performance, watching every player, on every play of the game. For more data and analysis from the game, utilize our Premium Stats 2.0 dashboard to expand your knowledge on the key players, signature stats and much more.

FINAL SCORE
New Orleans Saints 43, Atlanta Falcons 37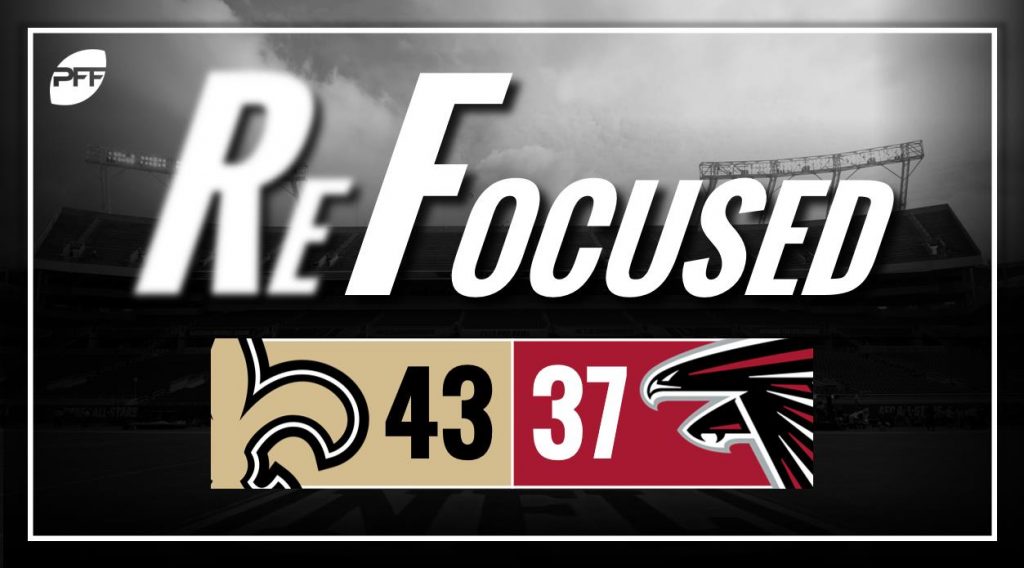 Analyst Takeaways

Outside of Josh LeRibeus, the entire line had an extremely convincing day in pass protection, as they routinely gave their quarterback more than enough time to survey the field.
It was an excellent day for Drew Brees who surgically picked apart a beaten up Falcons coverage unit, wearing them down eventually. He put his body on the line twice for two touchdowns, adding the exclamation mark on his great day.
It was a huge day for Cameron Jordan, who worked over Ryan Schraeder for most of the game with his blend of speed and power proving too much to handle. He showed up big on the Falcons' final possession with his constant pressure disrupting the Atlanta passing attack.
What can you say about the day P.J. Williams had? It seemed Matt Ryan was just locking onto him pre-snap and going that way, regardless of who Williams was up against. Firstly, Calvin Ridley worked over him, and then when he was moved onto Mohammed Sanu, there were similar results.

There was a lot to like about the play of Ryan, who got his deep game working and made a number of big-time throws. Unfortunately, he came up short when it mattered most, as the relentless pressure derailed a potential game-winning drive.
Ridley is already showing his worth with a big day against New Orleans, as he routinely torched Williams. Ridley's first was a stop-and-go touchdown, and then just running straight by him on his way to the second of three touchdowns. The offense didn't get enough production rushing the ball, but the weapons it has in the passing game would give any team problems.
The good news was both of the new starters, Duke Riley and Damontae Kazee, had good games. The duo looked like they could hold their own (even if you can't replicate what they're replacing). Both men were active, with Riley looking far more decisive than a week ago and Kazee flying to the ball (even if it did lead to multiple missed tackles).
The bad news was not just that it looked like they lost another starter in Ricardo Allen, but that the team generated next to no pressure outside of an extremely well-timed rush from Vic Beasley. They'll get Takkarist McKinley back at some point, but as good as their backend can be on defense, it might not matter an awful lot if they can't start winning some of their one-on-one matchups on the line more.
Keys to the game
New Orleans:
The defense was able to generate pressure when it mattered most, with Jordan, in particular, coming through big as the Falcons were driving for a field goal that would win it.
Atlanta:
Atlanta made life too easy for Brees, struggling to generate any pressure consistently.