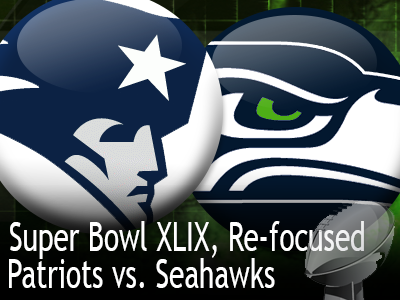 The Seahawks went down swinging, with Marshawn Lynch and Michael Bennett leading the way with dominant performances on offense and defense respectively. However, they couldn't repeat their heroics from the conference championship victory, even though Jermaine Kearse's catch to take them to the five must have been ominous for Patriots fans. In the end the Patriots just made one play more than the Seahawks when it counted.
New England Patriots – Performances of Note
Malcolm Butler, CB: +3.3
Breakdown: The undrafted free agent had only played 202 snaps all season before entering last night's game midway through the third quarter for Kyle Arrington (3-for-3, 122 yards allowed) but as is so often the way in the Super Bowl, the unknown undrafted player had a telling impact on the outcome of the game. Targeted six times by Russell Wilson the only long completion Butler allowed was the miracle long ball to Jermaine Kearse to put Seattle at New England's 5-yard line. On his other five targets he allowed one completion for 6 yards to Kearse, breaking up another deep ball to Kearse immediately after the two-minute warning.
Signature Play: Butler more than made up for his misfortune on Kearse's bouncing gain with that interception of Russell Wilson that will doubtless go down in history as one of the greatest and most memorable plays in Super Bowl history.
Jamie Collins, ILB: +0.1
Breakdown: A mixed day for Collins who was pivotal in the Patriots' attempts to disrupt and divert Marshawn Lynch. Collins struggled in coverage in the open field, notably against Lynch. From very early on Collins had the measure of Max Unger and was used to attack the middle of the Seahawks' offensive line forcing Lynch to cutback his runs and not allowing him to read and make a choice, though that clear gameplan didn't necessary limit Lynch's gains.
Signature Stat: Collins led both teams with three missed tackles, two on Lynch and one crucially allowing Russell Wilson to escape outside on an option keeper with 24 seconds left in the first half to help setup the Seahawks' quick-fire touchdown.
Rob Gronkowski, TE: +0.2
Breakdown: This victory was not about dominance and control for the Patriots, it was about key plays and key drives. Perhaps no one's performance better exemplifies that than Rob Gronkowski's. He didn't make a massive volume of plays and struggled as a run blocker, consistently controlled on first contact, but made a trio of plays as a receiver in key moments to help the Patriots get the victory.
Signature Play: Gronkowski snagged two first downs on the game-winning drive, the first beating Kam Chancellor on a slant for 20 yards at 4:47 to help put New England back on the front foot after Danny Amendola's offensive pass interference penalty had pushed them backward.
Seattle Seahawks – Performances of Note
Michael Bennett, DE: +3.7
Breakdown: Widely talked up as the man that could play a Justin Tuck role and derail the Patriots' offense, Bennett proved to be exactly that disruptive force. He racked up five hits on Brady including two in the first three plays of the game. As disruptive as Bennett was, however, Brady and Josh McDaniels didn't allow him to become destructive. The Patriots' offensive linemen couldn't handle him one on one but through a consistently speedy release (74.5% of Brady's drop-backs saw a pass released in less than 2.5 seconds) Brady ensured that Bennett could do no lasting damage to the Patriots' chances of success.
Signature Play: On top of his pressures Bennett also drew a holding penalty from Bryan Stork on the first play after Seattle established a two-score lead (3rd Qtr 4:48) to help force a three-and-out from New England.
Tharold Simon, CB: -4.7
Breakdown: A rough playoff run for Simon who was pressed into action on short notice for the second time in three weeks with similar results to the first time. After Jeremy Lane was forced from the game after his interception, Brady went to work on Simon targeting him 11 times to collect 91 yards and two scores against the second-year corner. Further adding to Simon's struggles were two missed tackles, one each from Brandon LaFell and Julian Edelman.
Signature Stat: In his two playoff appearances Simon was targeted a combined 21 times, surrendering 17 catches for 205 yards and four touchdowns; totting up to a passer rating of 146.9.
Marshawn Lynch, RB: +3.1
Breakdown: The Patriots did their best to manipulate where Marshawn Lynch was running the ball but that didn't stop Lynch powering through tackles in another spectacular playoff display. Lynch collected more than 2.5 yards per carry after contact for the 13th time in 19 games this season and with eight missed tackles forced on the ground, took his season total to 130. But we were left only to wonder what might have been had been handed the ball just one more time at the end of the game.
Signature Play: Lynch's best run of the night came with 6:23 left in the third and perfectly displayed his terrifying blend of agility and power. The footwork to shake off Jamie Collins in the gap so quickly followed up by the power to stay on his feet through a double hit from Devin McCourty and Vince Wilfork is a truly special and rare play, fitting for Super Bowl Sunday.
PFF Game Ball
The Super Bowl is all about the unlikely hero and in Malcolm Butler the Patriots found a player off the bench to turn the tide and get the big play that counted from the Seahawks after Seattle had so much success going after the player Butler replaced.
Follow Ben on Twitter: @PFF_Ben