As our research and development team alluded to a few weeks ago, coverage — as opposed to pass-rush — is king when it comes to stopping an opposing passing attack. During the PFF era, teams with elite coverage (67th percentile or better) and a poor pass-rush (33rd percentile or worse) win, on average, about a game and a half more than teams with the reverse construction. And that highlights just how important it is to have a difference-maker (or three) roaming in the defensive secondary.
Here, in reverse order, are the top-five cornerback trios in the NFL right now.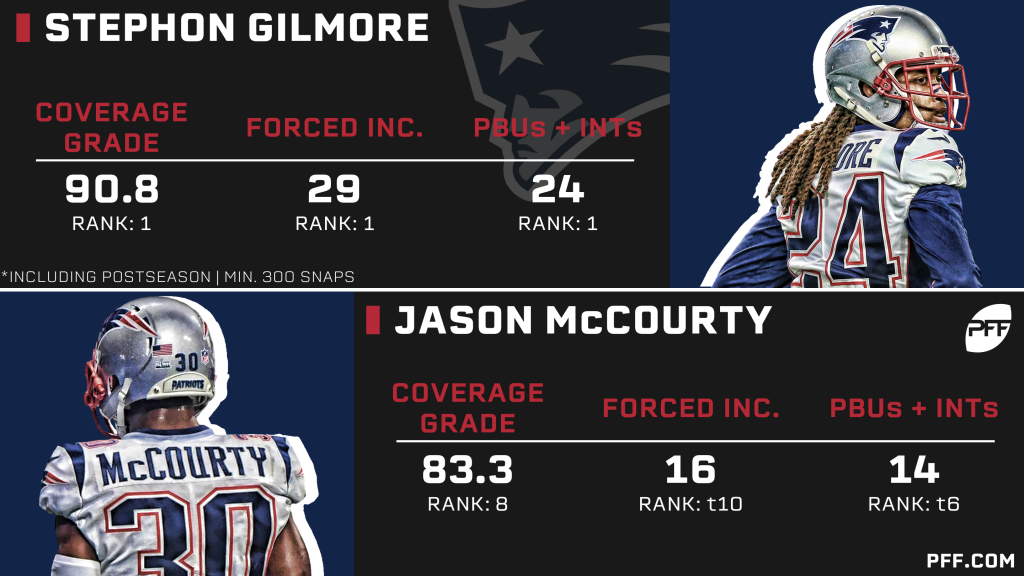 Stephon Gilmore has been nothing short of exceptional since he arrived in New England. No qualifying cornerback has earned a higher coverage grade over the past two seasons than Gilmore's 91.9, and among the 56 cornerbacks with 800-plus coverage snaps played in the two-year span, Gilmore ranks fourth in completion percentage allowed (50.3%), second in forced incompletion percentage (26.7%) and 11th in passer rating allowed (73.2).
McCourty is one of the few players in the NFL who mans the outside spot in base and kicks inside to the slot in nickel and dime packages — and it's his work from the slot that has been impressive over recent years. Since 2017, McCourty has earned a slot coverage grade of 80.6 that ranks eighth among the 50 cornerbacks with at least 200 slot coverage snaps, while his forced incompletion percentage of 16.7% ranks third among the 50 cornerbacks with 30-plus slot targets.
Jackson, an undrafted cornerback out of Maryland, didn't claim his spot on the starting lineup until Week 13 but he more than repaid his coach's faith in him with his play down the stretch of the 2018 season. From Week 13 until the Super Bowl, Jackson allowed a passer rating of just 71.7 on throws into his primary coverage, while he ranked third among cornerbacks with at least 25 targets in forced incompletion percentage over that span. Now entrenched as the starter and with a Super Bowl-winning season under his belt, Jackson will look to build on his late-season performance in Year 2.
They may be coming off a relatively down year by their lofty standards, but at full strength, this team of cornerbacks is more than capable of going toe-to-toe with anyone and everyone in the NFL.
Over the last three regular seasons, Ramsey has allowed 154 receptions from 291 targets in coverage for 2,038 yards, eight touchdowns and nine interceptions, and his 71.6 passer rating allowed ranks 10th among the 105 cornerbacks in that span. Since entering the league in 2016, Ramsey has proved that he's capable of beating anyone in the league; he's allowed a passer rating of 66.3 on throws to T.Y. Hilton, a passer rating of just 89.3 on throws to DeAndre Hopkins and a passer rating of only 77.1 on throws to Antonio Brown.
It's been two seasons since his breakout 2016 campaign with the Houston Texans, and over that time, Bouye has secured himself as one of the best perimeter cornerbacks in the game. He earned coverage grades of 89.9, 84.7 and 79.3 in 2016, 2017 and 2018, respectively, and over the course of his career, Bouye has allowed a passer rating of just 66.6 on his snaps at outside cornerback — the fourth-best mark among the 85 cornerbacks with at least 200 targets in outside coverage since 2006, one spot above Ramsey (67.7).
Manning the slot for this team is seventh-year cornerback D.J. Hayden, who is fresh off a career year in Jacksonville. Hayden spent 242 of his 271 coverage snaps in the slot a season ago; he allowed just 33 completions from 44 targets for 252 yards, one touchdown and one interception. His 86.6 passer rating allowed in the slot ranked 15th among the 38 cornerbacks who saw at least 25 targets in slot coverage in 2018.
Free for 7-days. Subscribe to continue reading and unlock
All premium content with the best insights + analysis in the game
NFL Draft Guide, Big Board + Mock Draft Sim
Fantasy Draft Kit and Nathan Jahnke's award winning rankings
Bet smarter with PFF player mismatches and expert betting insights
NFL and CFB player grades and premium stats
Unlock all PFF data trusted by all 32 NFL teams
Already have a subscription? Log In