Numbers such as sacks for a pass-rusher and interceptions thrown by a quarterback are attention grabbers. A person scrolling through traditional statistics will take those values and use them to make inferences on how well that player has performed. Sometimes that is fair, and sometimes it is not.
At PFF, we aim to contextualize those numbers with statistics like turnover-worthy plays for quarterbacks and pressure rates for pass-rushers.  
If a player is consistently getting pressure on the quarterback, not only is that valuable, but it means that the sacks are likely coming. If a quarterback is consistently putting the ball in the path of defenders, interceptions will follow at some point, even if they haven't caught up to them yet. Those aren't the only categories where this is true, either. The following list is of the players who fell on the extreme ends of "luck" last year — whether that is positive luck or negative luck — who will likely see improvement or decline in a specific area just by falling back towards the middle of the pack.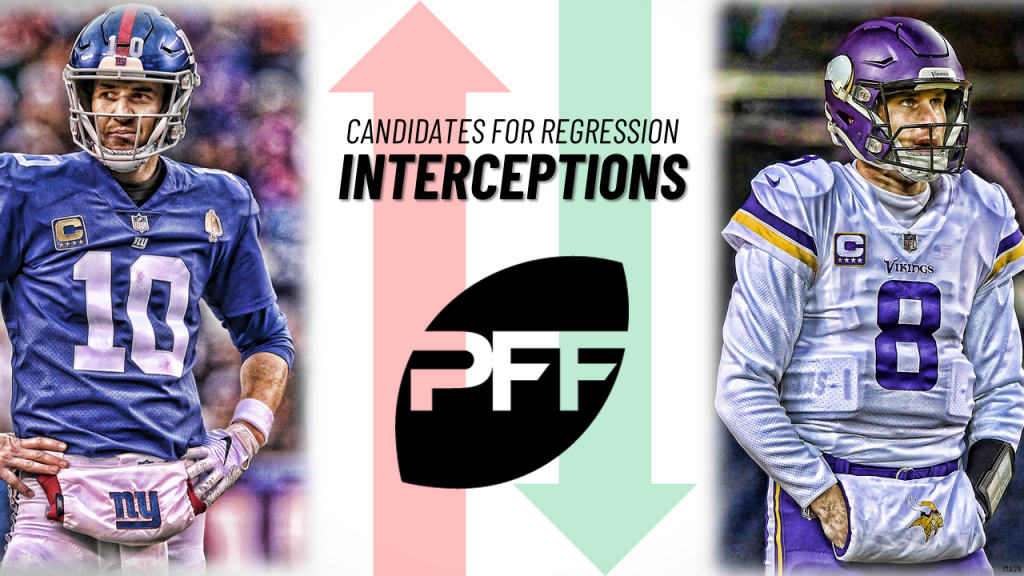 INTERCEPTIONS THROWN
In general, a quarterback is going to throw fewer interceptions than they do passes that should be intercepted. Defenders are going to drop interceptions;  defenders are going to run into each other to thwart a sure turnover — the list goes on. The 2018 league-average turnover-worthy throw rate for a quarterback in the regular season was 3.3%, while the league average interception rate was 2.4%. A quarterback can make the same exact pass that goes down as a rather innocuous incompletion in the stat sheet in one situation while going down as a much more costly turnover in a different situation based purely on whether the defender catches the football. PFF data and play-by-play grading can paint a more complete picture, indicating which quarterbacks ended up on the extremes of turnover luck. 
The Giants finally began to look at a future past Manning by selecting Daniel Jones at sixth overall in the 2019 NFL Draft, so this is under the assumption that Manning is the Week 1 starter and keeps the job. He may not throw more than the 11 interceptions he had last season just due to the fact that he gets pulled for Jones before he has the chance to, but his interception rate is unlikely to stay as low as it did in 2018 with a similar propensity for bad passes.
Manning's turnover-worthy throw rate came in at 4.3% last year, ranking sixth-worst among the top 32 quarterbacks in pass attempts. Meanwhile, his interception rate came in at just 1.9% (12th best among the same group). That was the largest difference among signal-callers projected to be starters next season, and it means he could be in store for worse results next year. 
By no account did Cousins throw too many interceptions last season. His 30:10 TD:INT ratio was among the best in the league, but looking at his turnover-worthy throw rate, he should have thrown even fewer interceptions. His 2018 performance was viewed as underwhelming by many given his contract, and that's understandable in that he didn't make a whole lot of the high-end throws that the top quarterbacks in the league do. Cousins' big-time throw rate of 4.3% ranked just 18th among quarterbacks with many of them coming early in the season, but he was elite in limiting negative throws. Only Aaron Rodgers had a lower turnover-worthy throw rate than Cousins' mark of 1.8%. That nearly matched his interception rate of 1.7%. Using the league average rates for interception rate and turnover-worthy throw rate, Cousins should have only had eight interceptions compared to the ten that he threw. With a similar performance, look for even fewer interceptions next season.
Subscribe to PFF Edge to continue reading
Already have a subscription? Sign In