For the first time in a long time, NFL defenses will enter the upcoming football season without having to worry about the formidable duo of Tom Brady and Rob Gronkowski. The Patriots' pair, who combined for over 500 receptions, over 70 touchdowns and over 7,500 receiving yards during their time together, will live on forever in the history books, and when it's all said and done, in the Hall of Fame in Canton, Ohio, too. But now that they're no more, could another duo ever possibly take up that mantle? Could another NFL tight end ever really step into those massive shoes?
While a definitive answer is still being deliberated, we do think Travis Kelce and Patrick Mahomes are primed to give it their best shot in 2019 and beyond.
[Editor's Note: All of PFF's advanced stats and grades for every NFL player are made available in PFF's ELITE subscription. Subscribe today to gain access!]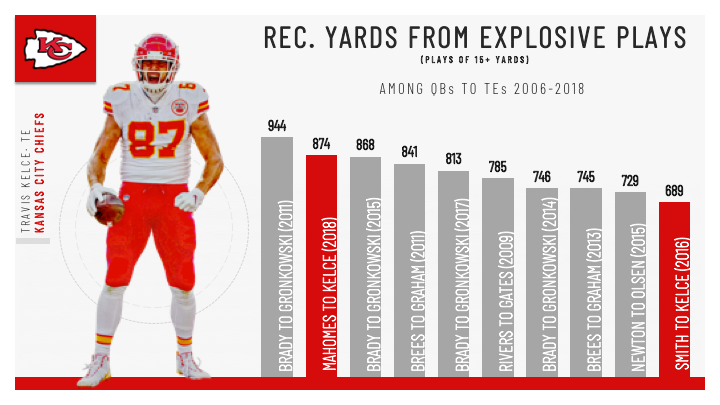 The 2018 season more than proved that the two were capable of reaching such a level. Last year, Mahomes and Kelce combined to produce 103 catches from 139 targets for 1,336 yards, 10 touchdowns and just three interceptions. The standout tight end finished the campaign with the second-most receiving yards ever recorded by a tight end in the PFF era, while his 67 first downs and 574 yards after the catch rank tied for third and fourth, respectively.