We here at PFF like to say that the ability to rush the passer fits in with every scheme in the NFL. That's why, when a talent like Gerald McCoy is available on the open market, every team in the league should be interested. And while almost one-third of the league did express interest during the 31-year-old's brief stint as a free agent — the New Orleans Saints, Baltimore Ravens, New England Patriots and the Cleveland Browns among them — it was the Carolina Panthers who came out on top in the bid to sign McCoy by inking him to a one-year deal worth around $8.5 million.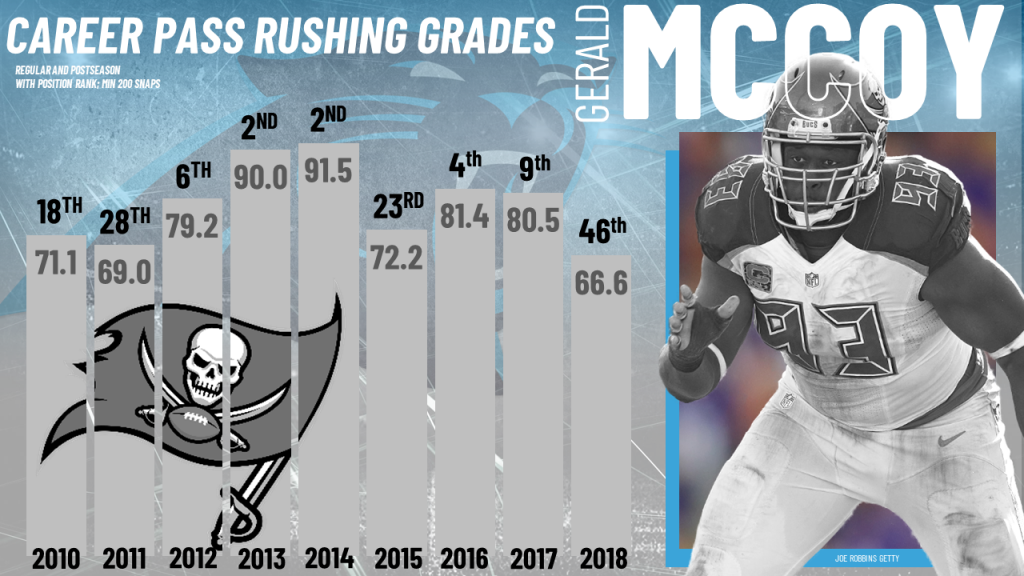 The former No. 3 overall pick of the 2010 NFL Draft has been a consistent force since Day 1 in the league. He has earned overall grades north of 70.0 in six-of-nine professional seasons, and he is one of only 11 interior defensive linemen who has notched at least 35 quarterback pressures in each of the last three years.
As a pass-rusher, there have been few as productive as McCoy has been over the course of his career. Since 2010, McCoy's 393 total pressures are the sixth-most among interior defensive linemen in that span, while his 143 knockdowns (sacks + hits) ring in at fifth.
And that's not by luck. Throughout his time on an NFL field, McCoy has shown an undeniable proclivity for beating the man in front of him and finding his way into the backfield. When we remove screens, play-action dropbacks, trick plays, defensive stunts, blitzes and passes that were thrown in under 2.5 seconds, we can see that McCoy has won a staggering 21.3% of his career matchups as a pass-rusher — a mark that's tied with Fletcher Cox, of all people, for the fifth-best rate among the 67 interior defensive linemen with at least 300 pass-rush snaps since 2010. His 93.0 pass-rush grade on those plays ranks third to only Geno Atkins (94.5) and Aaron Donald (94.4) among that same group of players.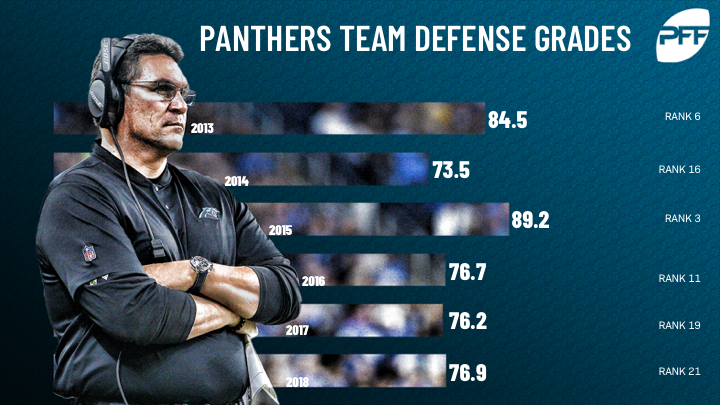 McCoy now gets to join forces with defensive-minded head coach Ron Rivera in North Carolina, and with Kawann Short, Mario Addison, first-round pick Brian Burns and Bruce Irvin on the front end, and linebackers Luke Kuechly and Shaq Thompson making plays just behind them, the Carolina Panthers will enter the 2019 NFL season with arguably one of the strongest defensive fronts in all of football.
Straight off the bat, the pairing of Short and McCoy is a great one. Kawann Short — who has played 74.7% of his defensive snaps lined up on the right side of his defense's 4-3 front over the past three years — has earned a three-year overall grade of 91.8 on his snaps from the right side of the defense, second to only Aaron Donald among the 193 interior defensive linemen with at least 100 snaps from the right side in that span. Excelling against the run, Short leads that very same group of players in run-defense grade (92.3) and tackles for loss or no gain (27, eight more than the next closest player), while his 55 run stops and 0.67 average depth of tackle rank second and fifth, respectively.
While Short's marks as a pass-rusher from the right-hand side aren't quite as impressive as his marks against the run, they're still very, very good. Among the 159 interior defensive linemen with at least 100 snaps from the right side over the past three seasons, Short's 80.9 pass-rush grade ranks ninth, his 105 total pressures rank fourth, his 12.7% pass-rush win rate ranks 17th and his 10.6% pressure rate ranks 19th.
However, as great as Short has been over the last three years, he's not particularly had much help beside him. Out of the five interior defensive linemen who have logged snaps from the defense's left-hand side, only Dontari Poe has managed to record an overall grade north of 70.0, while Kyle Love (68.4), Vernon Butler (60.7), Star Lotulelei (59.5) and Paul Soliai (47.2) all struggled from that spot.
That changes with the addition of McCoy, who, since 2016, has spent 71.1% of his defensive snaps lined up on his defense's left-hand side — and has thrived while doing so. Among the 202 interior defensive linemen with at least 100 snaps from the left over the last three years, McCoy's 85.4 overall grade ranks 15th, while his 79.2 pass-rush grade ranks seventh. From this side, McCoy has racked up 15 sacks, 24 hits and 64 hurries for a total of 103 quarterback pressures that rank sixth among players over that three-year period. His 12.7% pass-rush win rate and his 10.2% pressure rate respectively rank tied for 13th and tied for 19th among the 155 interior defensive linemen with at least 100 snaps.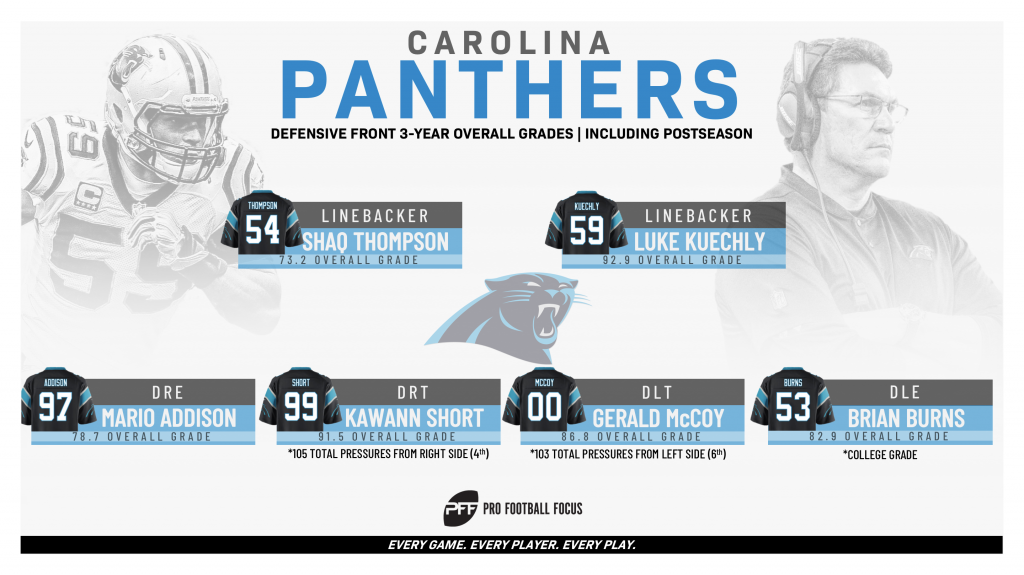 Playing alongside the interior duo will be the ever-reliable edge defender Mario Addison, who has tallied at least 40 quarterback pressures in each of the past four seasons. On the opposite end of the line should be former Florida State edge defender Brian Burns, who checked in at 14th on PFF's draft board after he led the nation in pressures during the 2018 college regular season. Behind them is the perennially elite Luke Kuechly, who has graded above 90.0 in each of the last five years, and next to him will be linebacker Shaq Thompson, who has produced pressure on 20.5% of his blitzes since 2016— the fifth-best mark among linebackers in that span.
For relatively little in the way of money, the Panthers have secured one of the more productive pass-rushing defensive tackles in the NFL; one that can move the pocket for almost any alignment. Alone, the newly-formed interior duo of McCoy and Kawann Short would have spelled trouble for any offensive line, but when you combine them with a formidable edge presence and a linebacking corps that contains one of the best to ever do it, you get a defensive front that has the chance to emerge as one of the NFL's best.