In 2015, Oakland Raiders OLB Khalil Mack was a better player than Denver's Von Miller over the regular season. It wasn't until the playoffs that Miller unleashed his full potential, and went on an all-time great tear that ultimately won the Broncos another championship.
The pair actually finished the regular season tied with 82 total QB pressures—10 more than any other NFL edge rusher—and while Von Miller did it on fewer snaps rushing the passer, Mack made more impactful plays from those pressures, so they ultimately evened out.
It's important to remember that not all pressures—or sacks—are created equal. Some can come because the QB held the ball for five seconds in the pocket or drifted into the path of the pass-rush, and some come by beating a double-team within two seconds and simply dominating on the play.
Realistically, both Miller and Mack were pass-rushing forces in 2015, but Mack was the better run defender of the two, and therefore finished the year with the top overall grade among all edge defenders: 95.9 to Miller's 93.2. That was also the second-best overall grade we have given to any edge defender over a season over the past decade—second only to Robert Quinn's ludicrous 2013 season.
Von Miller not slowing down
The playoff run to end last year was truly something staggering from Miller. He was the single-biggest impact player in both the AFC Championship game and the Super Bowl, and Denver simply isn't the defending champion without him.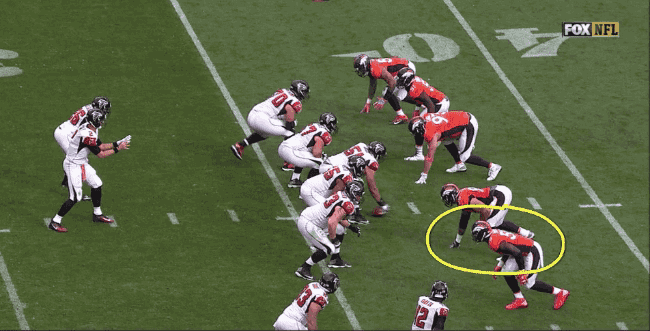 His 82 pressures over the regular season shakes out to an average of 5.1 per game, but in the playoffs, he averaged 7.7 pressures per game, with two sacks. Denver's Week 17 encounter with San Diego was very much a do-or-die game when it came to playoff seeding and home-field advantage, so if you include that in the mix, Miller added another sack and six pressures in crunch-time games.
That performance earned him a monster contract in the offseason, but any concerns that he would ease off after securing his money have been put to rest. John Elway talked about Miller now chasing a legacy, and his performance so far this year suggests that's his goal—and he is well on his way to it. Miller leads the entire NFL with 45 total QB pressures over the first eight games of the season. That's on pace for 90 over the year, eight more than a season ago, and half a pressure per game ahead of the pace he set in 2015.
For his entire career (including the playoffs), Miller is averaging 4.9 QB pressures per game, and almost one sack per game (0.93). With the possible exception of J.J. Watt, he is the single-most dominant edge-rushing force in today's NFL.
But what makes him so dominant?
When the NFL looks at college prospects in the draft, you hear all kinds of buzzwords and terms that sound almost farcical when evaluating the impact of football players. "Ankle flexion," "lean," and a whole host of other terms float to the surface, when all anybody is really looking at is how much pressure somebody will likely produce at the next level.
Miller is the embodiment of all of those buzzwords.
At 6-foot-3 and just 246 pounds, he is a little undersized for a true edge rusher, but he counters that with some freaky-athletic gifts that give him the leverage advantage over far bigger players and negate any inertia disadvantage he has.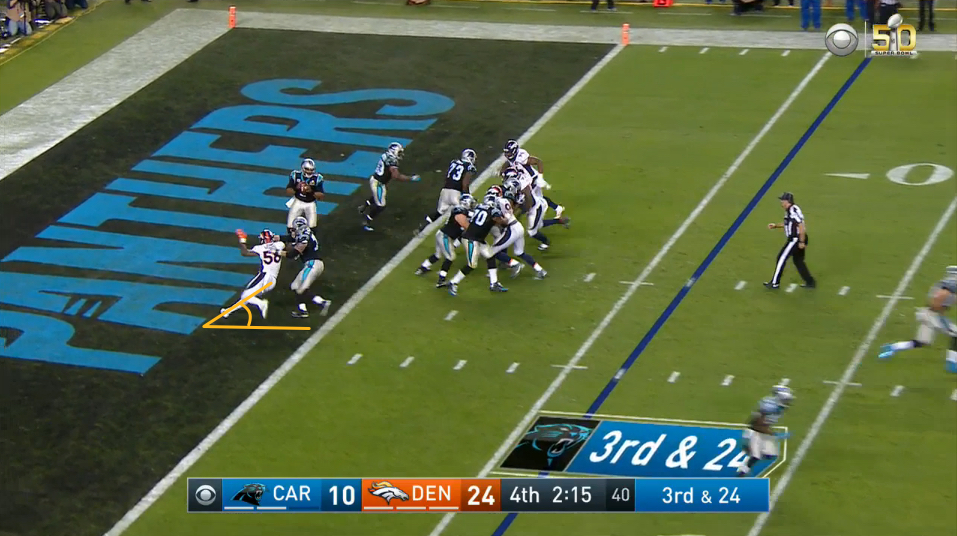 Miller is able to angle himself at a ridiculous level and still maintain speed around the edge in a way very few other pass-rushers can, allowing him to beat tackles even when they are in pretty good position. His speed-rush is excellent, which opens up space to the inside and allows him to swing back inside with agility that 300-pound tackles just can't counter.
In the Super Bowl, he beat Panthers RT Mike Remmers in virtually every way possible, but he put this kind of crazy lean on display on a play in the Carolina end zone that almost resulted in a safety. Miller hits the kind of angle most pass-rushers just can't sustain with a blocker leaning on them, and still got around the corner to apply the heat.
One aspect of Miller's play that is very under-appreciated is how good he is against the run. He isn't simply a speed rusher that gets ground into dust by bigger tackles in the run game. The kind of leverage advantage he has as a pass-rusher works in the run game, too, and his speed and agility allow him to cut around blockers and knife in to make plays, almost like a very good defensive back taking on bigger blockers in space. Miller, though, manages it around the edge, and in far tighter confines.
There are better run defenders than Miller in the league, even among edge defenders, but it's still a strength of his in a way he doesn't get enough credit for.
Khalil Mack off to slower start, but posted huge Week 8
As good as Mack was in 2015, his season so far has been a little underwhelming, and last week against Tampa Bay was the first time he really lived up to the standards he set a season ago.
What is particularly interesting for this matchup is that Mack's Week 14 meeting with the Broncos last season was his most dominant game by far. That day he had the kind of game that Von Miller has shown multiple times—the ability to completely destroy an offense on his own. He recorded five sacks and nine total QB pressures, with seven defensive stops on the day. The Denver offense scored just 12 points and didn't get into the end zone, averaging 1.6 yards per carry on the ground and 6 yards per pass through the air.
Mack out-Miller-ed Von Miller, who "only" had a sack and a hurry against the Raiders in the same game.
The very best pass-rushers tend to absolutely annihilate poor offensive tackles. We have seen that multiple times this season across several different teams, but the matchup of Mack against Broncos RT Donald Stephenson in Week 9 has the potential to be another game-defining beatdown if the Broncos don't find a way to get him help.
Stephenson has earned an overall grade of 38.9 this season, which is 71st among offensive tackles—in a league with 32 teams, and therefore 64 starting tackles. Somehow, he has actually yet to surrender a sack, but has given up 15 total pressures in 159 pass-blocking snaps, and been penalized four times. Stephenson has struggled against even average pass-rushers, so Mack should have a field day against him.
This season, Mack has split time between the left and right side of the line, whereas a year ago he played almost exclusively on the left side of the defensive line, so there's a good chance he will see plenty of Russell Okung, too, but that matchup isn't nearly as slanted in Mack's favor.

Mack has similar measurables to Miller from a size standpoint, but he is a far more stout player, relying on strength and hands to defeat blocks at the point of attack, rather than the speed and leverage that Miller does.
It has made him arguably the best run-defending edge defender in the league from day one. Last season, the gap between him and everybody else was ridiculous, with Mack ending the season on a run-defense grade of 93.8; the next-best edge defender only earned an 87.0 (Houston's Jadeveon Clowney). Even after a relatively quite first half of the 2016 season, Mack owns the third-highest run-defense grade among edge defenders, at 85.7.
At his best, Mack doesn't have the same unique skill-set as Miller, but he does have an equally-challenging one for offensive tackles to deal with—we just haven't seen nearly enough of it so far this season.
This week, we will see two of the best edge defenders in the league playing in a single game; whichever team does a better job of bottling them up will have a big boost when it comes to determining the victor. Last season, Mack and Miller were close rivals, but this year Miller, has been a significantly better player in every week except the most recent. Has Mack rediscovered the form from a year ago, or will he go back to being just another pass-rusher trailing in Von Miller's wake?