When the golden ticker tape fell from the skies of Santa Clara, California on February 7th, 2016, it didn't just signify a Super Bowl victory to the Denver Broncos – it meant a whole lot more. The Super Bowl 50 win marked the finish line to a marathon that had been over four, long seasons in the running.
In 2011, when John Elway was appointed to the position of general manager and executive vice president of football operations, his first order of business was finding his guy at quarterback. He promptly traded away former Heisman-winning signal-caller Tim Tebow, who achieved an overall grade of just 53.6 across his 1139 snaps in a Broncos uniform and ranked last among the 60 quarterbacks with at least 100 attempts in that two-year span with an adjusted completion of 52.2%. In Tebow's place came Peyton Manning, who was allowed to implement his offensive system – and the rest, as they say, is history.
With the help of wide receivers Demaryius Thomas and Emmanuel Sanders, Denver's offense was historically great for three of the four seasons under Manning's watch. Father time finally caught up to The Sherriff in his last season, but by that time, a stellar defense, which was headlined by the likes of Von Miller, DeMarcus Ware, Chris Harris Jr, and Aqib Talib, was at the height of its powers. As a unit, the team had accumulated a regular-season defense grade of 90.4, the fourth-highest mark ever recorded in the PFF era, and they were able to successfully carry a hobbled Manning over the finish line.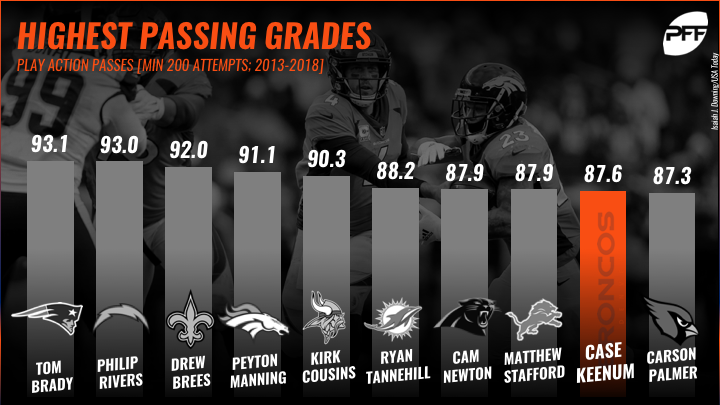 Fast forward two years to the 2018 season, where history is starting to repeat itself. After two years of underwhelming quarterback play by a mixture of Trevor Siemian, Paxton Lynch and Brock Osweiler, Elway hit the reset button once again and went out and got his guy in free agency. Only this time around, Elway's guy has not been given the opportunity to play in an offensive system that he can thrive in, and the team's defense, which currently ranks 15th in the league with a grade of 73.6, is no longer capable of carrying a struggling quarterback.
The opening day of the 2018/19 free-agency period, the Broncos announced that they had signed seventh-year signal-caller Case Keenum to a two-year, $36 Million dollar deal. After an incredible career-year with the Minnesota Vikings, Keenum ended the 2017 campaign as a top-10 quarterback, both in grade (82.3) and in nearly every quarterback stat that PFF tracks, including adjusted completion percentage, passer rating under pressure, passer rating from a clean pocket and passer rating from play action. His performance in most of those categories was an aberration for the former University of Houston quarterback, but there is one metric on that list that wasn't surprising; his performance from play action.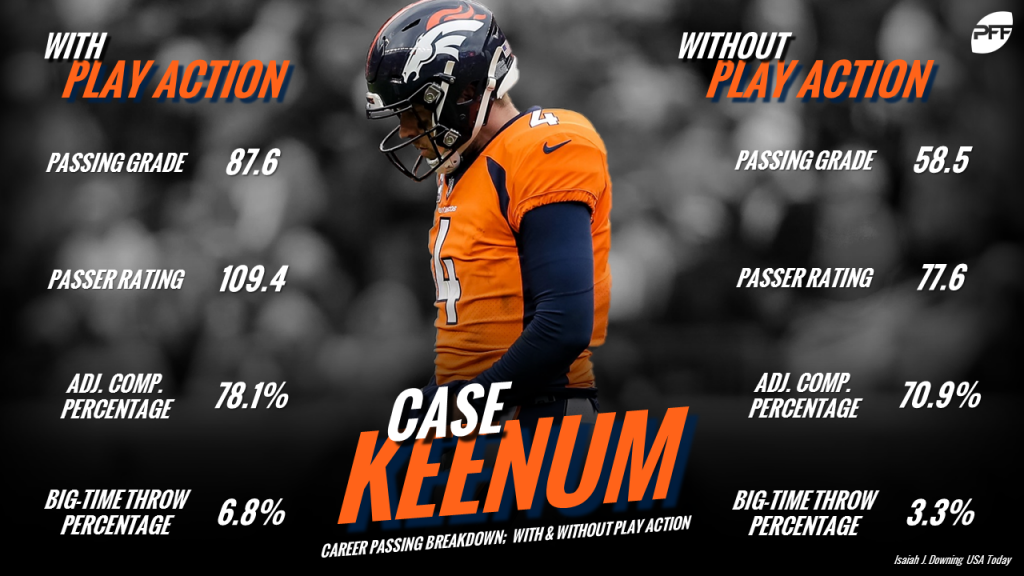 It's no hyperbole to say that Case Keenum is one of the best play-action quarterbacks in the NFL. Throughout his career, Case Keenum has thrived on play action passes, completing 239 of 353 career attempts for 3394 yards, 19 touchdowns, and just six interceptions. Among the 35 quarterbacks who have logged at least 200 play action pass attempts since 2013, his passer rating of 109.4 ranks seventh, just one spot below Peyton Manning, and his completion percentage of 67.7% ranks fifth, as does his 9.6 yards per attempt. His 24 big-time throws (our highest-graded throws) and his interception rate of 1.70% both rank 14th and he's done all this while maintaining an average depth of target of 10.4 yards downfield.
Play action was a huge part of Keenum's success last year, and as a result, it's a large reason why he secured $25 Million guaranteed to quarterback the Broncos. A season ago, Keenum ran play action on 28.7% of his dropbacks, which was career-high and second to only Jared Goff. Play action accounted for 48.9% of his completions, 33.8% of his passing yards, 36.4% of his passing touchdowns but accounted for just one of his seven interceptions.
But unlike his career-year in Minnesota, those numbers didn't just come out of the blue. When it comes to play-action, Keenum has actually performed well above the NFL average in every year of his career and has finished with a passer rating north of 100.0 in four of his five seasons as a pro.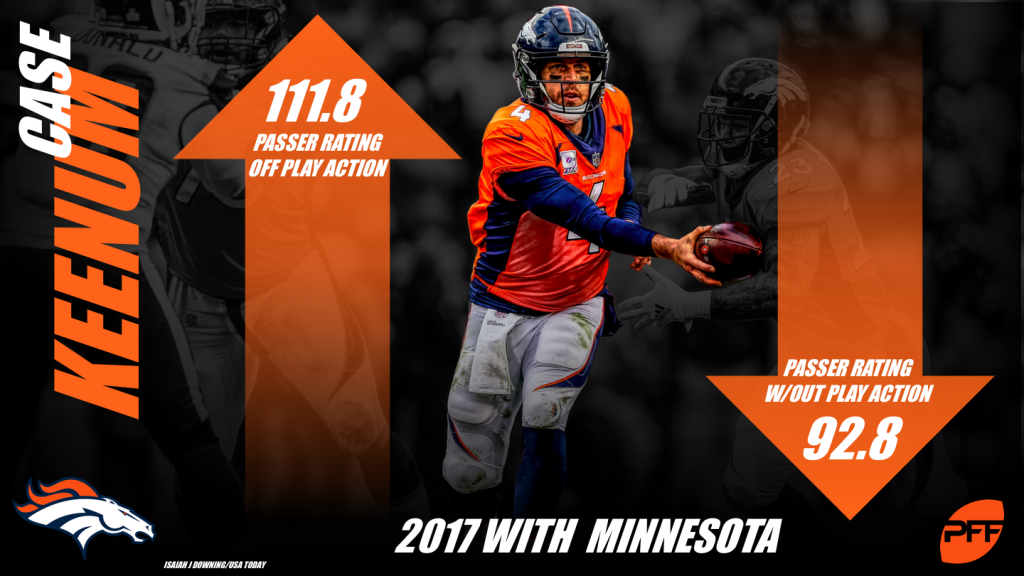 However, the staggering part is how his numbers differ when you compare his play-action attempts to non-play action attempts, as Keenum has put up much better numbers when using play action compared to his non-play action. For his career, his passing grade is over 29 points higher, his passer rating is over 31 points higher, his adjusted completion percentage (the PFF metric that shows accuracy) is almost 10 percentage points higher, he averages three more yards per attempt and his big-time throw percentage is almost double when we compare his performance on play action to his performance without play action.
Even last year, his career year, his passer rating of 111.8 on play-action was 19.0 points better than his rating on non-play action passes – the seventh-largest differential among qualifying quarterbacks.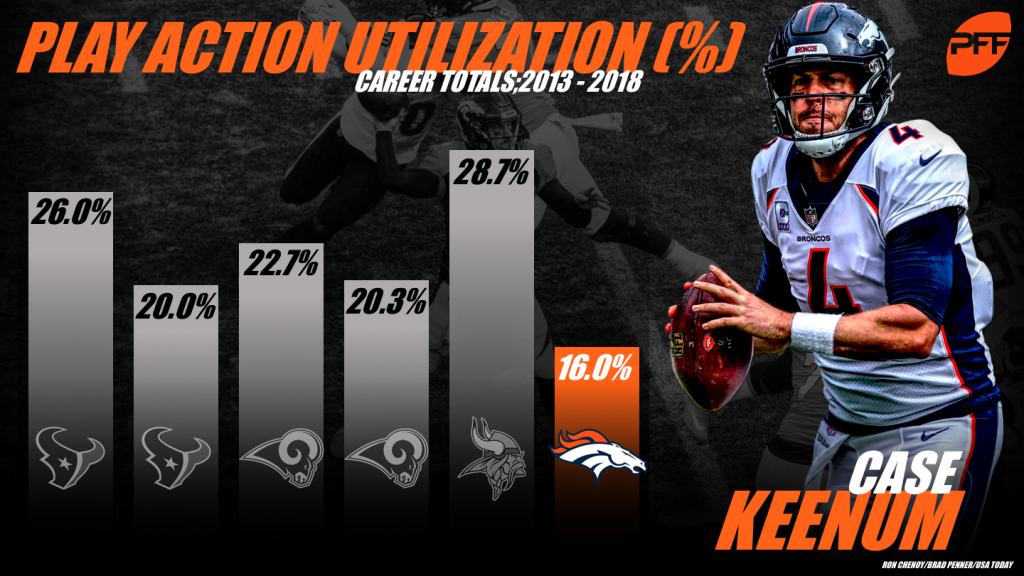 So, after Keenum turned in the career-year and spent the best part of five seasons demonstrating that he can produce great results when he can utilize the threat of the run, the question must be asked; why are the Broncos running play action on just 16.0% of attempts, which is both the fifth-lowest rate in the league and a career-low for a quarterback who is at his best when running play action?
The Broncos seem perfectly set up to run it. Heading into Week 7, their rushing attack is currently ranked third in the league with a team running grade of 77.0 and it is headlined by the dynamic duo of Philip Lindsay and Royce Freeman, who are currently averaging 5.7 and 4.7 yards per carry, which respectively ranks fifth and 17th among the league's backs. So, naturally, with a running game that's producing such results, any defense should at least show a little bit of respect to the ground game, which, in turn, will open up holes in the middle of the middle for Case Keenum to throw into as the result of play action.
Even if we completely ignore his previous seasons in the league, his production on play action this year alone should be a reason to run it more often, as Keenum has completed 29-of-37 attempts for 449 yards, a touchdown and the league's fifth-best passer rating of 126.2 when he's used play action this year. That's 54.4 points higher than his passer rating on standard passes. In fact, Case Keenum produced one of our highest-graded throws of the season so far from play action in Week 6 against the Los Angeles Rams.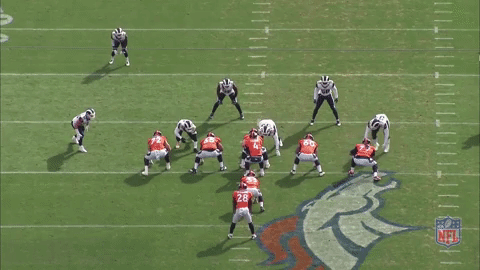 After a relatively unimpressive 2-4 start, the early rumors suggest that Broncos head coach Vance Joseph and his staff will be coaching for their jobs over the coming weeks, and with a defense that is bursting at the seams against the run and in coverage, it appears to be the offense's turn to pull the weight. That starts with Case Keenum, and it should start with the utilization of a play action scheme, a scheme that Keenum can excel in.