The 2018 NFL league year is upon us and with that, the hustle and bustle that was the legal tampering period is over and teams can make their reported free agency signings official. With the dust settling from a few hectic days of reports, we at Pro Football Focus take an in depth look at some of free agency's biggest deals in our exclusive 2018 Free Agency Deal Grader.
Taken into our deal grades here are many contributing factors, including but not limited to scheme fit for the player signed, contract value and salary cap hit, PFF's overall grades for both player and team, and several other facets.
For more in depth insight all the league's free agents, check out the 2018 PFF Free Agent Guide, a part of your PFF Edge or Elite subscription.
Case Keenum signs with the Denver Broncos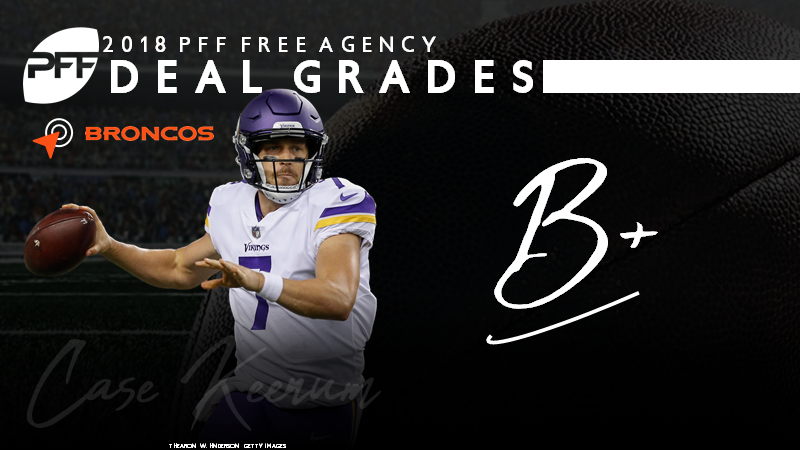 Grade: B+
Contract details: 2-year, $36-million
What it means for Keenum:
QB Case Keenum parlayed a nearly magical 2017 NFL regular and postseason into a starting job and a two-year, $36 million deal with the Denver Broncos. He has the benefit of working with big names at wide receiver like Demaryius Thomas (75.3) and Emmanuel Sanders (70.7). His protection remains suspect, as he'll downgrade from the Minnesota offensive line's 13th ranked pass-blocking efficiency (79.3) to Denver's 30th ranked pass-blocking efficiency (75.1). However, the running game should still be strong for him, as he now will be lined up in front of RB C.J. Anderson, who ranked sixth among running backs last year with an 86.0 grade.
What it means for Denver:
Not all that long ago, Denver was in a position to win big with average quarterback play, and they won a Super Bowl with Peyton Manning managing only a 71.1 overall grade in 2015. Today, the roster isn't quite what it was then, but they are getting a quarterback that just put up a performance that was better than Manning's 2015 season. Keenum was a top-10 quarterback in 2017, both in grade (85.3) and in nearly every quarterback stat that PFF tracks, including adjusted completion percentage, passer rating under pressure, and passer rating when kept clean. The Broncos are a few defensive pieces and a couple of offensive lineman away from serious contention with Keenum at the helm.
Bottom Line:
Denver may not have gotten the biggest name out there to become their quarterback, but given that Keenum's contract should allow them to build around him in the necessary spots and that they have an already solid roster, the team has done well for itself here. The AFC West looks to be brutally competitive, but the Broncos have likely secured a quarterback who should at least keep them in that competition in 2018.