The Pittsburgh Steelers are 2-1, just a game back from the 3-0 Baltimore Ravens, and now they get back one of the league's best weapons in RB Le'Veon Bell, who was suspended for the first three games of the year.
Bell was PFF's top-graded running back last season, earning a 90.0 overall grade before he went down for the year. The season before, he trailed only Marshawn Lynch in grade, with a figure of 87.9.
In 2015, Bell led the league with 3.4 yards per carry after contact, or the same figure as Washington's Matt Jones averaged per carry in total yardage.
When Bell is on the field, he makes a strong case for best RB in the league, and is a perfect fit for modern NFL offenses. While Adrian Peterson has always been a fantastic ball-carrier, he has been next to useless for much of his career in the passing game. Peterson doesn't block well, can't catch naturally, and is so underwhelming in that part of the game that the Vikings usually don't even have him on the field for important passing downs, causing the team to have its best offensive weapon sitting on the sideline during some of their most crucial game situations.
Bell is the antithesis of that. Despite standing at 6-foot-1 and weighing somewhere in the region of 225 pounds, Bell can not only catch well out of the backfield, but has enough about him as a receiver and route runner to be split wide and used as a de facto wideout on some plays. In 306 snaps in 2015, he was lined up split wide on 14 snaps, and in the slot on another 15. Adrian Peterson was in those situations on seven fewer snaps, despite playing more than twice as many plays overall.
Over Bell's last 21 starts dating back to the beginning of the 2014 season, he has averaged six targets per game, catching five of them for an average of nearly 50 yards (47.1).
NFL backs today need to be able to pass protect, too. They are far more likely to be sent out into patterns than kept in to block, given the way offenses today operate, but there is plenty of gray area within that crossover where a back needs to be able to throw a chip block on release, or read for free rushers before releasing into patterns. When he is asked to stay in to block entirely, he often doesn't have a specific assignment detailed before the snap, but rather needs to be able to read the defense and the rush to identify the right guy to pick up, and then execute the block, often against bigger defenders.
Over 119 pass-blocking snaps in his last 21 starts, Bell has surrendered just three total pressures. Arizona's David Johnson, who leads the league among running backs with 178 snaps so far this season, has already surrendered one pressure from just a dozen pass-blocking snaps.
The reason Bell is so good is simple: there are three aspects to running back play in today's NFL, and he excels at all three. As a receiver, blocker, and runner he is among the best in the league at each component, and with his size and athletic gifts, has the ability to outmatch defenders one-on-one. Let's just take a look at the kind of thing he is capable of: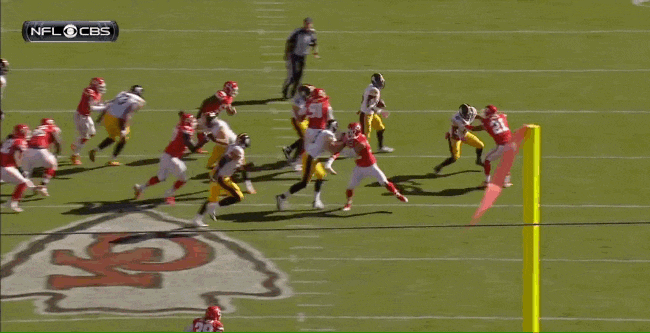 For a big back his ability to stick his foot in the ground and make sharp cuts is remarkable, and it gives him an edge many don't have, because he can team it with size and strength.
On this play, he keeps clear of a defender with a stiff arm before immediately juking another to hit the open field.
He is able to use this cutting ability to set up blocks and actually generate his own hole through the line of scrimmage. Take this example against San Diego last season. As he approaches the line, there is a hole to attack, but there's also a defensive back waiting on the far side to limit the yardage he can get on the play.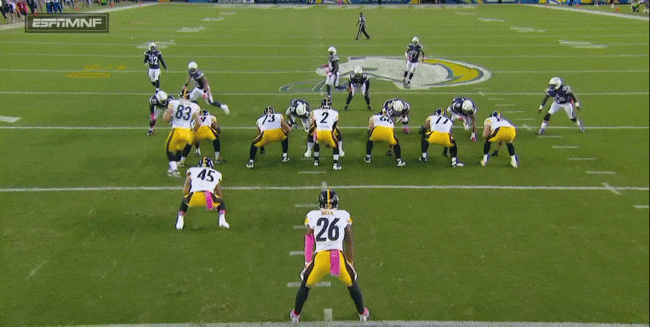 Most backs would either attack that defensive back to generate whatever yardage he can through contact, or to bounce it outside and try and beat him around the blocks that are set up there. With RG David DeCastro leading the way, this is the most likely course of action, but instead Bell only fakes that bounce. He makes as if to cut around the block of his TE, sending the defensive back in that direction to try and cut him off, but then cuts hard back inside and into the hole he just created for himself.
Being able to stick a second move on the other safety coming across to cut him off is just icing on the cake, and a string of moves few backs can come close to matching.
Pittsburgh's offense was shut down by Philadelphia last week, and WR Antonio Brown can only do so much on his own. Luckily, reinforcements are arriving this week, and the Steelers have at least one more major weapon to deploy.