Everybody is always searching for the next great NFL quarterback, because having one papers over so many other cracks on the roster and makes you a perennial contender in one move. The Oakland Raiders may have found the next one in Derek Carr.
For years, Tom Brady and Peyton Manning were the pinnacle of the game. Ben Roethlisberger and Aaron Rodgers followed in the mid-2000s, and now Cam Newton and Russell Wilson are trying to force themselves into that conversation over a sustained period of time, but Derek Carr's career trajectory suggests he could leap into it in 2016 and beyond, too.
We can start this by saying that I don't think Derek Carr was very good in his rookie season, and certainly wasn't the best rookie passer that year (Teddy Bridgewater was). While his raw numbers looked okay, the play-by-play grading never matched them, and he never showed the kind of improvement over the season that Bridgewater did.
If you had been offering odds on a QB from that year that would go on to great things, I'd have taken Bridgewater, not Carr. 2015 told a completely different story, however.
Bridgewater wasn't bad last in 2015, but didn't continue the form from the tail end of the 2014 season, and if anything, regressed a little. Meanwhile, Carr's improvement was massive. Every aspect of his game took a step up, and this was visible both on tape and in the numbers. He ended the season as the eighth-highest-graded QB in the league when looking at passing alone, and the 10th-highest overall.
After being one of the lowest-graded QBs in the league, Carr ended the following season as top-10 signal-caller.
A similar leap going into his third season would put him among the league's best quarterbacks instantly, but that may not be realistic. Instead, let's look at just where his play in 2015 places him. His PFF passing grade of 82.5 puts him between an Andy Dalton playing the best football of his career (84.1) and Matt Ryan (81.5).
Even a moderate improvement in performance would put him into the Drew Brees-Russell Wilson area, and the Raiders are surrounding him with the kind of help to facilitate that. Amari Cooper came on board last season and was an immediate impact player, despite the staggering number of drops (a league-leading 18). The partnership that could develop between those two has limitless potential, but the Raiders have also addressed the offensive line, making Carr's life easier in both important areas—weapons and protection.
Kelechi Oseleme was one of the marquee free agents available this offseason, and he ended up a Raider. With the four holdovers on the line from 2014, that gives Oakland arguably the best line in the league. If they're not quite there (Dallas obviously being the other contender), they belong rightfully in the discussion, and that's as much as any young passer can ask for. In Carr's rookie season, the Raiders had just two O-linemen grade positively (LT Donald Penn and a rookie LG Gabe Jackson).
The Raiders are giving Carr all the help they can to catalyze his development into an elite quarterback, which is more than plenty of other promising passers ever get.
But what exactly made him so good in 2015, and what hints indicate that he can reach that elite level going forward? PFF graded only 96 passes last season at +1.5 or +2, the highest two grades we give for individual plays, and Carr had six of them. In terms of percentage of his passes that earned those grades, he trailed only Carson Palmer, Ben Roethlisberger, and Tyrod Taylor over the season.
This pass to Cooper (initially ruled incomplete, but correctly overturned on review) was one of the best throws of the season from anybody: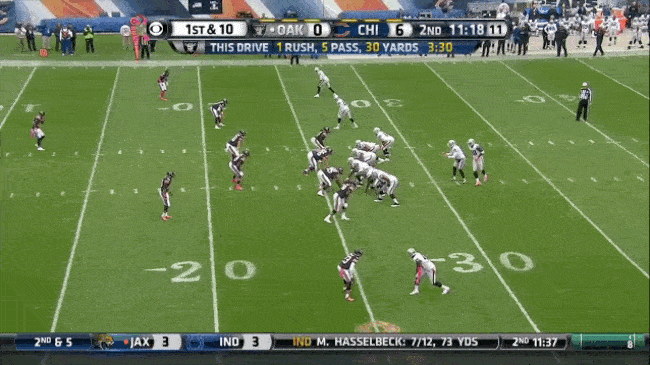 Carr was dealing with mounting pressure in his face and still dropped the ball into a bucket at the back of the end zone where only his man could get it.
That's the theme of Carr's best passes—not only does he hit the right guy, but his ball location ensures the best result on the play, too. Here is another example coming against Pittsburgh.
Carr reads the coverage pre-snap and knows he has an open man here, because he has a slot receiver singled up on a linebacker. Lawrence Timmons does a pretty good job trying to hang with it, but it's a pretty lost cause if the ball is thrown well, which it is.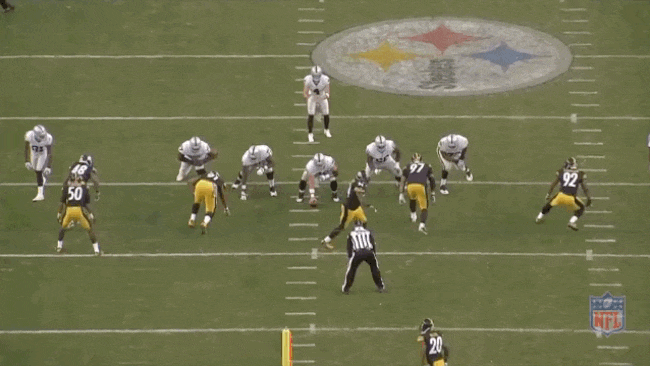 Anywhere over the top of Timmons makes this a big play, but a look from the end-zone cam how perfectly the pass splits the two high safeties. If the ball had been to either side of that gap, one of them probably gets over to save the touchdown and make the Raiders earn the points with at least another play. Carr splits them so perfectly that they can't quite come across to make the play before the score.
No QB is perfect, and Carr still makes too many mistakes. Only seven passers threw more than the 13 interceptions he notched last season, and when looking at adjusted completion percentage, there were 18 quarterbacks more accurate than Carr. He is improving, but there are still areas to work on.
What is encouraging, though, is that the top end of his game is so good already, and the rest has improved incredibly over just one year. Derek Carr may be on his way to being the next great QB in the NFL, and it's why he makes the list of the 101 best players in the game right now.