Blaine Gabbert has finally played his way back to the bench, with Colin Kaepernick now owning the 49ers' starting job in Week 6.
The good news is that there's very little room for this to be a bad move. Gabbert currently sits rooted at the bottom of PFF's quarterback rankings, with a 39.1 overall grade, below even the human turnover machine that is Ryan Fitzpatrick this season. Fitzpatrick has thrown twice as many interceptions (10) as touchdowns (five), and Gabbert has still managed a to earn a lower grade.
While Kaepernick's grade steadily dropped as his starting tenure went on—even when he bottomed out in 2015 before going on injured reserve—his mark never fell as low as Gabbert's has this season.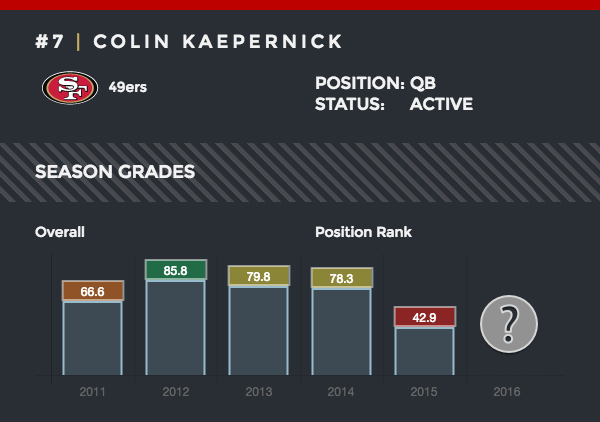 Prior to this season, 49ers head coach Chip Kelly has always had a positive effect on the QBs he has started in the NFL.
Nick Foles earned overall grades of 84.1 and 72.6 during his time under Kelly in Philadelphia, but marks of 51.4 and 52.5 on either side of those seasons. He is now the backup to Alex Smith in Kansas City, and not pushing for a starting job anywhere else.
Sam Bradford's average overall grade before being coached by Chip Kelly was 73.1, but he enjoyed the best season of his career with the Eagles last year, earning a mark of 85.3, which he has maintained with the Vikings this season. In total, the average overall grade of the quarterbacks Chip Kelly has coached in the NFL when not on his roster is 60.1; those same QBs have averaged 70.3 with Kelly as their coach, and that's with Blaine Gabbert dragging down the average this season.
So far in his NFL head coaching career, Kelly has had a notable effect on the performance of the QBs he's had to work with. The big question, though, is like everything else associated with Kelly's offense and system: has the effect worn off?
Gabbert is the first quarterback not to experience a big bump in performance under Kelly, and that might mean that his offense no longer boosts the QB in the way it used to—or it could mean that Gabbert is simply beyond help. Kelly's system is built on the run and the ability for nearly every play to look like an option. His passing plays are often designed to look like run plays, and in fact, can be both at the same time, with true run/pass options (RPO) that have become so popular in the NFL.
On those plays, the offensive line and running back are executing a run play straight out of the playbook, but the receivers are running routes—not blocking—and the QB has the option to hand it off to the RB or pull it and deliver a pass.
Even when the play isn't an RPO, it looks like a run, and for the first two seasons of Kelly's NFL career, the Eagles' QBs were right at the sharp end in terms of the percentage of passes that featured play action (or a run fake). In 2013 and 2014, they were above 30 percent, and even though that mark is down to 24.4 percent this season in San Francisco, it's still tied for fifth-highest percentage of play-action snaps in the league.
Those play-action looks suck up linebackers and isolate receivers on defensive backs. Kelly's tendency to use spread formations and multiple receivers means teams rarely use two deep safeties against his offenses, and the combination of those two factors gives his QBs easy reads and the potential for big plays against one-on-one coverage.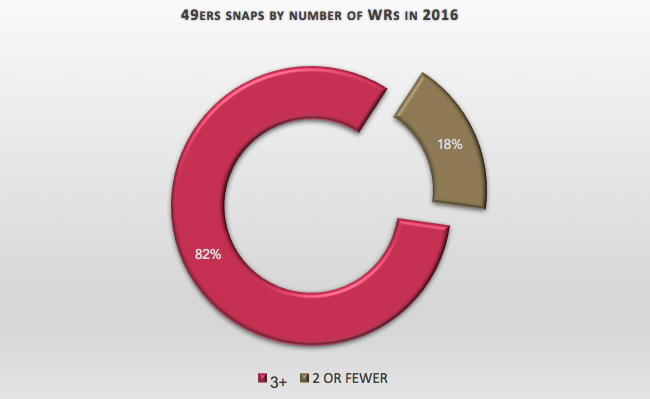 In truth, there is a lot of similarity between Kelly's offensive philosophy and the one that worked so well for Kaepernick in 2012 when Jim Harbaugh was the San Francisco head coach.
There are many differences, as well, but the foundation of a strong running game and limiting what the coach asks of the QB is the same—and vital for Kaepernick to have any chance of success.
Kaepernick will never be a Peyton Manning-style quarterback. You can't expect him to sit in the pocket, make full-progression reads, and operate as a cerebral QB. Kaepernick has a strong arm and the ability to throw accurately, but he just doesn't have the same processing speed as guys like Manning, and needs to have the information cut down.
Instead of working through a full progression, Kaepernick thrives when given simple options to choose from—almost like turning a test into a multiple-choice format.
Curiously, Kelly hasn't really pursued the running-threat QB that he was so successful with at Oregon. In the NFL, he has had almost exclusively pocket passers, or at the best, "mobile QBs"—guys that could run if necessary, but would hardly rank rushing as one of their strengths on a scouting report. Bradford wasn't a running threat at all, if only because he is so fragile you would never risk it, so the threat of the QB keeper disappeared.
Kaepernick brings that threat back even more than Gabbert did, and it may be the shot in the arm this offensive system needs. Gabbert only averaged 3.2 yards per carry on designed QB runs so far this season, but Kaepernick is a different level of athlete. One of the biggest issues with Kelly's offense over his time in the NFL is that it hasn't evolved; instead, it has become too predictable, allowing teams to key on what the play is, rather than trying to play everything at once.
The system was so effective in the beginning because teams were trying to defend the whole field, laterally and vertically, run and pass, and that is a nearly impossible task. By the time they had a year or two of tape on the system, they began to read exactly what was coming. Eagles players complained last season that the Dallas Cowboys were calling out the play that was coming simply by how they lined up, and rather than adjust or change the call, they just ran into the teeth of the defense. In that Week 2 encounter, the Eagles managed 7 rushing yards on 17 attempts (0.4 yards per carry). They gained 16 rushing yards after contact, meaning the average run was being met half a yard behind the line of scrimmage.
Bradford managed to pass for only 224 yards in the game, 177 of which came after the catch.
The Eagles made slight adjustments after that, but this offense remains too predictable. Kaepernick gives Kelly the ability to make team defend the whole field again, and from a pure skill-set standpoint, may be the most natural fit for this offense the head coach has had since he came to the NFL. The question becomes whether Kelly will make use of that, or whether he'll ask Kaepernick to simply be the fall guy for an offense that has become too easy to read and defend.
Whatever happens, Kaepernick is the best quarterback the 49ers can put on the field in Week 6.