Ben Roethlisberger is having a year typical of his career: a lot of pass attempts, a lot of yards and a lot of touchdowns. But despite having the third-most yards, the seventh-most touchdowns and the fourth-most attempts, Roethlisberger is having one of his worst starts to a season in his 15-year career as a member of the Pittsburgh Steelers.
A 57.6 overall grade through five weeks is his worst start since PFF began grading in 2006 — when he had an abysmal 38.3 grade. That season's beginning was clearly a dud, as Roethlisberger had thrown no touchdowns along with seven picks with an adjusted completion percentage of 62.0 that ranked 30th among 34 quarterbacks.
This year is quite different. The classic surface statistics show that Big Ben hasn't been terrible by any means, but a deeper look shows significant downward trends. He's completed just eight of 30 deep attempts (throws of 20 or more yards downfield), totaling a 30 percent adjusted completion percentage — 28th of 33 qualifying quarterbacks. He's attempting those big plays at the eighth-highest rate, but he can't seem to connect on them.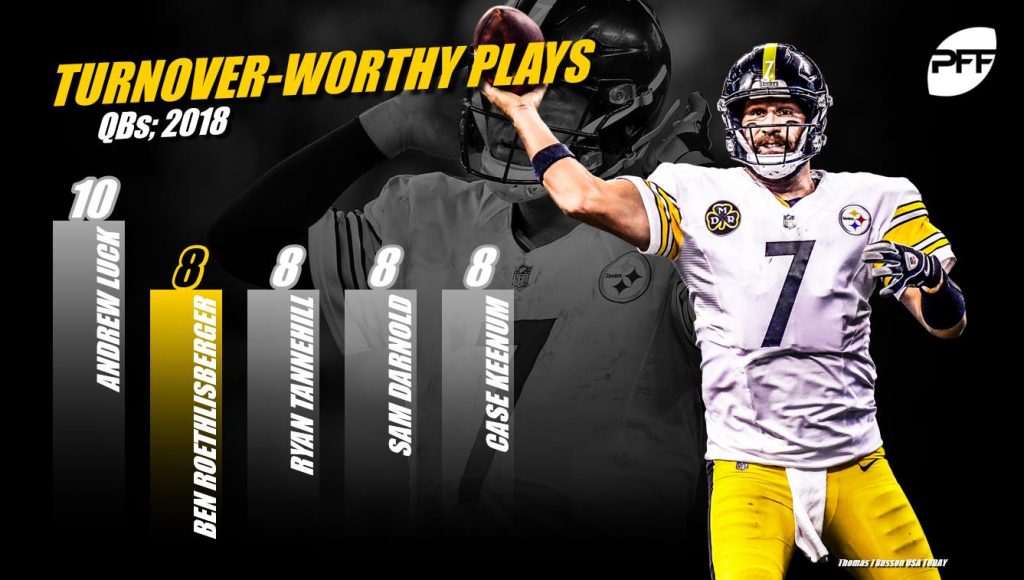 The PFF "turnover-worthy" throw, any pass graded -1 or below, has also proven to be problematic for Roethlisberger. He has eight throws deemed turnover-worthy through five weeks, tied for second-most among quarterbacks. It's also the second year in a row he's had eight through the one-third mark of the season. In the full seasons of 2014 and 2015 combined, the veteran signal-caller had only five turnover-worthy throws.
While Roethlisberger's face-value stats are emblematic of a Big Ben who appears just as effective as any year, he has the third-highest rate of negatively-graded throws at 19.5 percent — trailing only rookies Josh Allen and Sam Darnold. That is a marked difference from 2017, as Roethlisberger had only 12.7 percent of his throws graded as "negative," seventh-best among 40 signal-callers a year ago. That massive difference won't show up in the box score, but it is certainly a large contributor to Roethlisberger's poor grade.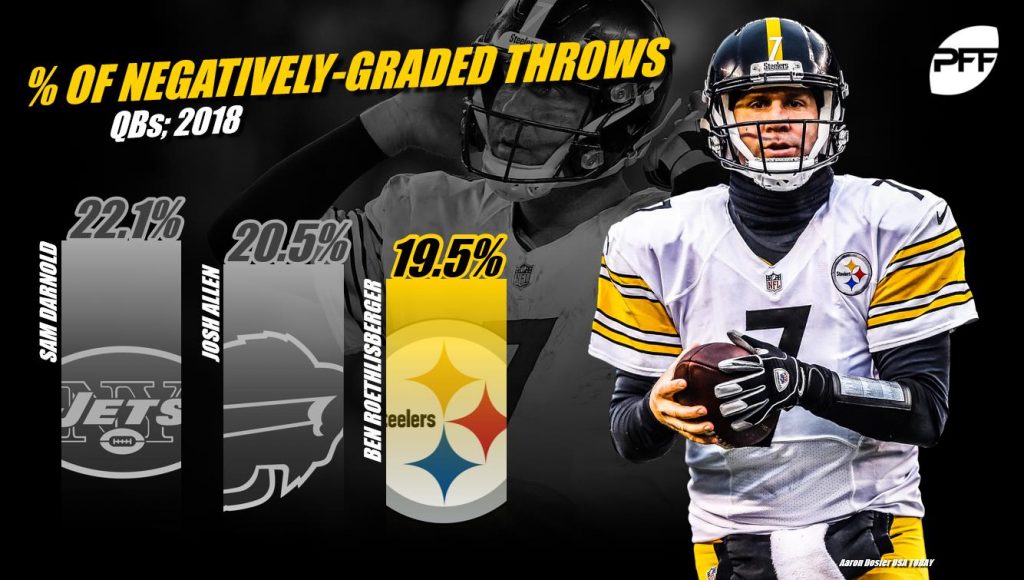 Roethlisberger's age may finally be catching up to him. A quarterback that was once the NFL's best under pressure has simply crumbled under the heat in 2018. From 2009 to 2014, Roethlisberger placed in the top-10 of passer rating under pressure every year. Since the latter year, he's ranked 25th, 17th, 25th and now, 22nd, respectively. Even more shocking is how well he's been protected on the season, despite less-than-ideal numbers when kept clean. He's the second-least pressured quarterback, yet he holds a 99.8 passer rating on clean-pocket throws — 23rd of 36 quarterbacks.
Make no mistake, Roethlisberger can still compete with any team in the league — he's shown that time and again when outsiders have counted him out. But these downward spirals that have been building for a few years are showing up brighter than ever in more visible ways, such as Roethlisberger's lack of accuracy (30th in adjusted completion percentage).
When throwing past the 10-yard line, there is only one section of the field where Big Ben has a completion percentage over 50 percent — right down the middle. While he has rarely completed the deep ball this year, he does have five touchdowns on his eight deep completions, which is an admittedly staggering rate.
The rough start shouldn't — and likely won't — faze Roethlisberger. While not leading his team to recent Super Bowl glory, he has always shown a resilience to make big plays when needed, stand tall in the pocket when needed and lead game-winning drives when needed. It's a worrying trend that he's on, no doubt, but Big Ben has rarely wavered in the face of adversity.