The biggest trade of the 2018 offseason in the NFL was arguably the Kansas City Chiefs sending quarterback Alex Smith to the Washington Redskins in exchange for cornerback Kendall Fuller and a third-round draft pick. The move directly impacted three quarterbacks and, curiously, the one who was traded has been the most overlooked over the last couple months. However, while Chiefs quarterback Patrick Mahomes and now-Minnesota Vikings signal-caller Kirk Cousins might have time on their side, Smith could be the one of the three who provides the most significant year-on-year improvement at the quarterback position for his respective team.
So, lets take a look at what we can expect from Smith in the Nation's capital.
This offseason was not the first time when Smith could feel underappreciated. He had his best year to date in the 2011 season – with a PFF overall grade of 78.7 – just months before he was benched in favor of Colin Kaepernick in San Francisco. Fast forward six years and Smith got once again replaced just weeks after the highest graded season of his career – overall grade of 82.1. While Cousins has a tough task to live up to the expectations set by Case Keenum's impressive season Vikings last season and Mahomes is expected to go through some growing pains in his first season as a starter, Smith represents an upgrade over Cousins' 2017 season in Washington – one in which the Redskins offense was marred by numerous injuries.

Passing from a clean pocket
As PFF's analytics department has highlighted recently, a quarterback's performance from a clean pocket is one of the most predictive and stable data points collected by PFF. As a result, if a quarterback who does well from a clean pocket in one season is more likely to perform well from a clean pocket the next year rather than if we looked at his performance under pressure or using play action. This should be good news for the Washington fans as Smith led the league last season among quarterbacks with at least 250 dropbacks with a passer rating of 115.3 and threw just three interceptions on 505 attempts when kept clean.
Smith was kept clean on 67.0 percent of his dropbacks, the 11th-highest rate in the league. With the Washington offensive line once again healthy, there's a good chance this figure actually goes up as we have ranked their offensive line the 12th best going into the season, compared to Kansas City's unit, which ranked 18th. As a comparison, Cousins ranked ninth in the NFL last season in passer rating when kept clean with a figure of 106.5.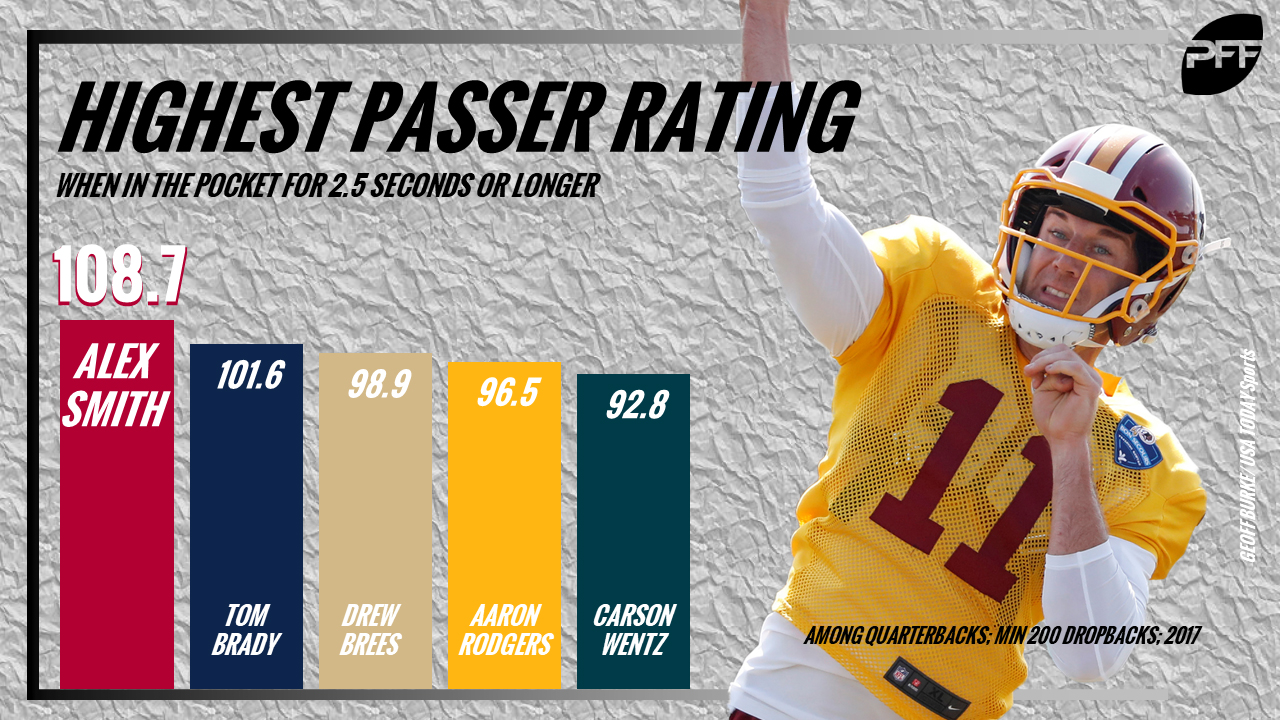 A reliable target in the middle of the field
Smith was able to play with one of the best pass-catching tight ends in Travis Kelce over the last four years and he took full advantage of having a big target to work with in the middle of the field. The former Utah quarterback had a passer rating of at least 109.0 when targeting Kelce in each of the four seasons with passer ratings of 116.5 and 114.5, respectively, over the last two years.
While Washington tight end Jordan Reed was drafted in the third round of the 2013 NFL Draft just as Kelce, he has not had the same success as the Chiefs tight end due mainly to several injuries over the years. However, when he was able to stay on the field, Reed flashed talent and proved that he can be one of the best receiving tight ends in the league. As a matter of fact, in 2015, when he missed the least time with injury, he graded out at an overall PFF grade of 89.5, which is higher than Kelce's grade in the his best season. Furthermore, Reed has also proven to be a reliable target when on the field as he saw at least a passer rating when targeted of 113.0 in each of the past three seasons, including 128.5 in 2015, the second-highest rating among tight ends with at least 50 targets in that season.
Smith will need Reed to stay healthy to compensate in the middle of the field – with slot receiver Jamison Crowder – for the lack of proven receivers on the outside. However, if we learned something over the years, it's that Smith can adjust to the players around hi
The ability to reinvent himself
Smith has been able to reinvent himself multiple times throughout his career and has surprised fans more than once. First with his significant improvement and composed play under the tutelage of Jim Harbaugh – he had graded above 65.0 just once in the four seasons before Harbaugh's arrival, but has not graded once below 68.0 since his time with Harbaugh. Then, last season we saw a Smith, who was previously deemed to be too conservative, air it out and excel in the deep passing game on throws targeted 20 or more yards beyond the line of scrimmage.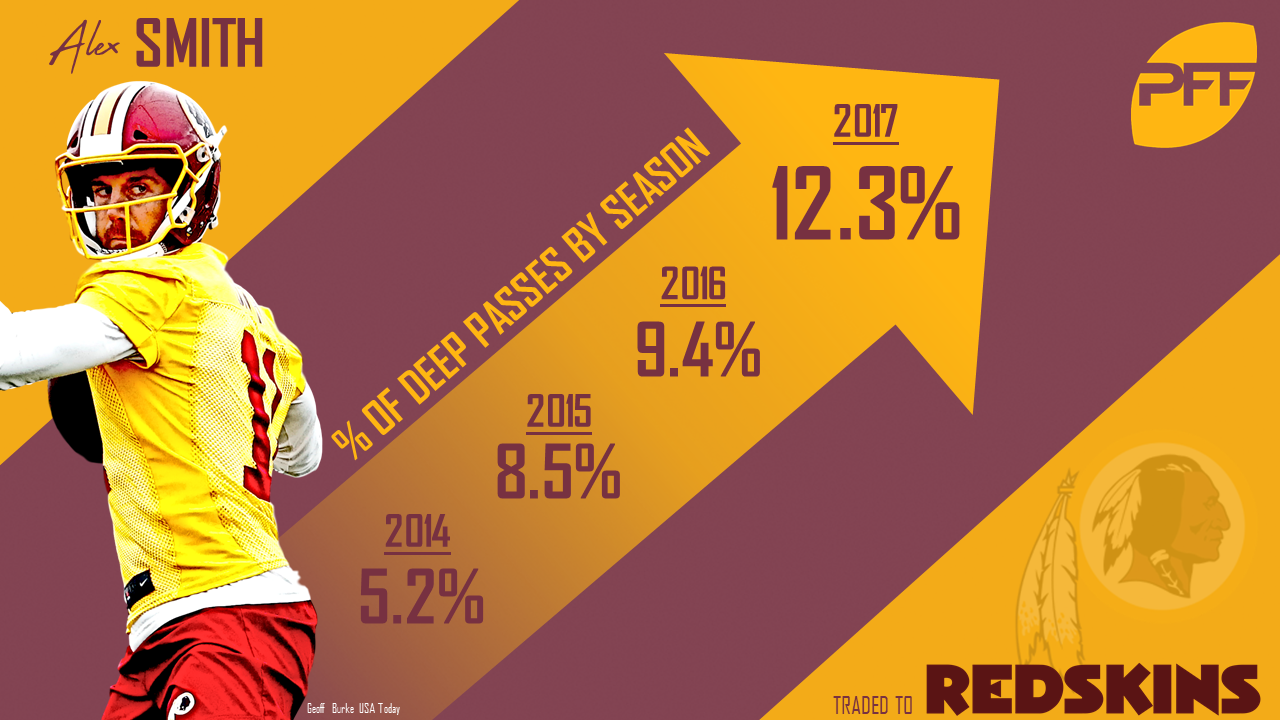 In his first season in Kansas City, Smith attempted a deep pass on 8.1 percent of his attempts – 39th out of 41 quarterbacks with at least 20 deep attempts – and was accurate on just 46.3 percent of these throws (27th) for 420 years. However, last season we could already see a change in the preseason.
What happened to Alex Smith? Who's this wearing his jersey and throwing beautiful deep passes? pic.twitter.com/32X0IaHm84

— Zoltán Buday (@PFF_Zoltan) August 20, 2017
During the regular season, Smith threw deep on 12.3 percent of his attempts (15th in the NFL) and led the league in adjusted completion percentage on these throws (54.8 percent), yards gained on deep attempts (1,344 yards) and was tied with Russell Wilson for most touchdown passes on deep throws at 12. Furthermore, Smith had a PFF grade of 99.4 (on a scale of 0 to 100) on deep throws targeted outside the right numbers, the highest grade when throwing to a certain area of the field by any quarterback in the NFL.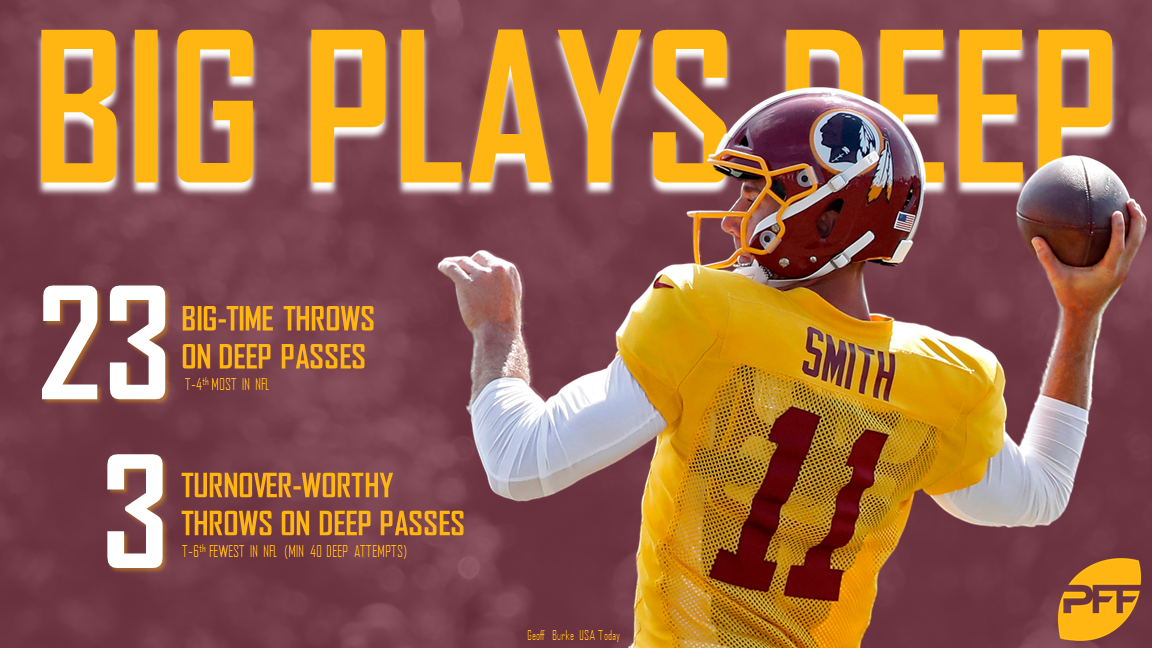 Overall, it might be optimistic to expect Smith to repeat his career-best 2017 season without a deep weapon like Tyreek Hill and with the absence of a complete running back like Kareem Hunt. However, he very well can represent a short-term upgrade at the position for Washington and carry them to the postseason if the defense holds up.