The Miami Dolphins have reinvented themselves as a power running team, and it has led them to a six-game win streak. In Week 13, however, the Dolphins have to achieve the same success against the league's best rushing defense: the Baltimore Ravens.
The Ravens have allowed just 3.4 yards per carry this season (second in the league) and 74.9 rushing yards per game (first). They have surrendered only four rushing touchdowns (first), and much of the damage to their numbers came on one 85-yard touchdown run to Browns RB Isaiah Crowell back in Week 2.
Rushing numbers are one thing, but nothing provides a better case study for the strength of this Baltimore run defense than its performance against rookie RB Ezekiel Elliott and the Dallas Cowboys. Elliott came up just shy of 100 rushing yards against the Ravens (97), but it took him 25 carries to get there (3.9 yards per carry). Dallas put up just 118 total yards on the ground in that game—having averaged 161.2 in their other games this season—despite owning the ball for 35 minutes and 39 seconds of game time.
The interesting thing about this Miami rushing attack is that it hasn't been sparked by a change in scheme or the offensive line getting to do what they love best (grind on defenders); it's been almost entirely on the back of RB Jay Ajayi, who is running with violent intent and determination like few other backs in the league.
Ajayi is averaging 5.2 yards per carry this season but 3.4 of those are coming after contact. Ajayi is averaging more yards per carry after contact than any back in the league, a full half yard more than Elliott, and more than Todd Gurley and Doug Martin are averaging total per rush.
Arizona's David Johnson has recorded the most broken tackles in the league, with 59 between his carries and receptions, and while that's 16 more than any other player, it's because he has been given one of the league's heaviest workloads among running backs. Ajayi, though, has broken tackles at a greater rate—the best rate in the NFL, in fact. This season, Ajayi has broken one tackle for every 4.3 touches, and owns the league's highest elusive rating—a PFF metric giving credit for a running back's work after contact and avoiding tackles.
For opposing defenders, beating Miami's run blockers at the point of attack is not the most challenging thing in football, but getting from that position to putting Ajayi on the floor—without surrendering a significant gain—is another challenge entirely.
Miami OT Ja'Wuan James has a PFF run-blocking grade of 82.1, but he is the only blocker on the team over 80.0 in that regard, and only rookie Laremy Tunsil is even above 70.0 as a run blocker. This is not a unit that has been overpowering teams from a blocking standpoint, and even if they had been, going up against Baltimore's defensive front is another matter entirely.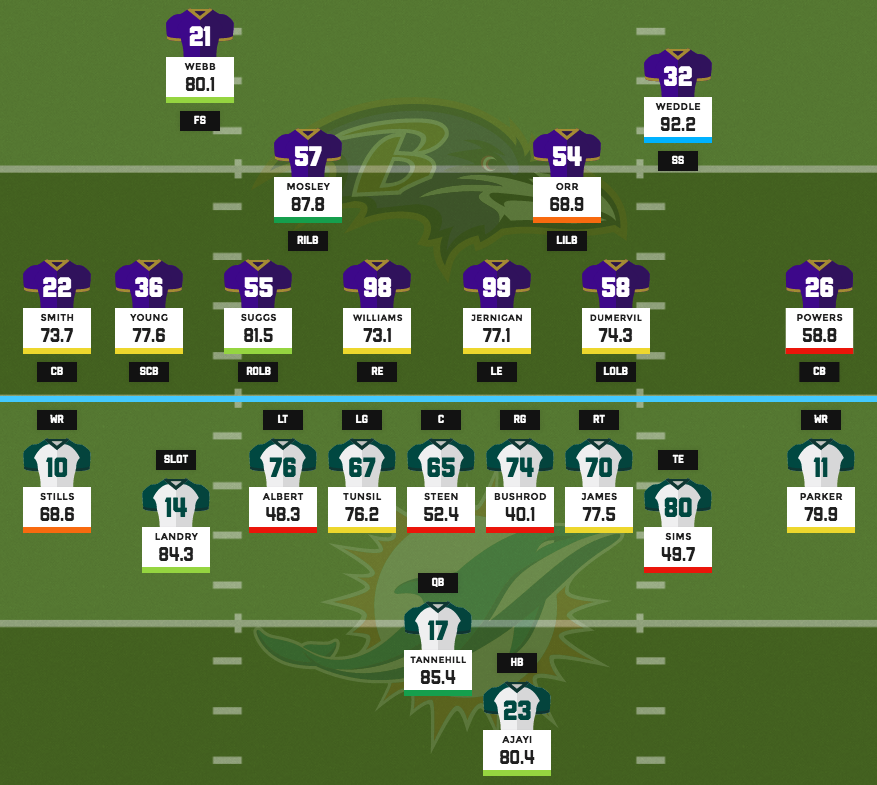 Every member of the Ravens' defensive line has earned a better-than-average grade against the run this season, and LB C.J. Mosley has been a force in that area, as well. The Ravens have missed just 57 tackles this season, the fewest in the league. Miami's own defense has missed 81, and the Bengals are closing in on 100 for the season. The Ravens don't quite own the best missed tackle rate in the league, but they are 0.3 percent from the best mark, held by the Jaguars.
This is a case of strength meeting strength, but the strength of Baltimore is team-wide, while that of Miami rests on the shoulders of one player.
If the Dolphins can't rely on Ajayi to run the show, they will need another good game from QB Ryan Tannehill, who has had two excellent performances in the past three weeks. The game in between those two excellent performances was in the rain at the L.A. Coliseum, where neither QB was able to effectively pass the ball until late in the game, when Tannehill and WR DeVante Parker connected multiple times to lead a pair of game-winning drives.
Over the last three weeks, Tannehill has completed 69.3 percent of his passes, and thrown seven touchdowns to just one interception—that pick coming in the aforementioned rain-affected game. This hasn't been one of his best seasons, but right now, Tannehill looks to be in a good vein of form, and has the potential to pick up the slack for the running game if the Ravens get the better of that matchup.
Baltimore's passing defense isn't bad, but it certainly isn't as good as the team's run defense. With the exception of safety Eric Weddle, the coverage on the back end is average at best, and they still rely too much on the pass-rush of edge defender Terrell Suggs, who should at least be able to generate some pressure in Sunday's game. Suggs has recorded 34 total QB pressures this season; no other Ravens player has more than the 21 (Za'Darius Smith), and it has taken Smith 278 pass-rushing snaps to get that many. The return of Elvis Dumervil could provide a much-needed injection of pass-rushing pressure to this defense, but across the board, this is the area of this defense that can be attacked and exploited.
This matchup is a fascinating battle of strength against strength, but the secondary skirmish between each team's weaker facet on that side of the ball may be the most important factor in determining the outcome of the game. Miami wants to run the ball, but if they can't, they may be better off leaning on their passing attack anyway against this Baltimore defense.