The New York Giants handed Eli Manning a vote of confidence when they selected running back Saquon Barkley with the No. 2 overall spot in the NFL draft. Barkley doesn't just represent a bullet dodged from Manning's perspective, but a very clear statement that they still believe in the franchise signal-caller they drafted in the first round back in 2004.
New head coach Pat Shurmur said that one of his first orders of business when he arrived at the Giants facility was to watch every throw Manning attempted in 2017 and concluded that "Eli's still got it." Whether you agree with that statement or not, the point is that the Giants as an organization have just gone all-in on Manning as their quarterback, having passed up a once-in-a-generation opportunity to draft his successor (the team last drafted that high in 1981). Davis Webb and Kyle Lauletta are both also on the roster, but the chances of mid-round picks becoming franchise quarterbacks are not good.
Before we get into what Manning's career trajectory looks like right now, it's notable that it's Shurmur who has given him his seal of approval here. Shurmur just got through coaching Case Keenum to a career year for the Vikings, an 85.3 overall PFF grade that represents a 10.0-point jump in grading from his previous high watermark and higher still than his career baseline.
There is no doubt that Keenum was helped out by throwing to Stefon Diggs and Adam Thielen, receivers that ranked first and sixth, respectively, in contested catch percentage last season, but even beyond being boosted by his receivers, Keenum was a different quarterback in 2017 than he had been in the past.
He was more accurate, particularly the deeper down the field he went with the ball. If you dig into some of PFF's advanced numbers, you can start to identify the influence of Shurmur on Keenum's career year. Keenum had 42 'open' throws at the intermediate level of the field (10-19 yards in the air) – where NFL quarterbacks make their money. That was the third-most in the league and almost double the volume that Manning had in 2017. Where it becomes interesting projecting forward is that Manning was actually significantly more accurate than Keenum on those throws when it comes to ball location.
Logically, if those numbers repeat themselves, Manning will immediately see a boost in production thanks to Shurmur's ability to scheme open throws in his offense.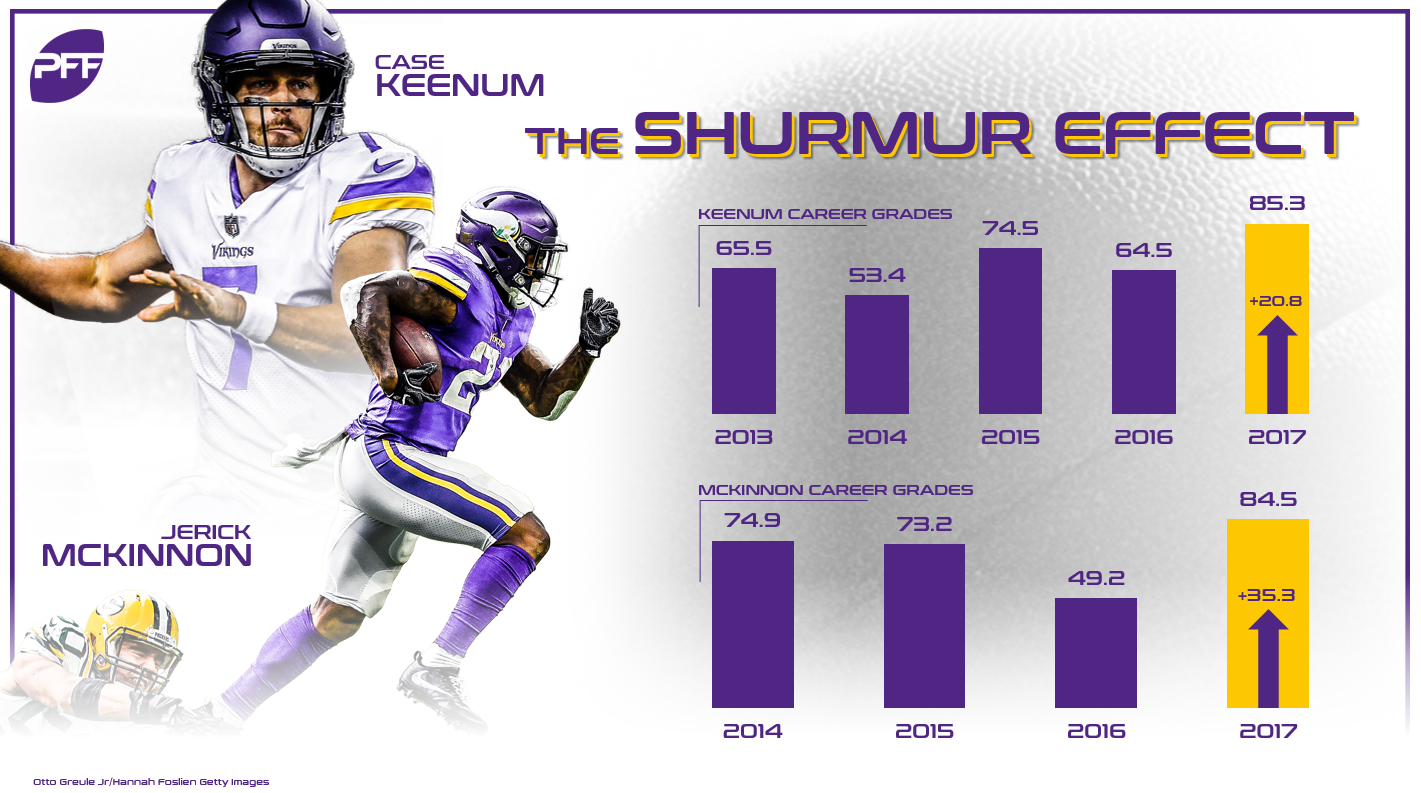 You could easily make the case that Manning's weapons in New York will be at least on par with those in Minnesota for Keenum. Shurmur also got a career year out of Jerick McKinnon, who saw his overall PFF grade jump 35.0 points with his arrival and set a new high that is 10.0 points above his previous career best. McKinnon saw career highs in carries (168) and targets (77), but was also significantly more productive as well while receiving that increased workload. He broke 33 tackles on the ground and 10 more as a receiver, to post eight more combined than his previous best. He averaged 2.7 yards per carry after contact in the run game, another career mark, and gained more than nine yards per reception after the catch – again, the best mark of his career.
Whatever effect Shurmur has on Manning, he has shown the ability to do the same for a running back, and McKinnon doesn't have the same kind of talent that Barkley has.
Add to Barkley's entrance the return of Odell Beckham Jr. – one of the most talented receivers in the game – as well as Sterling Shepard and Evan Engram, and you have a pretty talented stable of matchup weapons on offense.
Manning's Decline
Manning's best year was back in 2011 (91.9 overall PFF grade) and since that season, his grades have had a slow and inexorable decline into the 70.0s. 2016 saw him post his worst grade since the 2006 season, and while he was a little better last year, 75.5 was still the third-worst mark of his career.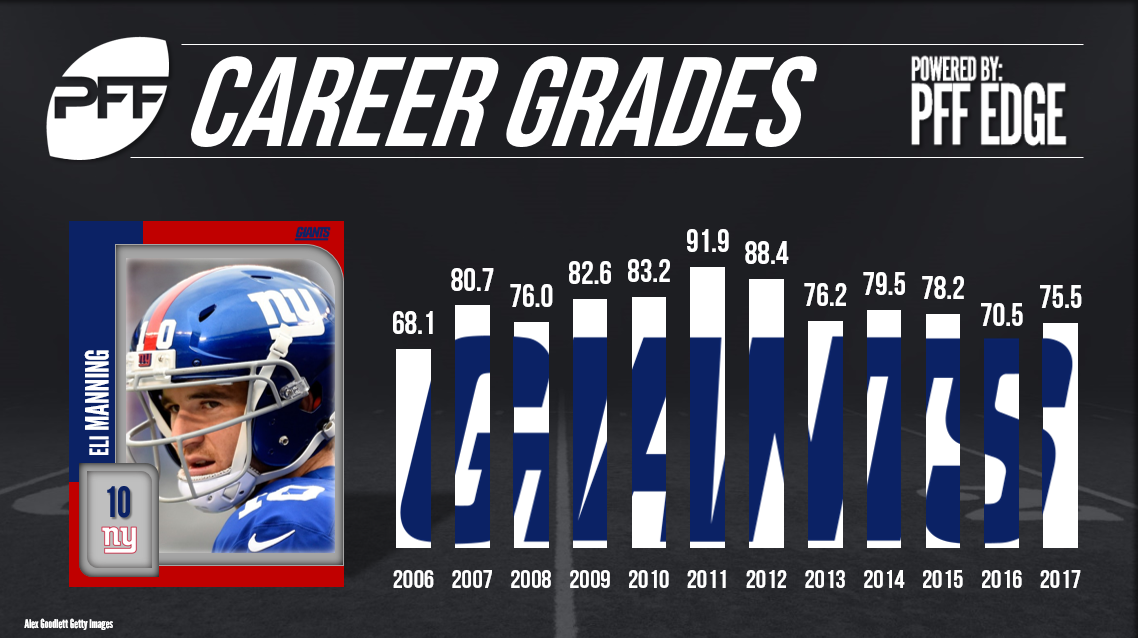 He is still capable of good games as he had three outings last year earn him a PFF game grade of over 80.0, but nothing was above an 82.2. To counter those good games, he had two games under 50.0 and six under 60.0. He ranked 32nd in the league in big-time throw percentage and posted the 30th-best grade from a clean pocket – one of PFF's most stable and predictive metrics on quarterbacks and passing.
A look through PFF's QB Annual shows a decline in almost every number we track and includes play under pressure and on third and fourth downs. The only real good news in his numbers was how effective he was in the red zone, posting a passer rating of 108.4, higher than any of his previous three seasons and 16.0 points higher than the league average.
The objective data shows that Manning is definitely in decline, but the question becomes how much of a boost can Shurmur have on his performance. Even if Eli continues his decline, if Shurmur is capable of putting him in significantly more favorable situations and maximizes his ability to succeed, we could see Manning look better than he has for the better part of a decade even as he approaches the twilight of his career.
The clock is definitely ticking on Manning's career, but the hiring of Shurmur as head coach could easily re-set the clock a little and buy Manning – and the Giants – more time to succeed before they need to find his successor.