During the NFL season, our team of 300-plus staff spend around 20,000 man-hours grading and analyzing every play of the NFL season, from the kickoff in the Hall of Fame game to the final play of the Super Bowl.
Now that the 2018 season is officially in the books, we can now take a look back at the season through the eyes of each NFL team and using the grades and statistics that we have compiled, we and detail what went right, what went wrong, and explain what that team has to look forward to.
Below is the 2018 season recap for the Washington Redskins.
Overview

The Washington Redskins found themselves in contention for the division lead until late in the year, where the weight of injuries just became too much for them to withstand. The loss of quarterback Alex Smith, in particular, was the straw that broke the camel's back.

What went right?
Washington's defensive line emerged as a formidable group of young players. The trio of rookie Daron Payne, Jonathan Allen, and Matt Ioannidis all graded well over the season, and they brought some significant pass rush up the middle.  

Elsewhere on defense, there were standout performances from LB Zach Brown, who had a career year, and some encouraging grades in the secondary and among the edge rushers, where Ryan Kerrigan was once again a consistent pass rusher, notching 61 total pressures.

What went wrong?

Injuries laid waste to Washington over the course of the season, including a catastrophic leg break to their starting quarterback, Alex Smith. Though he hadn't been enjoying as good as season as he had in Kansas City the year before, Smith's grade of 70.2 was still far higher than any backup was likely to achieve over the long-haul.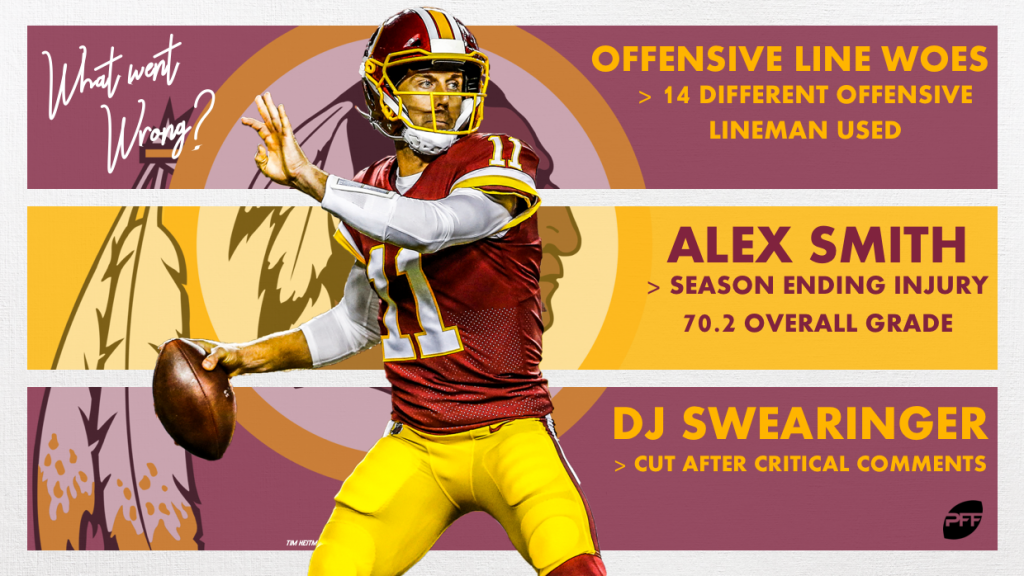 The team also used 14 different offensive linemen over the season and ended up cutting one of their best defenders in safety D.J. Swearinger after he attacked the team's game plans publicly.

Highest-Graded Offensive Player

A signing few predicted would make much of an impact, Adrian Peterson was able to roll back the years and show something of the player he had been earlier in his career, earning an overall PFF grade of 76.8. Peterson topped 1,000 rushing yards, with 754 of them coming after contact.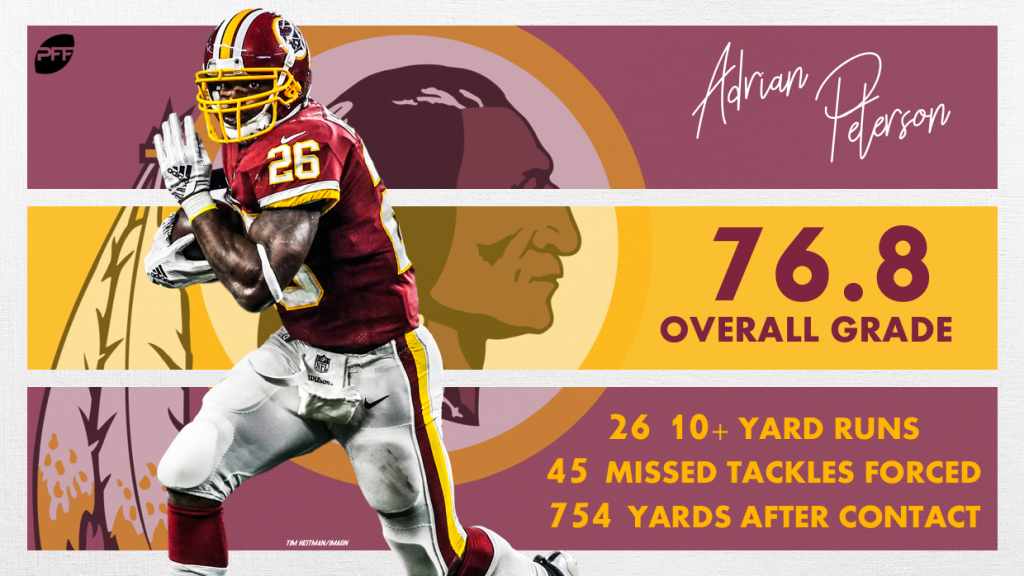 Highest-Graded Defensive Player
Linebacker Zach Brown had a career year in the heart of the defense, earning an overall PFF grade of 89.2 – third among all linebackers. Brown didn't allow a touchdown in coverage all season and made 45 defensive stops.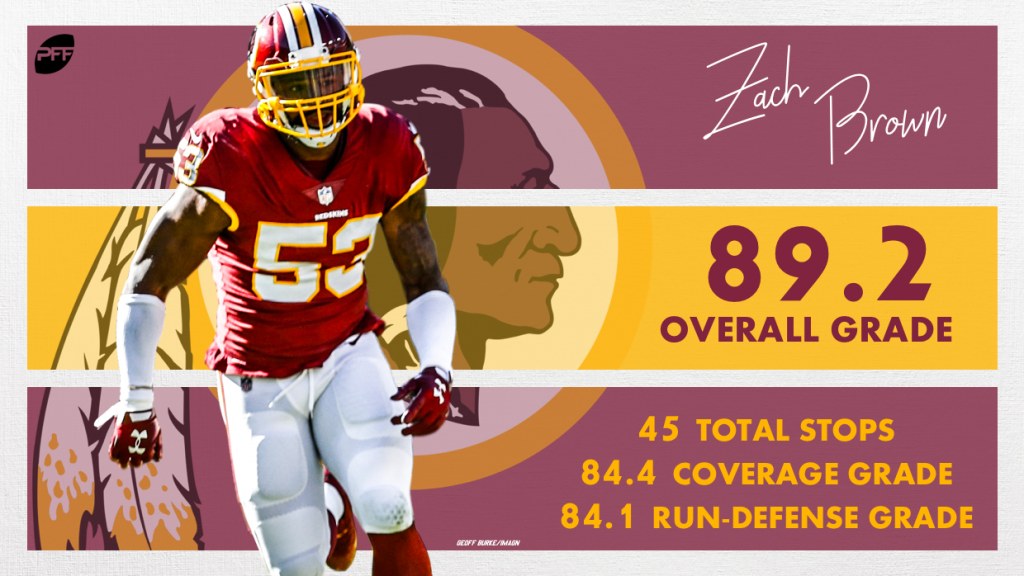 Breakout Player

Jonathan Allen looked like a star in the making as a rookie, but he lasted just 159 snaps before going down injured. In year two he backed up that potential over almost 800 snaps of action, notching eight sacks and 36 total pressures as well as 29 defensive stops along the defensive front.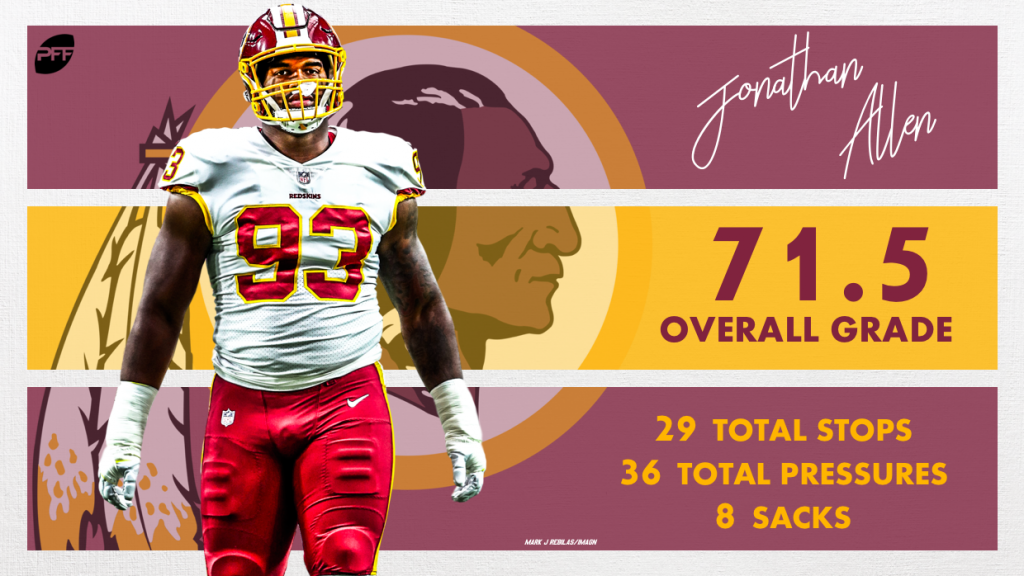 Rookie Standout
Allen was reunited with his college teammate as Daron Payne hit the ground running and gave Washington a pair of Alabama products wreaking havoc up front. Payne earned an overall PFF grade of 71.9 and looked to have major potential for the future.


In conclusion
Washington's season ended up short of where they wanted to be, but they were the victim of some terrible injury luck along the way. Quarterback is now a question mark given the health status of Alex Smith, but this team has a lot of talent looking to make an impact in 2019.