Vita Vea is set to enter his second season with the Tampa Bay Buccaneers, and while he already has first-round expectations to meet, his role becomes all the more important now that Gerald McCoy has signed with the division rival Carolina Panthers.
Vea is a player already outlined as one we'd like to see more of in 2019 — and for good reason. The former Washington Husky's professional career started off on the wrong foot as Vea missed training camp and the first three regular-season games because of injury. However, Vea turned things up a notch in the latter half of the year in 2018 and showed the potential to be a commanding force on the interior. 
Vea's last six games of the 2018 season were dominant as he totaled 19 pressures and 16 defensive stops over that span. These numbers ranked first and second, respectively, among rookie interior linemen, but they also put him on the map overall. His 86.4 overall grade and 83.9 pass-rush grade during that timespan both ranked in the top 20 among all qualifying interior defensive linemen.
Vea's best game of the season came in those final weeks, as he was an absolute force in Tampa Bay's Week 15 bout with the Baltimore Ravens. Playing a season-high 60 snaps, Vea dominated by posting a 91.2 overall grade; he finished with eight tackles, five defensive stops and three quarterback pressures.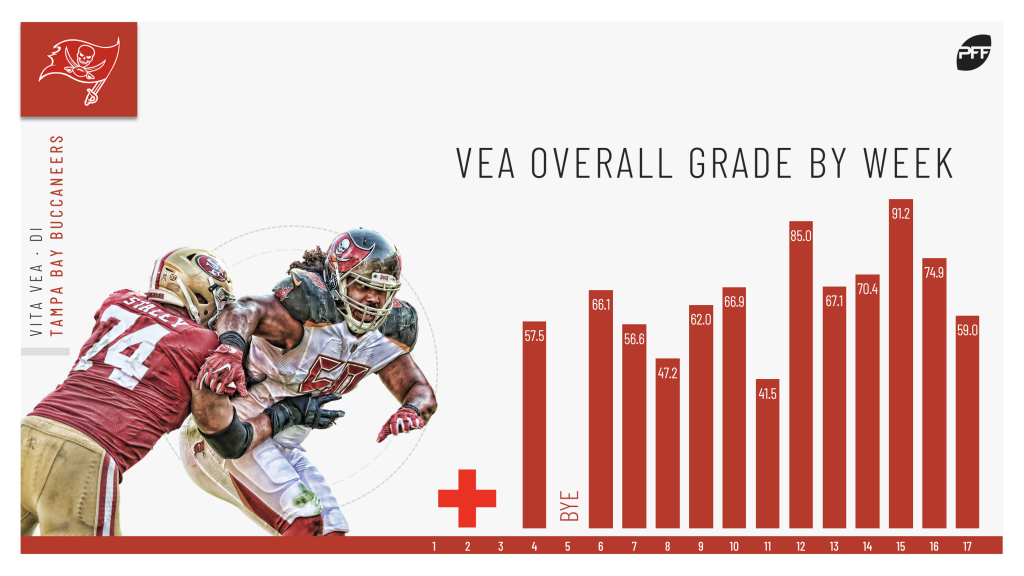 Those numbers are starkly different from Vea's first seven games, where he registered just seven total pressures and one defensive stop. Before Week 12, his highest single-game overall grade was 66.9, but once he flipped the switch over the final six weeks, he topped that number all but once.
The late-season burst from Vea made up for his slow start and led to respectable season grades, as the Washington product finished the 2018 campaign with a 75.4 pass-rush grade — 13th among interior defenders with at least 100 snaps. Additionally, his pass-rush productivity rating of 5.8 tied for first among all rookies and 24th overall at his position.
Although Vea's late-season success is a smaller sample size, it should have come as no surprise given his numbers while at the University of Washington. Vea racked up 400-plus snaps in each of his last two collegiate seasons, resulting in outstanding overall grades of 90.4 and 92.6 in 2016 and 2017, respectively, which both ranked in the top five among the nation's interior defensive linemen. During Vea's final collegiate season, he finished with 41 total pressures and 32 defensive stops, all helping him become the Pac-12 Defensive Player of the Year.
The combination of Vea's late-season dominance and outstanding college career is a strong indicator that he's just scratching the surface with the Buccaneers. Now, with the addition of Todd Bowles as defensive coordinator under Bruce Arians' new regime, Vea will have the opportunity to flourish even more and insert himself as a defensive staple for 2019 and beyond.