Kansas City Chiefs edge defender Dee Ford's tenure as the NFL's best at the position was short-lived, as New England Patriots' Trey Flowers topped Ford with his stellar Week 8 performance against the Buffalo Bills on Monday Night Football.

Flowers recorded a hurry, two hits and a batted pass teeing off against the Bills to the tune of 33 pass-rush snaps, and he maintained similar dominance against the run. All five of his tackles against the run resulted in a defensive stop, and he only played 19 run-defense snaps. Such high-end efficiency defending both the pass and run pushed Flowers' single-game grade to 91.6, good enough for him to own a spot on our Week 8 Team of the Week.
With his dismantling of the Bills, Flowers now leads all edge defenders in overall grade through Week 8 at 90.8. However, his seat atop the league's edge talent is largely propped up by his run defense rather than his efficiency as a pass-rusher.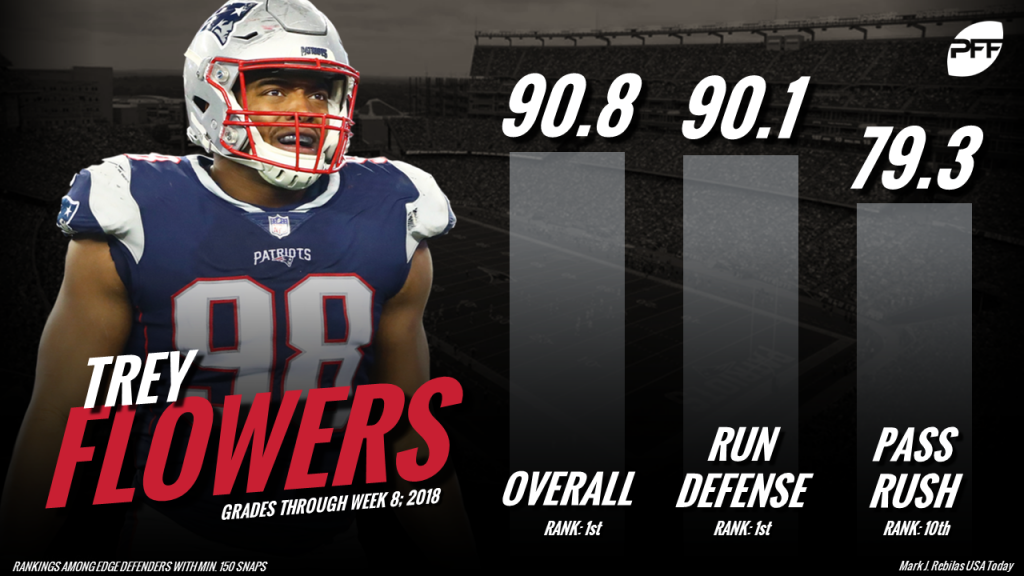 Though he's played just 92 run-defense snaps this season, Flowers has recorded an NFL-high 90.1 run-defense grade in the process. His 15.2 run-stop percentage ranks third among edge defenders, and he ranks seventh in percentage of run-defense snaps he's earned a positive grade (22.3).
Flowers' 79.3 pass-rush grade ranks just 10th among edge defenders with 100-plus pass-rush snaps through Week 8, as he's recorded 20 hurries, three hits and three sacks across 192 pass-rush snaps. However, his pressure luck has been among the worst at the position.
PFF charts every time a defender beats a pass block regardless of whether a pressure is recorded because quarterbacks can avoid pressure with quick passes. As such, we don't like to discredit the edge defending for whooping his opposition to just because the pass got off quickly.
In Flowers' case, he has beaten his opposition 18 times without recording a pressure this season, which is the second-highest total behind Cleveland Browns' Myles Garrett (21). And Garrett has recorded 125 more pass-rush snaps than Flowers, evidence that Flowers encounters bad luck off the edge at a higher rate than any other edge defender in football.
Fortunately for the New England edge defender, his low-end pressure luck is bound to shift toward the mean in at least some capacity, meaning his best is yet to be seen in 2018 – a scary thought for any offensive tackles still in line to take Flowers head-on this season.