Shortly after signing him to a record-setting contract, the Oakland Raiders announced that they would be playing veteran Trent Brown at right tackle, bucking the trend of playing a big-money tackle on the left side.
Brown played exclusively at left tackle last season, his lone campaign with the New England Patriots. During the regular season, he ranked 44th out of the 86 offensive linemen who saw at least 200 offensive snaps with a 66.9 overall grade. In pass protection, he ranked 38th out of qualified tackles by allowing pressure on 6.1% of his pass-blocking snaps, and he had a bit of a rollercoaster season when it came to run blocking: he ranked 13th among tackles with a positively-graded run-block rate of 10.0%, but he also ranked 60th with a negatively-graded run-block rate of 13.4%.
Where Brown really shined in 2018 was in the playoffs. Out of the 24 offensive tackles who saw at least 50 offensive snaps in the postseason, Brown ranked second with a 79.9 overall grade. He allowed just four total pressures in three postseason appearances (all of them being hurries), giving him a 2.9% pressure rate during New England's run to the Super Bowl. As a run-blocker, he swung his ratio of positively-graded to negatively-graded blocks, earning a positive grade on 13.8% of his run blocks, while earning a negative grade 11.2% of the time.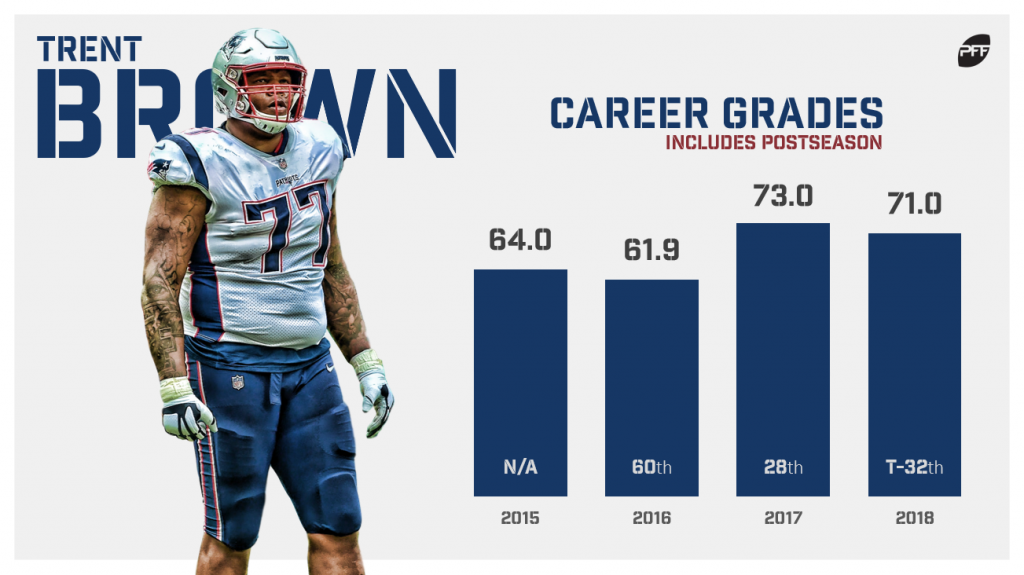 Before he played left tackle for the Patriots, Brown spent the first three seasons of his NFL career with the San Francisco 49ers. The former seventh-round pick saw some action at left tackle during that three-year stretch, but 91.8% of his snaps with the 49ers came at right tackle. From 2015-2017, there were 46 players who logged at least 750 offensive snaps at right tackle, among that group, Brown's 66.5 overall grade ranked 29th.
During that three-year window, Brown ranked seventh among qualifying right tackles by surrendering pressure on just 5.6% of his pass-blocking snaps, and he was one of just five players to log at least 1,000 pass blocking snaps at right tackle and surrender no more than seven sacks.
As a run-blocker, Brown has been hit or miss from play to play as an NFL right tackle. From 2015-2017 he ranked 11th among qualifying right tackles by earning a positively-graded run-block percentage of 10.5%, but he also ranked dead last among the same group with a negatively-graded run-block percentage of 19.0%.
Over the first four seasons of his career, Brown has proven his worth as a serviceable NFL tackle who likely has even greater value to a team like Oakland, as he's shown the ability to handle duties on both sides of the offensive line (second-year left tackle Kolton Miller ranked 41st out of the 42 qualifying left tackles last season with a 48.2 overall grade). Whether or not he lives up to his billing though as "highest-paid right tackle in the league" will largely depend on him becoming a more consistent run-blocker while maintaining the success he saw in pass protection during his time spent at right tackle for the 49ers.