Putting points on the board when working inside of the 20-yard line is paramount for offenses to have success, which is, of course, much easier said than done. Here, we preview the league's best wide receivers at making things easier for quarterbacks and offensive coordinators in the red zone by looking at the top returning NFL receivers by red-zone grade from 2017.
[This is the start of a four-part series that will highlight the league's best at each skill position (WR, RB, TE) and quarterback from an offense grade standpoint in 2017.]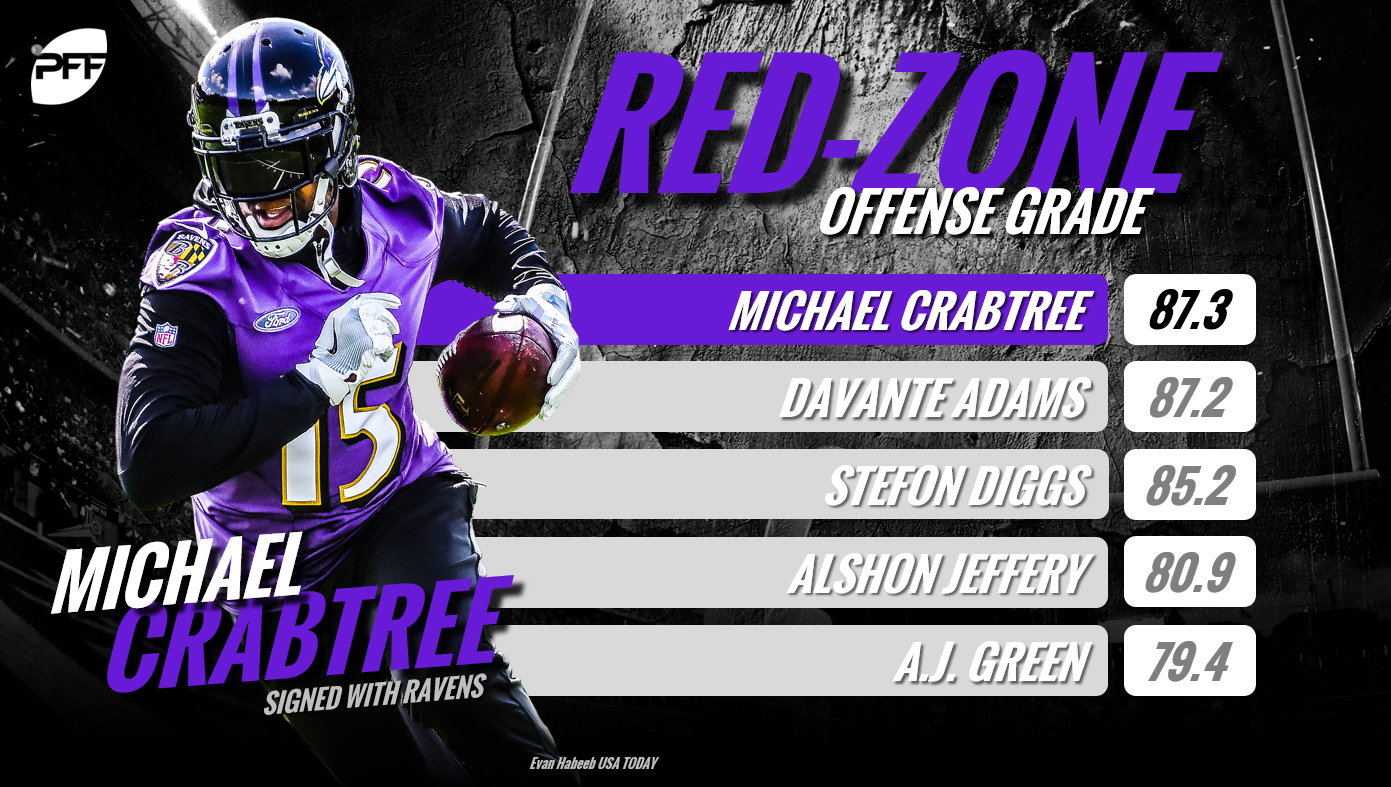 Standing out as the only receiver on this list on a new team in 2018, the former Oakland Raiders (2015-17) and San Francisco 49ers (2009-14) receiver in Crabtree has always drawn rave reviews for his efforts in the red zone, and his 2017 campaign was no different.
Despite playing just 40 snaps in the red zone all last season, Crabtree hauled in seven of his 14 red-zone targets for 20 yards and five touchdowns with the Raiders a year ago, fueling his first-ranked offense grade (87.3) and third-ranked receiving grade (85.4) inside of the 20-yard line. He also didn't drop a single catchable pass thrown his way and caught three of his seven contested red-zone targets for touchdowns.
Crabtree's success inside the red zone couldn't keep him from being shown the door in Oakland, but his release has maybe put him in a better position to show his strengths.
Veteran wide receiver Mike Wallace, who is now suiting up with the Philadelphia Eagles, was the Baltimore Ravens' only receiver with 10-plus targets in the red zone a year ago. Crabtree should replace Wallace as the Ravens' go-to guy in the red zone and raise the bar in terms of production, as Wallace had caught just three of his five catchable red-zone targets for three touchdowns in 2017.
Adams was somewhat of an afterthought in the Packers' wide receiver room through his first two seasons largely because of the star power ahead of him on the depth chart in Jordy Nelson and Randall Cobb. But with Nelson's departure, Adams and Cobb have become the stars in Green Bay.
Adams has caught 149 balls and 22 touchdowns over the past two seasons, earning a 79.0 two-year offense grade (23rd among qualifiers) in the process. Most recently, the 6-foot-2, 215-pound Fresno State product proved to be at his best in the red zone, as he caught 15-of-17 catchable targets for 140 yards, seven touchdowns and five first downs en route to the second-ranked red-zone receiving grade (85.6).
If Packers quarterback Aaron Rodgers can stay healthy under center, Adams should enjoy similar – if not better – red-zone success in 2018.

Diggs is a big-play waiting to happen regardless of the field position, as we saw first-hand in his debut performance with new signal-caller Kirk Cousins at the helm. And despite not possessing the typical frame (6-foot, 194 pounds) of a big-time red-zone receiver, Diggs gets the job done inside the 20-yard line.
Hauling in all 13 of his catchable red-zone targets, Diggs totaled 119 yards, seven touchdowns and three first downs. He also earned the top-ranked passer rating when targeted (139.3) and receiving grade (86.9) among receivers with 10 or more red-zone targets in 2017.
Last caught on the receiving end of the Minneapolis Miracle, Diggs enters the 2018 season with lofty expectations tied to his name, especially with Cousins taking over for Case Keenum. Of course, early signs point to the Diggs-Cousins connection being quite successful.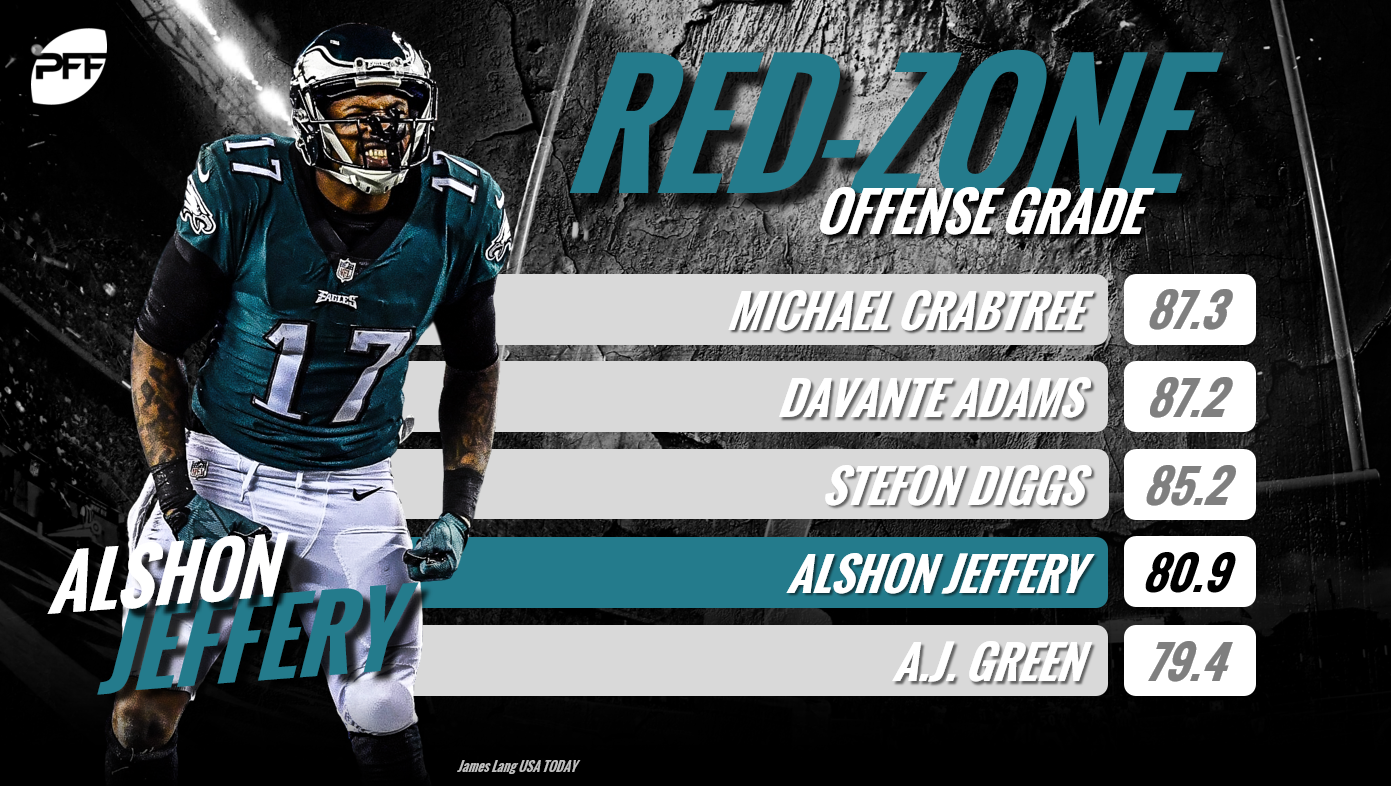 Jeffery's debut season with the Eagles went as best as it could, catching 69 passes for 1,008 yards and a team-high 12 touchdowns en route to a Super Bowl win. And he did so by making his presence felt in the red zone.
The 6-foot-3, 218-pound South Carolina product caught nine of his 11 catchable red-zone targets for 73 yards and eight touchdowns, the latter metric finishing second only to current Cleveland Browns wide receiver Jarvis Landry. Jeffery also caught 4-of-9 contested red-zone targets for three of his eight touchdowns.
Jeffery should pick up right where he left off with Philadelphia in 2018, especially if a now-healthy Carson Wentz can bounce back from his season-ending knee injury from a year ago.
Green, standing at 6-foot-4, 210 pounds, is a feared receiver in the red zone, and for good reason. The former No. 4 overall pick caught six of his eight touchdowns last season on passes inside the 20-yard line, finishing the year with the sixth-ranked red-zone receiving grade (77.3). He also caught all seven of his catchable targets inside the red zone.
While buzz continues to build around some of the Bengals younger receivers (John Ross, Auden Tate) in training camp, Green will continue to run the show as the team's go-to target both inside and outside the red zone.  
Other Notable Red-Zone Statistics
Los Angeles Rams rookie wide receiver Cooper Kupp led the league in red-zone targets a year ago with 26. The former Eastern Washington superstar caught 16 of the 21 catchable targets for 142 yards and six touchdowns.
Browns' Landry led the league in red-zone receptions (18) and touchdowns (nine) with the Miami Dolphins in 2017.
Kupp also led all receivers with 10-plus red-zone targets in drops with four. No other qualifying receiver dropped more than two red-zone targets last season.