The 2017 NFL season saw many high profile players suffer season-ending injuries, including some of the top quarterbacks in the NFL. While that was terrible for 2017, it does make my job of highlighting the top candidates for Comeback Player of the Year for the 2018 season that much easier. In fact, if anything, the only difficulty was cutting the list down to five, with impact players on both sides of the ball aiming to make a big impact when they return.
With that in mind, here are the top five candidates for the NFL Comeback Player of the Year award in 2018.
With two season-ending injuries in a row, J.J. Watt has become somewhat forgotten with the emergence of Aaron Donald as the NFL's premier defensive player over the past two seasons, but let's not forget that from 2012 to 2015, Watt produced PFF grades of 95.0 or higher across all four seasons, including a ridiculous 99.5 PFF grade in 2013. Utterly dominant as a pass-rusher, Watt has racked up 87 sacks, 159 hits, 211 hurries and 46 batted passes in his career so far. He looked dominant once again over the first four games of the 2017 season, and while he didn't register a sack, he did manage to register a hit, hurry or batted pass on 13.6 percent of his pass-rushing snaps.
The big question with Watt is how good he can be coming off back-to-back season-ending injuries. If he's even 95 percent of the J.J. Watt of old, the rest of the NFL better watch out.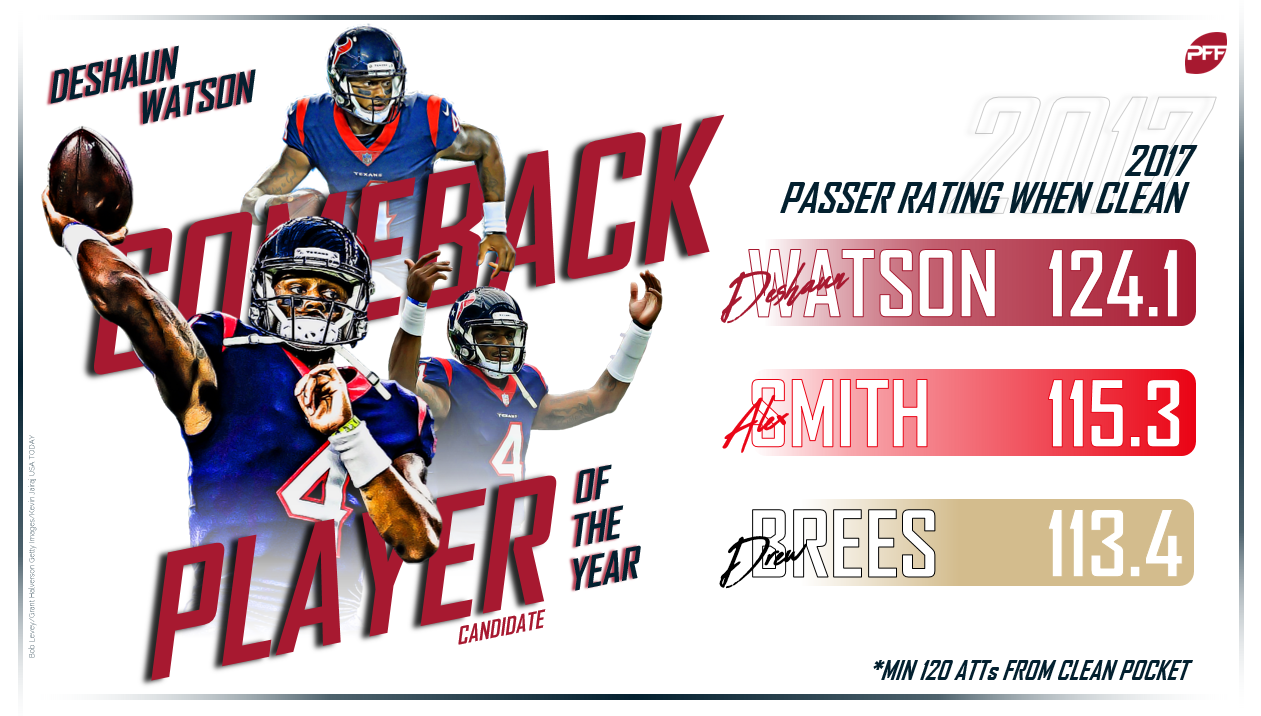 Texans fans have many reasons for optimism, with another key player returning from injury in starting quarterback Deshaun Watson. Watson recovered from a brutal performance in the season opener to deliver plenty of big plays for the Texans. One eye-popping stat from last season was that Watson led the NFL with 11 touchdown passes off play action, despite playing only half a season due to the injury. A note of caution though, while that stat is eye-popping, success from play action is rarely a stable metric season-to-season, so we shouldn't expect quite a dominant stat line in 2018. Keeping pressure away from Watson will be key as he returns, both to protect him from injury, and also because in his limited time on the field, he led the league with a 124.1 NFL passer rating on plays when he was kept clean. With Watson and Watt back on the field, the Texans will feel confident that they can reclaim the AFC South crown.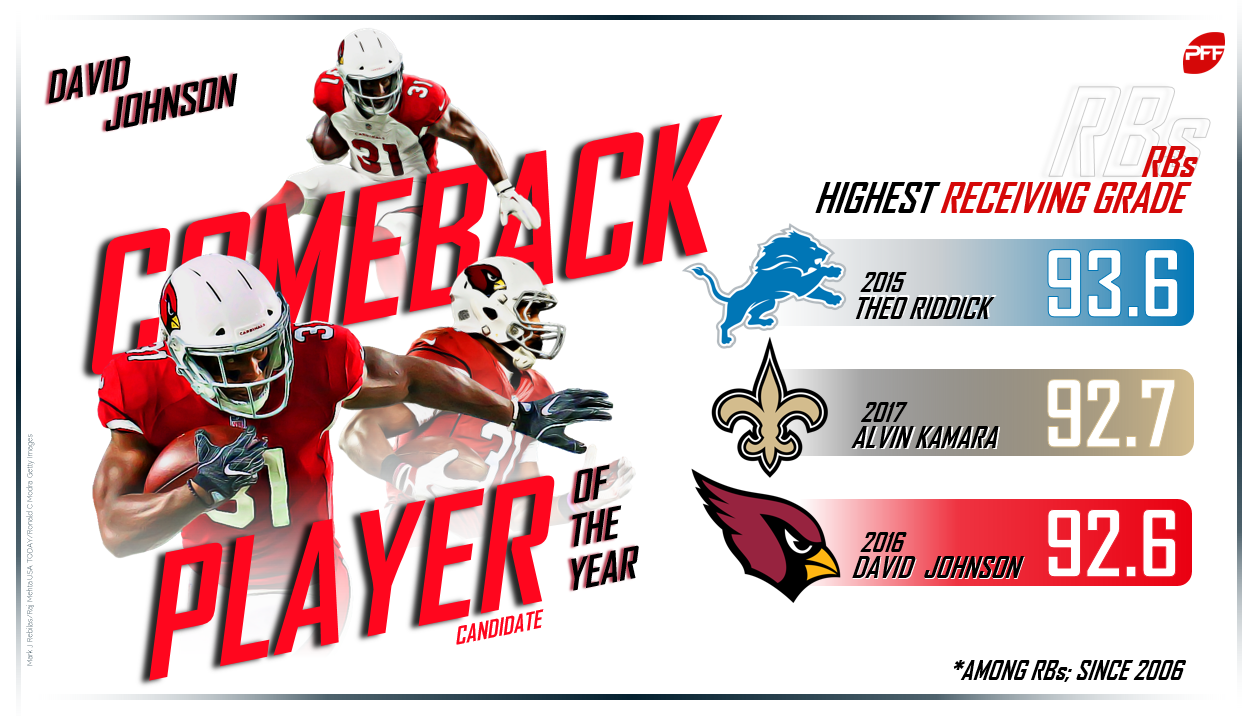 David Johnson's dominance as a receiver in 2016 really shouldn't be overlooked. So good in fact that he won our award for the Best Receiver in the NFL, with a PFF grade of 92.6 as a receiver, and 87.8 overall. The former third-round draft pick out of Northern Iowa forced 27 missed tackles on 80 receptions, and another 44 on his 293 carries, making a huge impact in the Cardinals running and passing game. His workload was huge for a running back as his 964 snaps on offense the second-most we've seen from a running back since 2006. Only Matt Forte's 998 snaps in 2014 rank higher than Johnson in 2016. The key to Johnson being so important and so good as a wide receiver is how he can be utilized all over the field, and back in 2016 there were plays where he lined up out wide and made key receptions to keep drives alive. Assuming he is fully healthy, there's no reason not to expect the Cardinals offense to run through him again in 2018, and don't be surprised if he quickly becomes Josh Rosen's top target when he assumes the starting job at quarterback.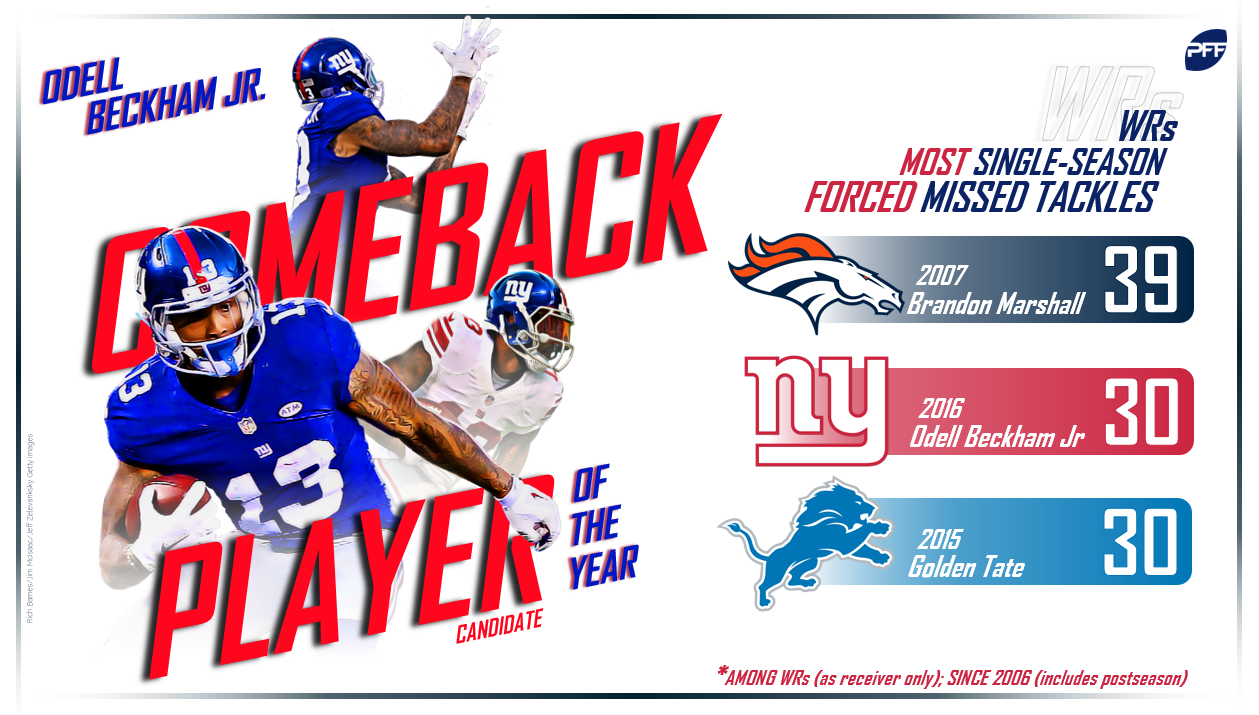 While the Giants hope to have found their own David Johnson in Saquon Barkley, who they drafted with the second overall pick in the 2018 NFL Draft, the big thing for their offense heading into this season is the return of Odell Beckham Jr. at wide receiver. Even before his season was ended through injury, he struggled in 2017, with six drops from 31 catchable targets, but he was a matchup nightmare in 2016, leading all wide receivers with 30 missed tackles forced on receptions. Beckham Jr. is capable of making people miss in the open field, and pulling off highlight reel catches downfield. Back healthy again, he should lead what could be a dynamic group of pass-catchers in the Big Apple.
As Aaron Rodgers' health goes, so does the Green Bay Packers' Super Bowl hopes. Up their with Tom Brady and Drew Brees among the best quarterbacks in the NFL when healthy, Rodgers being on the field makes the Packers Super Bowl contenders, with a PFF grade of 88.3 or higher every season between 2008 and 2016. Rodgers can make big things happen when plays break down, and pressure didn't phase him in 2016 when he led the NFL with a 93.8 NFL passer rating on plays where he was under pressure. Throwing 12 touchdowns to one interception despite pressure getting to him, Rodgers found ways to create big plays out of nothing time and time again. The addition of Jimmy Graham at tight end could be huge, and if he can return to his pre-2017 form, will give Rodgers a mismatch weapon in the red zone, which is a terrifying thought for the NFC North and beyond.