Almost a third of the way through the NFL regular season, here is a look at the top play making cornerbacks this season using our play maker index. Playmaker index measures the amount of plays a cornerback gets his hands on a football when he's targeted with either a pass defended or interception.

Playmaker Index – 31.8 percent
With the amount of plays Robinson has made on the ball this year, it's no surprise though five weeks of the season he is PFFs top graded CB at 92.6 overall. Robinson has gotten his hands on seven of 22 targets into his coverage (1 interception, 6 passes defensed).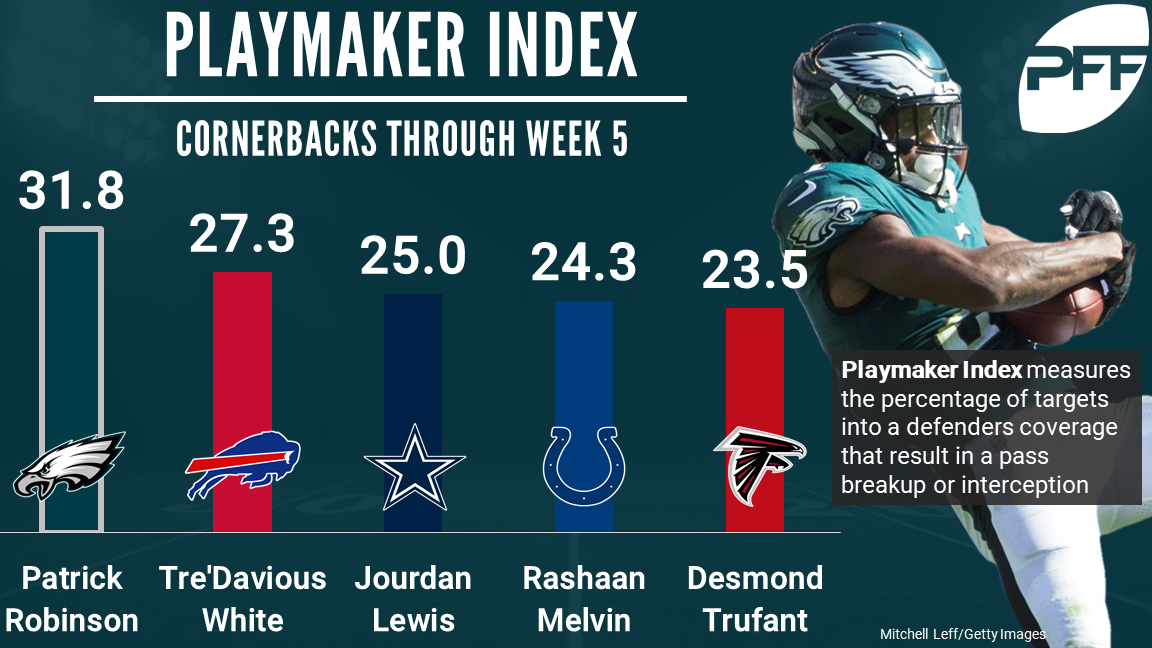 Playmaker Index – 27.3 percent
The rookie from LSU has allowed an incredibly low catch rate of 48.5 percent into his coverage and a big reason why is his ability to get his hands on balls thrown at him. He is tied for the lead league with nine combined passes defended or interceptions (1 interception, 8 passes defensed). White currently sits as the fifth-ranked corner with a grade of 89.7.
Playmaker Index – 25.0 percent
It is no surprise to see Lewis near the top considering he led FBS cornerbacks in playmaker index last season while at Michigan. Lewis is another rookie cornerback in the midst of a strong first campaign, grading as the 24th best corner with a grade of 81.9.
Playmaker Index – 24.3 percent
The Colts were desperate for a corner to step up and play well and Melvin has answered the call. Melvin has been targeted the third most among all cornerbacks at 37 times but has answered by picking off two passes and getting his hands on seven more. His overall grade of 86.3 ranks 10th among corners.
Playmaker Index – 23.5 percent
Trufant has been targeted just 17 times on the season so far and probably for good reason, as he's make a play on the ball on almost a quarter of those. Trufant currently ranks 14th among cornerbacks with an overall grade of 84.2.