With the regular season in the books, we are counting down the highest-graded cornerbacks this season in the NFL. With every throw and catch attributed to someone in coverage this season, here's who played the best.
[Editor's Note: The list below purely runs off our Player Grades, which are made available to all of our EDGE and ELITE subscribers.]

It was a career year for Gilmore whom Bill Belichick has taken to employing as a weapon in the secondary. New England shadowed receivers more than any other team in the NFL this season, and it was often Gilmore's job to take away the other team's top receiving threat. He tracked receivers in 13 games this year yet still only allowed 42 catches on 90 targets for 466 yards all year.
The league's preeminent slot cornerback at the moment, King simply doesn't allow many first downs. On his 78 targets this past season, only 22 went for first downs. 81 cornerbacks allowed more first downs in their coverage this season.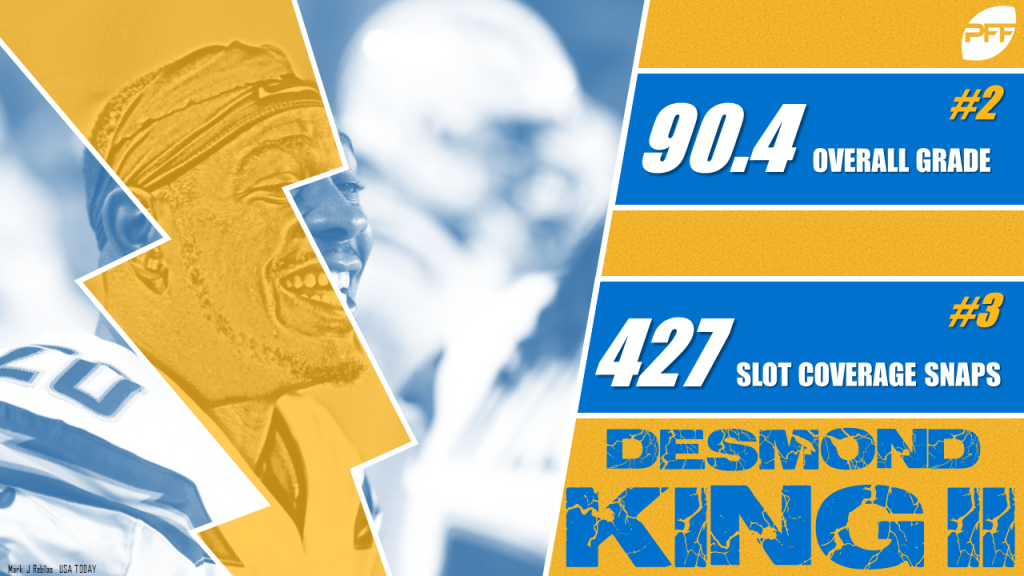 Harris was at the top of his game before ending up on the IR. He may have only played 12 games, but he allowed a passer rating of only 63.6 when healthy. The Broncos corner was back to his stingy ways in the red zone once again, allowing only one touchdown on the year.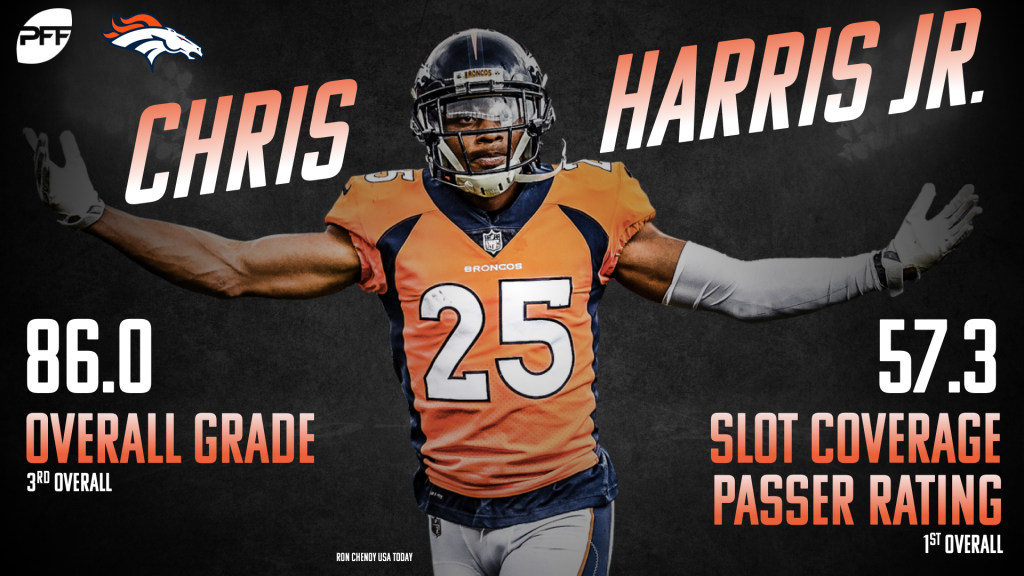 It was a rough Wild Card weekend for Jackson, but during the regular season, he was the Swiss Army Knife for the Texans. Alternating between safety and corner, Jackson had a career revival this past season. He didn't allow a touchdown all season long.
One of PFF's top-10 breakout players from 2018, Jones season at corner was so dominant it makes you wonder why he ever was stuck at safety in the first place. PFF's first-team All-Pro corner allowed a 53.6 percent catch rate and had 10 pass breakups.
Yet another Patriots corner who had a career year. McCourty allowed a completion percentage of only 58.9 on the season, his lowest for a single season in his career. Arguably his most impressive stat on the year, though, was that McCourty committed one penalty all season long.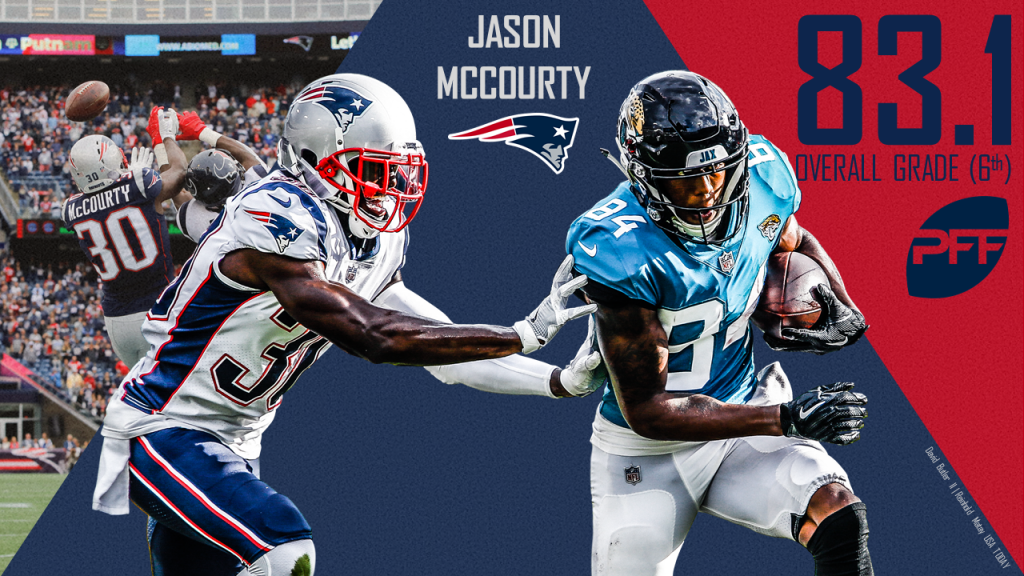 Fuller may not have been the stingiest cornerback in coverage this season, allowing 745 yards, but few had his playmaking ability. Fuller's seven interceptions led the NFL while his 12 pass breakups were second at the position.
While the rest of the Arizona defense crumbled around him, Peterson continued his elite play. He allowed 30 catches all season long. That's fewer than two per game. His 0.63 yards allowed per coverage snap was the lowest in the league.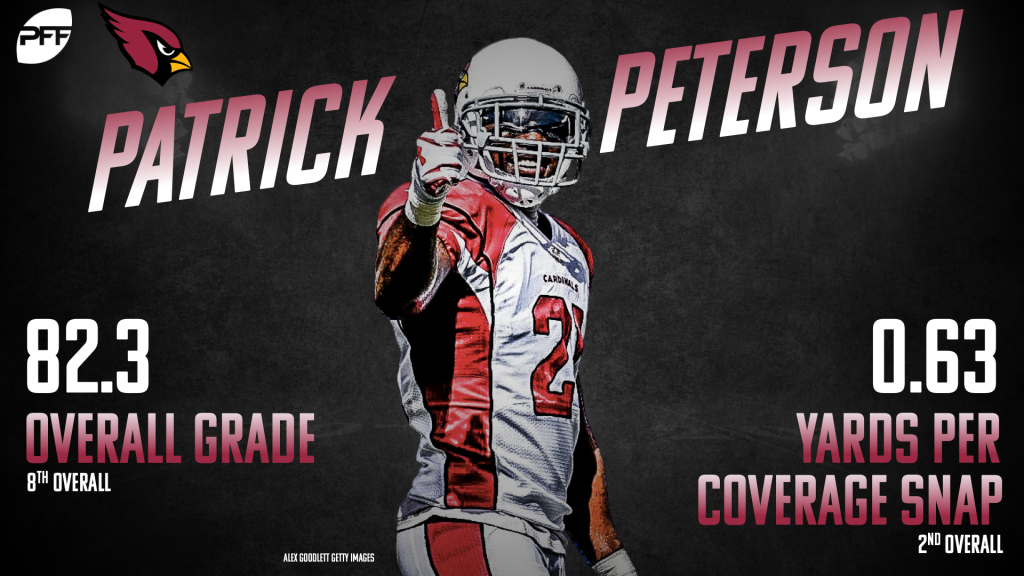 Callahan made himself some money with his play for Chicago this season in the slot. His 0.72 yards per coverage snap was the fifth-lowest at the position in the NFL, and he only allowed a passer rating of 80.5 in his coverage.
At 34 years old, Joseph had a bounce-back year in a big way. After allowing the highest passer rating in almost a decade last season, Joseph only allowed a passer rating of 76.0 this season.
While Amukamara's career has been plagued by injury, he's been one of the most consistent corners in the NFL when healthy. That was finally the case again in 2018, and he earned a career-high grade because of it. Amukamara allowed a passer rating of 82.9 this past season.
The highest-graded rookie cornerback on this list, Ward lived up to his top-five billing. He allowed a catch rate of 53.7 and passer rating of 70.7 to immediately transform the Browns secondary. We'll be seeing his name on this list for years to come.
After a solid rookie season, Humphrey quite comfortably established himself as one of the best cornerbacks in the NFL this year. His 52.5 catch rate allowed was the seventh-best in the league this season and his 22.5 percent forced incompletion rate was third-best.
It wasn't quite the production we saw from Hayward in 2017, but some of that wasn't his fault. Quarterbacks simply stopped targeting Hayward as much this season. He was the third-least targeted cornerback per coverage snap. The Chargers corner allowed only 32 catches all season.
While Desir had a career year in coverage, his ability against the run was key in the Colts' cover-2 heavy defense. He finished the season with the second-best run defense grade of all corners.
Howard had a very boom-or-bust season. His 50.9 percent catch rate was third-best in the NFL, but at the same time, his 16.2 yards per catch allowed was the second-worst among corners. Still, seven picks in only 12 games is pretty absurd production for the Dolphins corner.
Bouye wasn't near the level we saw over the last two seasons, but it's difficult to complain about still being the 17th-best corner in the NFL. Bouye only allowed 417 yards on the season, but his 67.2 percent catch rate allowed was nearly 20 percentage points higher than a season ago.
The interceptions might not have been there this season, but targeting Slay still wasn't beneficial for opposing quarterbacks this season. He had the sixth-best forced incompletion rate at 19.8 and was third in the NFL was 12 pass breakups.
After a down 2017, Johnson was once again at the top of his game when healthy. He played in only 10 games this season but still managed to nab four interceptions.
It wasn't the year Lattimore had hoped for after a dominant rookie season, but he had one of the toughest draws of any corner this season. Lattimore tracked Mike Evans, Odell Beckham Jr., Michael Crabtree, Alshon Jeffery, Calvin Ridley, Amari Cooper, Mike Evans and Antonio Brown this year.
He may have allowed the second-most yards of any cornerback in the NFL (825), but it's only because he was targeted eight times more than any corner in the league. His 53.1 percent catch rate and 76.8 passer rating allowed show how good Nelson really was this year.
While the Bengals' pass defense was atrocious, Jackson more than held his own. He allowed only 38 catches all season long and had 10 pass breakups on the year.
Jackson was picked on ruthlessly in the Titans' defense, getting 105 passes thrown his way this season. He continued his high-level of play, though, allowing a catch rate of 62.9 and had seven pass breakups.
While Bouye took a small step back from 2017, Ramsey took an even bigger one. He allowed 163 more yards this season and had four fewer combined pass breakups and interceptions.
It was a rocky first year at times for Alexander, who also battled through injury, but the high-level play from him was as good as anyone in the NFL. His five pass breakup game against the Rams was one of the best from any corner this year.