Every Tuesday, PFF will be releasing its Team of the Week, representing the highest-graded players at each NFL position for that week. But Senior Analyst Sam Monson gets a jump on that by picking out the 10 most impressive individual performances from Sunday's games.
Here are the 10 best players from Sunday's Week 6 action:
1. Malcolm Butler, CB, New England Patriots
Butler was thrown at seven times by the Bengals in New England's victory, but he gave up just three catches for 17 yards. He broke up the other four passes, and only surrendering a touchdown tarnishes an otherwise excellent performance. While he didn't match up with Cincinnati star WR A.J. Green all day, he did see some of him and limited him to just one catch for four yards into his coverage. Butler was back to his best in this game.
2. Kendall Wright, WR, Tennessee Titans
The Titans have missed a receiver with Wright's abilities all season. He caught eight of the nine balls thrown his way for 133 yards and a touchdown in Tennessee's win over Cleveland, with the other pass being picked off by Browns CB Tramon Williams on a fantastic play for the defensive back that was all about the throw and no fault of Wright's. Wright also laid out for his touchdown catch, diving full length to bring in the deep ball and then having the presence of mind to get to his feet and fight his way into the end zone before being touched down on the play. With Wright in the lineup, the Titans passing attack has more teeth.
3. Rob Gronkowski, TE, New England Patriots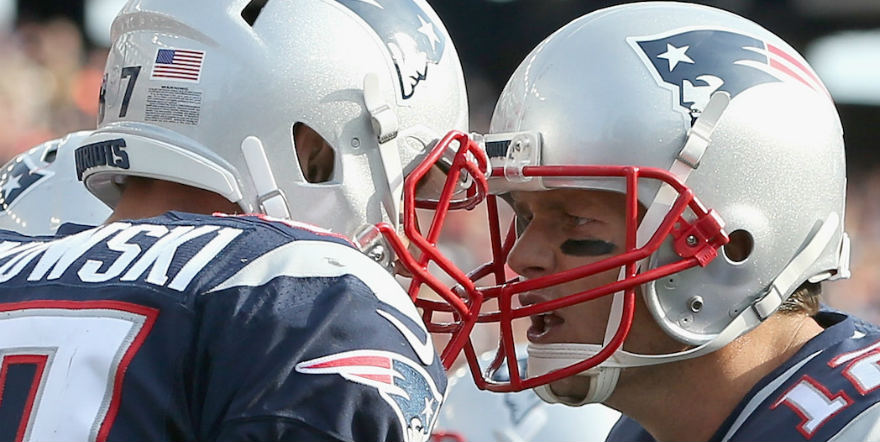 We're starting to be reminded that Gronkowski is the best tight end in the game, and he was just giving the rest of the league a chance to borrow that crown for a while to begin the season. Against the Bengals he was virtually unstoppable, and the only real negatives in his game was being drawn into jawing and penalties. Gronk caught seven passes for 162 yards, 75 of which came after the catch, meaning he averaged more than 10 yards per reception after the catch alone.
4. Kenny Britt, WR, Los Angeles Rams
Britt exemplified what being a bigger receiver is all about in the Rams' loss to Detroit. He broke four tackles in fighting his way into the end zone twice in the game, gaining only 22 of his 136 yards after the catch but making them hard-fought yards that yielded points. His one-handed catch on a play that he was being interfered with was also a fantastic play, and for the game he averaged 19.4 yards per catch, topping 100 receiving yards for the first time this season.
5. Trent Williams, T, Washington Redskins
Trent Williams has been back to his best this season, and is making a claim to be the best tackle in football in 2016. Against a tough Eagles defensive front, Williams allowed just a single hurry across 41 pass-blocking snaps, and was his usual dominant self in the run game. The Redskins averaged 8.1 yards per carry on runs that went either side of Williams' blocks in the win over Philly.
6. Danny Shelton, NT, Cleveland Browns
PFF had high hopes for Danny Shelton as a rookie given how impressive his college grading was, and while his first season was underwhelming, we are beginning to see that player emerge in Year 2. Going against the league's best offensive line so far this season in the Titans, Shelton was dominant, recording five defensive stops in the run game and even recording himself a sack. He led the team in stops and tied for the lead in solo tackles, which for a nose tackle is impressive work. The Browns dropped to 0-6, but they have to be pleased with what they are seeing out of Shelton.
7. Ezekiel Elliott, RB, Dallas Cowboys
There were some impressive running performances this week, but Elliott gets the nod on this list because he did it against the league's No. 1 rushing defense heading into the week in Dallas' win over Green Bay. Some of that is a product of the teams that the Packers had faced, but Elliott did plenty of heavy lifting in this game, gaining 101 of his 157 rushing yards after contact, and breaking four tackles to do it.
8. Cameron Jordan, DE, New Orleans Saints
Working primarily on the left side of the defensive line, Jordan had the best game of his season in the Saints' win over the Panthers, racking up two hits and four hurries despite not getting himself a sack. He also chipped in with a batted pass and three defensive stops, as we saw the kind of disruptive presence he can be along the defensive line. Jordan was a constant thorn in the side of the Panthers offense, generating pressure and affecting the run game.
9. Dont'a Hightower, LB, New England Patriots
The third Patriot to make this list, Hightower put in one of the most complete linebacker performances of the week. Two sacks will get him plaudits, but just as important is the fact he notched five total pressures from only 10 pass-rushing plays on the blitz. In coverage he was up quickly to stop the play for minimal gains, and one of his sacks produced points in the form of a safety.
10. Byron Maxwell, CB, Miami Dolphins
Not far removed from being benched earlier this season, Maxwell spent much of Miami's win over Pittsburgh covering Steelers star WR Antonio Brown and limiting him to just three catches for 23 yards on five targets, breaking up two of the balls thrown his way. He also notched two more pass breakups on balls intended for Darrius Heyward-Bey, and for the game he allowed a passer rating of just 58.9 when targeted, surrendering a total of 29 yards. That's a bounce-back performance.