Sunday Night Football proved to be a massive game-changer for our NFL rookie rankings, as it featured three of the top four players from last week's top 10. Quite the shuffle resulted at the top of the list, as Ezekiel Elliott shined, Carson Wentz was average, and Dak Prescott had by far his worst grade of the season. Those three round out the front of the ranking—let's see who slots in through No. 10.
1. Ezekiel Elliott, RB, Cowboys
Since Week 2, there's been no better running back in the NFL than former Buckeye Ezekiel Elliott. Over the last six weeks, he leads all backs in overall grade, rushing yards (665), yards after contact (392), and is fifth in broken tackles (17). On Sunday night, 90 of his 96 yards came after contact in what was probably his most-impressive performance all season. Elliott was the odds-on-favorite for the award at the beginning of the year, and it's starting to look like NFL Rookie of the Year honors will go his way in the end.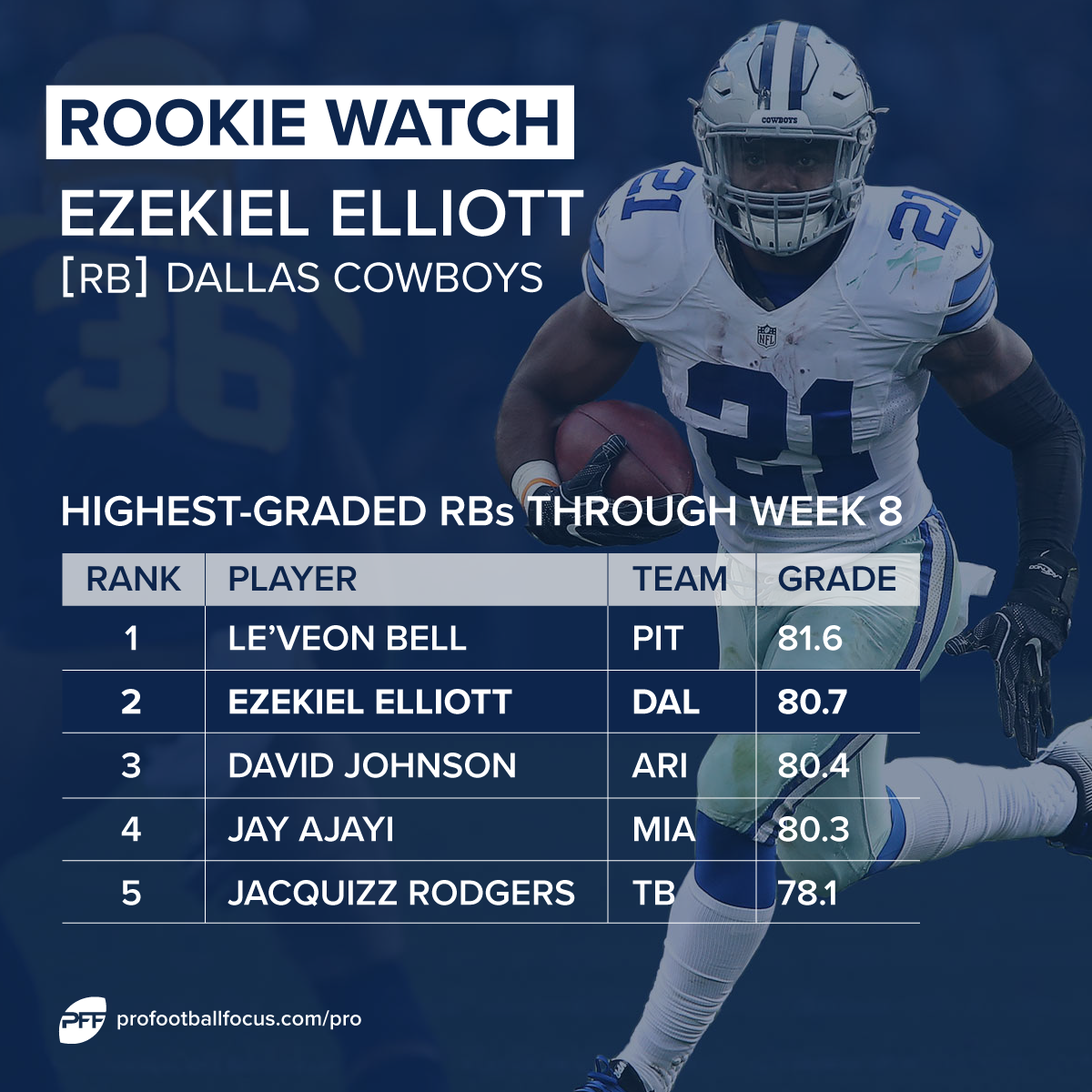 2. Carson Wentz, QB, Eagles
Carson Wentz and Philadelphia head coach Doug Pederson are game-planning all they can around a lack of receiver talent, but it looks as though it's catching up to them. Receivers aren't getting separation, meaning Wentz is unwilling to force it downfield. His average depth of target over the past two weeks is only 5.6 yards downfield, the lowest mark in the NFL. What's more, on the occasions when they do get separation, they can't seem to hang onto the ball; over that same span, Eagles receivers have eight drops, most in the NFL.
3. Dak Prescott, QB, Cowboys
The Cowboys took home the win on Sunday night, but this was the "rookie" Dak Prescott everyone was waiting to see all season. He did make a bunch of plays down the stretch to bring the Cowboys back, though the biggest plays were the two easily-interceptable passes the Eagles' defensive backs couldn't secure. The most concerning part of the night was that Prescott saw the most pressured dropbacks he's faced all season (23), and recorded just a 49.7 passer rating on them.
4. Jack Conklin, RT, Titans
Yet another sound performance from Jack Conklin last Thursday night; he once again didn't allow a single pressure on QB Marcus Mariota, and had a solid game run blocking, as well. Conklin has been as perfect of a fit as Tennessee could have found schematically, and has fueled the "exotic-smashmouth" offense that reached its pinnacle against the Jags. Conklin also finally passed up Saints RT Zach Strief, and is now the highest-graded right tackle in the NFL.
5. Joey Bosa, DE/OLB, Chargers
Another game, another six pressures from Joey Bosa. Incredibly, that mark was actually below his per-game average heading into the meeting with the Broncos. He has four sacks, seven hits, and 15 hurries in just NFL four games; those numbers extrapolated to a 16-game season would give him over 100 total pressures—a feat we've only ever seen accomplished in the PFF era (since the 2006 season) by Texans DE J.J. Watt.
6. Keanu Neal, S, Falcons
The Falcons' defense has had its "Richard Sherman" for a few years now in CB Desmond Trufant, but none of the other corollary pieces. It now appears they've found their "Kam Chancellor" in Keanu Neal. The rookie has lined up in the box on 47.4 percent of his snaps this year, and has been fantastic in that role. He's allowing completions on only 53.5 percent of his targets, the fourth-lowest rate of any safety with at least 20 targets.
7. Karl Joseph, S, Raiders
The Raiders' defense has been much-maligned this season, but don't point fingers at Karl Joseph. The former Mountaineer has an interception and two pass breakups in coverage, and hasn't surrendered a touchdown yet. What's been most impressive, though, is Joseph's sure tackling; on 50 attempts this season, he's missed only two tackles.
8. Michael Thomas, WR, Saints
Michael Thomas has clearly separated himself as the most-effective receiving threat out of the 2016 rookie class so far. He leads all first-year wideouts in yards (500), receptions (42), and broken tackles (nine). He's really come on strong as one of Drew Brees' favorite targets, and over his last three outings, has 271 receiving yards, catching 21 of 24 targets.
9. Michael Pierce, NT, Ravens
Ozzie Newsome knows how to scout nose tackles. After going from Haloti Ngata to Brandon Williams, the Ravens appear to have found another gem in UDFA Michael Pierce. Pierce made this list early on in the season before a few average weeks, and is back again after a four-stop performance against the Jets. What's maybe most impressive for the rookie isn't that he's stopping the run at a high level—it's that he's already adding value as a pass-rusher from the NT position. Pierce has two sacks, three QB hits, and three QB hurries on 80 pass-rushing snaps.
10. Laremy Tunsil, LG, Dolphins
The Dolphins were on bye in Week 8, so Laremy Tunsil maintains a spot on the list after opening up holes for back-to-back 200-yard games from Jay Aajayi. It's been a quick transition for a player who didn't look comfortable at guard at all early in the season. He's looked like a seasoned veteran in recent weeks, and didn't give up a pressure in either of Miami's last two games.