At the end of each season Pro Football Focus brings you the best 101 players of that year based on the grading, but now we are approaching the preseason of another new NFL season, we are going to look instead at the best players in the game overall right now.
Rather than confuse matters with another list of 101 players, we have cut it down to the best 50 players in the game as we head into the 2017 season, chosen by the PFF team and informed by grading, statistics, and schematic context. We're unveiling the names one at a time on Twitter (follow @PFF), 10 a night, starting Sunday and running through Thursday, and also counting them down here. Follow along on Twitter, and/or track the countdown here through Thursday, when we'll unveil the top 10 players heading into the 2017 season.
So for the first time, here is the PFF Top 50 (updated Thursday, June 8 with Nos. 10-1):
50. Fletcher Cox, DI, Philadelphia Eagles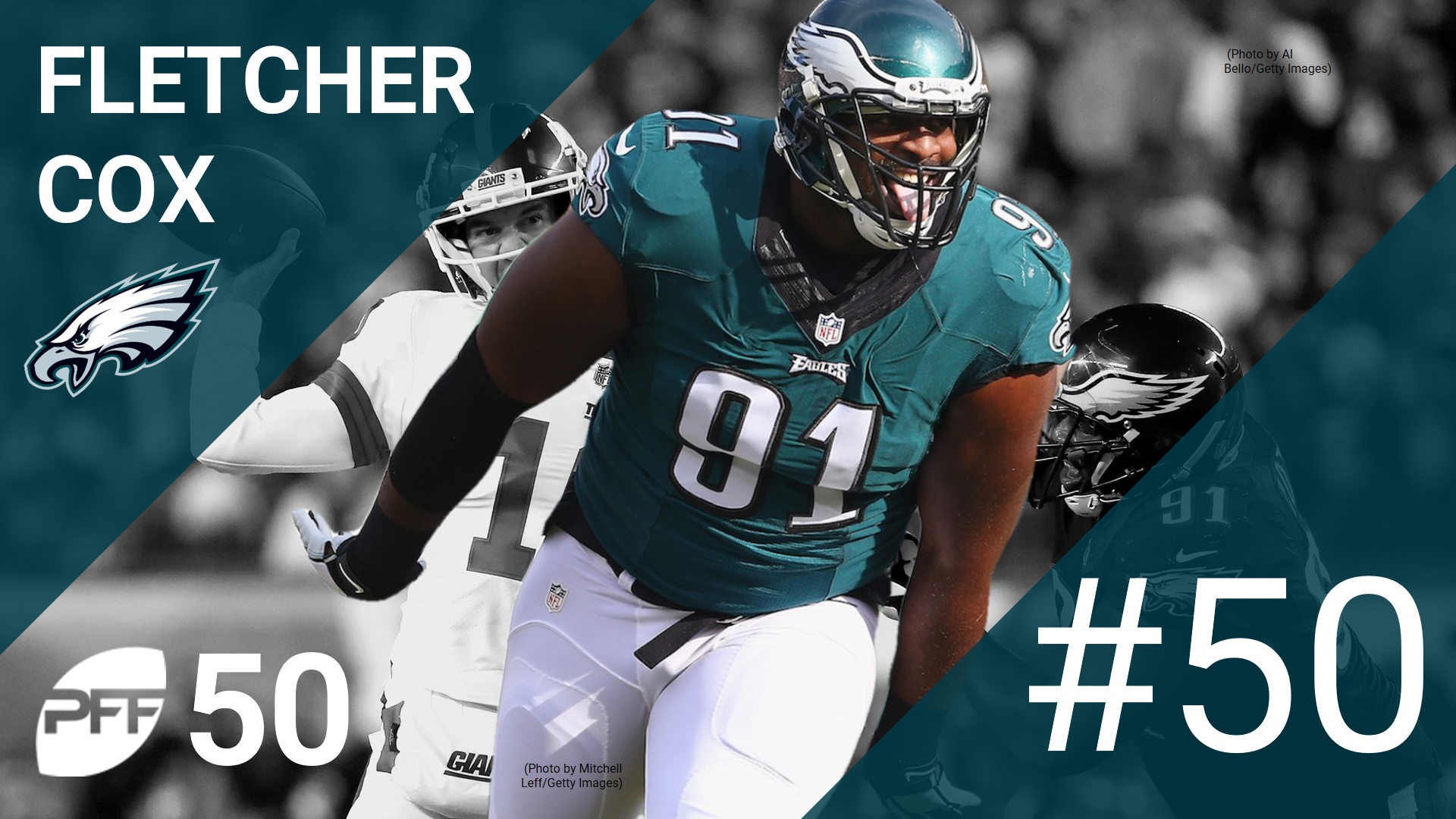 The move to an aggressive, penetrating, one-gap defense didn't quite have the transformative effect on Cox that we thought it might heading into 2016, but we still saw plenty of dominance from a player who changes game plans with his ability to disrupt both run and pass plays. Cox notched 57 total pressures and batted down a pair of passes at the line, earning strong grades against both the run and pass despite going up against some extremely high-level offensive linemen over the season.
49. Devin McCourty, S, New England Patriots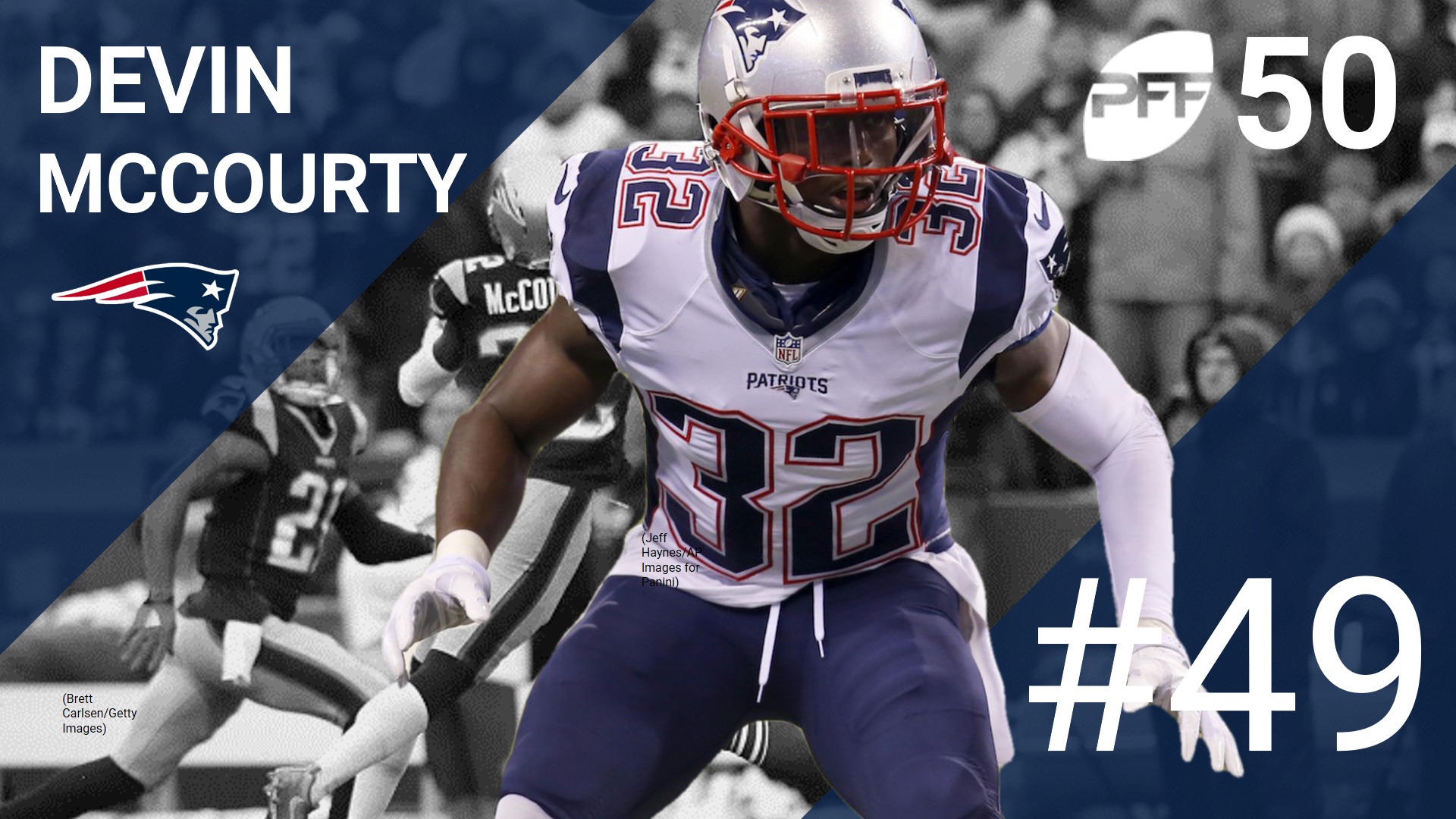 Once a good young cornerback, McCourty has blossomed into one of the league's best free safeties for the New England Patriots after they made the position switch with him. McCourty has range and instincts to make plays regardless of the coverage called, and he ended 2016 with the league's best coverage grade (91.9) among all safeties. McCourty only picked off one pass, but he was consistently in the right spot, making the right read influencing plays for the betterment of his defense.
48. Sean Lee, LB, Dallas Cowboys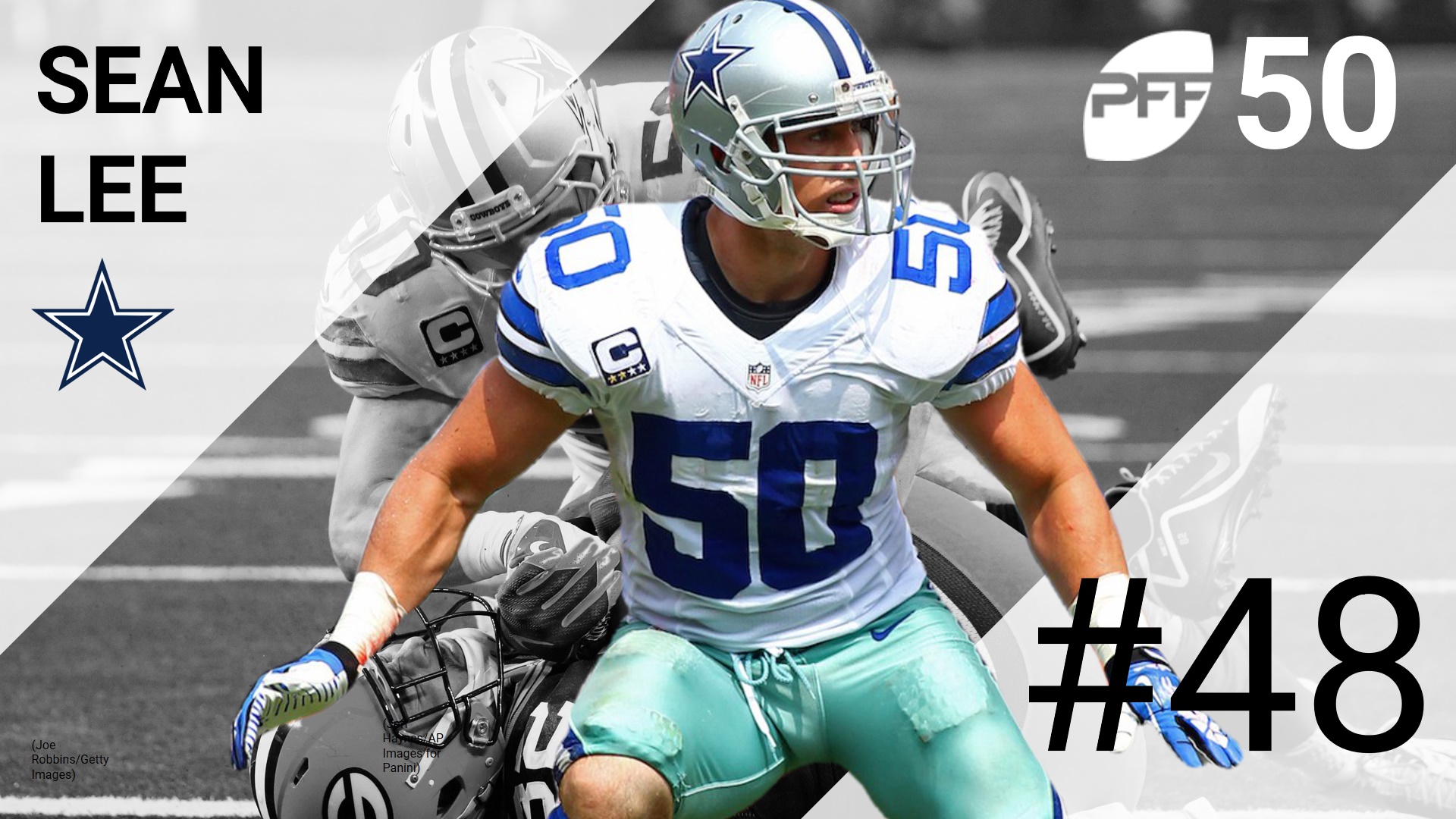 Lee was always one of the league's best players when he was healthy, and the only knock was a lengthy injury history that kept forcing him off the field. We have now seen three straight seasons of extended play from the Cowboys linebacker, and he has remained one of the league's best linebackers, notching 57 defensive stops in 2016, the seventh most among all linebackers.
47. Drew Brees, QB, New Orleans Saints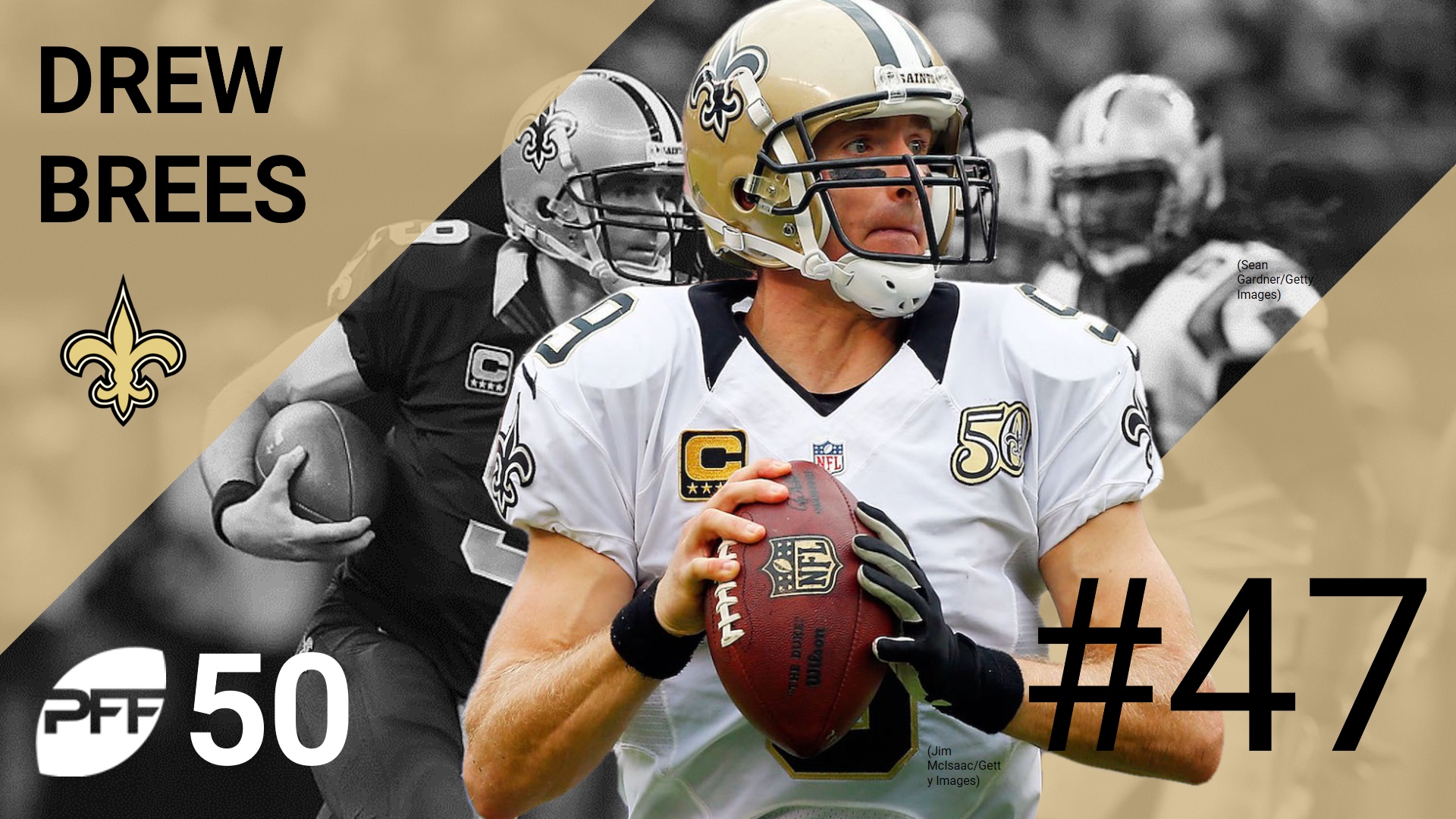 Brees continued a remarkable run of consistency in 2016, once again breaking the 5,000-yard passing barrier. That's a mark that has only been broken nine times in NFL history, and five of them were by Brees. He finished second in the league in 2016 in completion percentage, topping 70 percent, and when kept clean in the pocket that number was even higher at 73.5. Brees saw a slight decline in overall PFF grade (86.7) from his very best play, but even at this level he remains firmly a top-10 quarterback and a consistently productive force on offense.
46. Aqib Talib, CB, Denver Broncos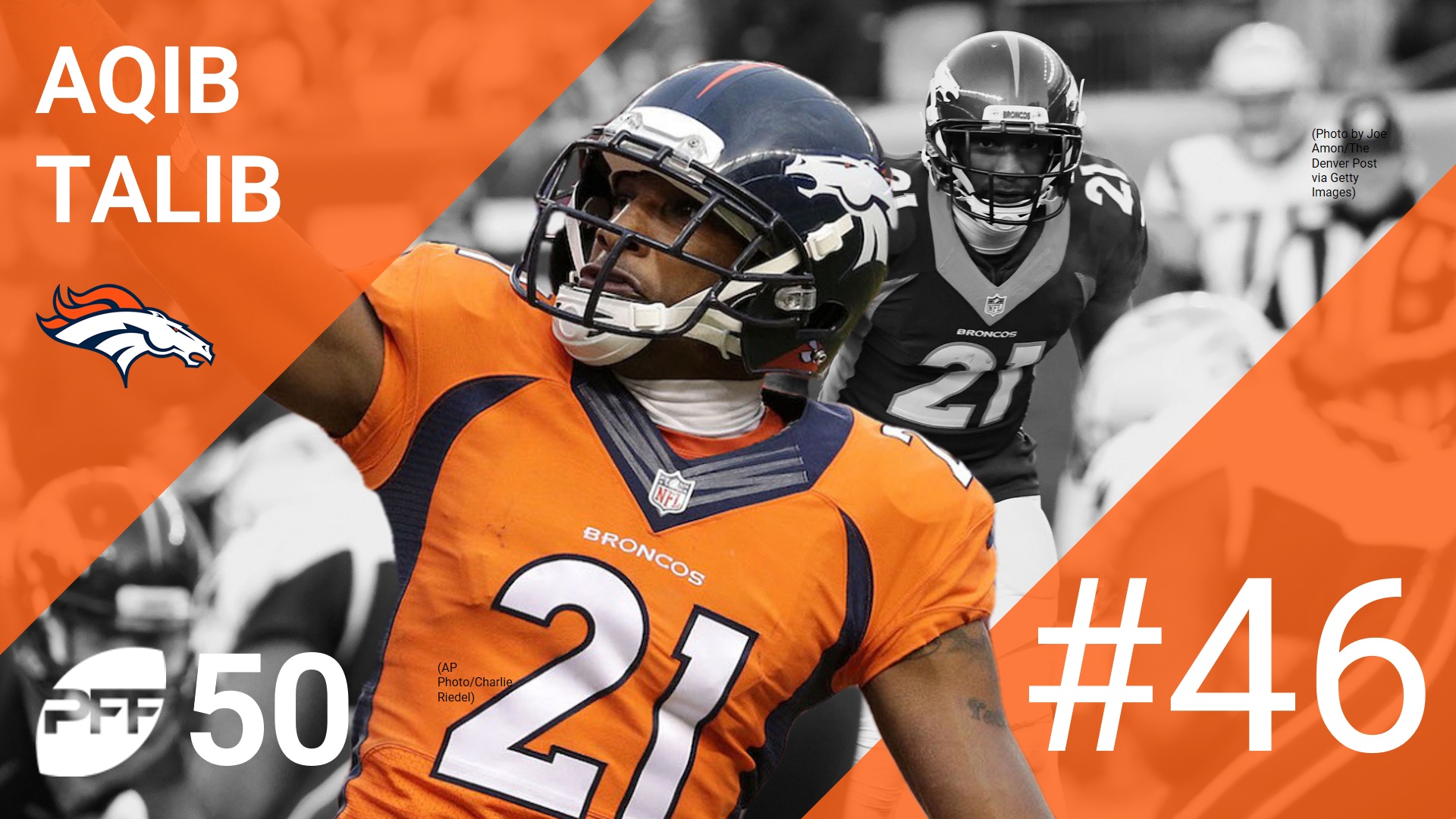 2016 was the first time in his career Talib put it all together, and displayed the kind of shutdown skills he has game in and game out over the course of a 16-game season. Talib didn't allow a touchdown all year, and when targeted gave up a passer rating of just 49.5, only 10 points higher than simply throwing the ball into the dirt every snap. He surrendered only 351 receiving yards all season, and if we get this player again in 2017, he will vault up this list. The fact it is a career outlier so far is the only thing keeping him this far down it.
45. Ezekiel Elliott, RB, Dallas Cowboys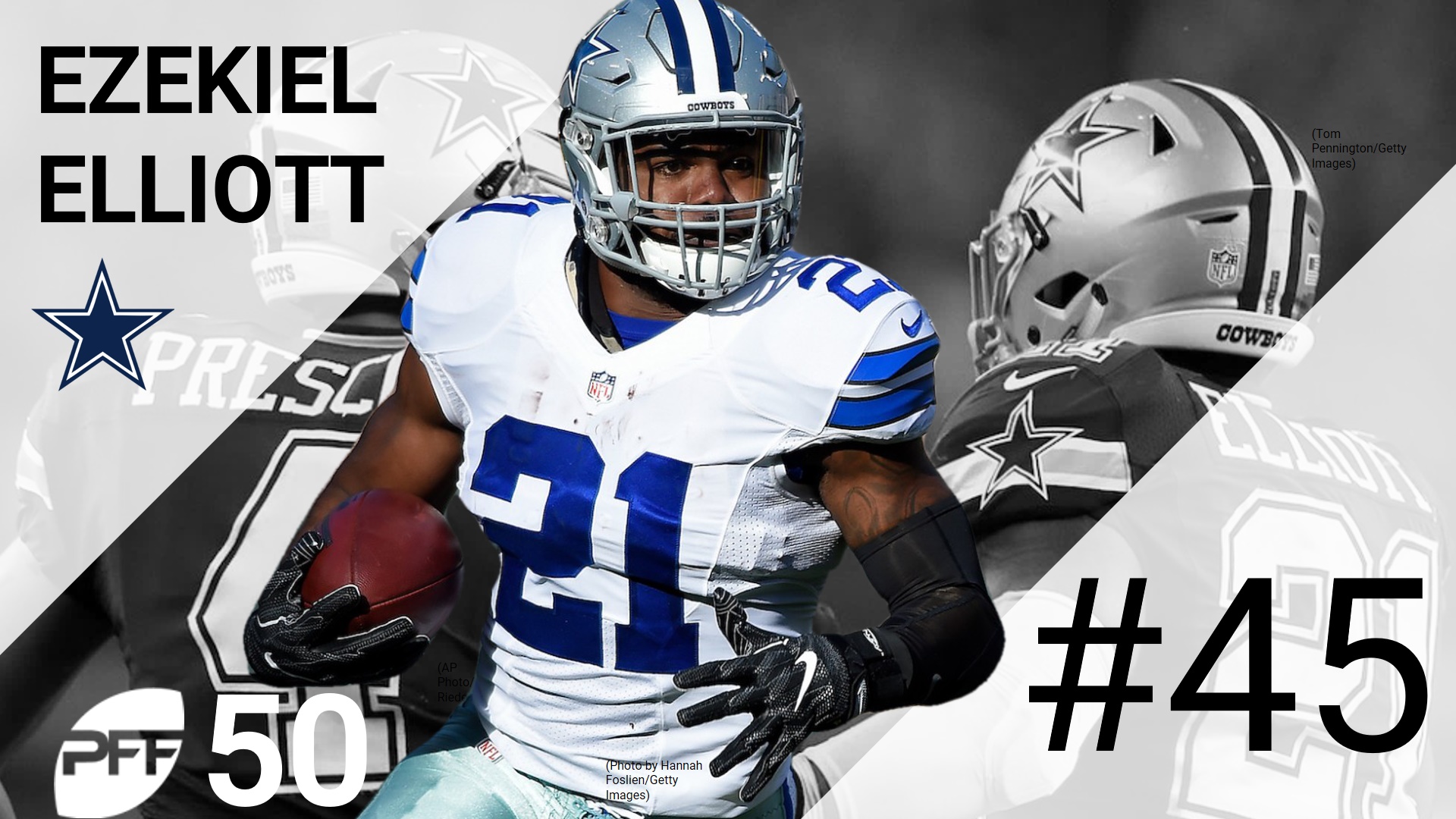 The first rookie in the countdown, Elliott hit the ground running (literally and figuratively) in his first NFL season, aided by one of the game's best blocking units. Elliott was the league's rushing champion at the first time of asking, gaining 1,631 yards, more than 300 more than any other back, and generating 938 of those yards after first contact. Elliott's 2.9 yards per carry after contact average was the same as Doug Martin managed to average total over the season.
44. Greg Olsen, TE, Carolina Panthers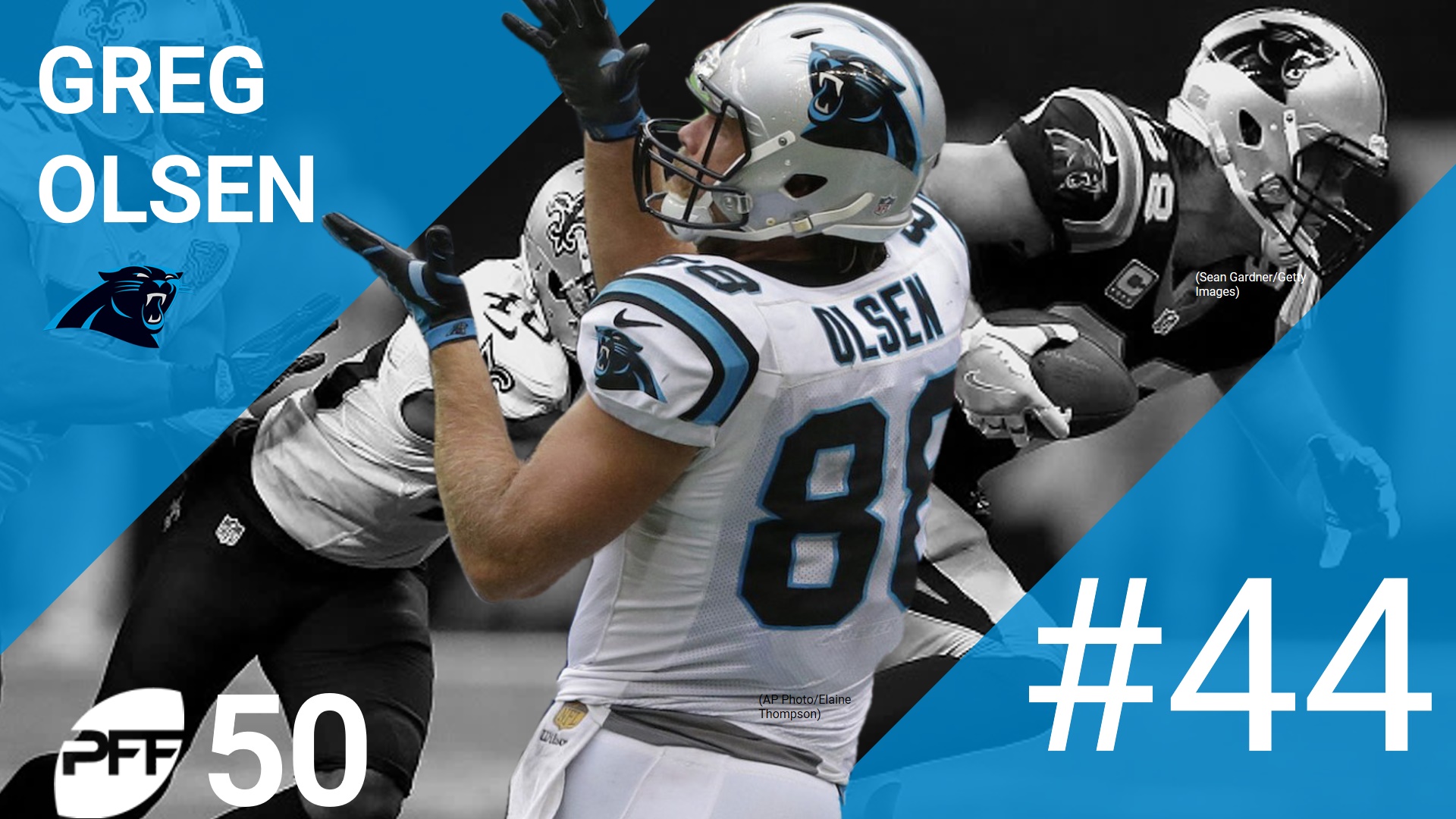 Olsen has been doing something unusual for the Panthers over the past couple of seasons – acting as the team's primary receiving threat as a TE – while the team's wideouts struggle. Olsen has been thrown the ball 258 times over the past two seasons, catching 173 of them (67 percent) and dropped just two of the 82 catchable targets thrown his way last season while topping a thousand receiving yards for the third straight year. What is also laudable about his last season was the degree to which his blocking improved. It was still far from a strength, but at least it was easier to overlook given how effective he is as a receiving weapon.
43. Geno Atkins, DI, Cincinnati Bengals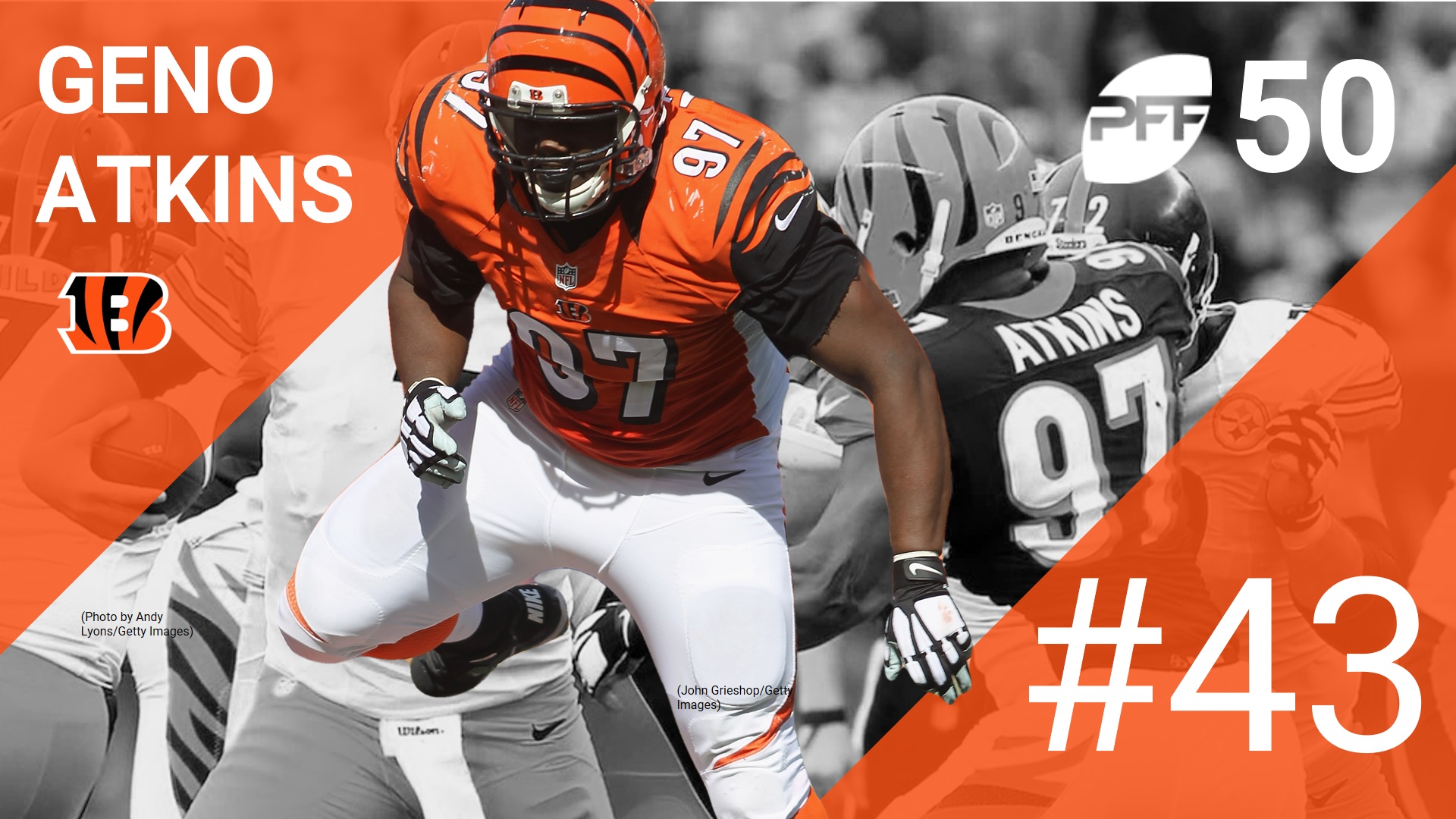 Since injuring his knee, Atkins has still never quite hit the heights we saw from him back in 2012, where he was effectively Aaron Donald before Aaron Donald was on the scene, but he has come close to approaching that play again. Over the past two years, Atkins has 25 sacks and 164 total pressures to his name and remains one of the league's most consistent interior pass-rushers.
42. Kawann Short, DI, Carolina Panthers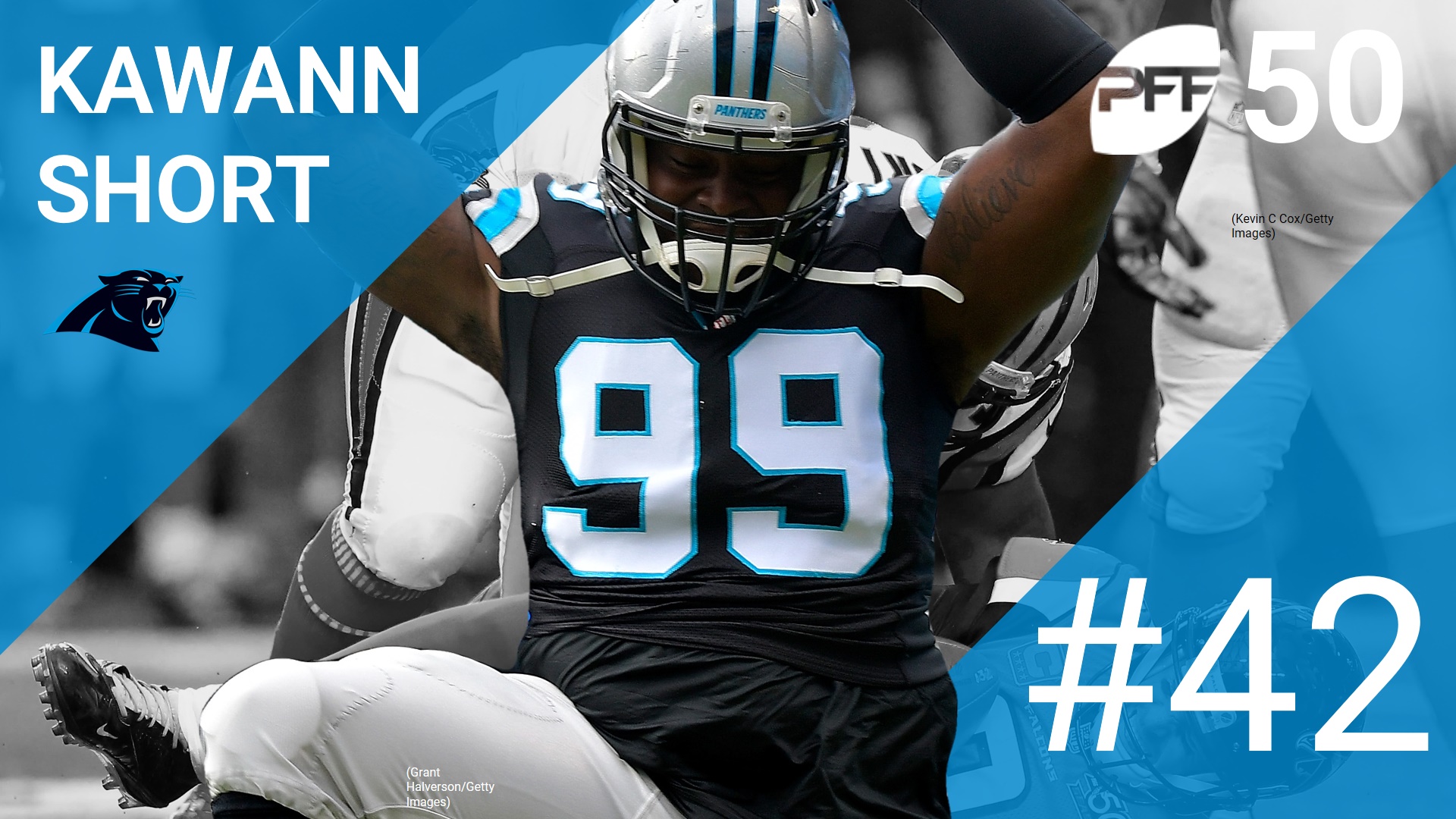 Short began the 2016 season slowly, but over the second half of the season he was as dominant as any interior defender not named Aaron Donald. Short has put together back to back seasons in which he was the most disruptive force in the Panthers defensive front and has been able to destroy opposing offenses in both the run and pass game.
41. Damon Harrison, DI, New York Giants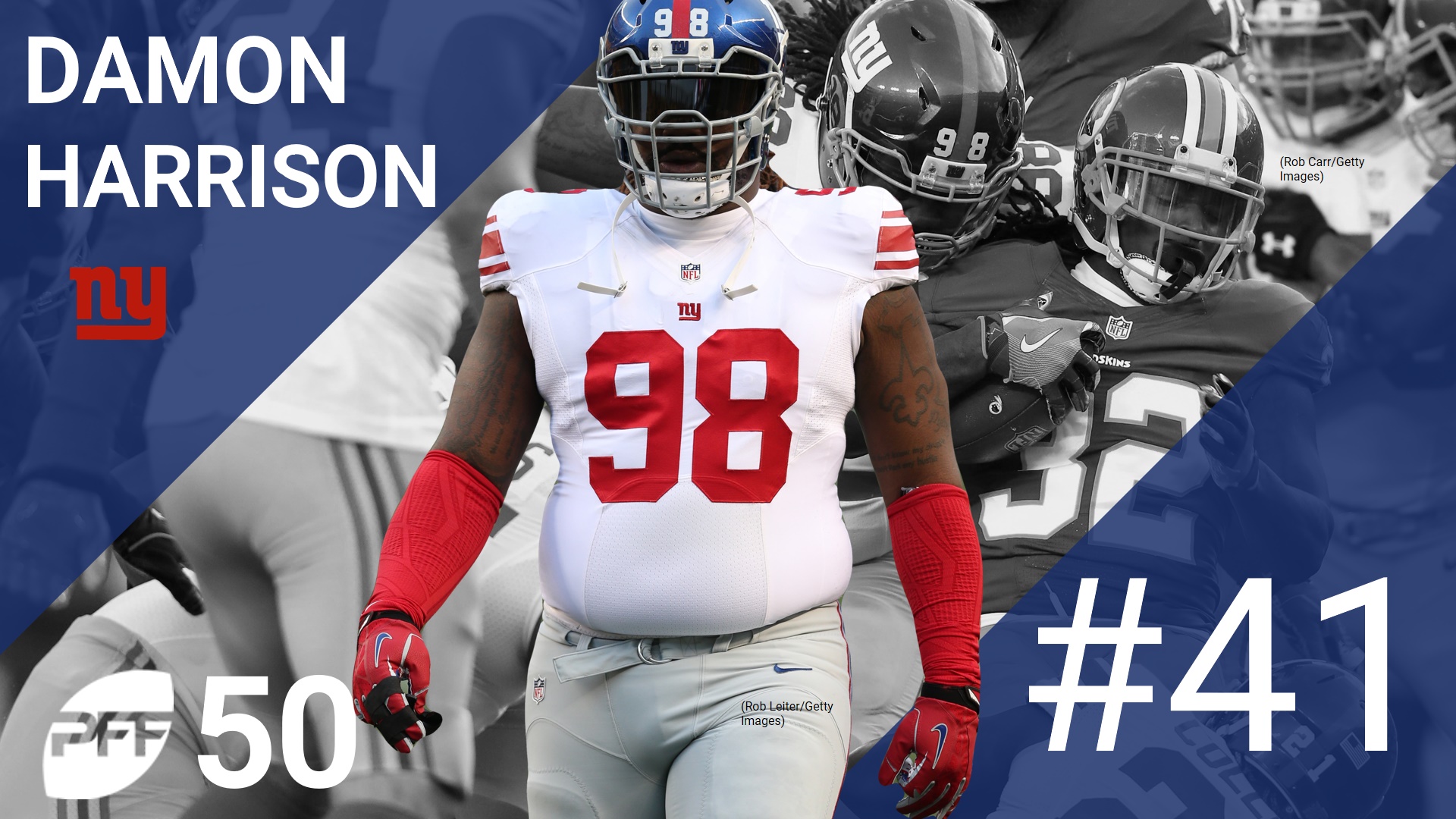 Nobody stuffs the run quite like Harrison. He has led the league in run-stop percentage in each of the past four seasons. As an undrafted rookie back in 2012 he played only 11 defensive snaps, making one tackle, and it was a defensive stop. The past two years he has the highest two run-stop percentages we have ever graded in over a decade of recording it, and his 49 stops in the run game this season were 10 more than any other defensive tackle. Only eight other DTs could even get within half of Harrison's total, and he played fewer snaps against the run than many of them.
40. Travis Kelce, TE, Kansas City Chiefs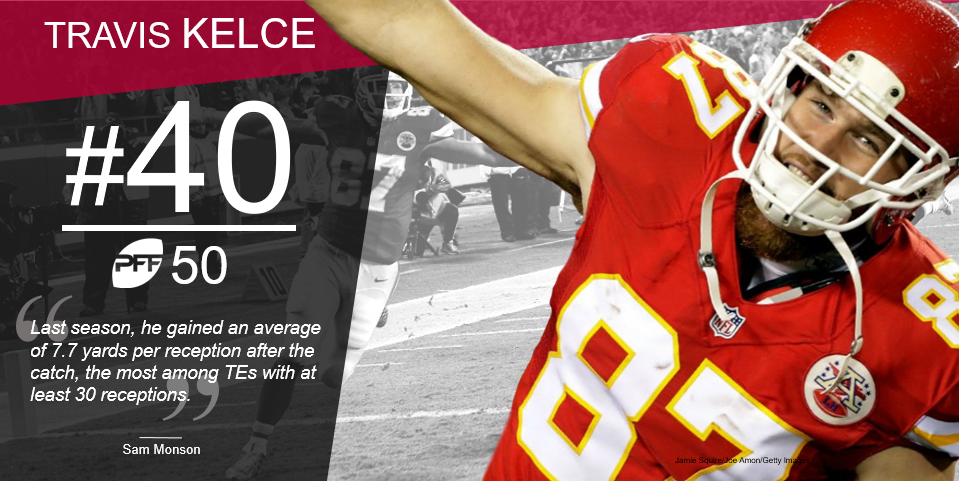 Kelce is one of the league's most devastating weapons after the catch. Last season, he gained an average of 7.7 yards per reception after the catch, the most among TEs with at least 30 receptions, and he gained 652 yards after the catch, a total that on its own would have ranked 13th among TEs for total receiving yards. Kelce has broken at least 10 tackles every season of his career, and both his target volume, receptions and receiving yardage has gone up each year.
39. Brandon Graham, Edge, Philadelphia Eagles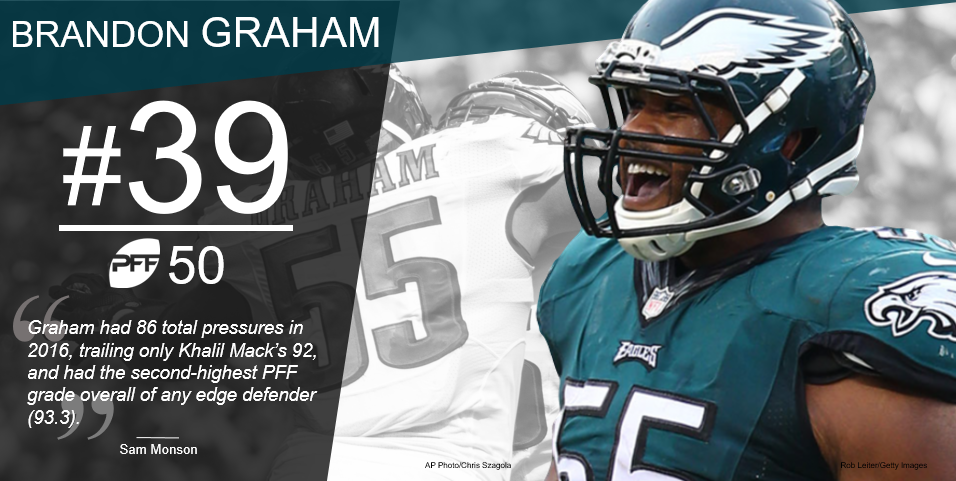 Graham consistently generates a phenomenal amount of pressure on the quarterback. He may not get home as often as some pass-rushers, but that pressure has a demonstrable negative effect on opposing passers – to the tune of a 32.6-point drop in passer rating over the past 10 years of play. Graham had 86 total pressures in 2016, trailing only Khalil Mack's 92, and had the second-highest PFF grade overall of any edge defender (93.3).
38. Malcolm Butler, CB, New England Patriots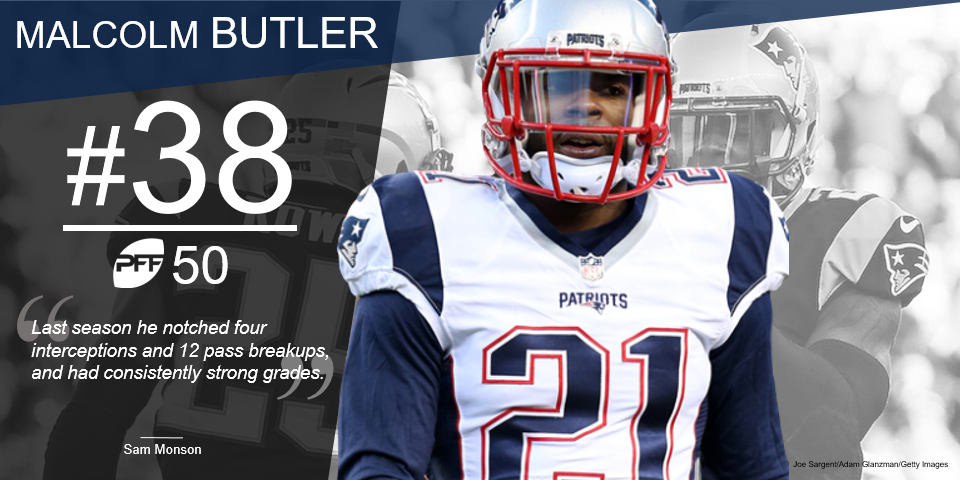 Butler is best known for one of the greatest plays in Super Bowl history, to intercept Russell Wilson at the goal line and seal the Lombardi Trophy for the Patriots, but his career has developed into much more than that, and he is on the cusp of being one of the game's best cornerbacks. Last season he notched four interceptions and 12 pass breakups, and had consistently strong grades. He has improved each season of his career, and if he can eliminate the bad beats from his play, he will have a strong case as the game's best corner.
37. Kelechi Osemele, G, Oakland Raiders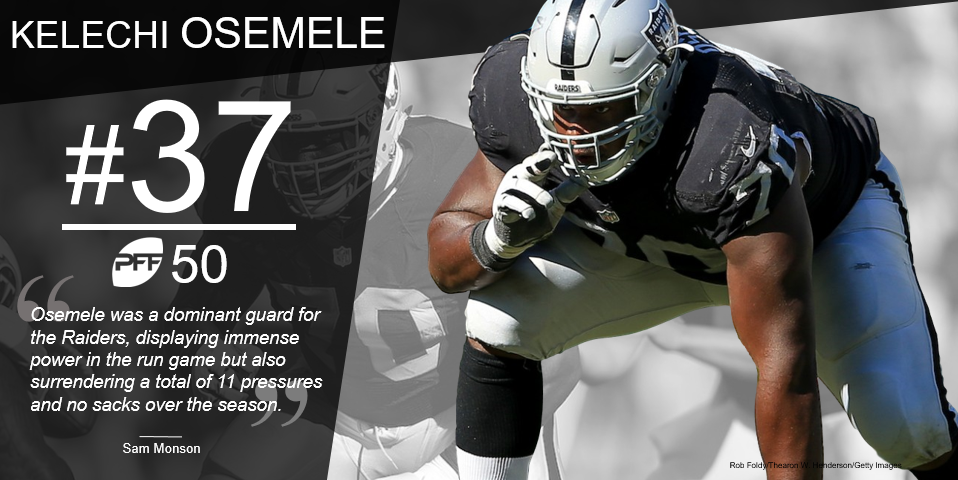 Everybody wants to build through the draft, but Osemele showed last season for the Raiders that the right players from free agency can make a huge impact as well. Osemele was a dominant guard for the Raiders, displaying immense power in the run game but also surrendering a total of 11 pressures and no sacks over the season. Osemele pass-blocked for 582 snaps, and went an average of 52.9 — significantly more than an average full game — pass plays between allowing pressures.
36. Andrew Whitworth, T, Los Angeles Rams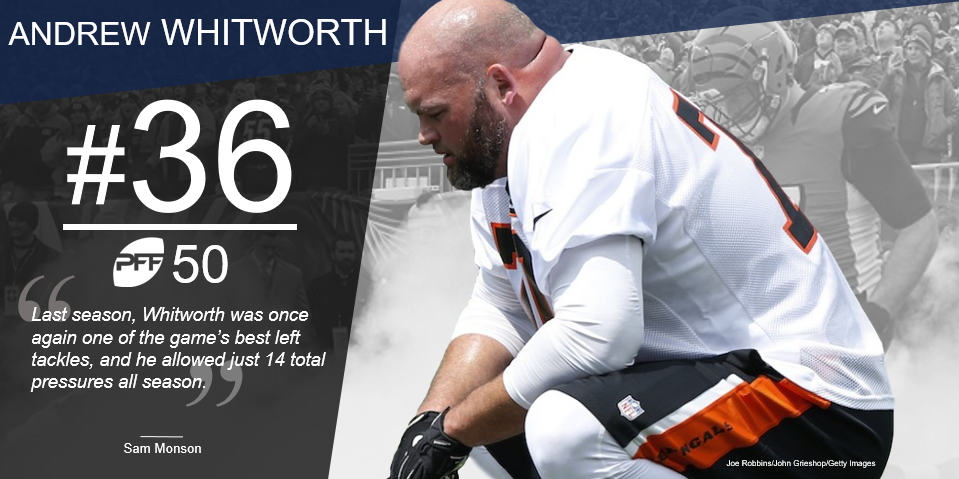 The only thing keeping Whitworth from being higher on this list is the fact that he is 35 years old and the inevitable knowledge that sooner or later he has to begin to display that reality on the field. Last season, Whitworth was once again one of the game's best left tackles, and he allowed just 14 total pressures all season. Whitworth has allowed 44 total pressures over the past three seasons combined, which is 23 fewer than Chris Clark allowed for Houston last year alone.
35. Patrick Peterson, CB, Arizona Cardinals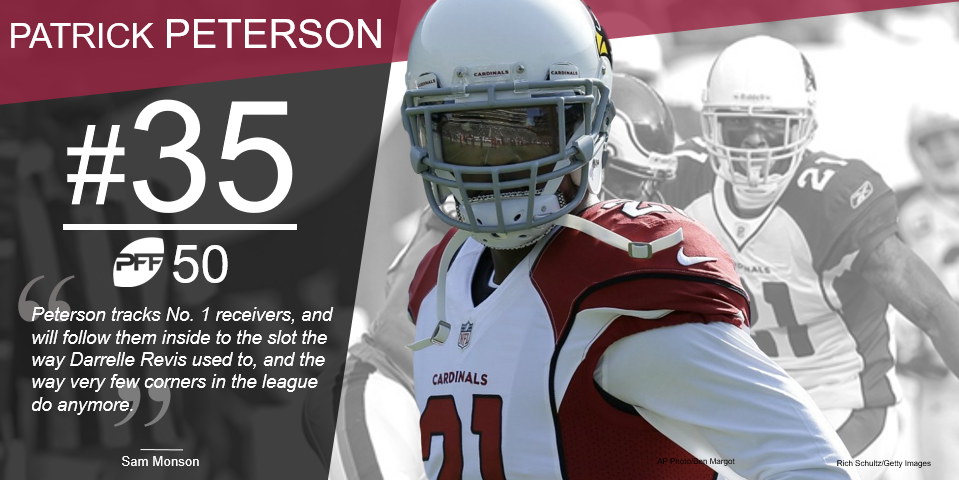 Peterson routinely has the hardest job of any cornerback in the NFL given what the Cardinals ask him to do. Peterson tracks No. 1 receivers, and will follow them inside to the slot the way Darrelle Revis used to, and the way very few corners in the league do anymore. Peterson was the league's least-targeted cornerback in 2016, seeing a pass come his way once every 8.5 snaps in coverage, but he was beaten for three touchdowns and a passer rating as high as 80.7 when targeted, 30 points higher than the best marks in the league.
34. Zack Martin, G, Dallas Cowboys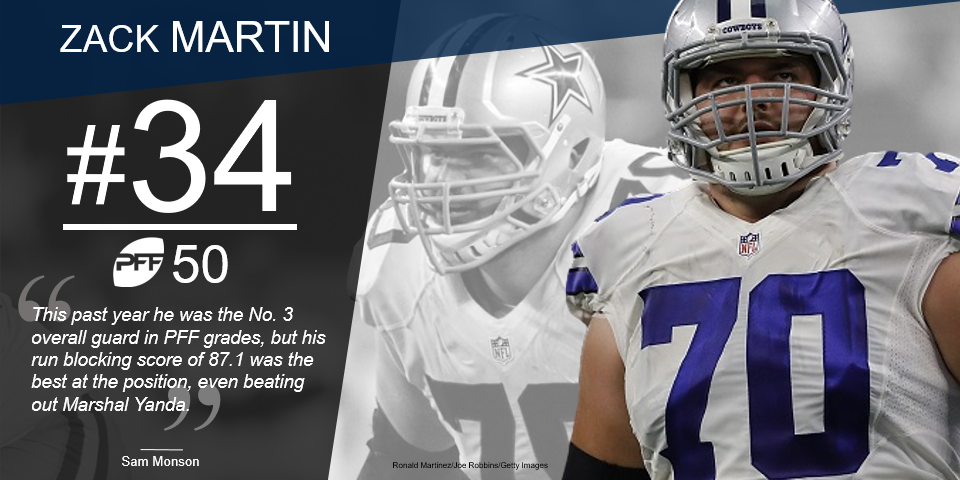 Martin has allowed an average of just 14.7 total pressures per season since entering the league. He has allowed only four sacks in three seasons of play, and has been getting steadily better as a run-blocker each season. This past year he was the No. 3 overall guard in PFF grades, but his run-blocking score of 87.1 was the best at the position, even beating out Marshal Yanda. The only below-average games of Martin's 2016 season came against Philadelphia's Fletcher Cox, another player from this list.
33. Mike Evans, WR, Tampa Bay Buccaneers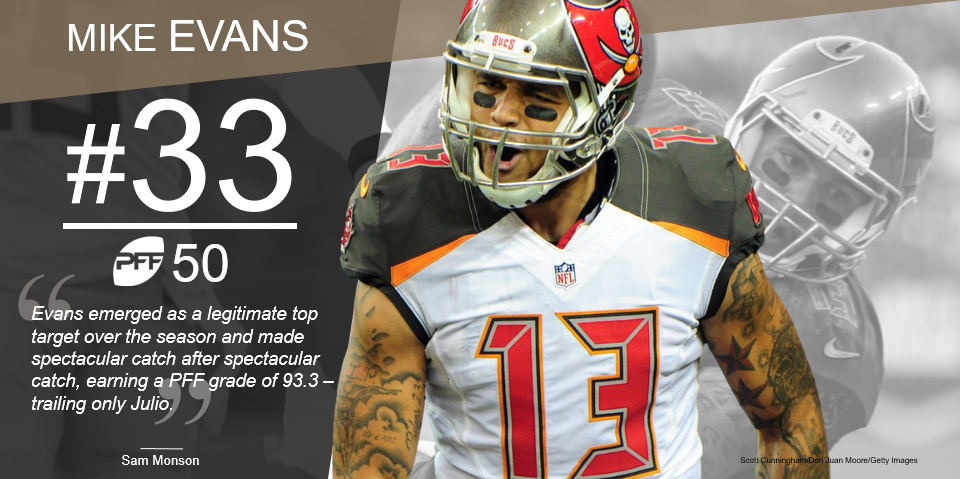 The highlight reel Evans put up in 2016 was one of the best you will ever see from a wide receiver. What made it so impressive wasn't necessarily the highs of that reel, but the length of it compared to other top receivers, each of whom have their moments over a 16-game season. Evans emerged as a legitimate top target over the season and made spectacular catch after spectacular catch, earning a PFF grade of 93.3 — trailing only Julio Jones — despite ranking fourth in receiving yards and sixth in receptions.
32. Ndamukong Suh, DI, Miami Dolphins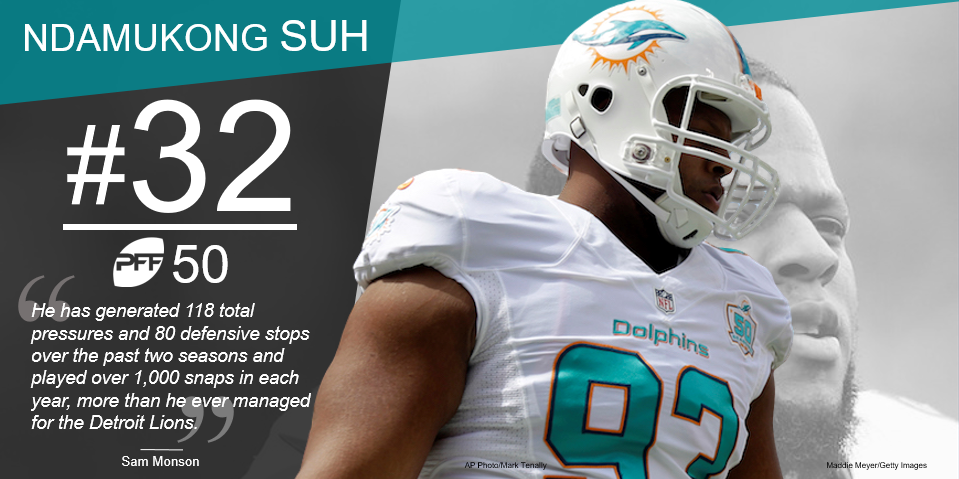 Suh has been a force for the Miami Dolphins since signing for them in a blockbuster free agent move. He has generated 118 total pressures and 80 defensive stops over the past two seasons and played over 1,000 snaps in each year, more than he ever managed for the Detroit Lions. Suh missed just one tackle last season and batted down six passes at the line in addition to his pressure and stops. Really the only negative in his game remains penalties, and for the third straight season he recorded double-digit penalties, though he was at least seven down on 2015's ludicrous total of 18.
31. Bobby Wagner, LB, Seattle Seahawks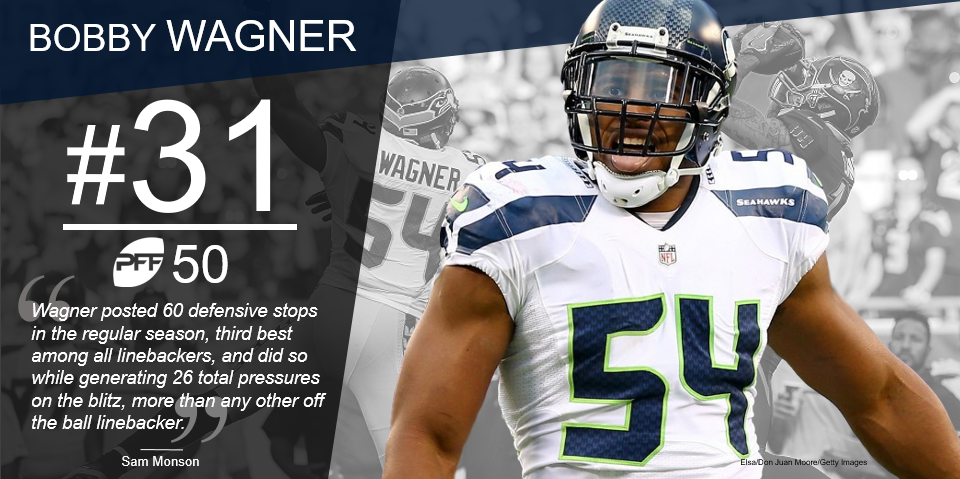 2016 saw Bobby Wager post the best season of his career to date, and he was arguably the best player on the Seattle defense. Wagner posted 60 defensive stops in the regular season, third-best among all linebackers, and did so while generating 26 total pressures on the blitz, more than any other off-the-ball linebacker. Wagner also continues his form into the playoffs, notching four more defensive stops against the Lions and earning solid grades in the postseason.
30. Eric Weddle, S, Baltimore Ravens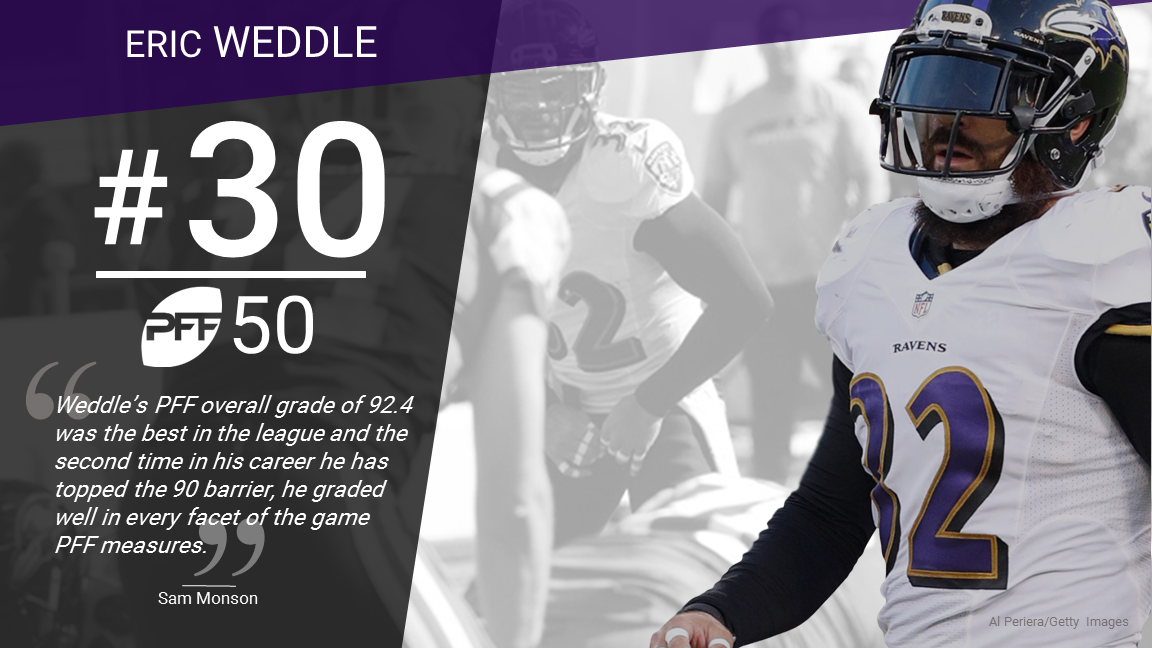 Weddle was playing for a new team in 2016, but remained at the same high level for the Ravens. Weddle is a complete safety, equally at home in the box and up at the line of scrimmage as he is deep in the secondary. His PFF overall grade of 92.4 was the best in the league and the second time in his career he has topped the 90 barrier, and he graded well in every facet of the game PFF measures.
29. Richard Sherman, CB, Seattle Seahawks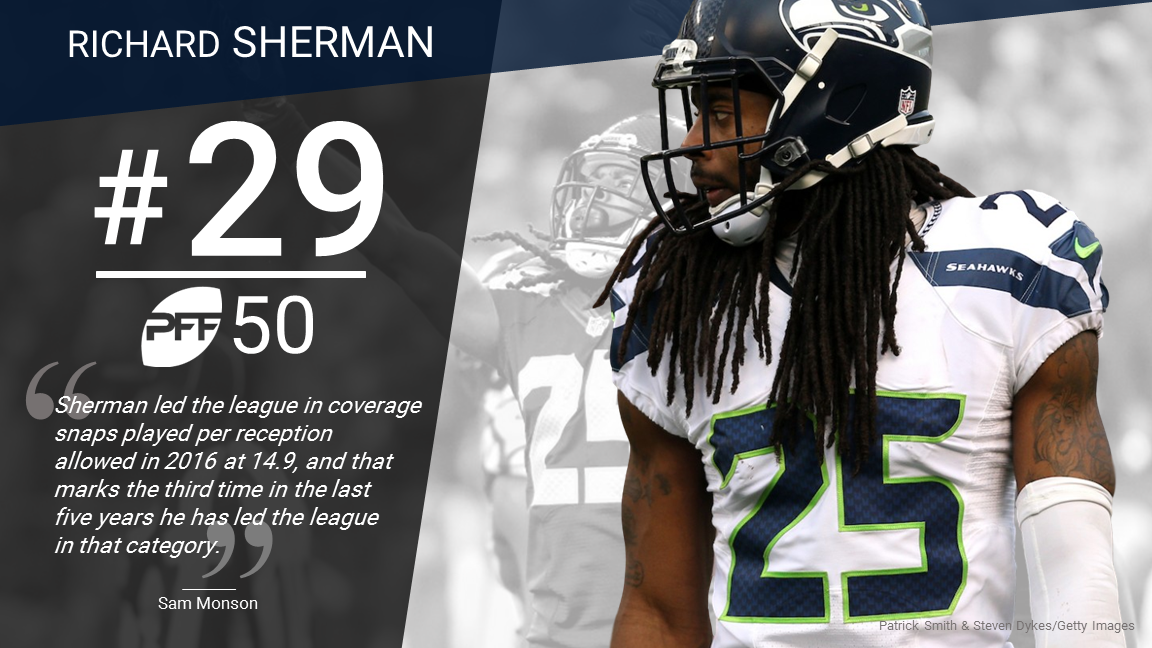 Unexpectedly on the trade block this offseason, no corner in the game is harder to complete a pass on than Sherman. He led the league in coverage snaps played per reception allowed in 2016 at 14.9, and that marks the third time in the last five years he has led the league in that category. He has ranked either first or second in that statistic every season since his rookie year, and last season allowed just 51.3 percent of targets to be caught, the fourth-best mark at the position.
28. A.J. Green, WR, Cincinnati Bengals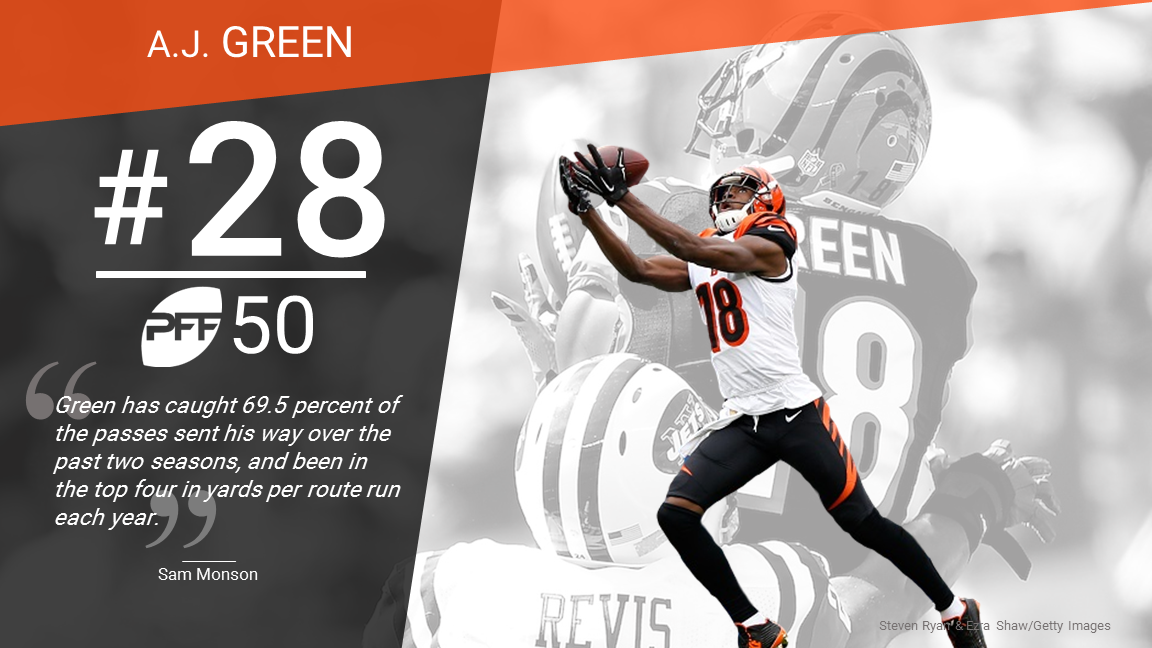 Green may never be the best wide receiver in the game, but he is consistently right on his heels, and in 2016 only Julio Jones gained more yards per route run than Green did in an injury-shortened season. Green has caught 69.5 percent of the passes sent his way over the past two seasons, and been in the top four in yards per route run each year.
27. Joe Thomas, T, Cleveland Browns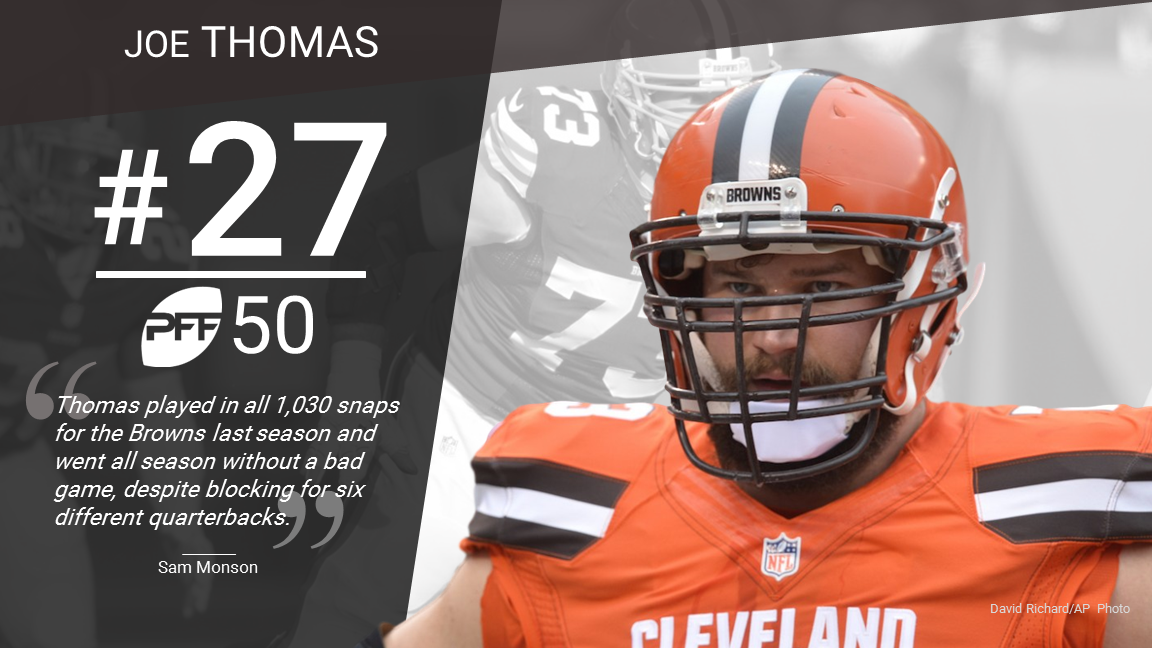 For a decade, Thomas has been the benchmark for pass-blocking excellence at left tackle in the NFL. 2016 though saw a slight step back in performance, with his PFF grade dropping from 90-plus in each of the previous three years to 89.1. It's a small drop, and it may just be a blip, but at his age the concern of decline will always be quick to make itself known at the slightest sign of trouble. Thomas played in all 1,030 snaps for the Browns last season and went all season without a bad game, despite blocking for six different quarterbacks, none of whom was a pass-blocker's best friend in stylistic terms.
26. Russell Wilson, QB, Seattle Seahawks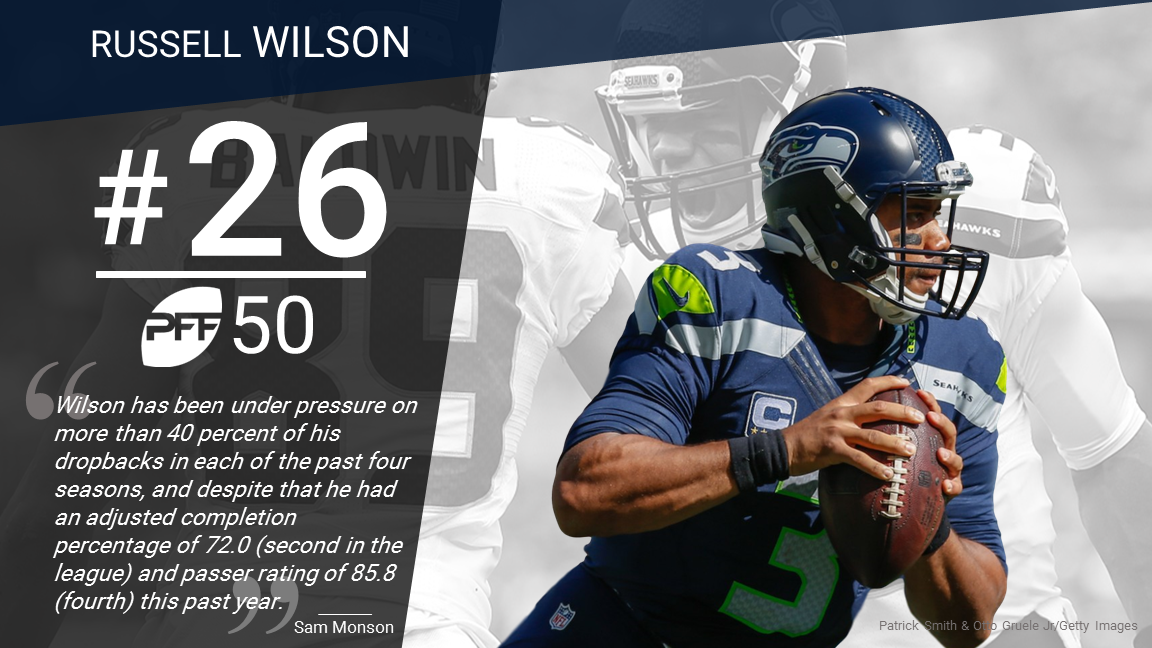 Wilson may not be the league's most productive quarterback, but few have had to work behind an offensive line as porous as he has over the years. Wilson has been under pressure on more than 40 percent of his dropbacks in each of the past four seasons, and despite that he had an adjusted completion percentage of 72.0 (second in the league) and passer rating of 85.8 (fourth) this past year. Few players have been as integral to their offense as Wilson has for the Seahawks, and he has done it with very little help from his pass protection.
25. Andrew Luck, QB, Indianapolis Colts
This past season was the best year of Luck's career, and the first time we really saw him consistently play up to his sky-high potential. Luck was particularly impressive on the deep ball, completing 39 passes of 20-plus air yards (tied for the most in the league) and throwing 11 touchdowns to just four picks on those shots. His adjusted completion percentage on those deep shots was 54.1 percent, the fourth best mark in the league, and his PFF grade of 92.4 was one of just four grades over 90 among the quarterback crop.
24. Landon Collins, S, New York Giants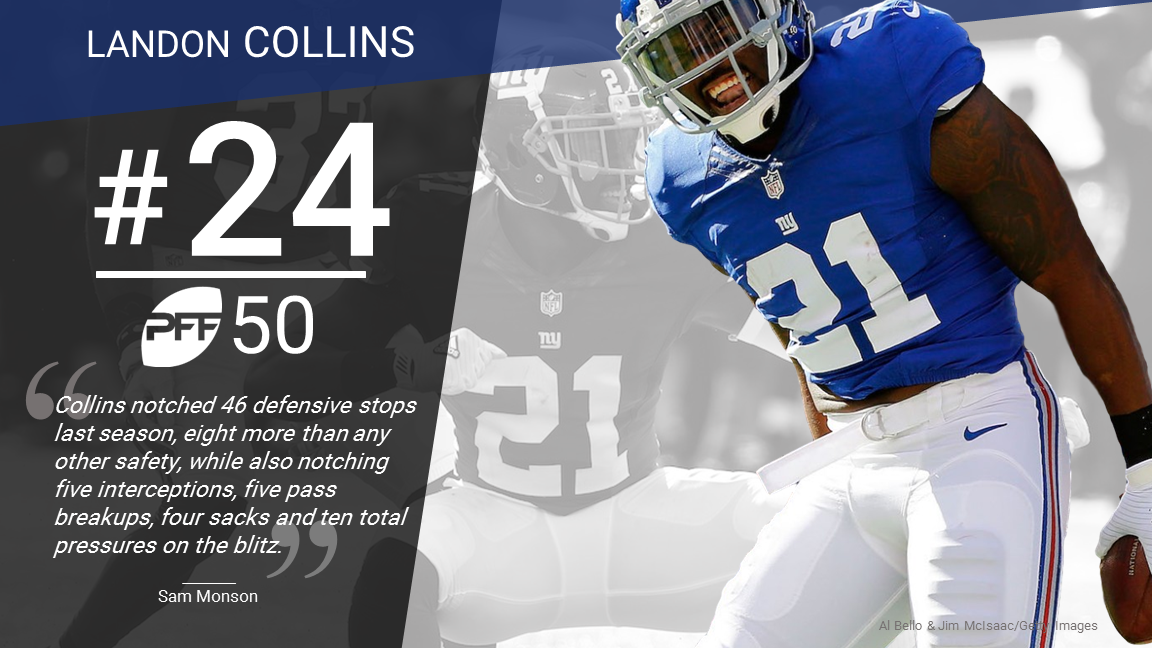 A position switch for Collins in year two – moving from free safety to strong safety – saw him transformed from an ugly rookie season to a Defensive Player of the Year-caliber sophomore campaign. Collins notched 46 defensive stops last season, eight more than any other safety, while also notching five interceptions, five pass breakups, four sacks and 10 total pressures on the blitz. Collins became a matchup player for the Giants defense, and was able to make plays all over the field from his alignment closer to the action.
23. Trent Williams, T, Washington Redskins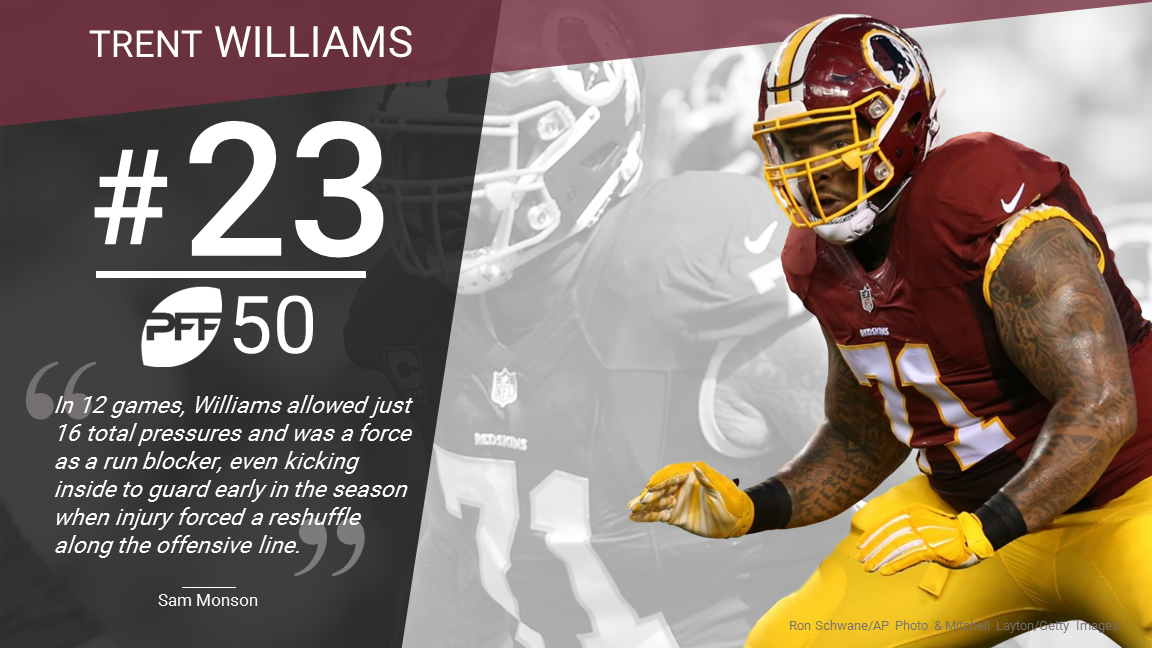 2016 saw Williams get back to his best — the first time we have seen that since 2013 — and Williams at his best is the best tackle in the game. In 12 games, he allowed just 16 total pressure and was a force as a run-blocker, even kicking inside to guard early in the season when injury forced a reshuffle and moving bodies inside as well. The only thing keeping him below somebody like Tyron Smith is the lack of consistency over the past several years, but if he plays 2017 at the same level as last year, he will shoot up this list.
22. Calais Campbell, DI, Jacksonville Jaguars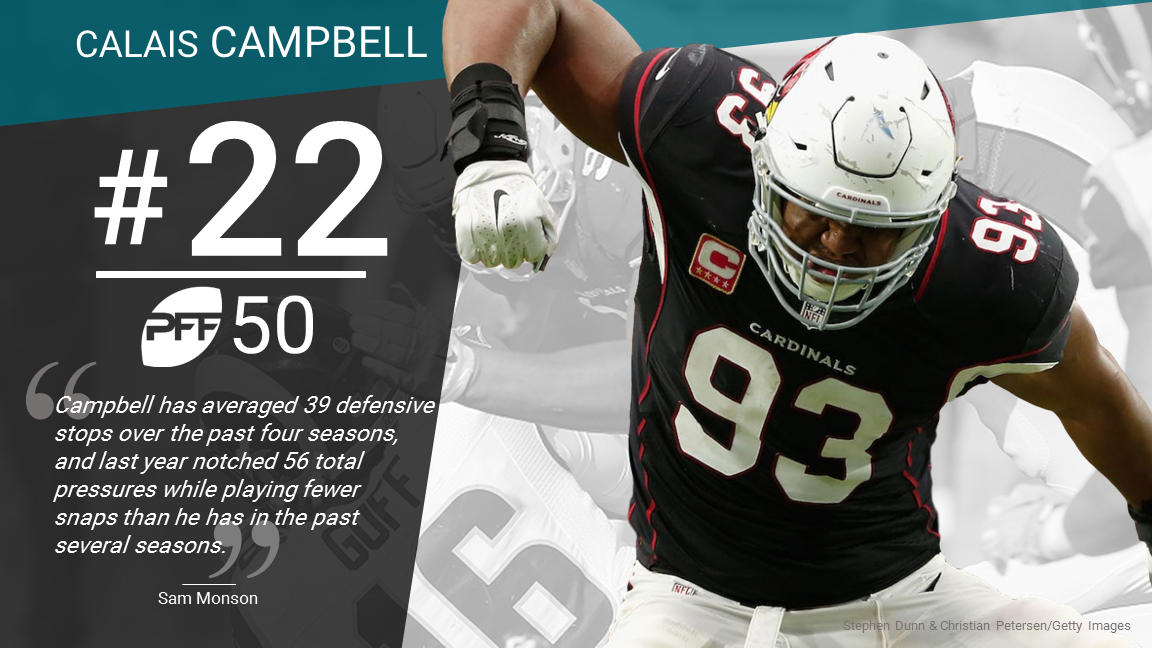 Yet to suit up in anger for Jacksonville, Campbell has been one of the game's most disruptive interior players for years in the desert of Arizona. Last season was the best year of Campbell's career, and he says he's coming for Aaron Donald's No. 1 spot. That much remains to be seen, but Campbell has averaged 39 defensive stops over the past four seasons, and last year notched 56 total pressures while playing fewer snaps than he has in the past several seasons.
21. Tyron Smith, T, Dallas Cowboys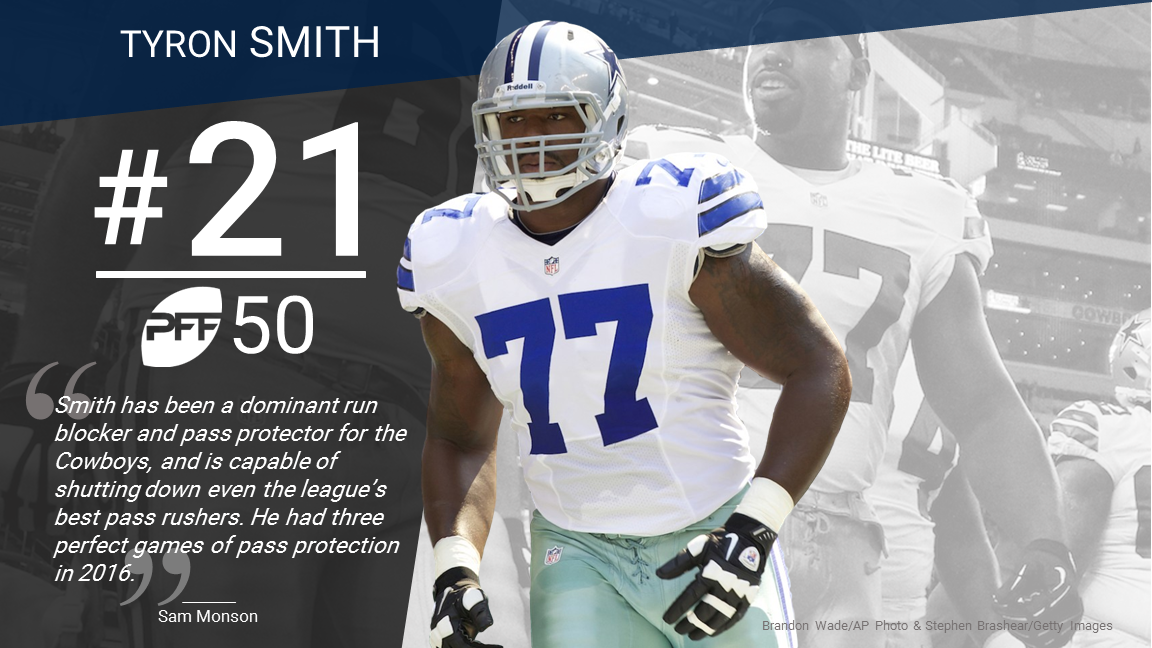 Smith is the league's prototypical left tackle, and while his 2016 was disrupted by injury and saw a slip in production from seasons before, it was a lower dropoff than that from Joe Thomas, with whom he was vying for the title of the best tackle in the game, and without a concern of age coming into play. Smith has been a dominant run-blocker and pass protector for the Cowboys, and is capable of shutting down even the league's best pass-rushers. He had three perfect games of pass protection in 2016.
20. Earl Thomas, S, Seattle Seahawks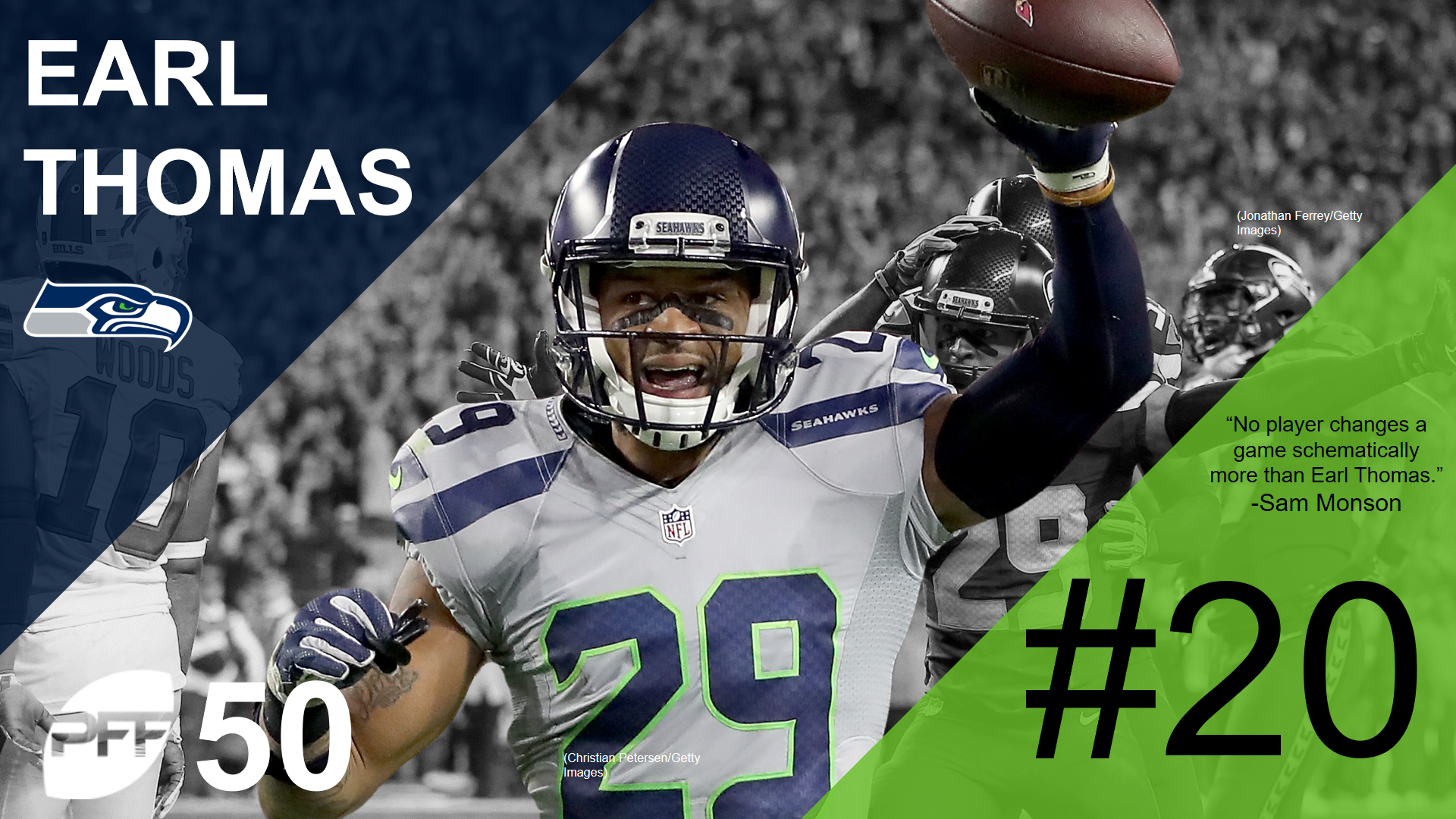 No player changes a game schematically more than Thomas. The Seahawks safety has unique range for the position, allowing him to get involved in more plays than other single-high free safeties without needing to line up further away from the line of scrimmage to buy himself the angle of attack. When Thomas was lost to a broken leg last season the Seahawks defense looked a shadow of itself despite his backup, Steven Terrell, not playing badly in his absence at all. Thomas notched two interceptions and five pass breakups without surrendering a touchdown in primary coverage in 2016.
19. Matt Ryan, QB, Atlanta Falcons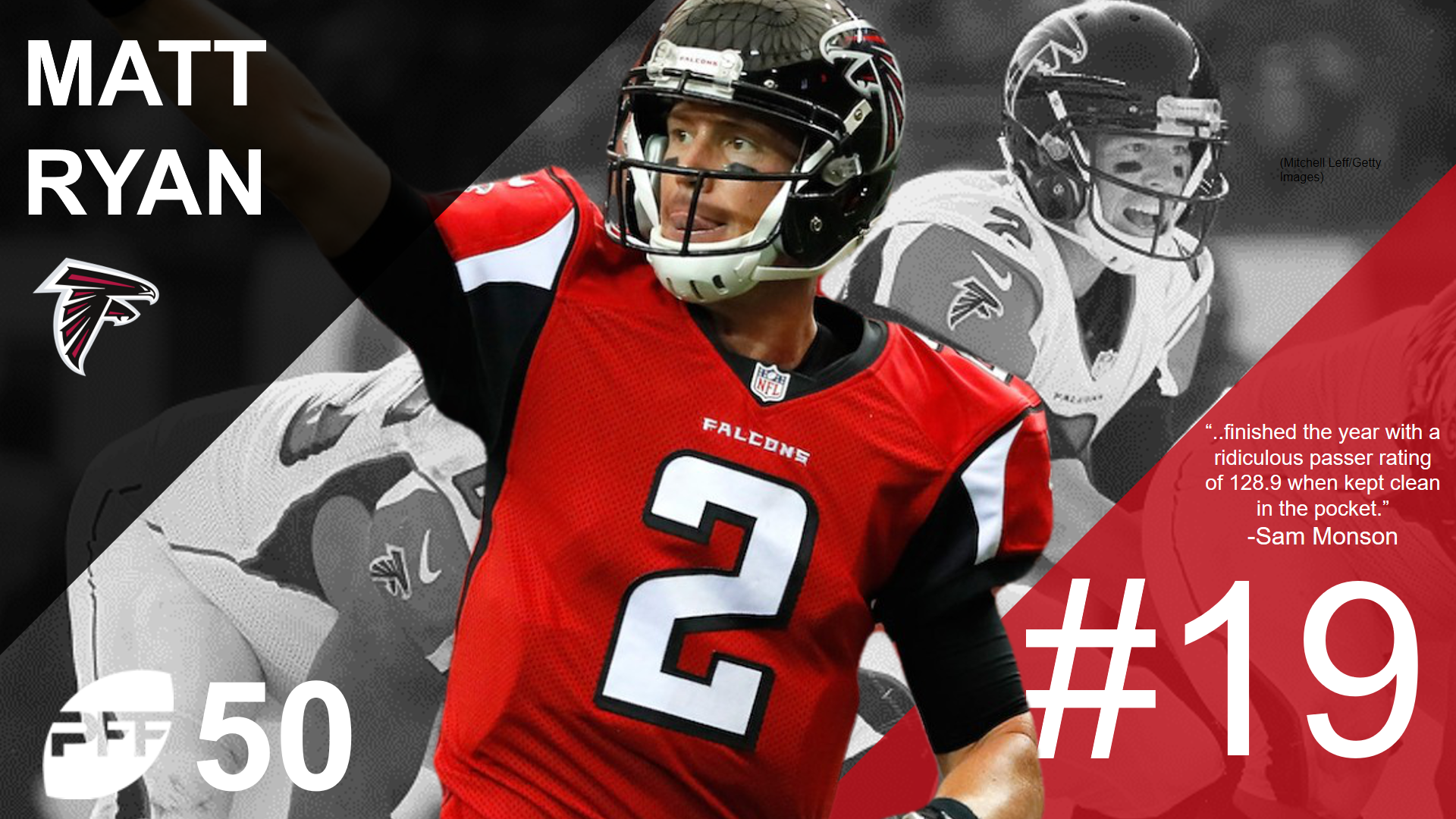 2016 was the best season of Ryan's career, seeing him take a huge step forward in Kyle Shanahan's offense. He finished the year with a ridiculous passer rating of 128.9 when kept clean in the pocket, throwing 33 touchdowns and seven interceptions on those plays and completing 77.3 percent of his passes. Including the playoffs, that passer rating jumped to 132.5, and he threw another eight touchdowns without a pick when kept clean. Even when pressured, his passer rating was 89.2 including the post season, the second-best mark in the league behind only Aaron Rodgers (90.3).
18. Cameron Jordan, Edge, New Orleans Saints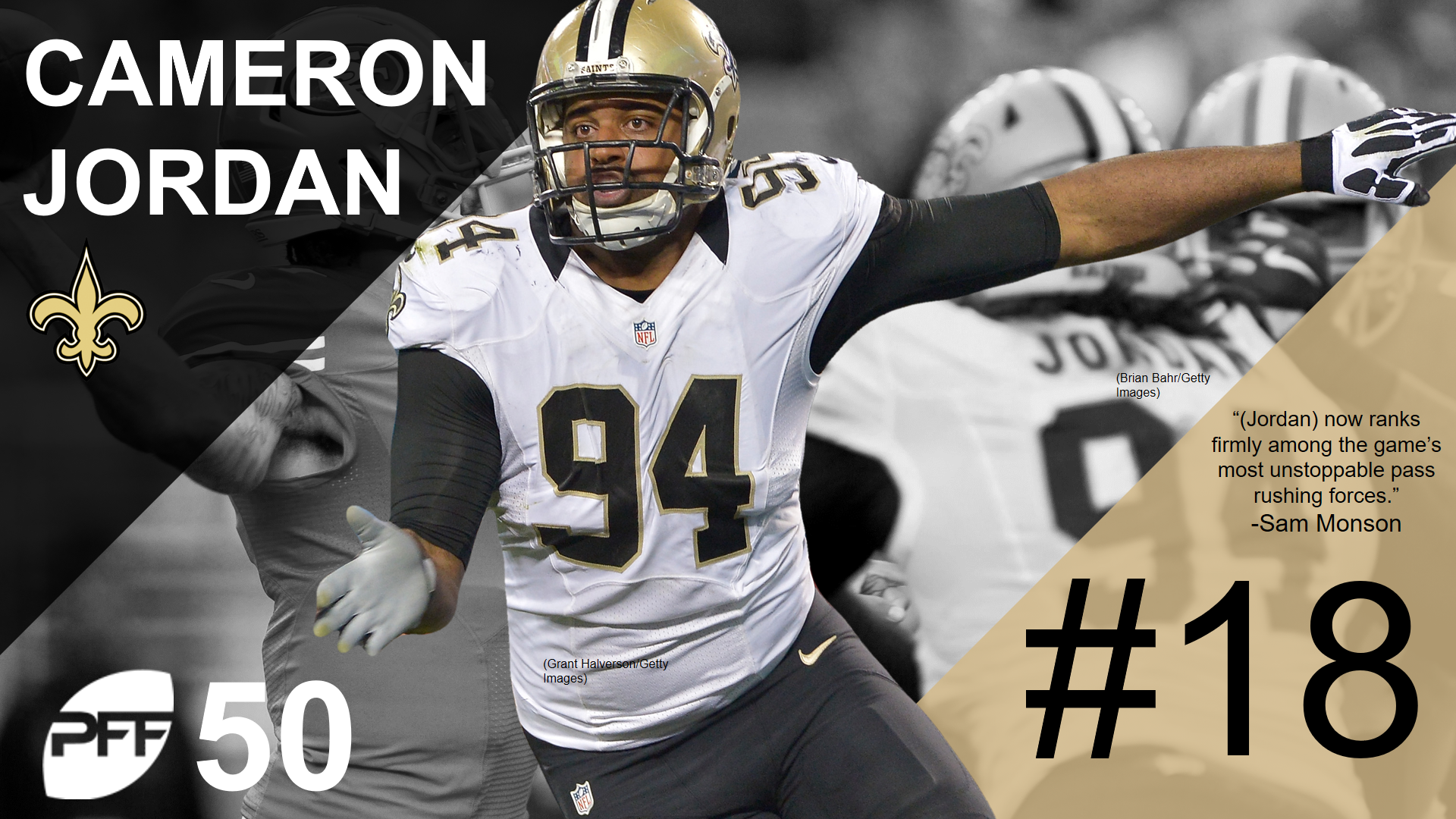 While Von Miller and Khalil Mack get significant recognition, the play of Jordan over the past two seasons deserves significantly more praise than it receives. He has now notched 149 total pressures over those two seasons, and averaged 34 defensive stops while playing more than 91 percent of the team's defensive snaps. Jordan has been excellent against both the run and pass, but has taken his pass-rushing to another level in 2016, and now ranks firmly among the game's most unstoppable pass-rushing forces.
17. Odell Beckham Jr., WR, New York Giants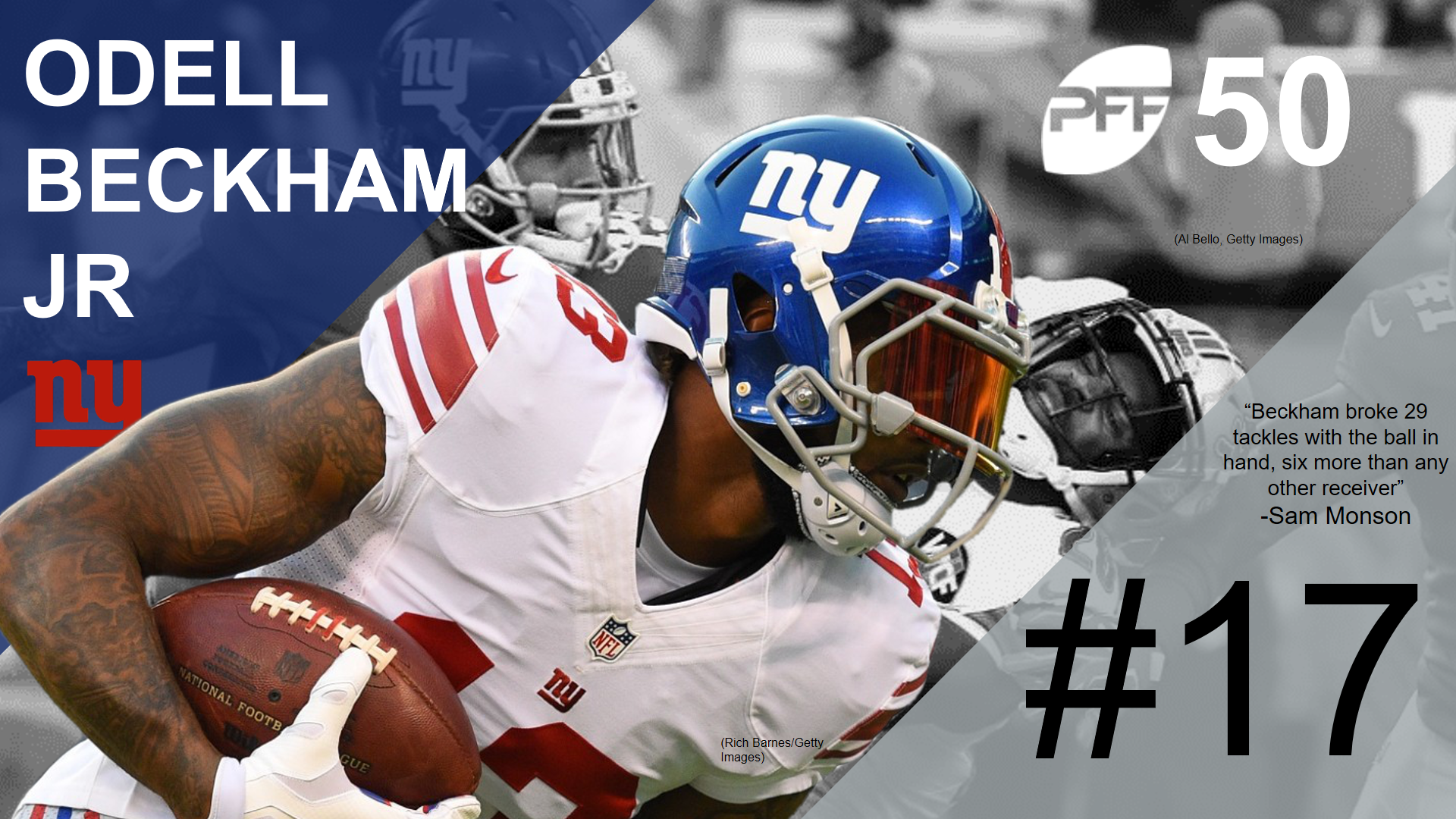 While Julio Jones has been enjoying the best form of Matt Ryan's career, and even Antonio Brown has seen Ben Roethlisberger playing his best football in recent years before a down turn in 2016, Beckham has been dealing with Eli Manning's worst play, seeing him grade at 53.0 in 2016 and rank 27th among QBs throughout the league. Beckham still broke 29 tackles with the ball in hand, six more than any other receiver, and has gained more than 1,600 yards after the catch in his young NFL career so far. Beckham is capable of spectacular plays but also turning routine catches into much larger gains on a regular basis.
16. Travis Frederick, C, Dallas Cowboys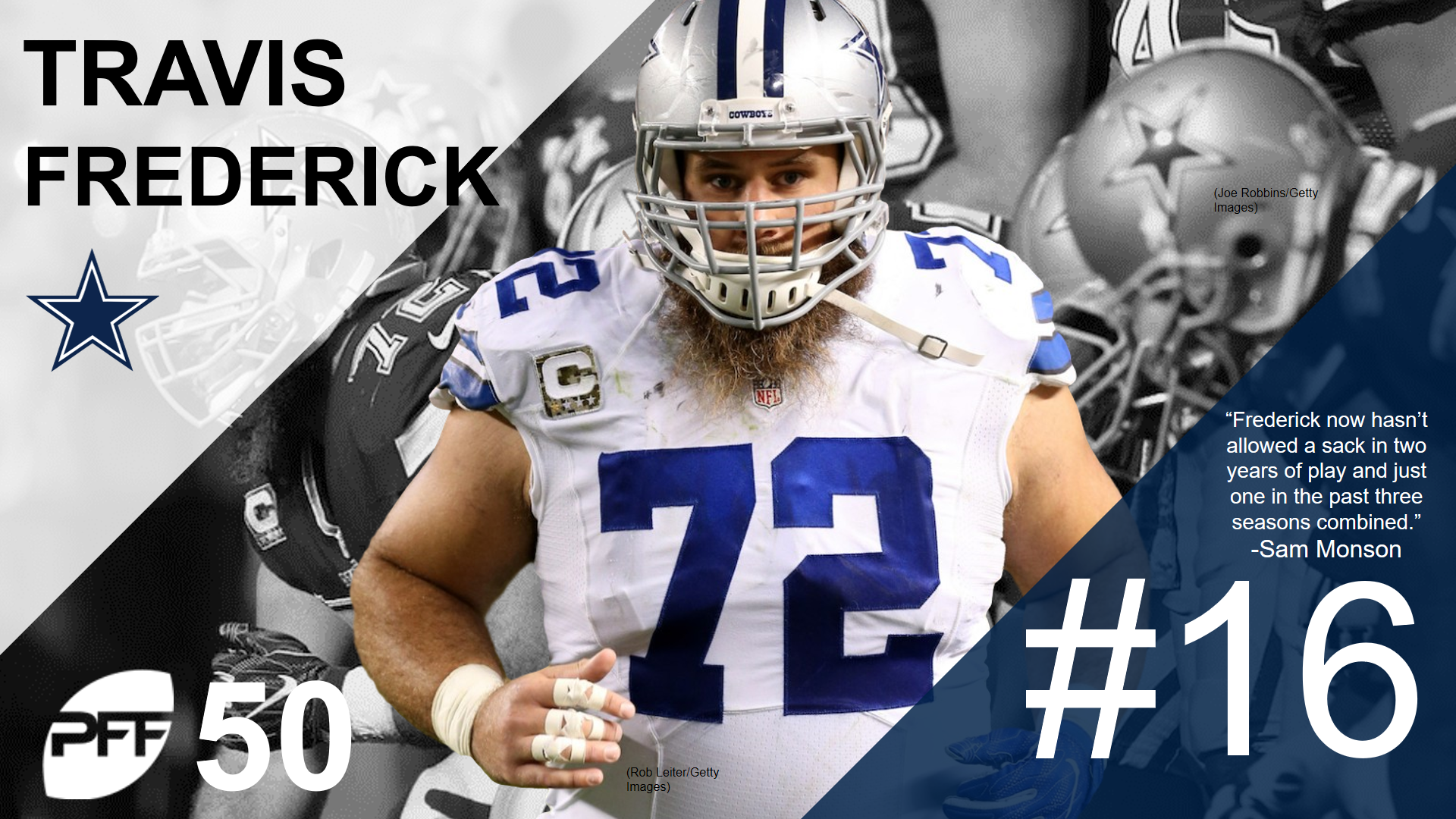 Frederick typically doesn't distance himself in a significant way from the rest of the league's best centers in grading terms, but he is asked to do more in terms of types of blocks by his offense than any of the others, and that is why he is higher on this list. What is most impressive about Frederick is his consistency regardless of opponent, and even looking at his games just against the league's best nose tackles, he would have been a top five-graded center in 2016 if those grades extrapolated over a full year. Frederick now hasn't allowed a sack in two years of play and just one in the past three seasons combined.
15. David Johnson, RB, Arizona Cardinals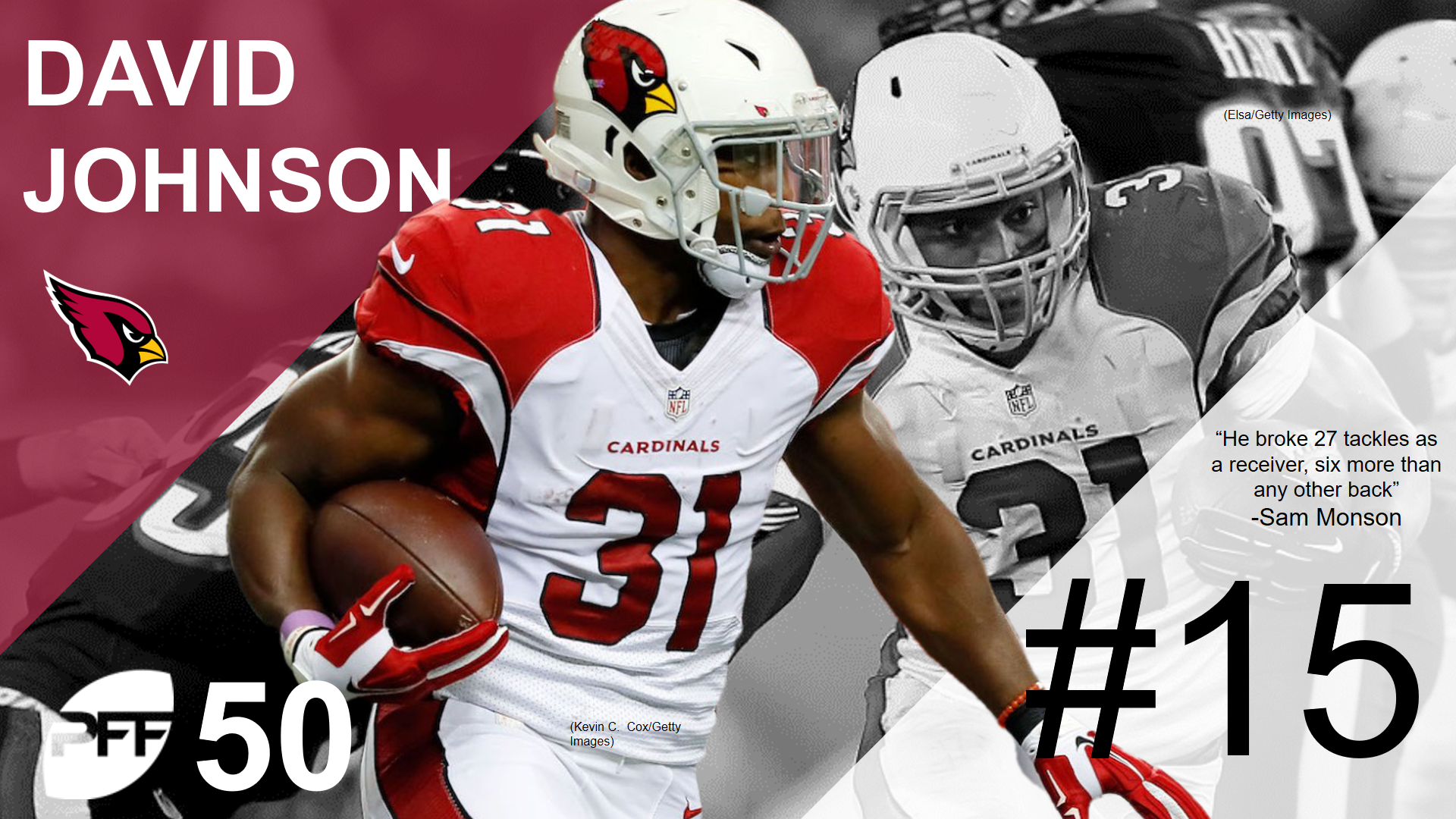 Johnson was unleashed fully upon the league in 2016, and we got to see a player who is not only an excellent ball carrier, but one who has rare versatility, which makes him a major matchup problem for defenses. Johnson earned a PFF receiving grade of 92.6, and was running routes and receiving passes that most running backs typically weren't asked to. He broke 27 tackles as a receiver, six more than any other back, and was the only runner to be targeted more than 100 times over the season, catching 80 of them (74.8 percent) and averaging eight yards per reception after the catch.
14. Chris Harris Jr., CB, Denver Broncos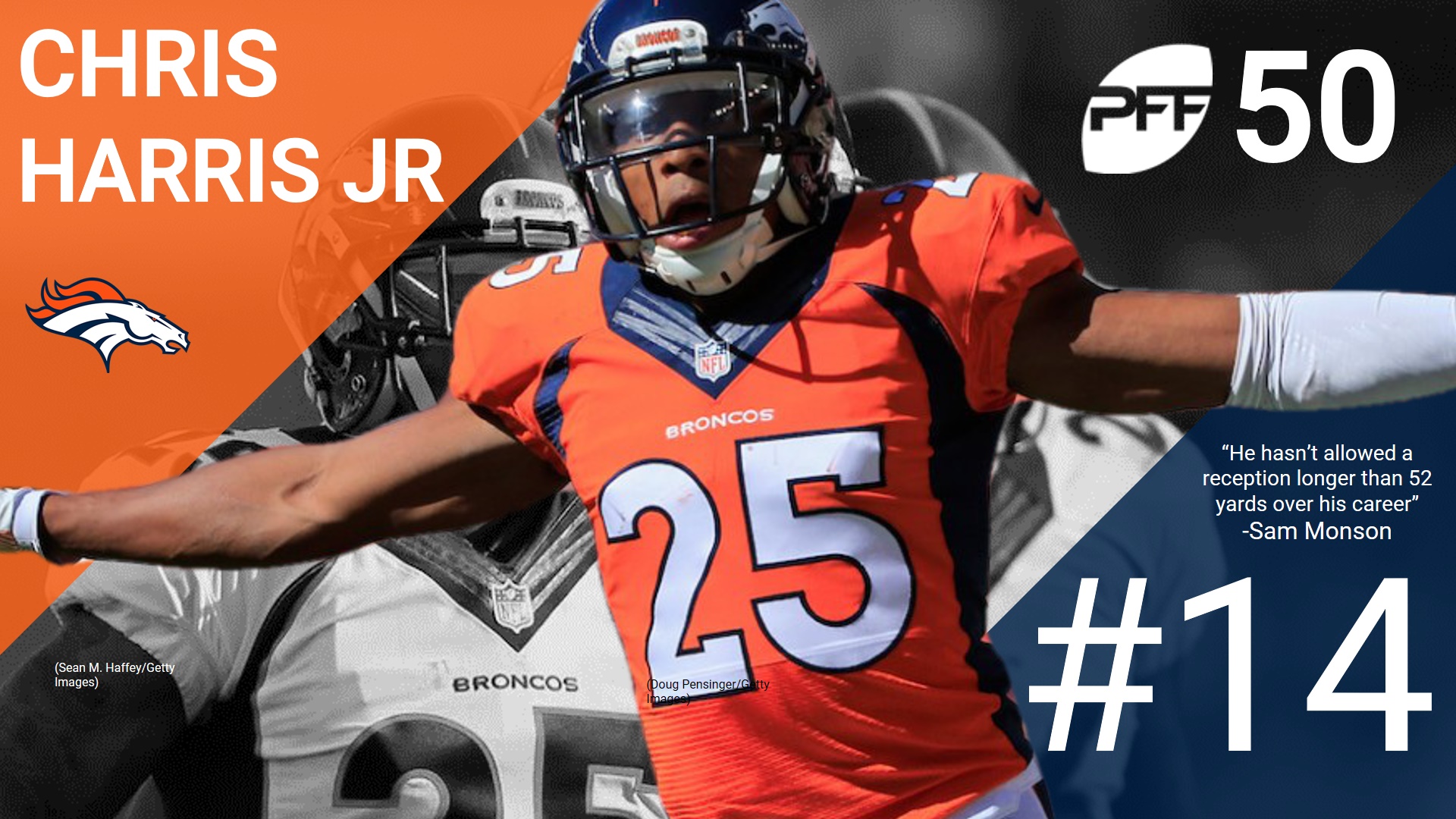 It seems hard to believe that Harris was once an undrafted player out of Kansas. As a rookie, he was the team's nickel corner before starting every season since then as one of their top two, before typically kicking inside to cover the slot when they go to nickel and dime packages. Over that time, Harris has allowed just 12 touchdowns in six seasons including 10 playoff games, and once went 35 straight games without allowing a score. He hasn't allowed a reception longer than 52 yards over his career, and he remains one of the league's most consistently solid performers at any position.
13. Joey Bosa, Edge, Los Angeles Chargers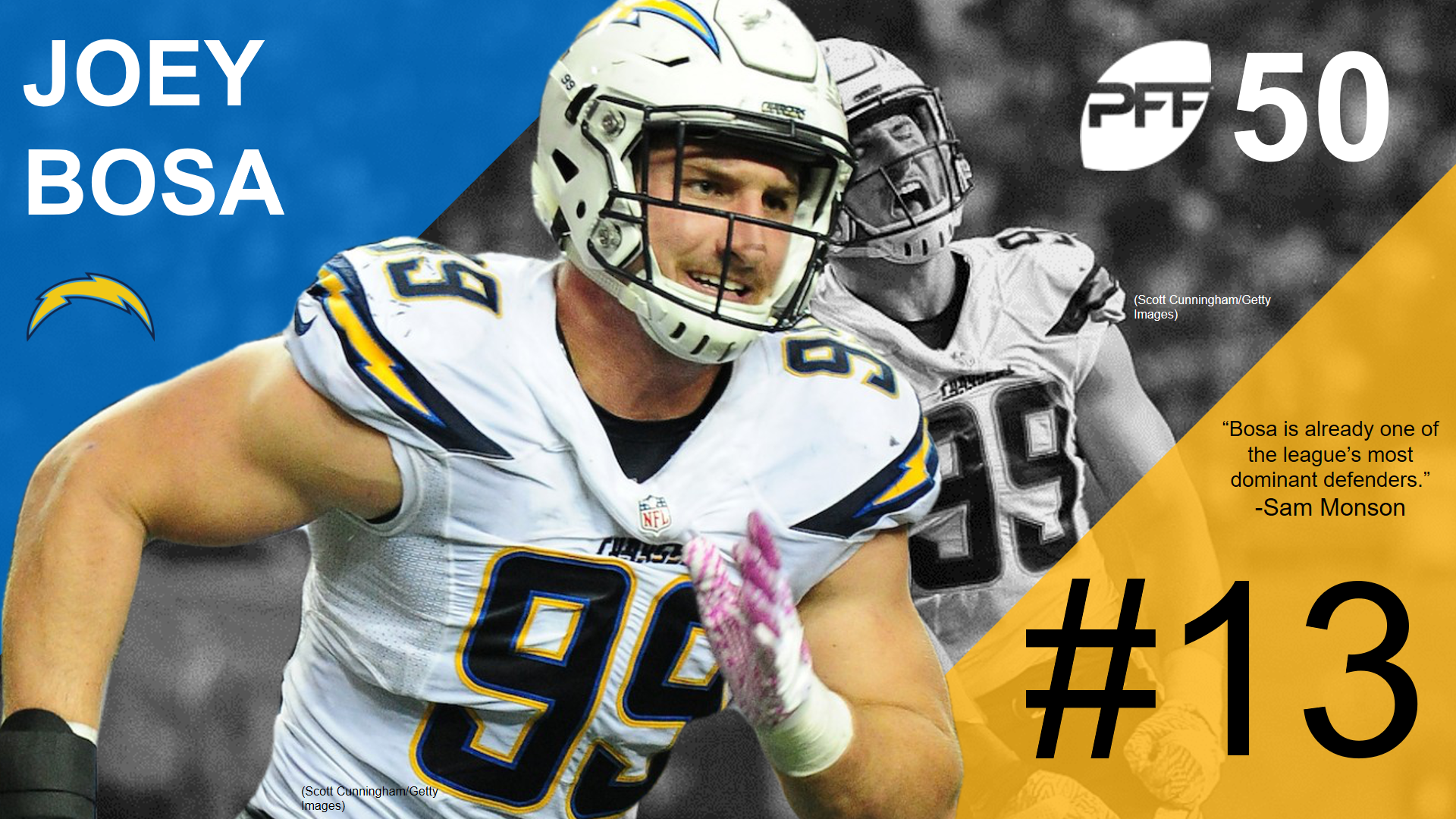 Bosa was utterly dominant in two seasons of PFF college grading, so nobody was less surprised than we were when he hit the ground running in the NFL in exactly the same way. No player has amassed more total pressures than the 59 Bosa collected over his first 12 games in the league since PFF has been tracking it (2006 onwards). Bosa played both defensive end and outside linebacker for the Chargers, on both the left and right side of the defense, and was a one-man wrecking machine, notching a grade of 89.7 despite missing the first four games of the season. Bosa is already one of the league's most dominant defenders.
12. Marshal Yanda, G, Baltimore Ravens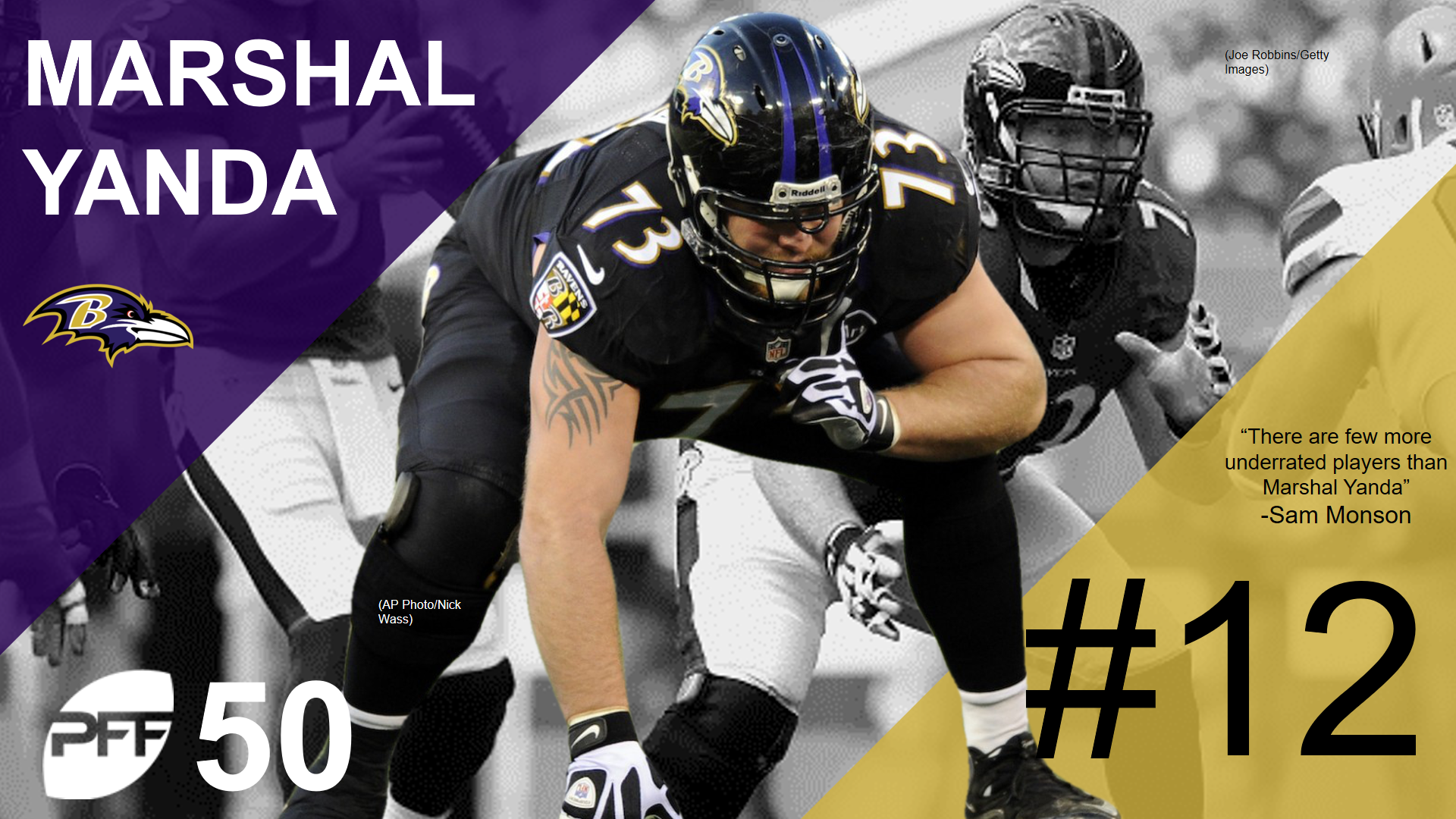 There are few more underrated players than Yanda, who has been consistently among the best guards in the league since he began playing the position. What is most impressive about his NFL career is that he doesn't miss a beat whether he is asked to play right guard, left guard, or even right tackle, and just continues to dominate in both the run game and as a pass-blocker. Playing both left and right guard last season, he didn't allow his quarterback to hit the turf all year, and allowed only two total pressures after a midseason switch to an unfamiliar left side of the line.
11. Le'Veon Bell, RB, Pittsburgh Steelers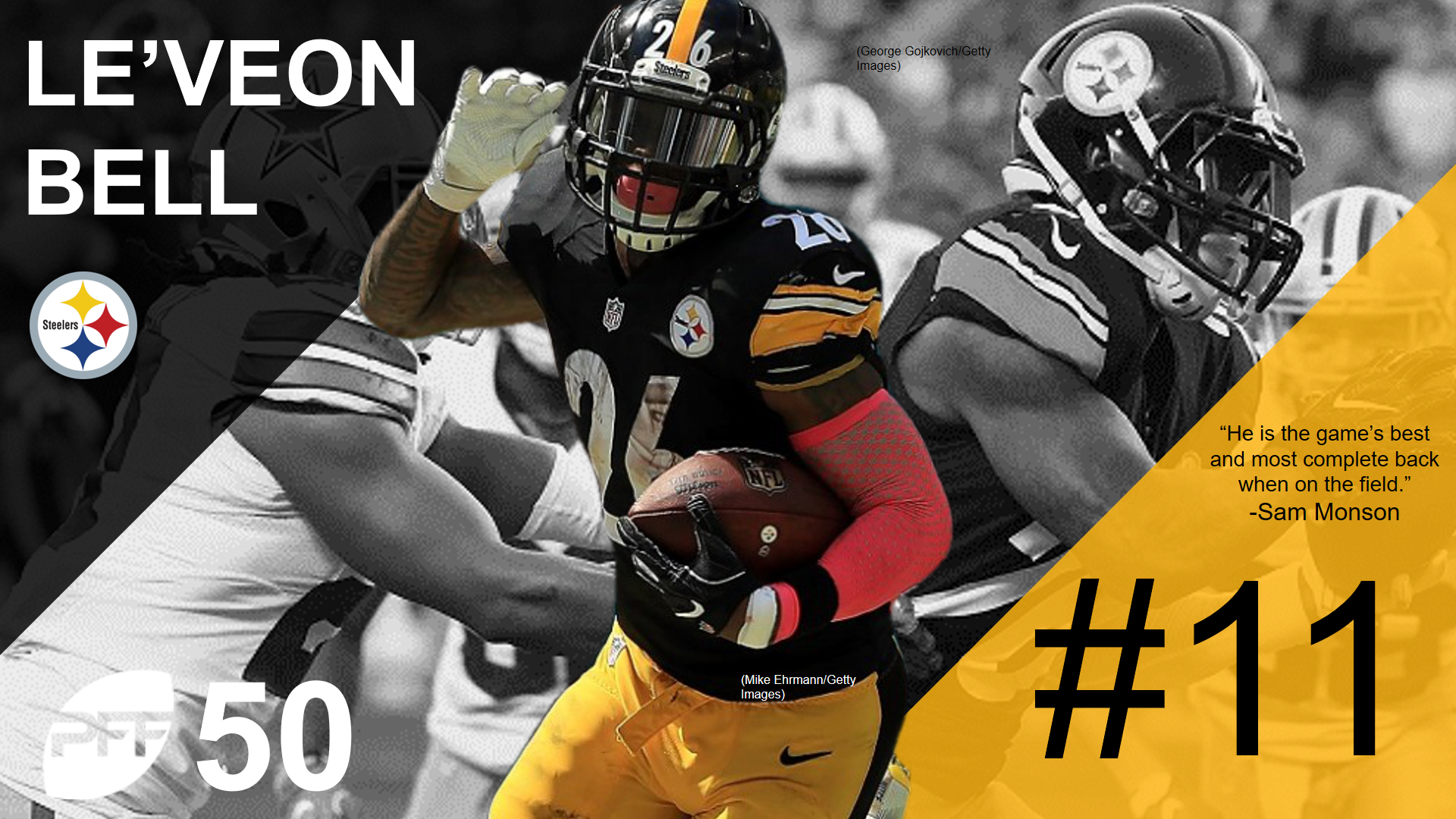 Le'Veon Bell is a uniquely patient runner of the football, and is a complete back – capable of being an elite weapon in the passing game as well as on the ground. In 2016, he averaged 3.0 yards per carry after contact, breaking 47 tackles on his carries and another 14 as a receiver. Bell has an unusual running style that punishes defenders that risk a peek out of their assigned gap responsibility, and in effect can open up his own holes at the line of scrimmage by actively manipulating those defenders with his movement. He is the game's best and most complete back when on the field.
10. Luke Kuechly, LB, Carolina Panthers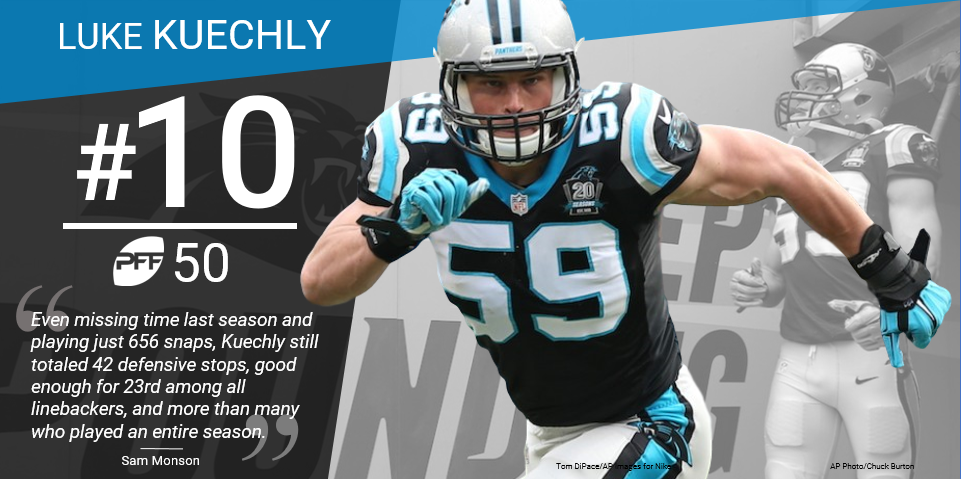 Concussions are beginning to become a worrying specter over the career of Luke Kuechly, with significant time robbed from each of his past two seasons, but when he is on the field, he is the league's best and most complete linebacker. Kuechly can read offenses like few other defenders and make plays, particularly in coverage, that you don't see often. Even missing time last season and playing just 656 snaps, Kuechly still totaled 42 defensive stops, good enough for 23rd among all linebackers, and more than many who played an entire season.
9. Rob Gronkowski, TE, New England Patriots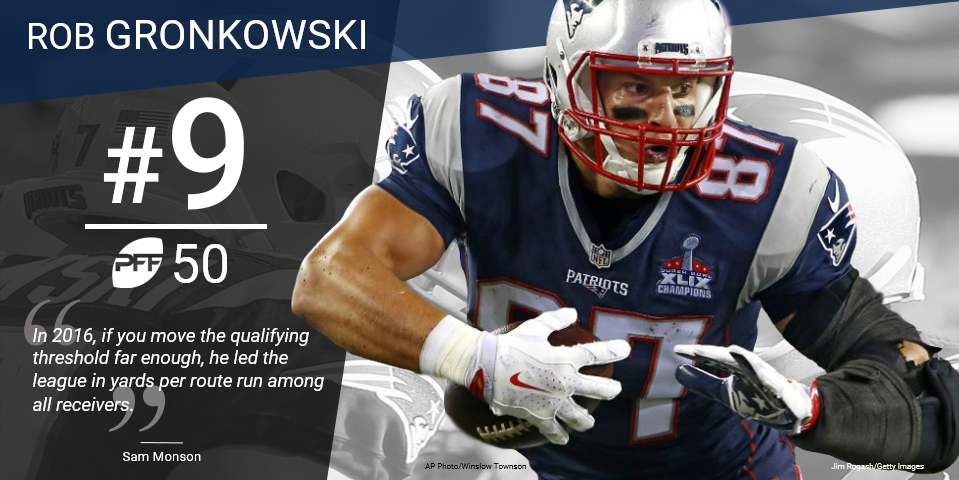 Gronkowski is the league's most unstoppable offensive force. In fact, the only thing really capable of slowing him down during his NFL career has been injuries. He already has as many career touchdowns as Art Monk, Rod Smith, and Raymond Berry, and it has taken him around half the time to get them. In 2016, if you move the qualifying threshold far enough, he led the league in yards per route run among all receivers, and has never ranked outside the top five among TEs in that category, leading the league in four of the last six seasons. Added to all of that, he is one of an ever-shrinking group of TEs that can ably block, making him a true matchup nightmare for a defense.
8. Antonio Brown, WR, Pittsburgh Steelers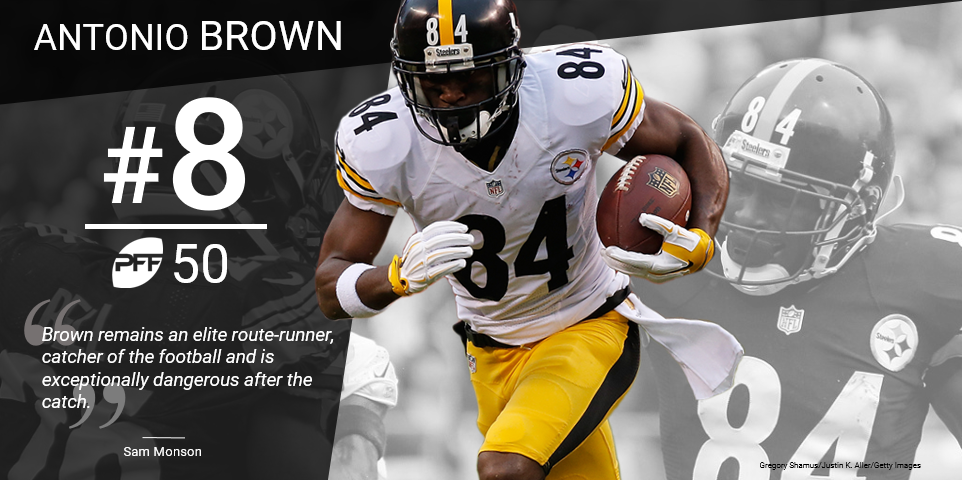 When he has Ben Roethlisberger firing on all cylinders, Brown is unstoppable, but the past few seasons have also shown that he is impacted more than a player like Julio Jones when his quarterback either isn't playing, or just playing at a below par level. Brown remains an elite route-runner, catcher of the football and is exceptionally dangerous after the catch, but he doesn't have the same sheer physical dominance that Julio Jones has, which is the only thing that separates the two players.
7. Von Miller, Edge, Denver Broncos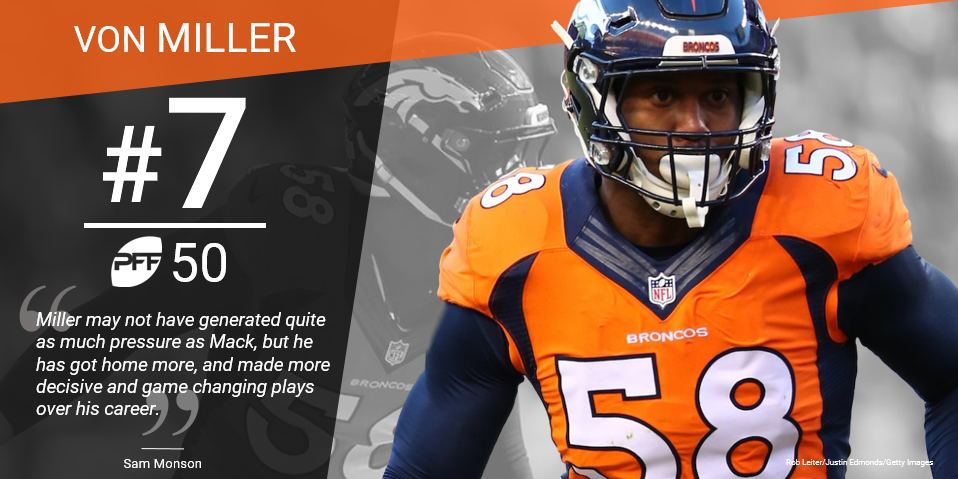 If Khalil Mack has been the slightly better player over the past two seasons, Miller has been right on his heels the entire way, and has a mind-blowing playoff run culminating in a Super Bowl victory that Mack has yet to achieve. That postseason run showed Miller at his unstoppable best, and he was arguably the single biggest reason behind Denver winning both the AFC Championship game and the Super Bowl that year. Miller may not have generated quite as much pressure as Mack, but he has got home more, and made more decisive and game changing plays over his career. The AFC West is not a happy place to play offensive tackle.
6. Khalil Mack, Edge, Oakland Raiders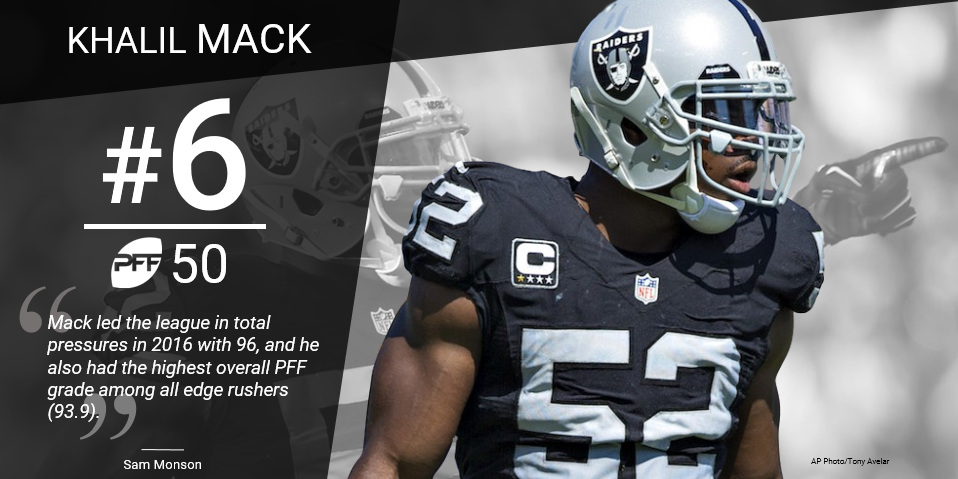 He doesn't quite get the recognition of divisional rival Von Miller, but everything in the PFF grading and metrics suggest that Mack has been the better player as of late. Mack led the league in total pressures in 2016 with 96, and he also had the highest overall PFF grade among all edge rushers (93.9). Only Miller notched more defensive stops among edge rushers, and Mack was doing his work with considerably less defensive help than Miller or some other players were. There has been no more consistently dominant edge rusher in all facets of the game than Mack over the past couple of seasons.
5. Aaron Rodgers, QB, Green Bay Packers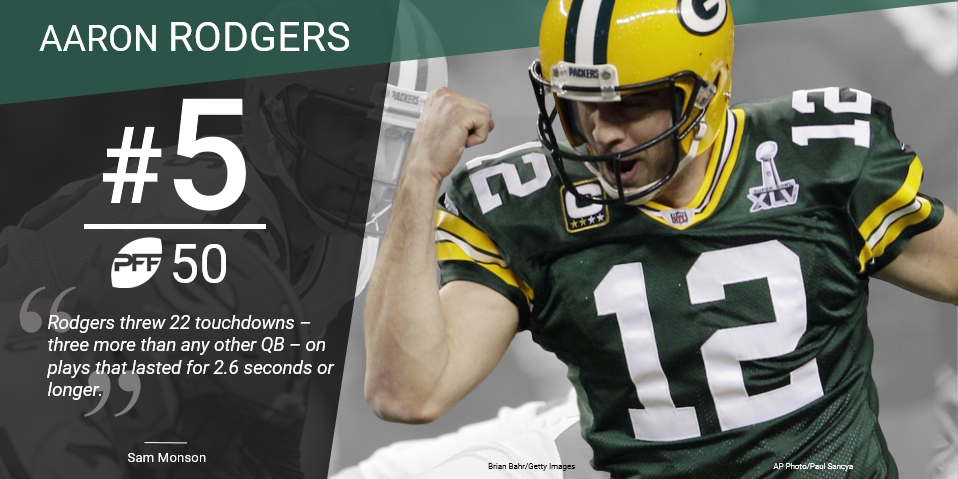 Rodgers had a slow start to the 2016 season, but from Week 7 onward he was the equal of Tom Brady, and displays the kind of ability outside of the pocket that no other QB in the game can match. Rodgers is a defensive nightmare because of his ability to break the pocket and make plays on the move, and he takes advantage of that by being able to endlessly manipulate the pass rush and pocket around him to buy time to throw. Only Tyrod Taylor had a higher average time to throw than Rodgers in 2016, and Rodgers threw 22 touchdowns — three more than any other QB — on plays that lasted for 2.6 seconds or longer.
4. Julio Jones, WR, Atlanta Falcons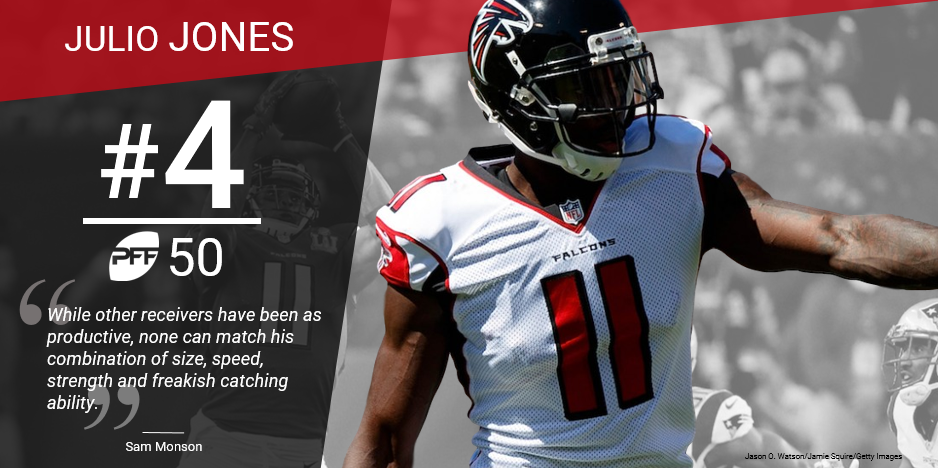 Jones is the toughest receiver to match up with in the game today. While other receivers have been as productive, none can match his combination of size, speed, strength, and freakish catching ability. Jones led the league in yards per route run in 2016, as the only receiver to gain more than three yards per route, and only one other receiver (A.J. Green) was even within sight of his production. If you include the playoffs, that figure only went up, and marks the second straight season he has led the league in that production metric.
3. Tom Brady, QB, New England Patriots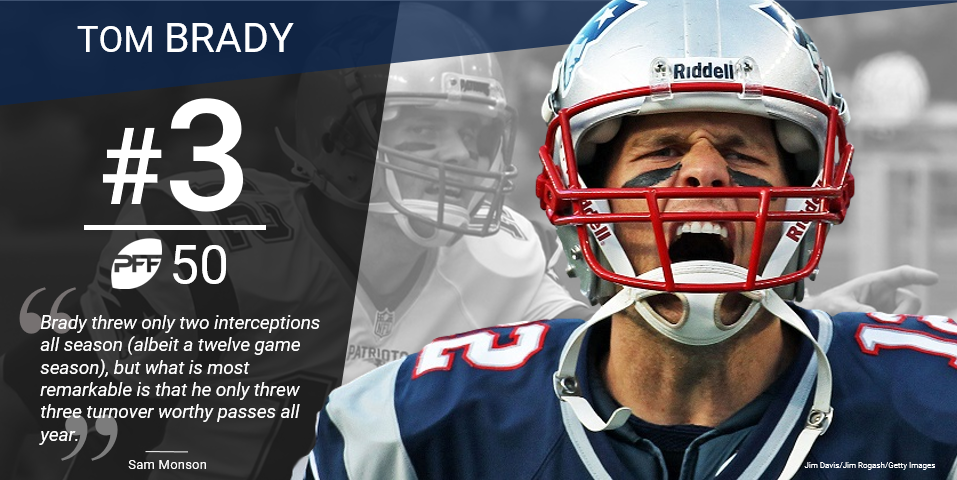 At the ripe age of 39, Brady put together the greatest quarterback season PFF has graded over the past decade-plus. His PFF grade of 99.3 was comfortably ahead of the chasing pack, and didn't leave a whole lot of room for improvement. Brady threw only two interceptions all season (albeit a 12-game season), but what is most remarkable is that he only threw three turnover-worthy passes all year, and was not merely the benefit of statistical luck or dropped interceptions from defenders.
2. J.J. Watt, DI, Houston Texans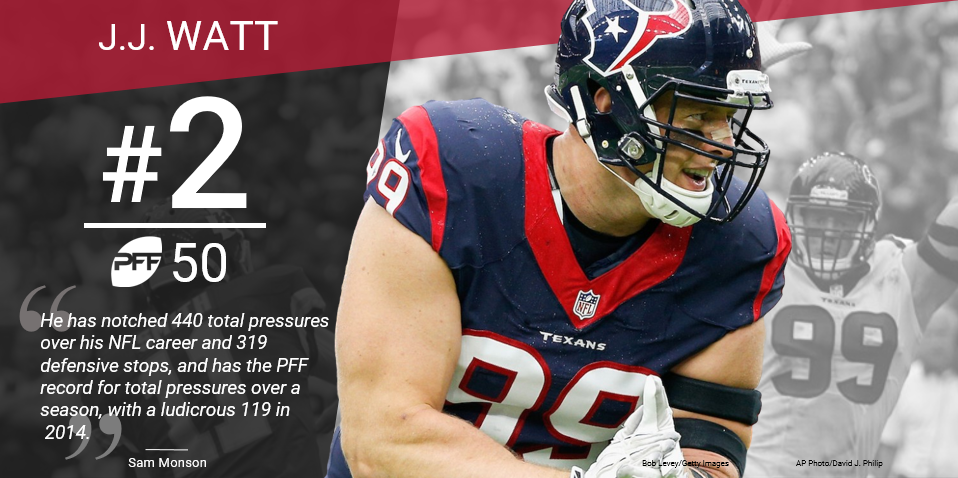 The injury-marred 2016 from Watt harms his case, but even his 2015 season was a slight step back from the three previous years of unparalleled dominance, and that's why he is pipped to the No. 1 spot by Donald. Watt at his best is the best player in the game, and utterly dominant as both a pass-rusher and run defender playing inside and on the edge for the Houston defense. He has notched 440 total pressures over his NFL career and 319 defensive stops, and has the PFF record for total pressures over a season, with a ludicrous 119 in 2014.
1. Aaron Donald, DI, Los Angeles Rams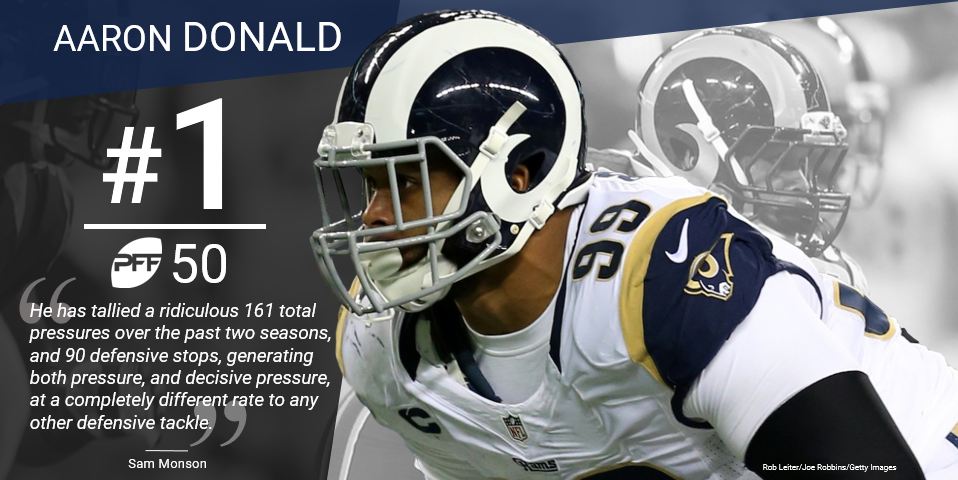 With J.J. Watt injured in 2016, there has been no more consistently dominant force in the NFL over the past couple of seasons than Donald. The Rams defensive lineman has been a one-man wrecking crew inside whether against the run or as a pass-rusher. He has tallied a ridiculous 161 total pressures over the past two seasons, and 90 defensive stops, generating both pressure, and decisive pressure, at a completely different rate to any other defensive tackle.