Marcus Peters had a rough start to his first season with the Los Angeles Rams. Through the first nine weeks of the season, he allowed the second-most receiving yards (591), the second-most touchdown receptions (six), the fifth-highest passer rating on throws into his overage (145.2) and he earned the fourth-worst coverage grade (39.9) among cornerbacks in that span. However, the last seven weeks were another story, as he earned the eighth-highest coverage grade among cornerbacks (80.1) from Week 10 to Week 17 and he allowed the seventh-lowest passer rating on throws into his primary coverage (52.9).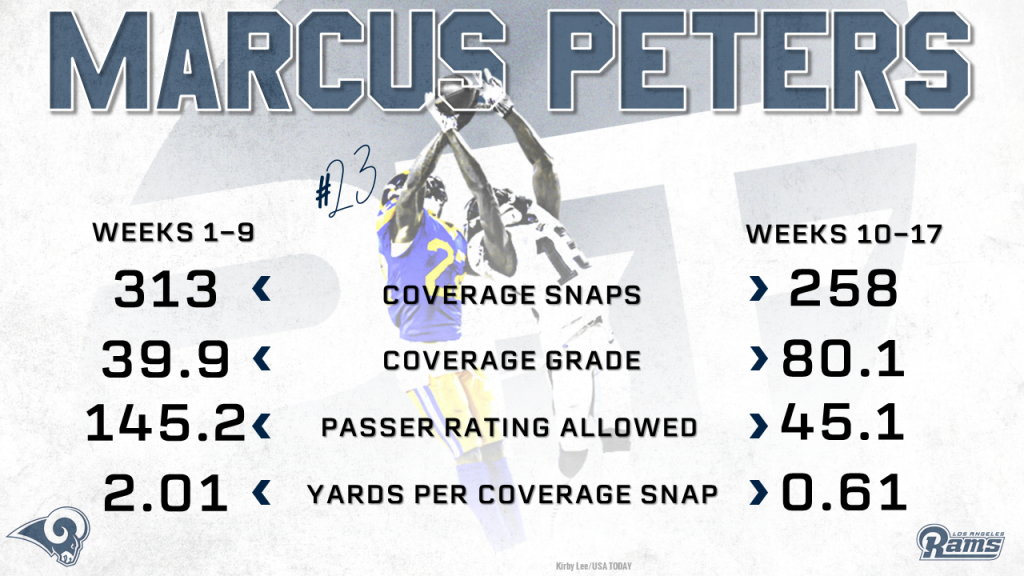 There are many reasons for this. One, he was further removed from a calf injury that limited him after Week 3. More interestingly though, is how drastically he improved against the deep ball.
During the early part of the season, Peters got torched for deep touchdowns by everyone from Michael Thomas to David Moore. He is traditionally a very aggressive corner, and teams recognized and took advantage of that. Over the first nine weeks, nine of Peters' 47 targets came on passes of at least 20 yards downfield, and he allowed eight of those passes to be caught for 315 receiving yards and five touchdowns, which yielded a perfect passer rating of 158.3. It came to a head in Weeks 8 and 9, where he had to shadow Davante Adams and Michael Thomas in back to back weeks. Combined, he allowed 161 receiving yards from four deep passes, and he consequently ended those games with overall grades of 46.1 and 36.9, respectively.
Things changed significantly after his bye week, as his biggest weakness became his biggest strength. From Week 10 to Week 17, quarterbacks throwing deep against him completed none of their seven attempts, while Peters intercepted two of those passes. All told, opposing quarterbacks fielded a 0.0 passer rating on their deep passes against Peters in that span.
The Saints know they will need to attack the secondary in order to compete with the Ram's equally explosive offense, so Marcus Peters has to be at his best for the Rams to stay competitive. After Michael Thomas torched him for seven catches, 146 yards and a touchdown in their last meeting, all eyes will be on Marcus Peters to see who takes the gumbo after the Conference Championship.